Analyses
Displacement & Migration
News
Nigeria's Intention For IDPs And How It Treats Them Are Miles Apart
IDPs should not have to struggle to access basic resources or fear that their rights would be violated — if only the country implemented a better part of its own policy.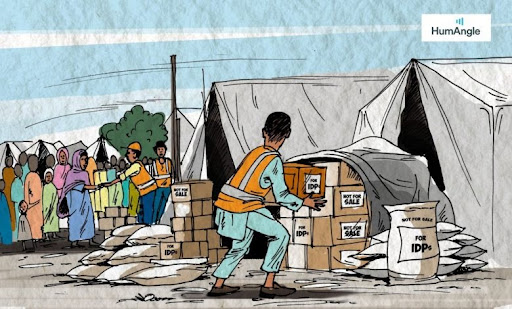 Since it returned to democratic rule in 1999, Nigeria has faced a steady rise in the number of Internally Displaced Persons (IDPs). Ethnic fault lines thought to have previously been kept in check by the military authorities suddenly broke out, especially in the north-central region, leading to the displacement of tens of thousands of people by the middle of 2002.
That year, the federal agency in charge of refugees had its mandate expanded to cater for IDPs too. And in 2003, the government set up a committee to develop a policy to guide the management of IDPs. Various government and non-governmental groups rubbed minds while gaining inspiration from existing international laws. The outcome of this effort, adopted nine years later, came to be known as the National Policy on Internally Displaced Persons in Nigeria. 
The policy has become even more relevant today, considering how much the population of displaced people has increased since 2012. As of Dec. 2015, the International Organisation for Migration (IOM) had documented only about 390,000 displaced persons, mostly in Northeast Nigeria where the Boko Haram insurgency had erupted years earlier. By Dec. 2021, this number had grown to over 2.2 million, with the Internal Displacement Monitoring Centre (IDMC) estimating that the total population could be as high as 2.7 million. Presently, nearly all parts of northern Nigeria host IDPs.
Topics covered by the national policy range from the duties of the government to the responsibilities of humanitarian agencies, rights and obligations of host communities, implementation and funding strategies, as well as evaluation systems. Chapter III particularly lists the rights and obligations of IDPs. Displaced people, the policy assures, are entitled to all the rights Nigeria's constitution guarantees each citizen. But they also have rights specific to them. These are highlighted under eight categories: Rights to Protection from Displacement; Rights to Assistance During and After Displacement; Rights of Displaced Children; Rights of Displaced Women; Rights of IDPs with Disabilities; Rights of IDPs Living with HIV; Rights of Elderly IDPs; and finally Rights to Voluntary Return, Local Integration, and Relocation.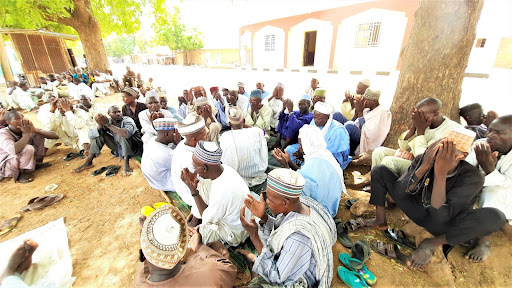 Protection from displacement
This section prohibits arbitrary displacement, which could mean a number of things, including discriminatory or punitive displacement, displacement due to human rights abuses or harmful practices, or the displacement of a people when the situation does not warrant it.
HumAngle has, however, reported the experiences of people whose communities were set ablaze by the Nigerian military during counterinsurgency operations, like this couple from Ziye, a village at the outskirts of Bama Local Government Area (LGA). 
Amnesty International has documented more recent instances of arson and arbitrary displacement by the military in Bukarti, Ngariri, and Matiri, villages close to the Maiduguri-Damaturu road. "We saw our houses go into flames. We all started crying," said one displaced woman.
The section of the policy also regulates cases of forced evictions, stipulating 11 requirements for such exercises, including the provision of reasonable notice, legal aid, and adequate compensation, the registration of those evicted, and prohibition of evictions during bad weather or at night. Many of these rules have been flouted since the policy was adopted as well.
Protection during and after displacement
This part establishes the IDPs' right to life, including protection from enforced disappearances, arbitrary executions, and acts of violence outside of hostilities. IDPs, it says, have the right to dignity, and shall be protected from rape, gender-based violence, torture, inhuman treatment, and so on. They have the right to liberty and freedom from arbitrary arrests and detention. They have the right to know the fate of missing relatives.
Additionally, as much as possible, there should be respect for family life such that members of the same family are not separated due to inadequate accommodation. Displaced people have a right as well to an adequate standard of living, which entails adequate food and water, basic shelter, clothing, essential medical services (including psychological and social services), and sanitation.
In violation of these provisions, however, the Nigerian military has continued to engage in enforced disappearances of people, mostly men, displaced from their communities due to the Boko Haram insurgency. HumAngle has extensively documented the experiences of those lucky enough to regain their freedom. Detention facilities such as the Giwa barracks, Wawa military barracks, and the Borno Maximum Security Prison have for years held terror suspects as well as thousands of innocent civilians. Many of those detained were summarily executed in 2014 after Boko Haram broke into Giwa barracks and released hundreds of people. Others have died of hunger, thirst, torture, asphyxiation, and disease while in detention. According to Amnesty International, those who died at the Giwa detention facility alone between 2011 and 2020 could be up to 10,000.
What's more, oftentimes when these people are detained, some for over seven years, they are prevented from communicating with their family, who are then uncertain about their condition or even presume them dead.
When it comes to the standard of living and essential medical services, great shortcomings have been recorded too, from camps in North-central Nigeria where IDPs sleep in 'mosquito net caves' and where women 'smoke to stay alive' to the Northeast where psychosocial services for mentally ill IDPs are still unavailable and the Northwest where displaced people resort to begging, eating leaves, and charity from private individuals to survive.
We've seen, also, that the government has struggled to implement the provision about the availability of adequate shelter for family units. In Northwest Nigeria, there aren't enough camps for internally displaced people and in many unplanned settlements, such as this one in Sokoto, families are broken up as men camp separately from women because of limited space.
Displaced children
The national policy guarantees every displaced child the right to a name; to be adopted or fostered (when orphaned); to be protected from child labour and exploitation; to good medical care; to be protected from torture, drug abuse, and forced marriage; and to education/skills acquisition opportunities while in camp.
There are over a million displaced children in Northeast Nigeria, and they are known to often engage in child labour while hardly having access to quality education in camps. When they get to enrol in primary schools available in some structured camp, proceeding to the next levels of education becomes hugely challenging because of the lack of financial means. There are educational programmes put in place by NGOs such as the United Nations Children's Fund (UNICEF), PLAN International, and private individuals, but the literacy vacuum in displacement settings is still alarming. In Borno, IDPs complain that, sometimes, facilities are set up for learning but instructors are not available to teach.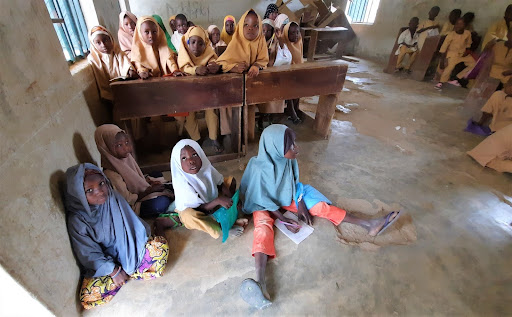 Displaced women
Internally displaced women, according to the policy, shall have the right to their privacy and will not be subjected to forced labour, sexual abuse, forced marriage, and so on.
Indeed, displaced women, especially in Northeast Nigeria, are seen to embark on various lawful economic activities to improve their well-being, such as cap-knitting, farming, commerce, and so on; but there are still gaps in their welfare. 
For example, cases of sexual violence and rape of IDPs, including underage girls, and period poverty in Northeast and North-central Nigeria have notably been documented. The scarcity of resources and safe job opportunities have also pushed a lot of displaced women to life-threatening activities such as fetching firewood from forests paraded by Boko Haram terrorists and survival sex.
IDPs with disabilities
According to the policy, IDPs with disabilities "shall receive medical care to the extent practicable which shall include psychological and social services whenever necessary". The physical environment shall be modified to improve movement and those who need mobility devices such as wheelchairs or hearing aid equipment are to be given. Where necessary, they should also have access to trained personnel such as caregivers, physiotherapists, and sign language interpreters. Additionally, information should be made accessible to them, IDPs with disabilities should be prioritised during service delivery, and children with disabilities should be enrolled in special schools.
But people with disabilities often have to struggle like everyone else during distribution exercises and many have neither mobility aid nor caregivers. What's more, statistics about the proportion of IDPs living with one disability or the other are in the least hard to find, making it difficult to plan for the demographic.
IDPs living with HIV
Displaced people living with HIV or other infectious diseases also have a place in the national policy. They are to be protected from discrimination and have access to adequate care and treatment, including for opportunistic infections. Their status should be treated with confidentiality and women should have access to prevention-of-mother-to child services. They should also be able to access clean water, hygienic food, and live in sanitary environments.
HumAngle, however, found out that IDPs living with HIV suffer from severe stigmatisation to the extent that people avoid them and, when they die, they hesitate to bury them. The United Nations Office for the Coordination of Humanitarian Affairs (OCHA) acknowledges that they are disproportionately affected by the humanitarian crisis.  They also grapple with challenges such as malnutrition as well as the lack of basic hygiene and health services, which have direct impact on their wellbeing.
Older persons
Nigeria's policy on IDPs pays particular attention to elderly people. It provides that they should be evacuated when left behind by family members during an emergency and should have their basic needs met, including nutrition, shelter, water, sanitation, and specialised healthcare. They should have relevant psychosocial support and be given special queues during food distribution and at health facilities. Camp facilities should also be accessible and safe for people of advanced years.
But in a report published in 2020, Amnesty International identified the challenges faced by the aged victims of the Boko Haram insurgency during displacement. "The federal and state governments are failing to meet these displaced older people's needs and to protect their rights, including their rights to food, health, shelter, dignity, and non-discrimination," the research and advocacy organisation observed. "Older people repeatedly described feeling unvalued and ignored; during assessments and in the design of humanitarian programmes, they are seldom consulted, much less meaningfully involved. Older women are especially excluded." 
Because of reduced strength and limited access to livelihoods, elderly displaced people often rely on relief items and food allowances to survive. But these are not available across camps and are often delayed. Others do not receive at all. So many old IDPs do not get enough food and resort to begging to scrape a living.
Amnesty International additionally noted that "displaced older people overwhelmingly do not have access to essential health services, despite often having specific health needs…Medication for common chronic illnesses that disproportionately affect them, like hypertension and diabetes, is not available in camp clinics."
Voluntary return, local integration, and relocation
Finally, the national policy states that IDPs may decide to return to their homes, integrate into the host community, move to another part of the country, or another country entirely. When returning, they should have access to appropriate packages, including food packages, household items, and provision for transportation for people with special needs.
But authorities in Northwest and Northeast Nigeria have often insisted on shutting down camps and resettling IDPs against their interests and sentiments. In Borno State, many of the communities whose residents were displaced are still not conducive as returnees have confirmed and some have, in fact, been attacked by terrorists during and following resettlement efforts. Conditions at some of the relocation sites make it difficult for returnees to sustain their livelihoods too, especially farming.
The cash support given to evacuated households is also said to only support relocation and not much after that. The Borno State government has, additionally, prohibited humanitarian organisations from distributing relief items to displaced persons in resettled communities.
"Returning displaced persons forcibly to villages that are not safe would be in violation of the Nigerian government's responsibility of protecting the right to life of civilians," concluded Osai Ojigho, Amnesty International Nigeria's Country Director, in December.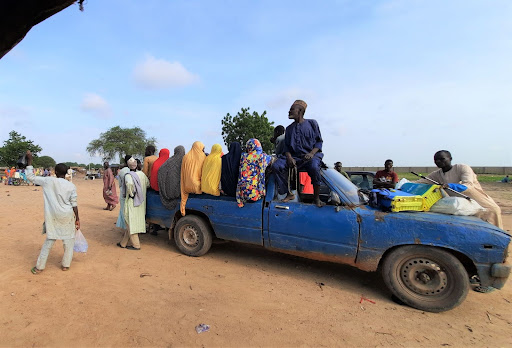 Seeing as the nature of armed violence and displacement in Nigeria has changed dramatically since the 2012 policy was adopted, the Ministry of Humanitarian Affairs, Disaster Management and Social Development recently reviewed the document. Last September, the Federal Executive Council (FEC) approved this update, but it has yet to be made public. Emails sent to the ministry as well as the National Commission for Refugees, Migrants, and IDPs (NCFRMI) by HumAngle requesting a copy of the document have not been acknowledged over a week later. 
The humanitarian affairs minister, Sadiya Farouq, had assured that the FEC approval would give rise to a multi-sectorial structure "which will ensure a coordinated, operational and strategic response to all the humanitarian challenges our great nation is facing". But it is not clear what adjustments have been made that could make any real difference in humanitarian interventions. The old policy already emphasised the adoption of a sectoral approach to the internal displacement response, with various sector leads coordinating efforts under a Focal Coordinating Institution.
Meanwhile, one reason for the disparity between the provisions of the 2012 national policy and the provisions made for IDPs, in reality, is the absence of a legal framework. For example, while Nigeria has signed and ratified the Kampala Convention (that is, the African Union Convention for the Protection and Assistance of IDPs in Africa), it has yet to domesticate the treaty even though the national policy specifically required this. The implication is that whatever the Kampala Convention stipulates cannot be enforced in local courts.
"In addition, there is no body or organisation responsible for monitoring implementation by the NCFR(MI), which is anyway under-funded," says Dr Bagoni Alhaji Bukar, who teaches law at the University of Maiduguri.
Another reason for the disparity seems to have been hinted at in the policy document itself. 
Towards the end of the foreword, then Minister of Special Duties and Intergovernmental Affairs, Kabiru Tanimu Turaki, had admitted that the delay in adopting the policy had consequences. He was, however, not referring to the welfare of IDPs or the coordination and effectiveness of humanitarian programmes, but rather that "the country [had been denied] a number of opportunities which it can access only when the policy is in place".
---
Support Our Journalism
There are millions of ordinary people affected by conflict in Africa whose stories are missing in the mainstream media. HumAngle is determined to tell those challenging and under-reported stories, hoping that the people impacted by these conflicts will find the safety and security they deserve.
To ensure that we continue to provide public service coverage, we have a small favour to ask you. We want you to be part of our journalistic endeavour by contributing a token to us.
Your donation will further promote a robust, free, and independent media.
Donate Here