Featured
Features
Humanitarian Crises
News
Displaced By 'Bandits' (5): The Different Shades Of Zamfara's Humanitarian Tragedy
"We just want something to eat, a place to stay, and something to do to take care of our families."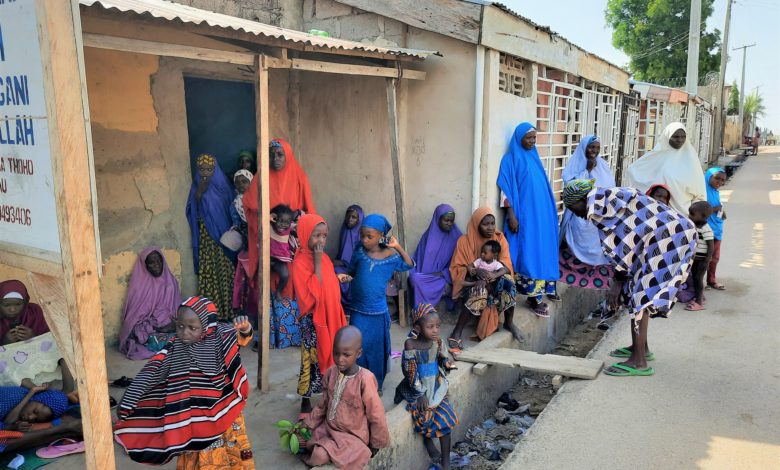 Usman Muhammed and his family were not going to leave their hometown even in the face of severe suffering. There was too much at stake. They had lived all their lives in this place and had built their wealth from rearing livestock and farming millet, sorghum, guinea corn, groundnut, and beans. But, this year, they were ordered to stop working on their farms. Eventually, it became obvious that the only way they could survive the onslaught was to leave everything behind and start afresh elsewhere. It was a difficult decision but anything else would be an invitation to death.
"Kadamutsa," Usman mentions the village's name. "That is where this calamity befell us."
A community in the Zurmi Local Government Area (LGA) of Zamfara, Northwest Nigeria, Kadamutsa is not exactly renowned. An online search only returns a few relevant results. And they show that when the name does make it to press reports, it is often lumped with those of surrounding communities. They also give the impression of a town under siege and whose inhabitants have deserted it because of attacks by terrorists, who locals prefer to call 'bandits'.
"Bandits kept attacking us every day. We got tired when one day they came and chased us out, and we had no other option but to leave," narrates Usman, a lanky, eloquent man, flanked by other recently displaced members of the community. 
"Even if you don't know where you're going and you have no one and no food, you have to leave that day. We had nothing left. They completely took over the place. We saw that it had gotten out of hand. At that point, there was nothing left for them to take. They've already taken everything. So, they were just coming to take our lives."
The invaders often attacked on motorcycles and, as people fled, they would jet after them, knock them down, and riddle their bodies with bullets. Unwilling to abandon hope, the townsmen would arm themselves with light, locally made guns, and patrol at night, firing into the air to discourage the criminals from attacking. But it didn't help much. They were no match for the terrorists and their more sophisticated weapons.
"All we did was console ourselves and bury each other. That was all we did," recalls Usman. 
"There was no peace. There was no sleep. We have gone two years now without sleeping at night. We've never seen such. That was why we left that place and scattered around the world. Some took off to the east, some west, some south. Our families came here because we have some of our relatives around. We were at a funeral when we found out our families had left. So, we followed them."
The Village Head, District Head, and Imam fled too. For Usman, his family and kinsfolk, their journey took them nearly 100 km southwards to Gusau, Zamfara's capital city. They had arrived just 15 days ago and settled along the Sokoto Bye Pass Road in a private residence adjacent to the Umar bin Khaddabi mosque.
HumAngle had in June visited several communities across Katsina, Sokoto, and Zamfara states that have been struck by terrorists. If you ask people in the former two states, they often trace banditry in their communities to five, six years ago. But residents of Zamfara say they have been battling the problem for over a decade. This is because the latest wave of attacks has its origins here.
A committee set up by the state government had traced banditry in the region to a struggle for land resources between farmers and pastoralists, cattle rustling, armed robbery, drug abuse, as well as vigilante excesses in Dansadau, a town in Maru LGA of southern Zamfara.
From this town, the problem spread such that there are now over 100 terror camps in Zamfara, many extending their operations to neighbouring states. According to the committee, between June 2011 and May 2019, over 6,319 people were killed and over 3,600 kidnapped. Also, over N2.8 billion was paid as ransom and nearly 380,000 livestock were rustled in the eight-year period.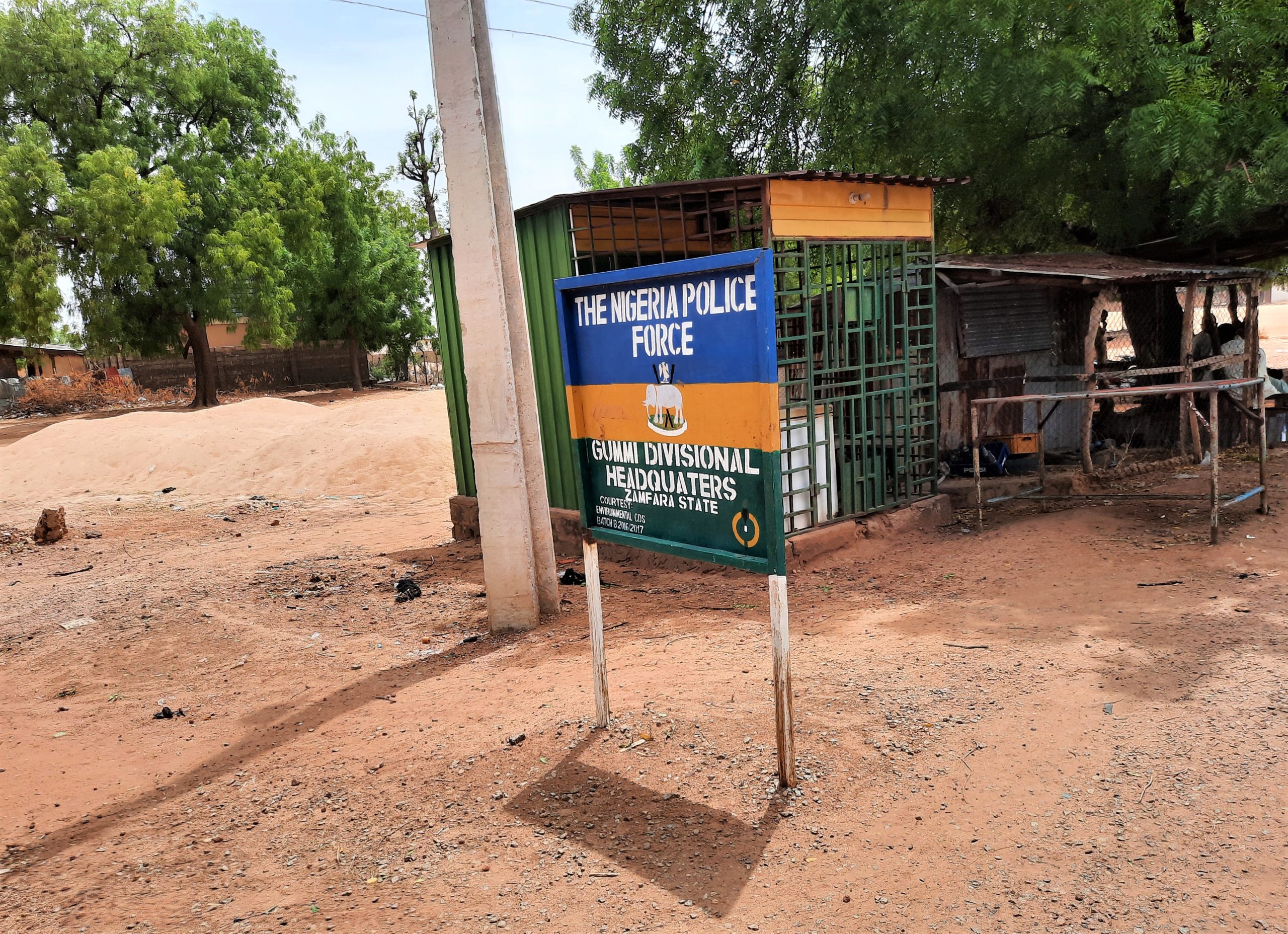 When home ceases to be home
Back in Kadamutsa, the children and women were particularly affected. Because of the trauma and turmoil, many of them could not eat and sleep properly.
"We, the men, would go out into the bushes and leave them at home. As they waited for us, they were getting startled by gunshots," explains Usman. 
"When they came for us, we protected ourselves with our little guns that went off occasionally whenever there was a shootout. It startled them. Because of that, when morning came, they were too traumatised to eat. Some of them even died of shock."
He adds that he himself would have died if he remained in the village because he had lost his thirst for water, and it only returned after they relocated.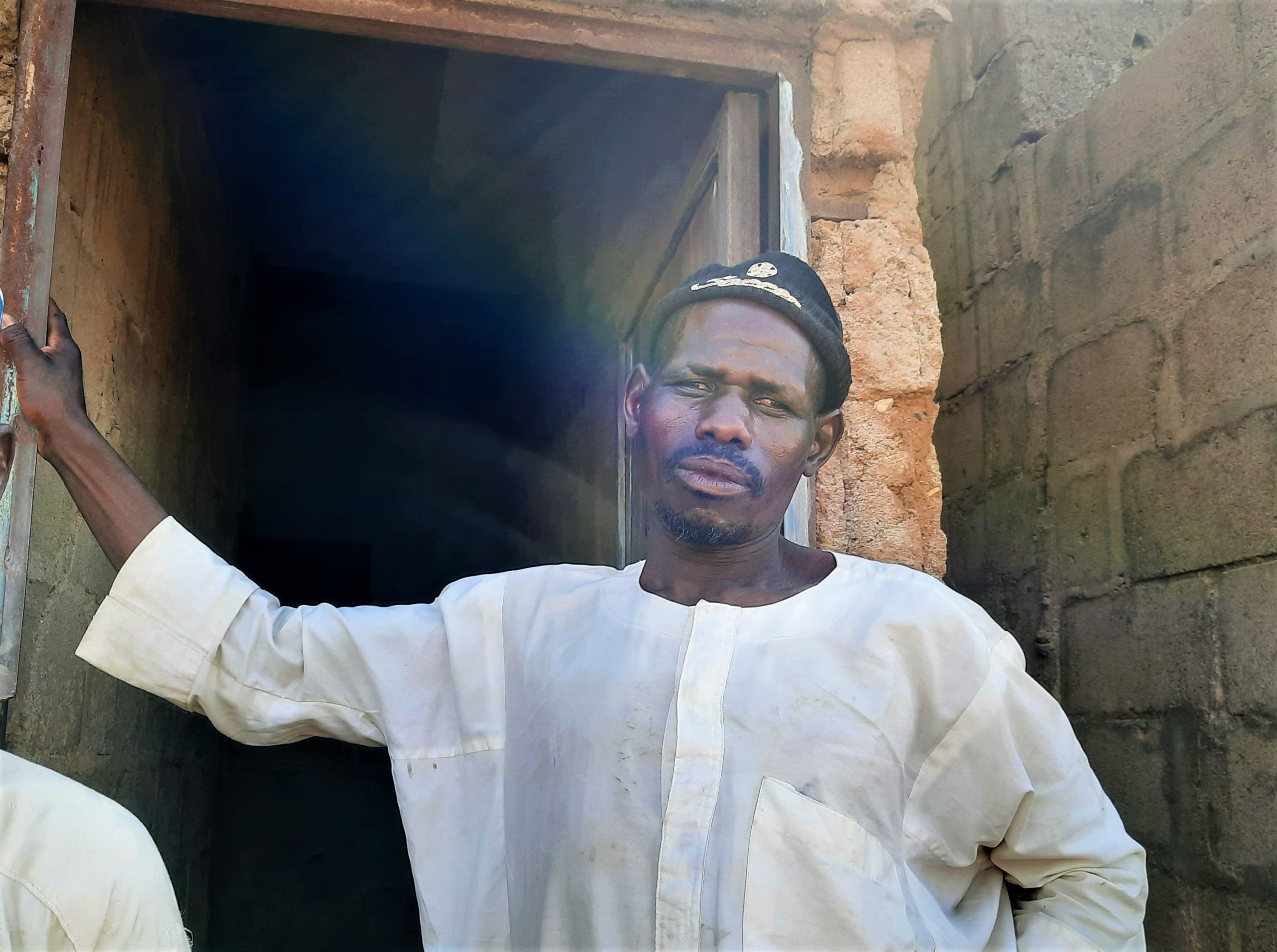 Adjusting to a new life
According to data compiled by the International Organisation for Migration (IOM) in February, there were 124,678 Internally Displaced Persons (IDPs) in Zamfara, with 75 per cent of them experiencing multiple displacements. Despite this enormous figure, there are only eight camps or camp-like settings in the state, hosting about 18 per cent of the displaced population.  
Meanwhile, state authorities recently claimed the IDP figure was as high as 784,000. They also said, due to improved security, they have started returning to their home communities, contradicting IOM's observation that the IDP population was, in fact, rising.
The absence of adequate housing facilities forces the displaced people to resign to pitiable living conditions in the host communities.
About 10 people from Kadamutsa share a small room at the private residence in Gusau. Oftentimes, when it is time for sleep, they spread their sheets outdoors or in a vast field behind the Federal Medical Centre just opposite the house. But during a storm or rainfall, they are forced to make do with the little space inside the rooms.
Unable to find gainful employment in their new home and because the rainy season has crept in, some of the IDPs would risk their lives by sneaking back into Kadamutsa to attend to their farms. Whenever they sensed danger, they would run to the neighbouring area of Dauro, where they would pass the night. There are those who sneak in and manage to retrieve foodstuffs and valuables from their houses.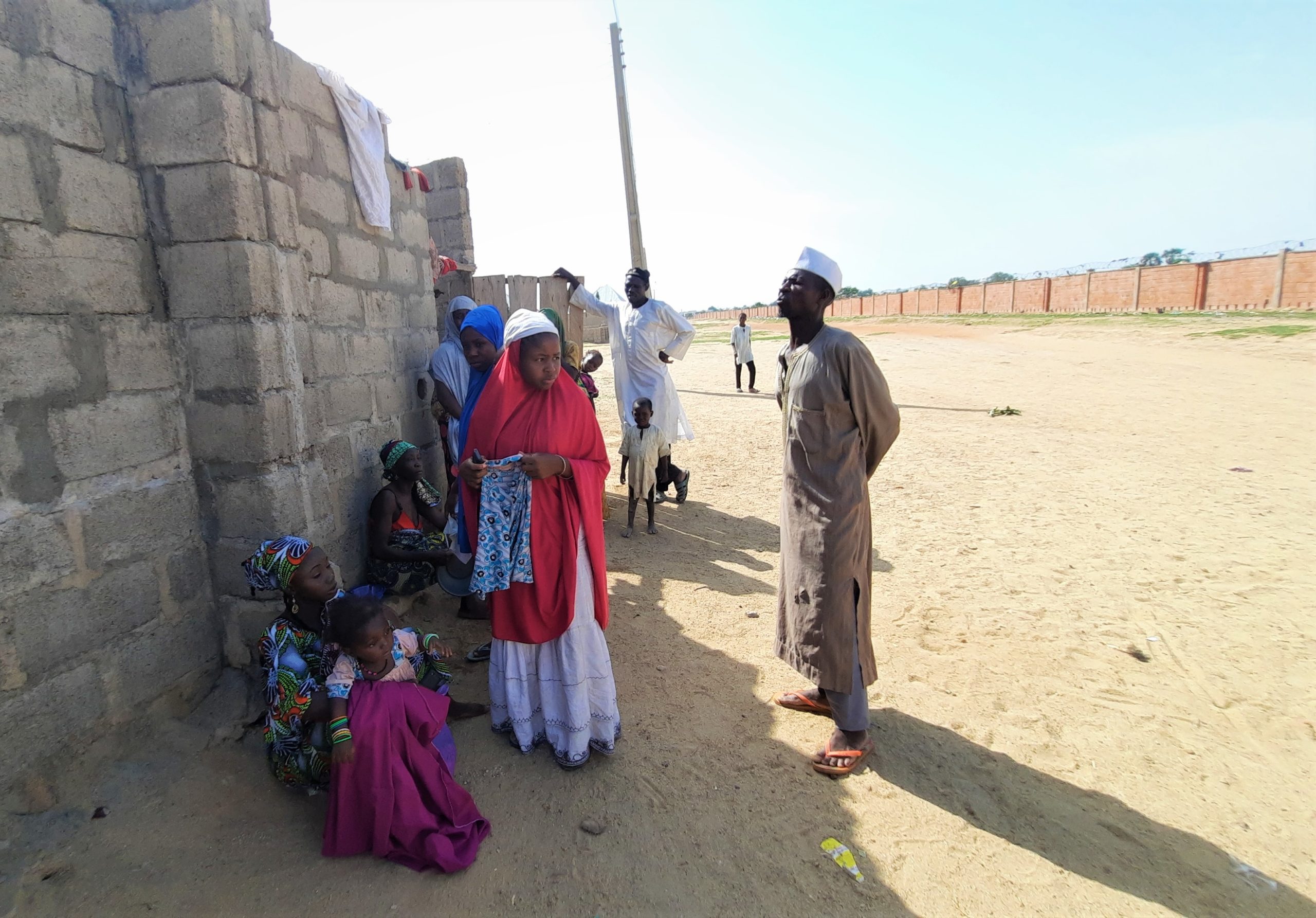 _______
While the residence we visited houses over 100 IDPs from Kadamutsa, across the street along Morai Road, Tudun Wada, is another group of IDPs from the same town said to be at least double in size. A plastic mat is laid on the veranda of one bungalow and a few dozen people, mostly women and children, lounge and loiter. The signpost erected outside says 'Sarkin Magani na Maradi' (Maradi's King of Medicine).
Here they face similar issues of congestion and hunger. To survive, they depend on the donation of foodstuffs such as garri and tuwo shinkafa from charitable members of the host community. It is estimated that, in Gusau alone, there are at least 500 grown men and 700 women displaced from Kadamutsa.
Anas M. Usman, a young man who now lives in the Tudun Wada area, lost one cousin and two uncles to the terror attacks. "We couldn't even bury him before we ran away," he says about his cousin. "No funeral. We were just able to cover him before we left."
He complains about neglect from the government despite repeated complaints.
"Is it that the government doesn't care about poor people?" he asks. "We're being treated unfairly and we don't know what we did. If there's a crime that poor people committed against Nigeria that we didn't know about, they have the right to say something."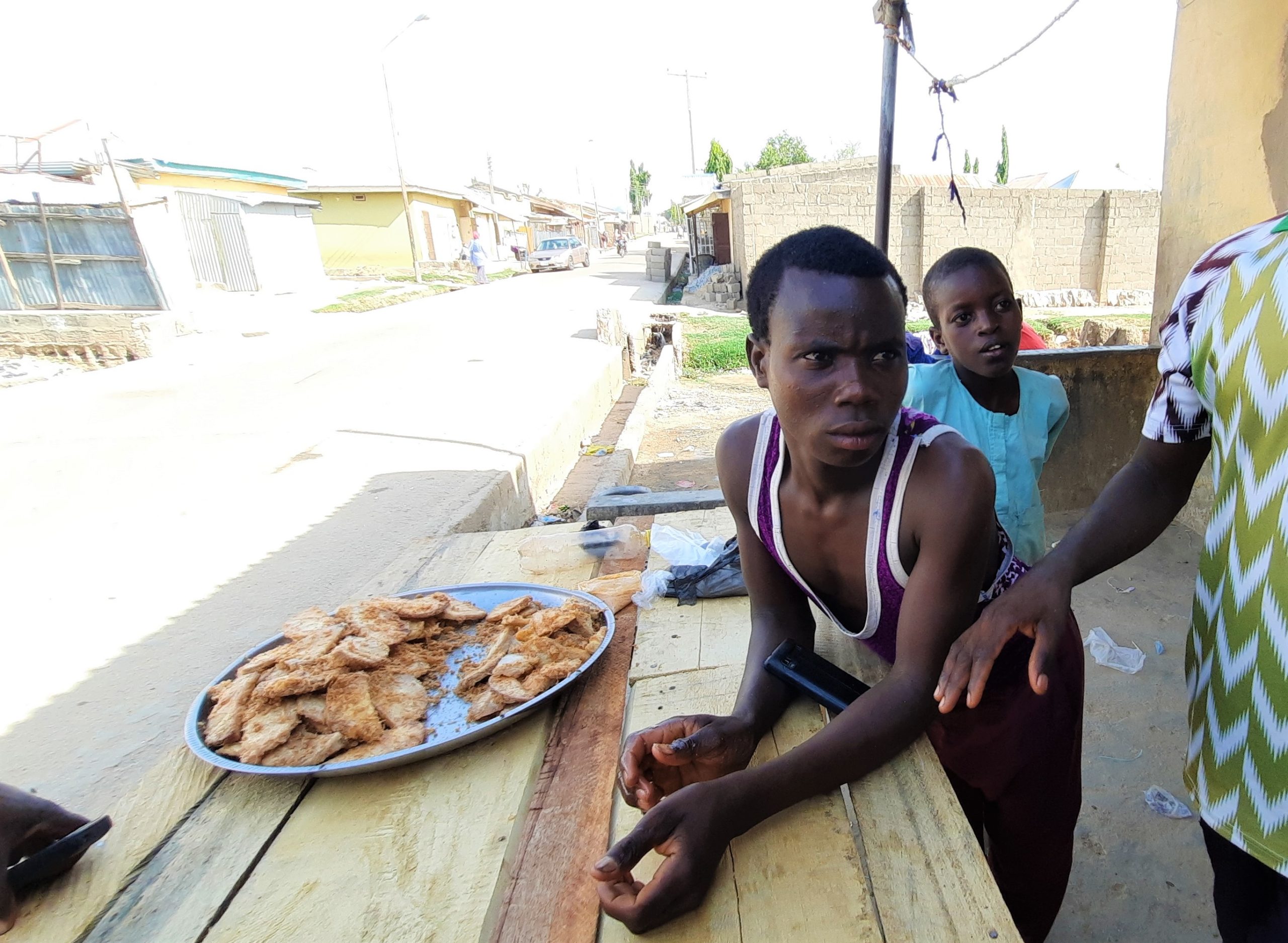 ________
On another side of town, about 10 minutes away, is a tiny settlement named after a local channel, Standard Voice Television, because of their proximity. It is basically one building donated by the owner until the IDPs find better accommodation. It provides shelter for about 50 people from various communities in Bungudu and Kaura Namoda local government areas, who moved to Gusau over three years ago.
The conditions appear much worse. The house is in terrible shape. The letters, numerals, and drawings on the walls suggest that it used to be an elementary school. It is mostly without windows and the doors have fallen off — if they were ever fixed. The walls host a generous number of cracks too, making the place even less habitable during the rainy season. The IDPs here sleep on cartons and survive on little food. 
"We don't have money to do business. We don't have goats. We don't have anything. Look at this, we pluck edible plants and eat," says Nana Muhammadu, a woman in her sixties, as she points to a black bowl filled with a type of plant known as tabasa. If they are lucky, they get to have healthier meals and, sometimes, they combine the cooked leaves with garri, a staple food made from cassava. They go without food too from time to time.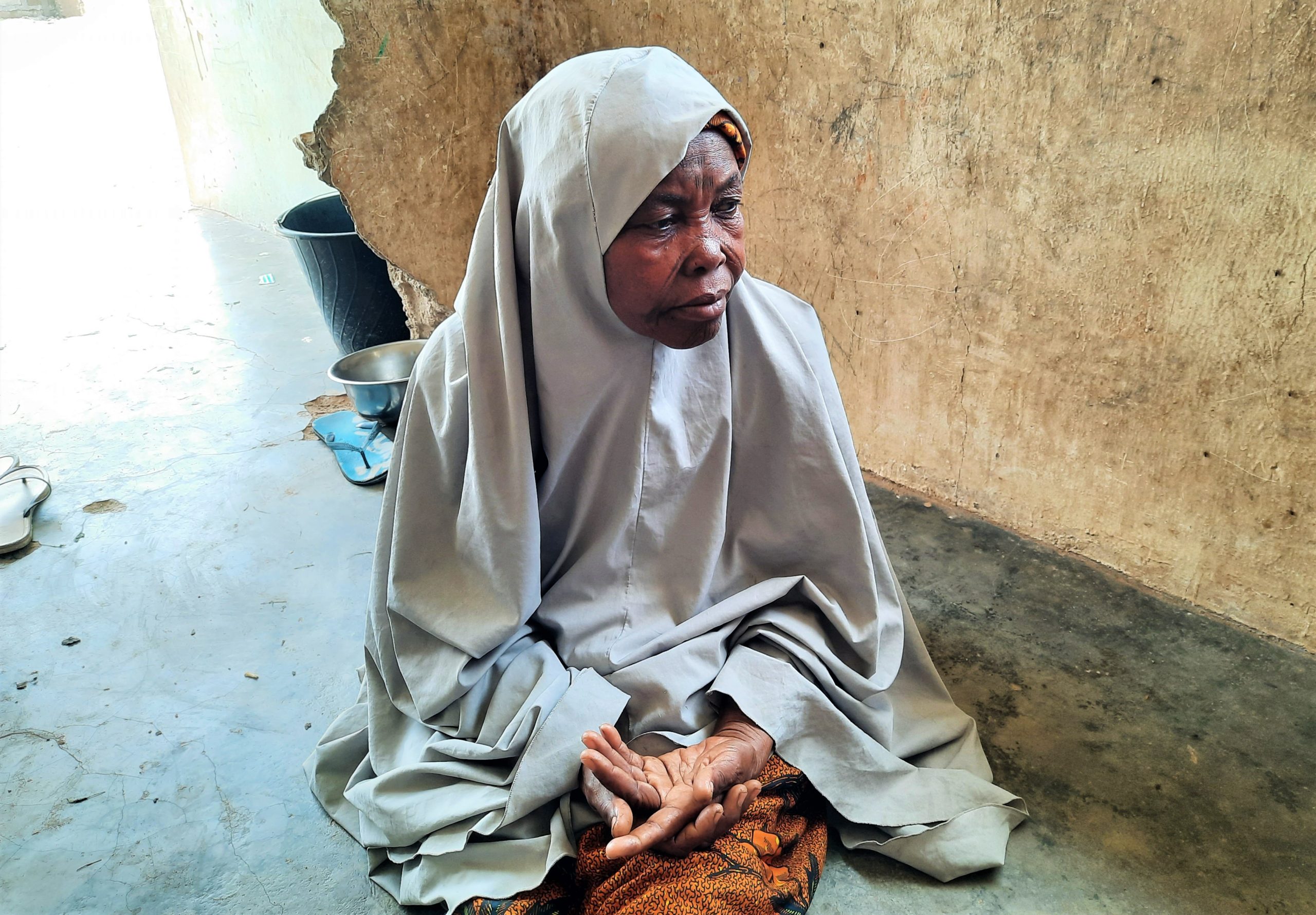 Nana has been displaced multiple times. First, from 'Yar Galadima, a community in Maru LGA, where terrorists notoriously massacred over 200 people one market day in 2014. Then again from 'Yar Tukunya in Kaura Namoda LGA four years later. She had been persuaded by her children to leave. The following day, she says, terrorists attacked and murdered many villagers.
"In these times that we're in, there's no one who will say they don't have any family member or relative who has been killed," Nana says in a strained, raspy voice. "They kidnap and torture them. They keep them until their ransom has been paid." 
"If we get any support from the government, we want it. If we get any support from the people, we want it. We don't have any preferences. Someone who sleeps with hunger will be grateful for any help," she pleads.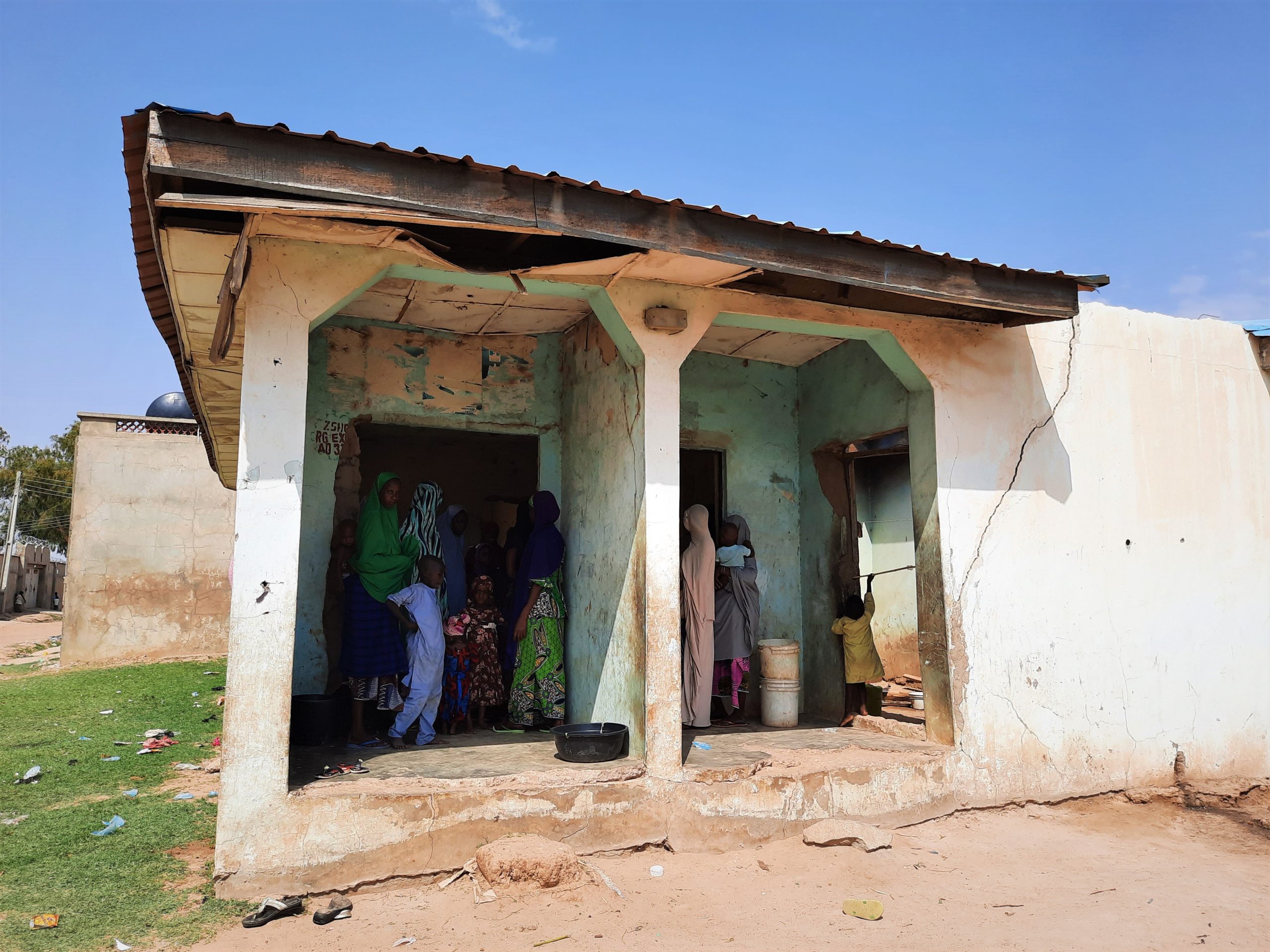 ________
Yet another distinct shade of Zamfara's humanitarian crisis is how displaced people increasingly resort to begging for alms.
Ummu Sani and Kulu Isa, two aged women, had the means of earning a living back in their respective communities of Shinkafi and 'Yan Bigi. Ummu sold sorghum, wheat, beans, and  kuli-kuli, a snack made from groundnut. She also had a grinding business. Kulu, on the other hand, sold akara and tuwo with soup. But they are currently two of Gusau's countless beggars, having been displaced in May 2021. Every morning they visit the Yahaya Maradun petrol station close to the city's Magami Market and then leave for their shelters between 7 and 8 p.m.
Kulu, who wears a brown hijab faded at the top, explains that she begs for alms because she lacks the resources to start a business. "They've chased us out and stolen our goods. No farming, nothing," she says, reclining against the fuel pump.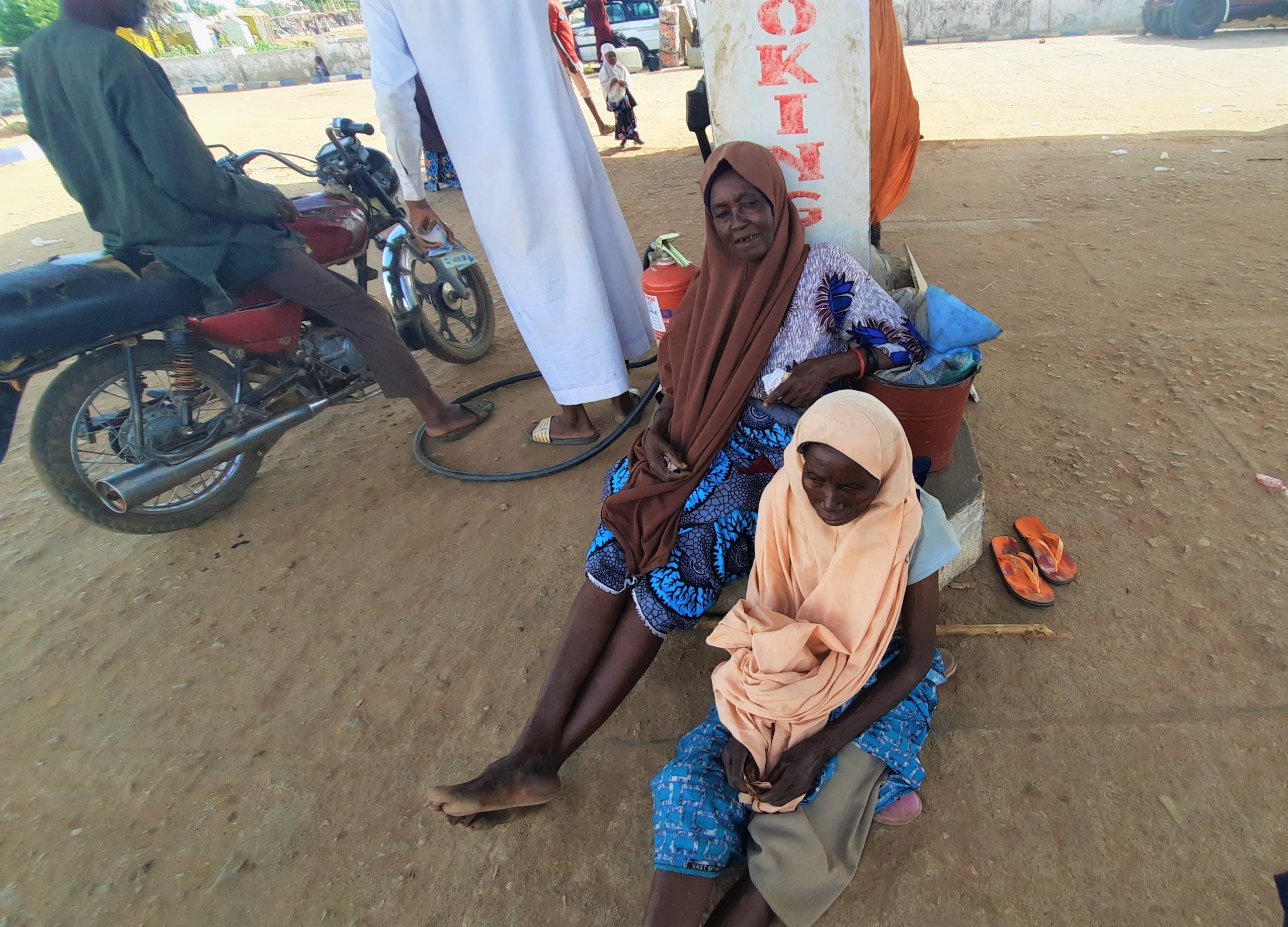 ________
One of the few camps operated by the Zamfara government is the Tsunami camp in the state capital. It has taken over the premises of a Government Girls Day Secondary School. When HumAngle visited on the evening of June 6, the camp administrator said we needed to take permission from the state authorities before they could entertain questions.
One of the camp officials, however, informed us that there were over 2,525 registered IDPs from 15 communities at the site. At what used to be the Vice Principal's office, we noticed bags of rice donated by the World Food Programme (WFP), King Salman Humanitarian Aid and Relief Centre (KSRelief), and Coalition Against COVID-19 (CACOVID).
At exactly 5:17 p.m., the bells rang for the distribution of dinner as the officials showed us out.
Meanwhile, Usman says they have not heard of the Tsunami camp and that no one has directed them there for assistance.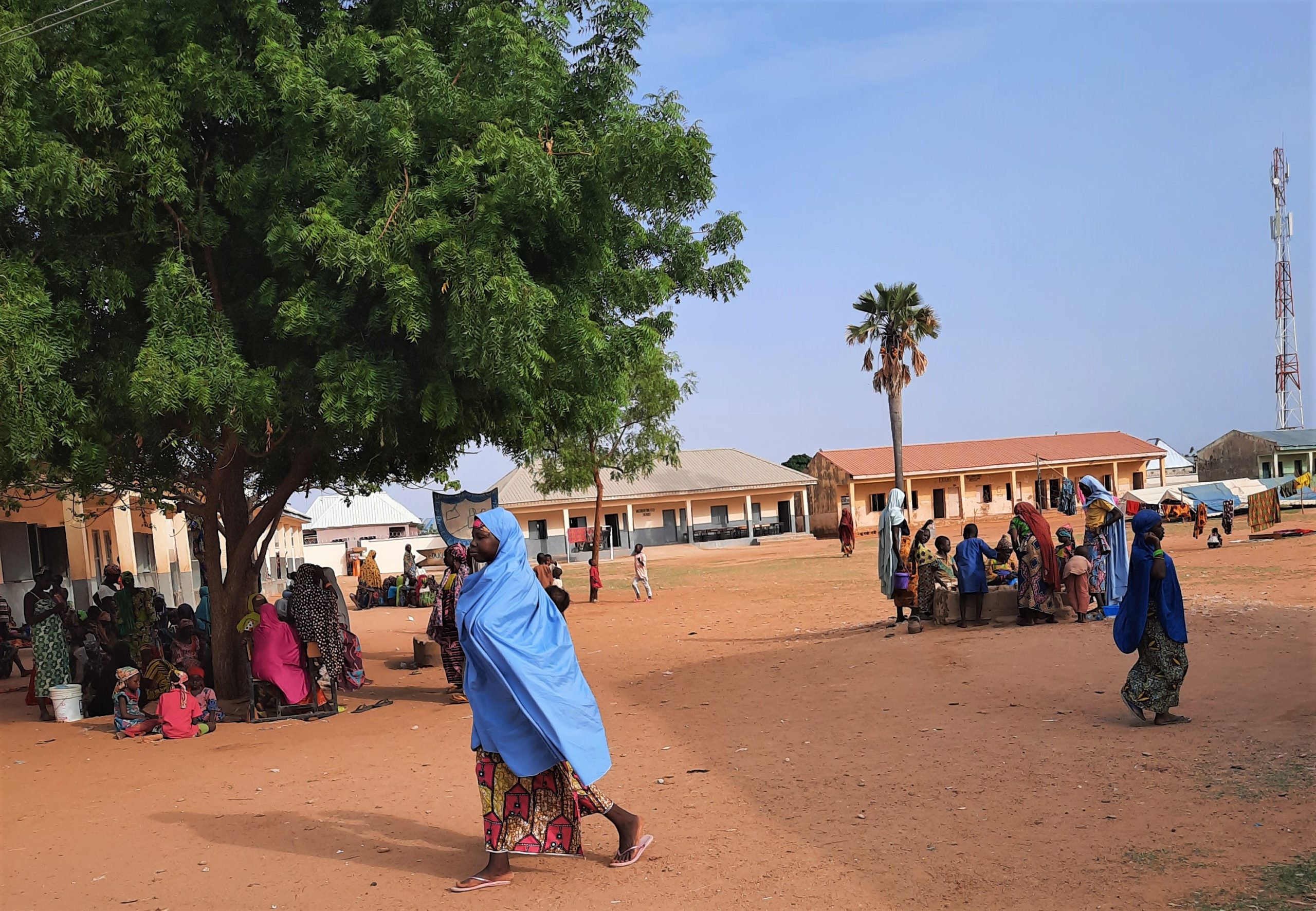 Away from home and out of school
Aside from two mosques and two grassroots bank agents, the Model Primary School is the only other landmark in Kadamutsa that is named on Google Maps. The townspeople say there is a secondary school as well and then Islamiyyah schools where women and children received secular and religious education. Since their displacement, however, this has naturally been on hold.
"We're not happy about this," Usman says. "Education is the foundation of our religion. Without education, there's no progress. Both the western and the Islamic education…So, you see, we're not progressing now." 
Mustapha Mahi, one of the instructors at Tarbiyatul Awlad bi Deenul Islam, has fled the town like many of his colleagues. He tells HumAngle the school is now locked.
Before they left a few weeks ago, there were what Mustapha calls 'everyday problems'. Classes could be ongoing and there would be cries of 'incoming bandits!' The students, some of them pregnant women, would then scamper for safety. "That's what led to the closure of the school for married women. It also led to the closure of the children's elementary schools," Dalhatu Muhammed, another Kadamutsa teacher, tells us.    
Mustapha describes seeing his former students being out of school as painful and very disturbing.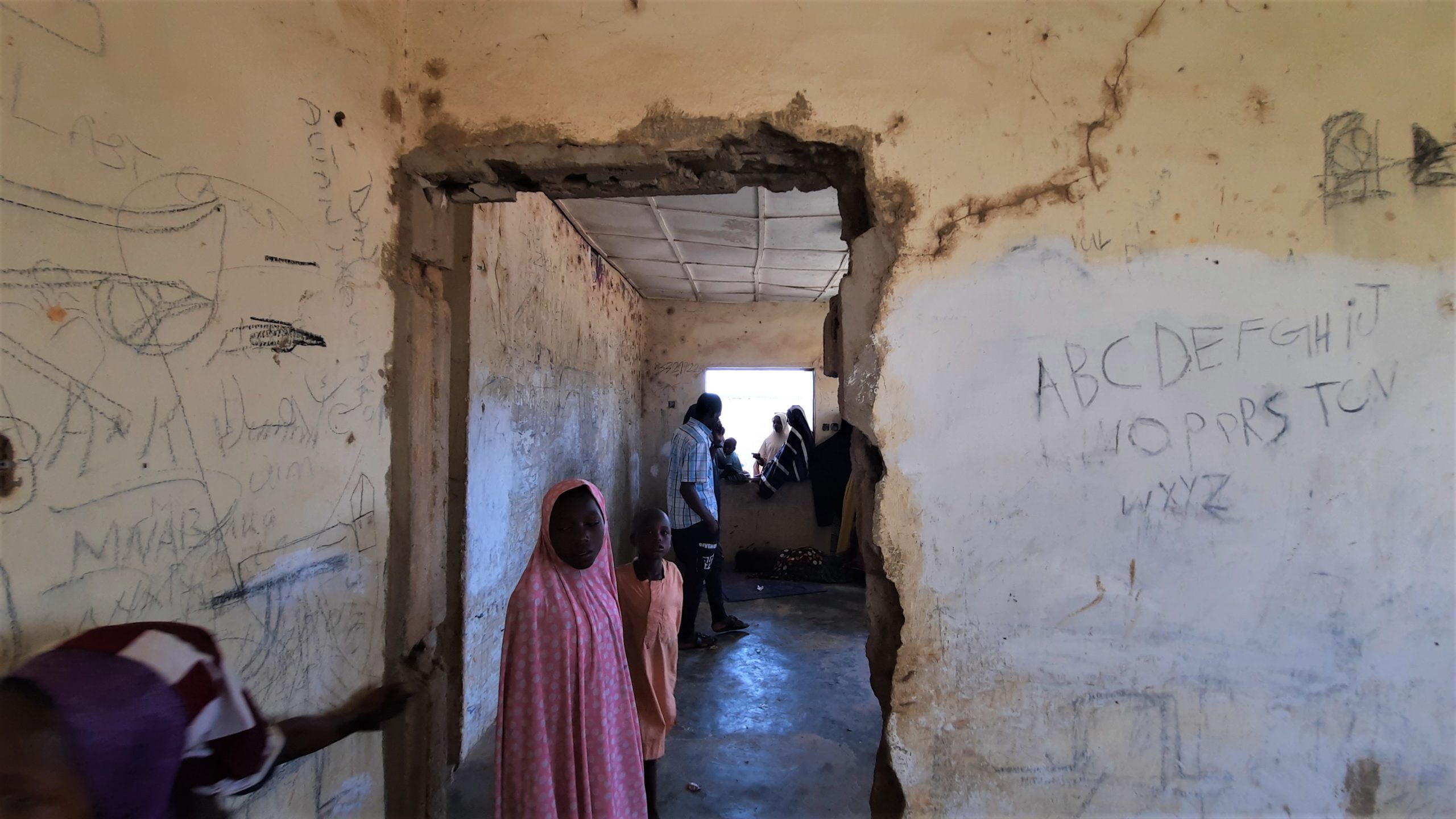 Like Gusau, like Anka
The metropolis of Anka, in Anka LGA, is another part of Zamfara known to host thousands of displaced people. It has multiple formal and informal settlements. 
One of them, known as NRC Bypass, hosts over 700 people originally from Tangaran, a now-deserted community in Wiya, Anka LGA. The settlement consists of two blocks of two-storey buildings, shaped like classrooms. The structures were still under construction when they were quickly converted into a shelter. Tiny toilets outside are walled in with aluminium sheets. Inside the main structure, tarpaulin barricades are nailed in to separate the rooms. Roofs, as young as the tarpaulin covers, had hurriedly been placed on the buildings. But, without a ceiling, rain gets direct access into the interior in places where the roofing has been lifted by heavy wind. The earliest sign of a downpour forces the IDPs into a frenzy of safeguarding their property.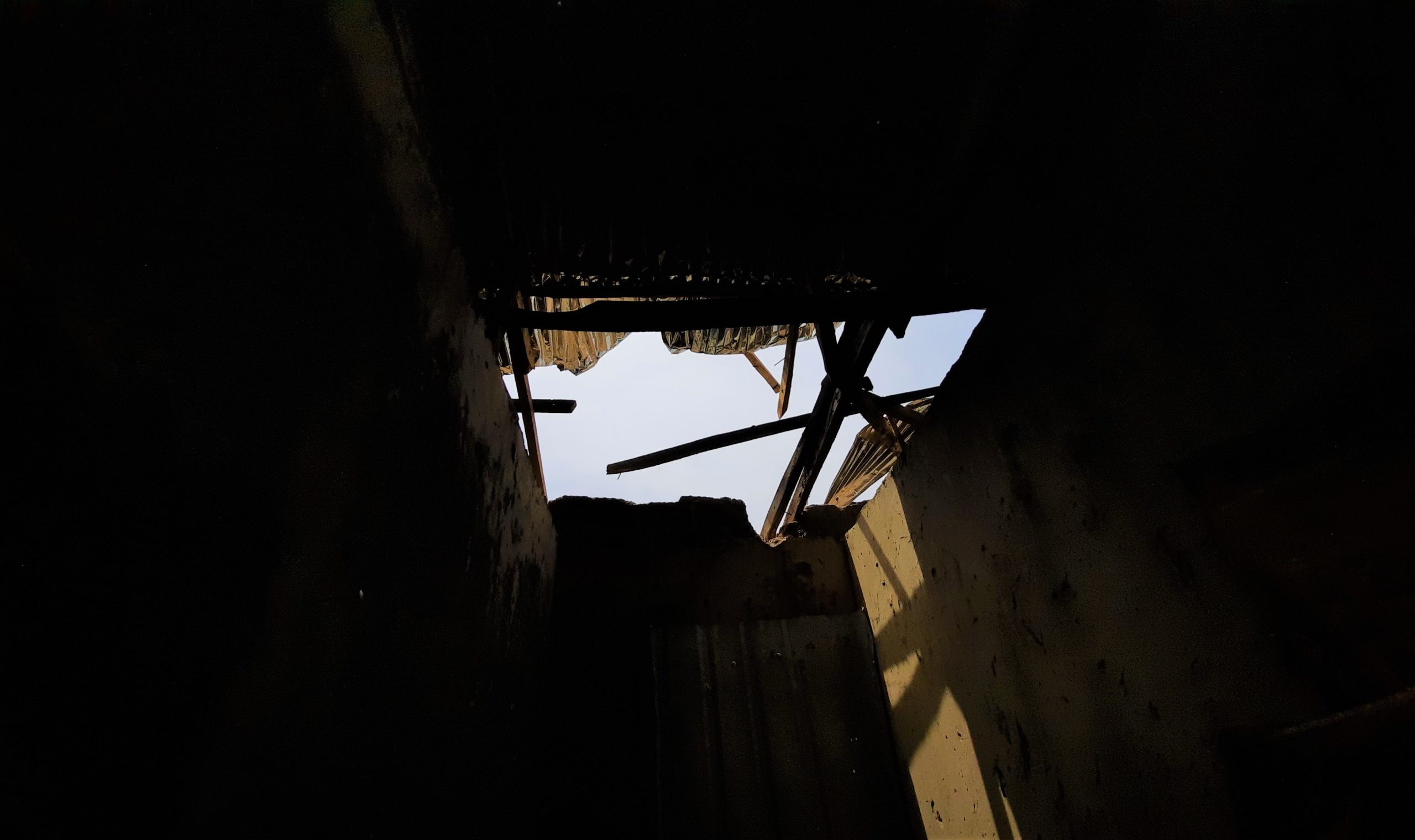 The experiences of the inhabitants bear a signature that is all too familiar: murdered families and neighbours, stolen properties, rustled livestock, and the forced abandonment of farmlands that are now overgrown with weeds. Rabiu Momsa, one of the camp's leading figures, says over 40 members of the community were killed before they opted to relocate last year.
Aisha Sani is one of those who have suffered tremendous losses. When the terrorists approached their community, her son sighted them and ran to inform others. The invaders intercepted and killed him. Aisha currently looks after his seven children, alongside two of her own. Her husband can't offer much help because of a disability affecting both his legs.
The IDPs say most of the support they receive is from foreign humanitarian organisations. One group gave monthly cash donations of N26,500 to each household, with which they bought sorghum and other essential needs. But the intervention was scheduled to last only from March to May. So, with the days in June counting down quickly, a cloud of fear and uncertainty hovers above the IDPs. "Some are saying we should just pray to God and hope that they extend it," Rabiu says.
Hunger is the biggest concern. Operating from the town's General Hospital, Médecins Sans Frontières (MSF), an international medical NGO, is filling the healthcare gap by treating IDPs, only requiring them to fill forms.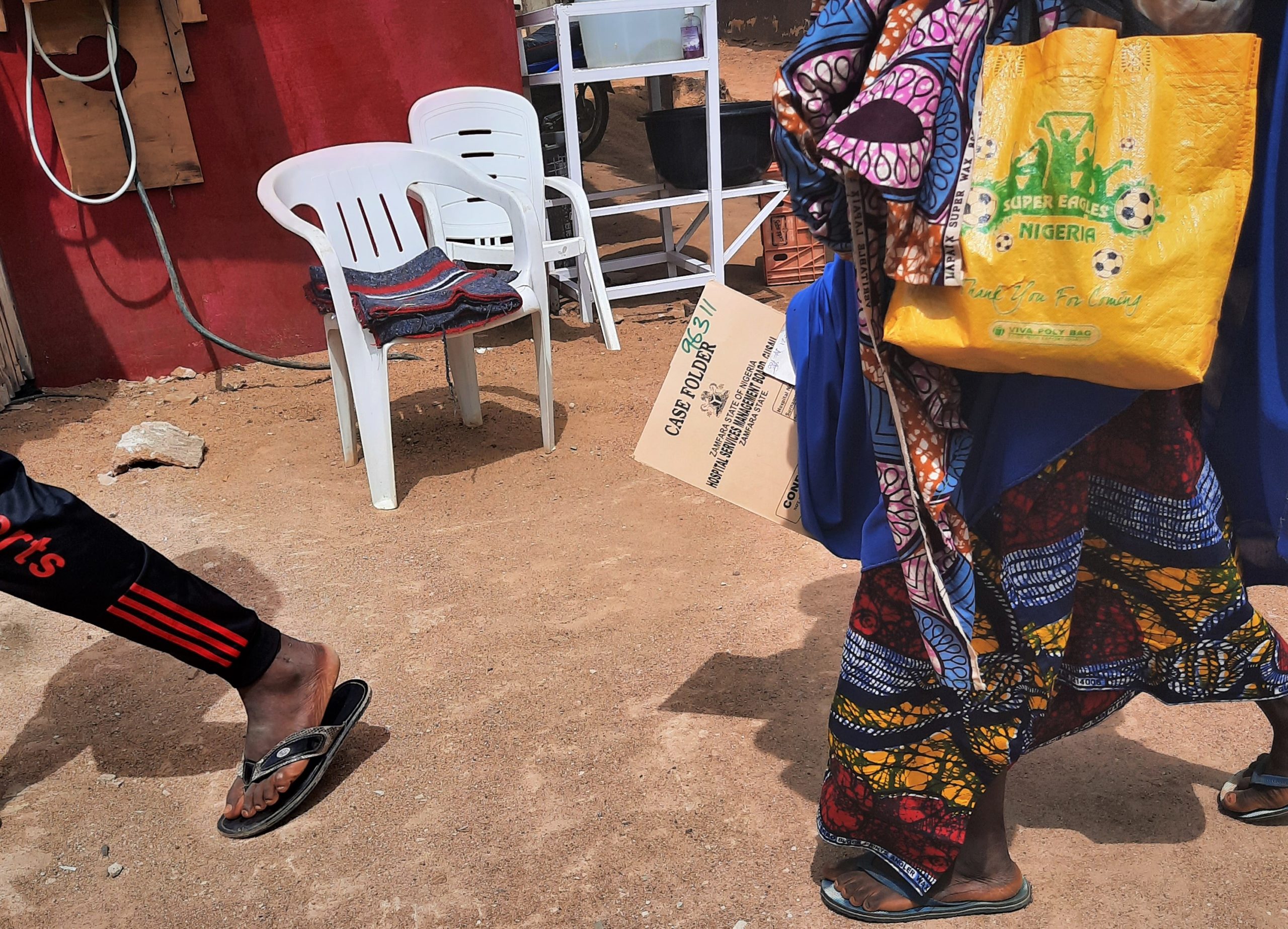 The children do not attend schools either because their parents cannot afford to enrol them. The resources available to them have dwindled significantly because of their inability to work. "Back home, you get to farm by yourself and feed your family. But here, it is till you're given. The people here are farming on their own farms. Where will a stranger farm?" Rabiu highlights the root of their predicament.
Just like the people of Kadamutsa, the IDPs used to sneak back into Tangaran to retrieve their valuables but the security situation has worsened and it is now impossible to do so.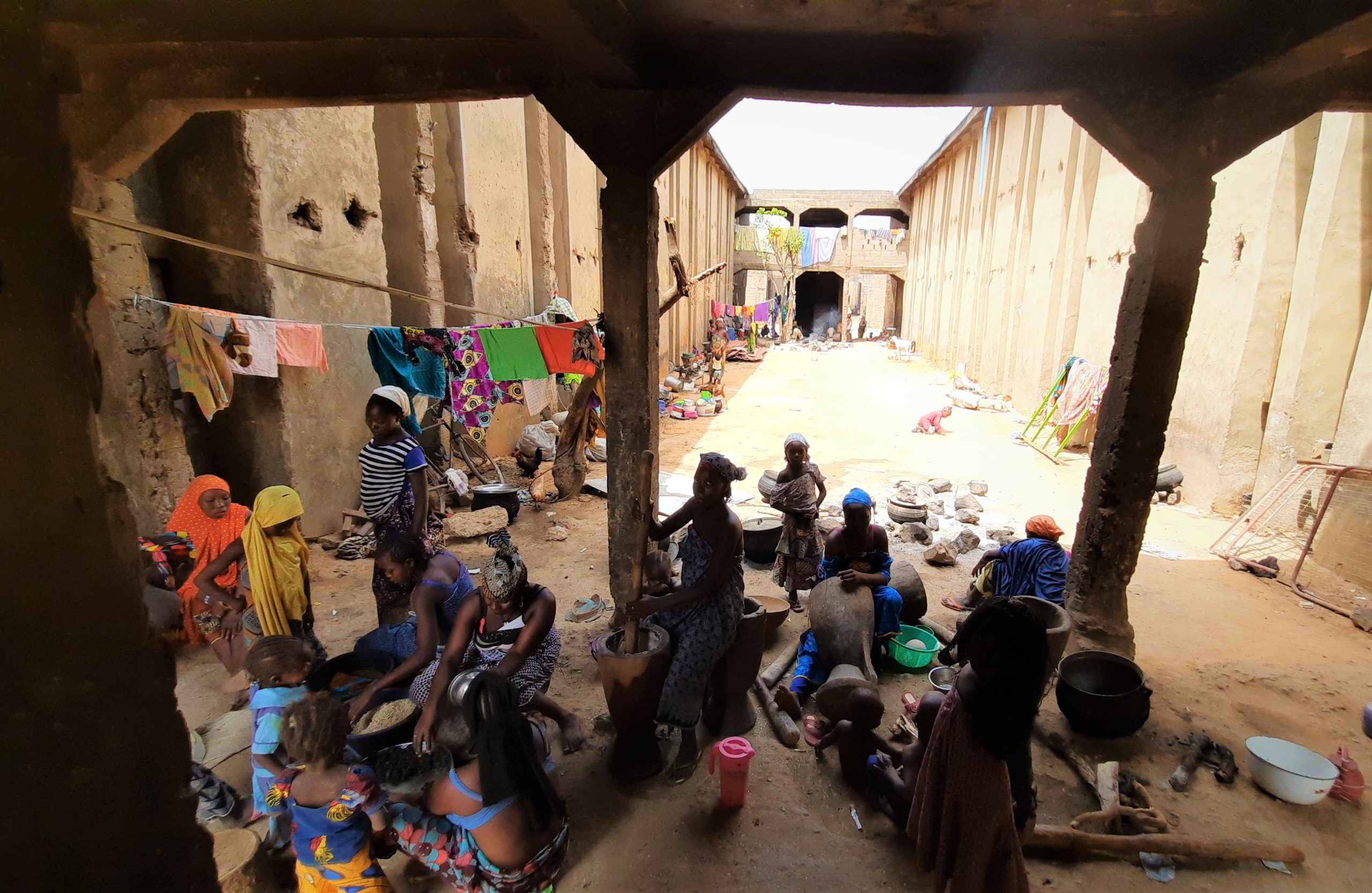 _______
Summarising the needs of the displaced community, Usman has three things to say: "We just want something to eat. And a place to stay. And something to do to take care of our families." 
Above all, they want security so they can return to their hometowns and farmlands. The IDPs from Kadamutsa, who sustain themselves mostly from farming, say with just one military patrol van protecting their village, they would be confident enough to go back. They even prefer this to free access to food and housing aid in the state capital.
"You see, I woke up today without food. I took an axe, chopped some firewood, and went into town to hawk it. And I didn't even get anything from it. I'd rather use my hand to work since I can, instead of begging from place to place. So please, I'm begging in the name of God, they should find a way to help us to go back to our villages," Usman says, gently bringing his palms together in prayer.
---
This is part of a series of reports supported by the Centre for Democracy and Development (CDD) to unmask the impact of rising insecurity in Northwest Nigeria.
---
Support Our Journalism
There are millions of ordinary people affected by conflict in Africa whose stories are missing in the mainstream media. HumAngle is determined to tell those challenging and under-reported stories, hoping that the people impacted by these conflicts will find the safety and security they deserve.
To ensure that we continue to provide public service coverage, we have a small favour to ask you. We want you to be part of our journalistic endeavour by contributing a token to us.
Your donation will further promote a robust, free, and independent media.
Donate Here