Displacement & Migration
Featured
Features
News
Displaced By 'Bandits' (4): The Different Shades Of Katsina's Humanitarian Tragedy
Despite having one of the largest populations of displaced people in Northwest Nigeria, there are scarcely any formal structures in Katsina to address the needs of armed violence victims.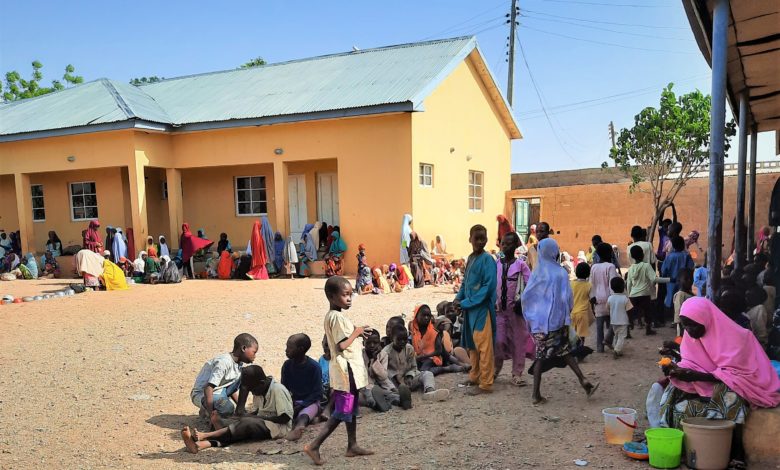 Somewhere along Dutsinma Road in Katsina lies the office of one of Nigeria's lesser-known construction companies. A white sliding gate reluctantly opens into the premises. About two dozen people loiter outside, hinting at what could be going on. Inside, on the right, are hundreds of women and children, mostly sitting on the ground and on the verandas of adjacent bungalows. Their husbands and fathers huddle together under a tree opposite them. The children are grouped into separate rows, some of them holding plastic and aluminium bowls. Along the line also is a queue of empty basins, buckets, and coolers. Everyone is wearing an expectant look.
The big tires, bulldozers, and trucks piled behind the men leave no doubt that the site truly belongs to a construction firm. But, every morning, the presence of this familiar crowd gives it the semblance of a displacement camp. Having been cut off from their livelihoods, hundreds of Internally Displaced People (IDPs) from various communities in Katsina, Northwest Nigeria, gather here for sustenance. They come with their children too, sometimes as many as eight per couple. The benefactor, they say, is Dahiru Barau Mangal, a Katsina-born businessman and owner of a diverse set of companies, including Max Air, Katsina Dyeing and Printing Textiles, and Afdin Construction Ltd. 
Mangal is known for his donations to vulnerable people through government agencies and directly in places such as the Afdin Construction premises in the Katsina state capital. The striking rise of insecurity in the region has ensured that more and more people are relying on philanthropists like him for survival.
Isa Alhassan, a security guard at the company premises, estimates that at least 300 indigents, mostly displaced people, visit the facility daily, expecting cooked food to be distributed between 9:30 and 10 a.m. The number of beneficiaries has tripled compared to when the programme started five years ago.
"It's being distributed everywhere in this town," chips in Afdin driver, Lawal Ahmadu. "Every centre you go to, you'll see a high number of people. Counting their number is impossible."
Government interventions aimed at helping victims of conflict are inadequate in the Northwest compared to the size of the problem. Displacement camps are scarce too, forcing tens of thousands of Nigerians to seek refuge in neighbouring countries like the Niger Republic and anywhere else they feel safer. According to figures published by the International Organisation for Migration (IOM) in February, Katsina is home to nearly 109,000 IDPs, 94 per cent of whom were displaced between 2019 and 2020. Despite this huge figure, the state has only four camps and camp-like settlements that care for 0.2 per cent of the displaced population. In contrast, Kano and Sokoto states with a combined IDP population of about 69,000 have up to 18 settlements. 
Through their inaction, the governments end up shifting responsibility to members of host communities, non-profit organisations, and private individuals with resources to spare.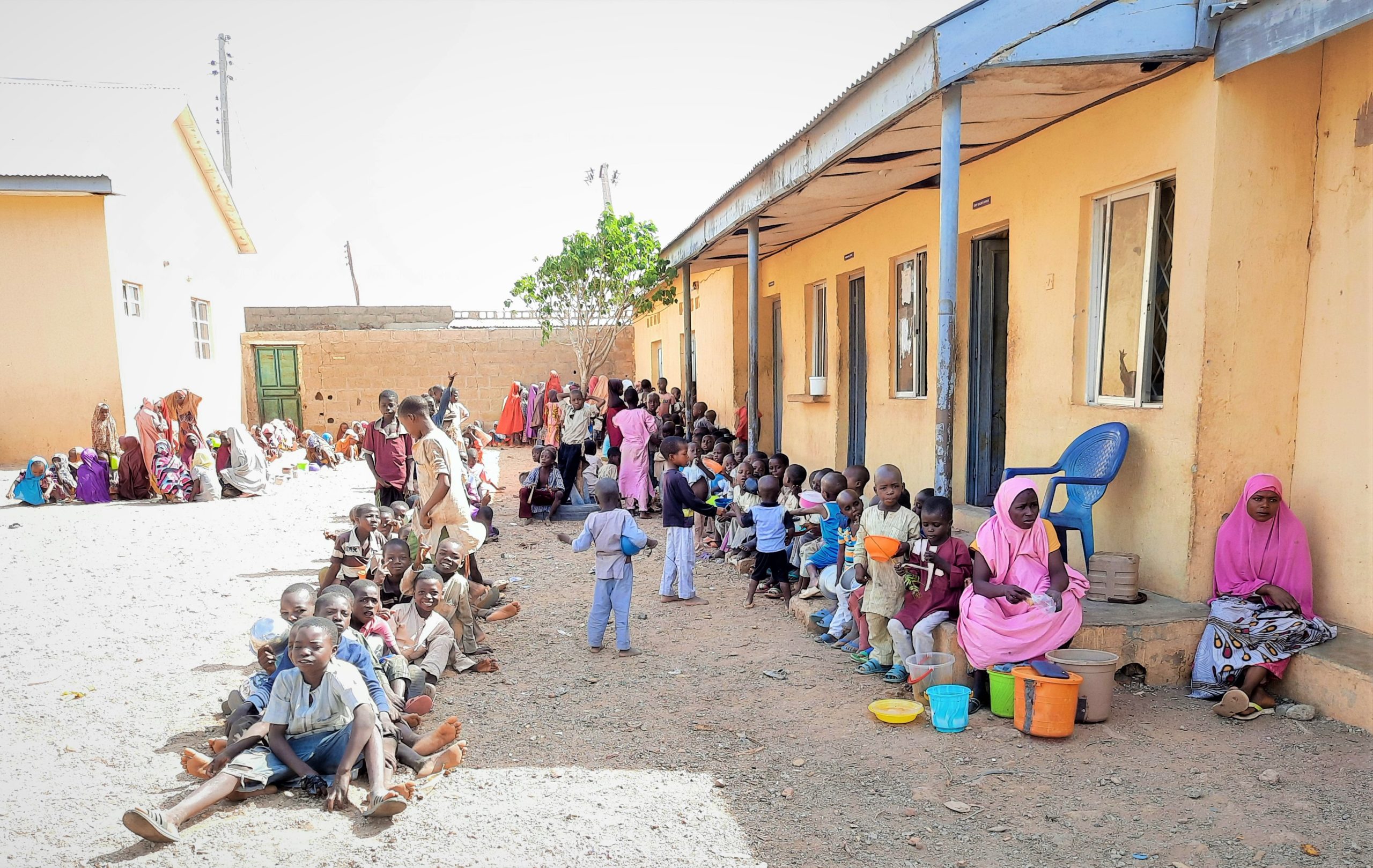 Escaping mayhem
Though he claims to be only 45, Muhammad Lawal appears much older, from his frail voice to the ridges lacing his neck and the white stubble gracing his chin and cheeks. Last year, he fled Kase, his hometown in the Batsari Local Government Area (LGA) of Katsina, with his two wives, children, and grandchildren. Kase is sub-divided into two communities: Kase Babba (big Kase) and Kase Karama (small Kase). All the inhabitants of Kase Karama, where Lawal lived, have deserted the village, he says, because of the havoc wreaked by terrorists, often referred to locally as bandits.
"They chased us out," he emphasises. "There's no one left in our village. There's no one. They killed some of us and some of us ran away." The locals were also prevented from farming. Those who tried working on their farmlands were ambushed by the terrorists, some losing their lives, others barely escaping.
Like Lawal, Ahmadu Tela left his village of Illela, Safana LGA, in 2019. The 78-year-old was born in the village and says his family is one of the original settlers. 
"We were chased out. I'm telling you. I was laying down with my wife when bullets started raining down, passing just above us," he recounts.
One day, as he sat in front of his house in the company of his family, they heard the terrorists were approaching. He then decided he had had enough and it was time to leave. They made their way to the state capital in their neighbour's car.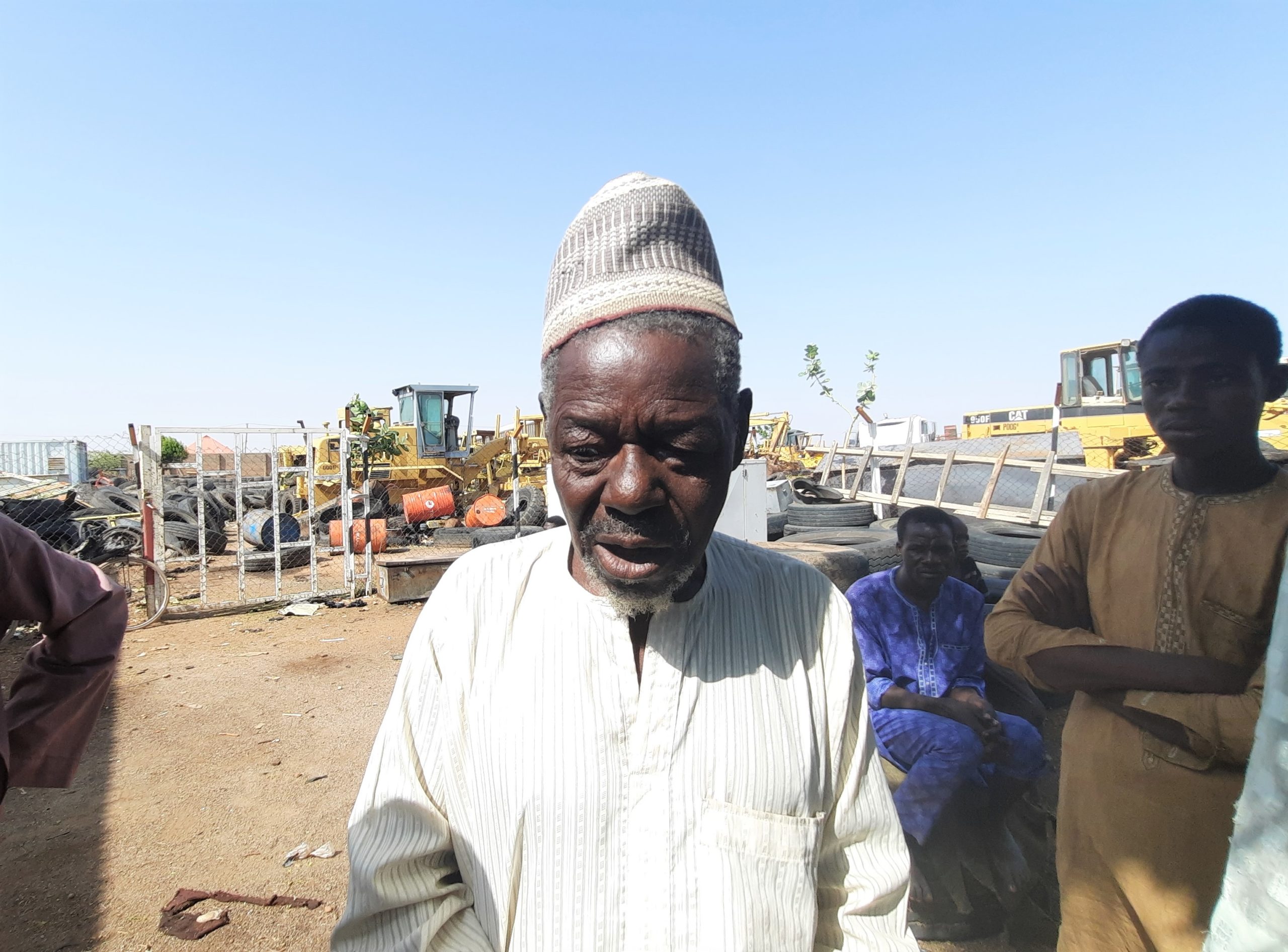 Safe but struggling
State authorities in the Northwest have not been very receptive to the establishment of IDP camps meant to serve as temporary shelters for those displaced. In Nov. 2020, the government of Katsina shut down seven camps, including ones in Batsari, Jibia, and the Katsina metropolis, claiming to have assisted the IDPs to return home. Earlier the state governor, Aminu Masari, had warned non-governmental organisations against providing assistance at the camps.
Without displacement camps providing shelter, IDPs in Katsina struggle to lease spaces in the capital city. Others luckily are given rooms to stay free of charge by members of the host community, but often in dilapidated houses. It is common to see beggars, as young as eight, who announce that they are yan gudun hijira (refugees). In some places, they gather in their hundreds to seek alms from residents.
Lawal's large family now lives in an apartment in the state capital. They started by paying rent but the landlord has said they can stay for free for a while if they fix the front of the house that is severely damaged. But he does not have the means to even take care of the repairs and is desperate for some support. 
Back in Kase Karama, Lawal was a successful farmer who also bred livestock. But now, without a source of income, his fortunes have tipped over. One time though, he worked as a security guard by covering for the person hired to do the job, until that one resumed. Thankfully, his family at least does not have to worry about getting breakfast, which is provided daily by Mangal's relief programme.
"I don't have any food so I have to come here to collect," he tells HumAngle.
"We are happy about the support that we receive here in Mangal's garage. We came here to receive help and it's manageable. With our children and wives and even my grandkids, we're all here with them."
Isyaku, 40, who was displaced from Wagiri, Batsari LGA, with his wife and eight children, has found it difficult to get a job too. Their livestock was forcefully taken, farming had become deadly, and they were forced to move to safer pastures. But there are no farmlands available to him in Katsina, so he ventured into nail-cutting (roadside manicure and pedicure), a low-capital business that is especially common in Northern Nigeria. Armed with a small pair of scissors, rags, and a container of liquid soap, other displaced men say they have taken to nail-cutting too. 
Many of the IDPs who worked as farmers similarly complained of being unable to access their lands due to attacks and conditional levies imposed by the terror gangs. It was likewise impossible to lease the farmlands as no one in their right minds would be interested.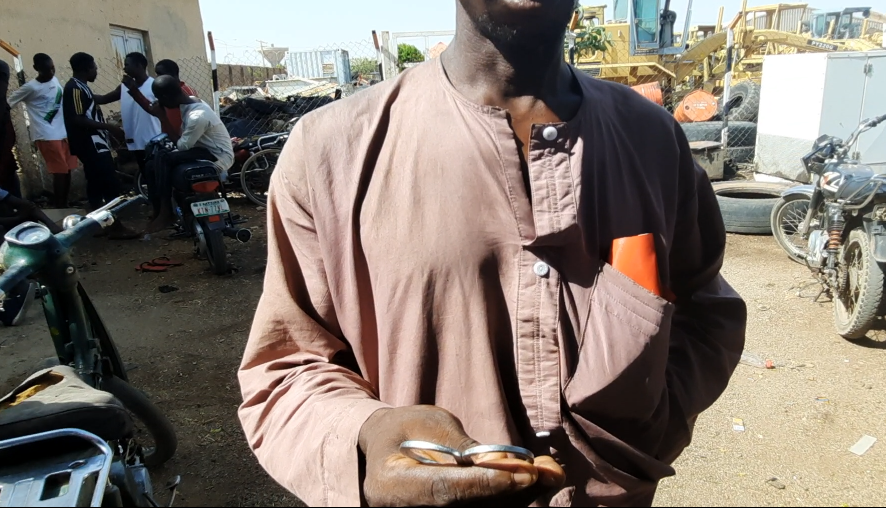 Meanwhile, Tela had worked as a tailor in Illela and was lucky to have escaped with some of his valuables. When he arrived in the Katsina metropolis, he had enough money to buy a house. But that's as much comfort as he could afford. Every day since he became displaced, he would visit the Afdin premises for food.
"This support is all we get. We've never gotten any other support," he says. "If I get this and eat, I go home. All the little children, I get it together and feed it to them. If I don't get it and I go home empty-handed, well, I just leave it to God."
He adds that he has so far not received any support from the government.
"If there's a place where they are distributing something, I've never been a beneficiary. If you see me eating, I got the food from this place."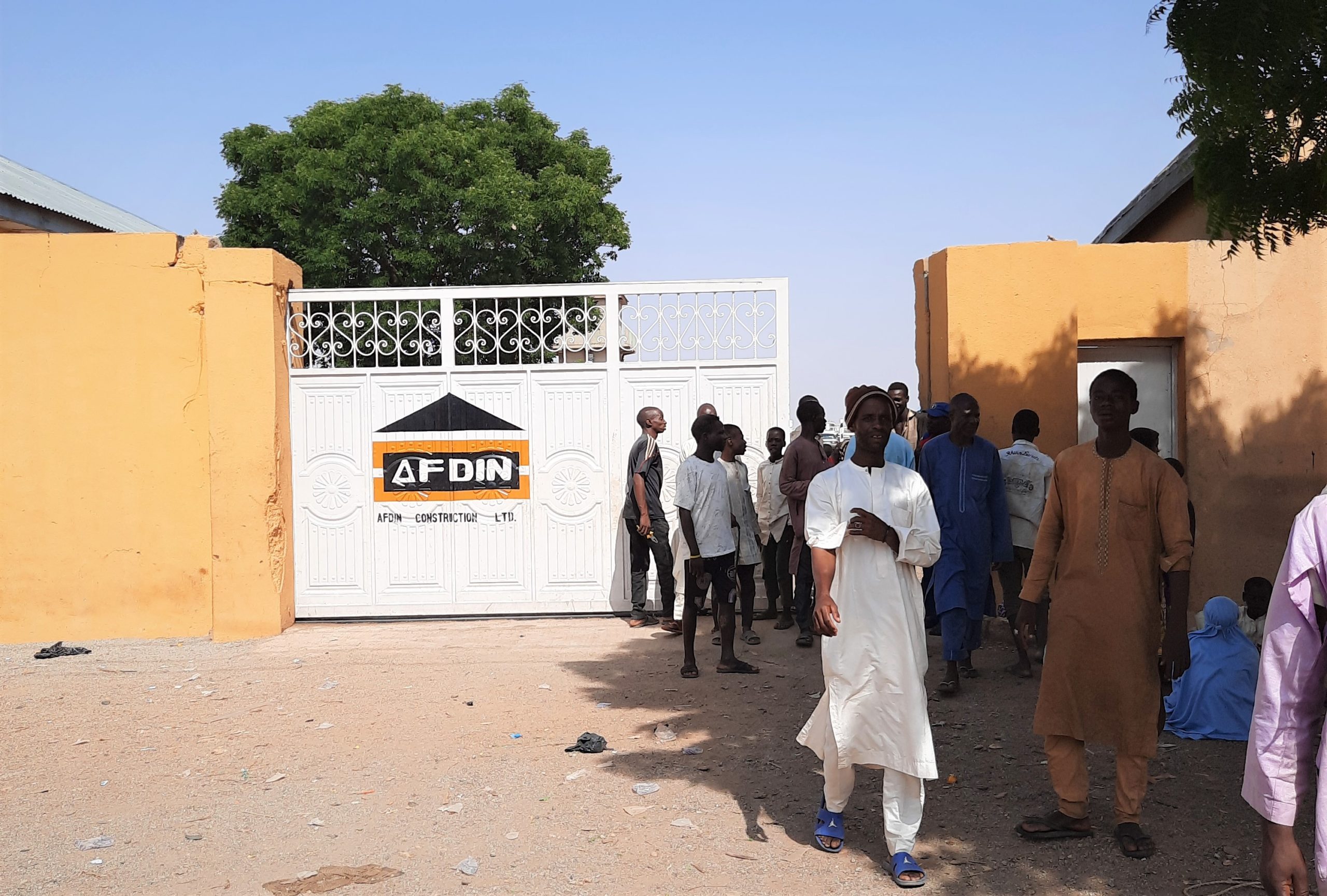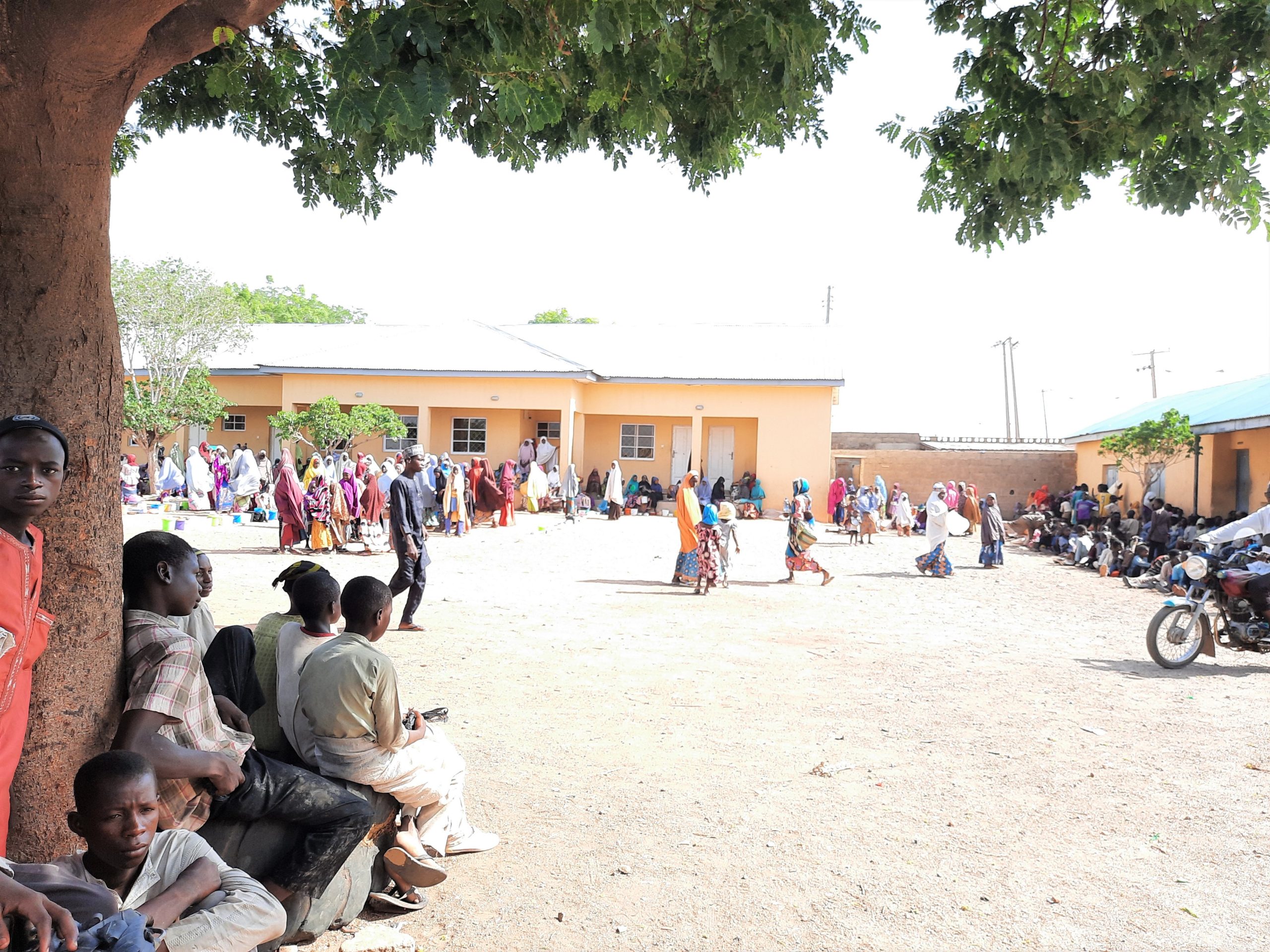 Single mothers, multiple problems
Women IDPs at the Afdin office-turn-relief centre face a distinct set of challenges. Maryama, often fondly referred to as Uwan Nagode (Nagode's mother), is in charge of coordinating the women. She says there are many widows among the victims and over a hundred orphans who frequent that location alone. 
Uwan Nagode also offers insight into how the IDPs manage to get enough food to last through the day: "It is this same one that, if I get, I'll eat and put the rest out to dry. And then I'll wash and cook it again at night."
One of the single mothers at the centre is Binta. In 2019, her husband travelled to find the family a place to stay in a safer community. But he didn't return and she has not seen him since. There was no way of contacting him too since he did not leave with a phone. "We're just here thinking if he's okay. Is he alive or dead? We honestly don't know," she says with a face contorted by worry.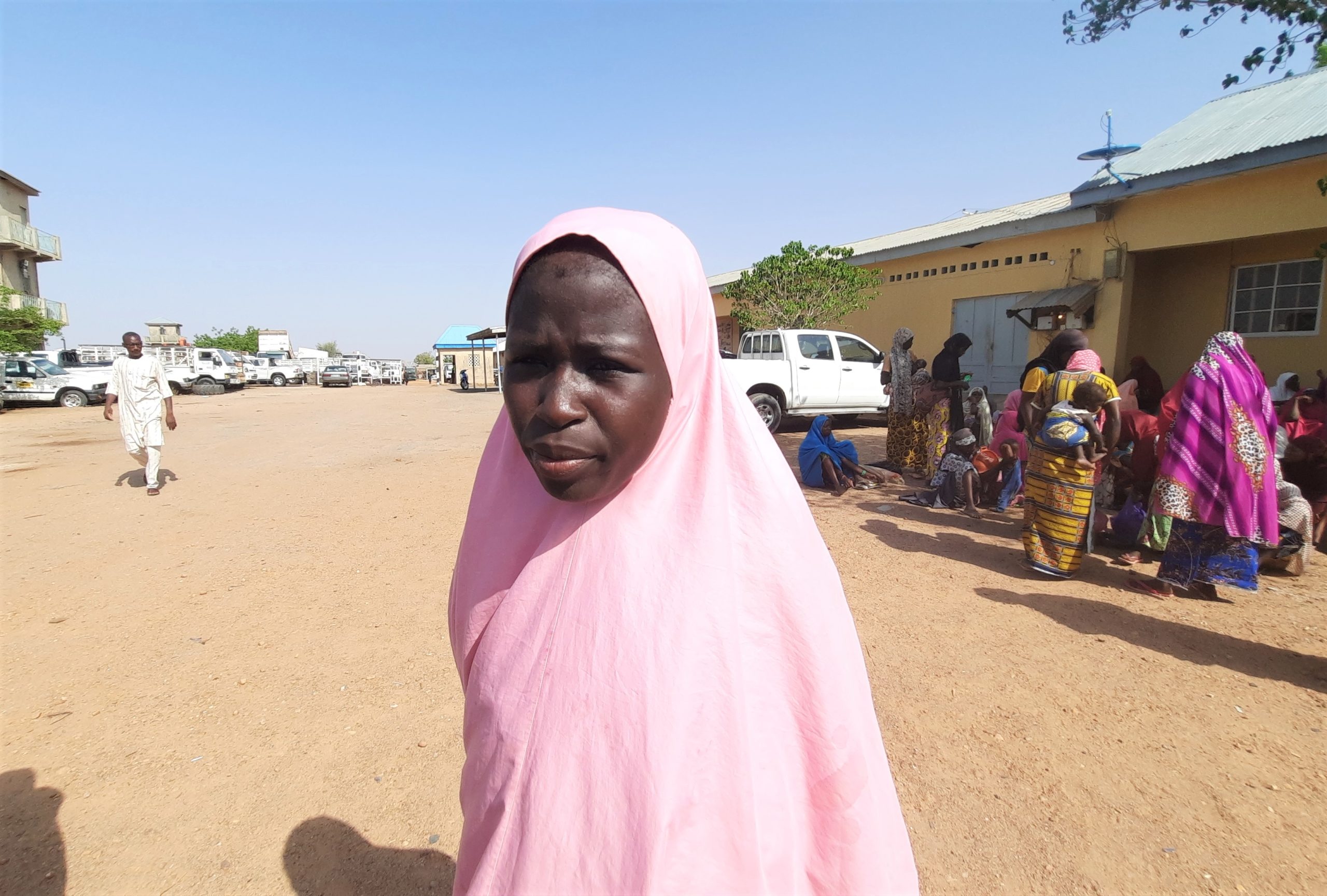 When the trouble from the terrorists intensified, she packed her four children and moved to the Katsina metropolis. Shortly after her arrival, she gave birth to a set of twins, making her responsible for feeding at least seven mouths including her own. "Look at them there, five boys and one girl," Binta says, pointing towards the queue of children.
"In this IDP camp, he [Mangal] is our sole provider when it comes to our eating, drinking, and everything involving our lives because without him, honestly, we would be in a sorry state. We are begging for the government to help us. We are seriously begging because we have left our houses and everything that we own. Barau Mangal has become our mother, father, brother, and everything; it's all him. We are here with our infant children and there's no one that can go out there and provide for us."
Widows of Batsari
Interviews with scores of victims of terror attacks across the Northwest and press reports indicate that men are more likely to be murdered by the invaders. Though these killings are tragic in themselves, they also leave a disturbing trail of wives without husbands and children without fathers. The weight of providing sustenance and protection previously supported by the men suddenly comes crashing down on the rest of the family. 
Last year, District Head of Batsari, Alhaji Tukur Ruma, estimated that about 600 women and 2,000 children had respectively become widowed and orphaned because of the security crisis.
Many of the widows from communities inside Batsari LGA have now moved to the area's capital city, where they hope to keep themselves and their children safe. Some of the younger ones returned to their parents' houses while the older ones depend on their grown-up children one way or the other.
Salima Abdulmalik's husband was killed two years ago while working on a farm in the village of Madogara. Her husband's eldest brother who she relied on for relief died the following year. And she already lost her grandparents and father. Unable to cope with the shock, the 35-year-old mother of nine has had to push her smaller children to raise money to keep the family going.
"I worry a lot, especially because my children hardly visit," she says, her eyes tired and her lip corners pulled down sorrowfully. "Aside from the ones in school, others go out and beg and bring something home. They may also get paid for little chores. As for me, it is my small business that I'm doing. I buy and sell used clothes."  
"I'm responsible for their clothing and their eating. If they get sick or anything happens to them, I'm still the one responsible for them," she adds.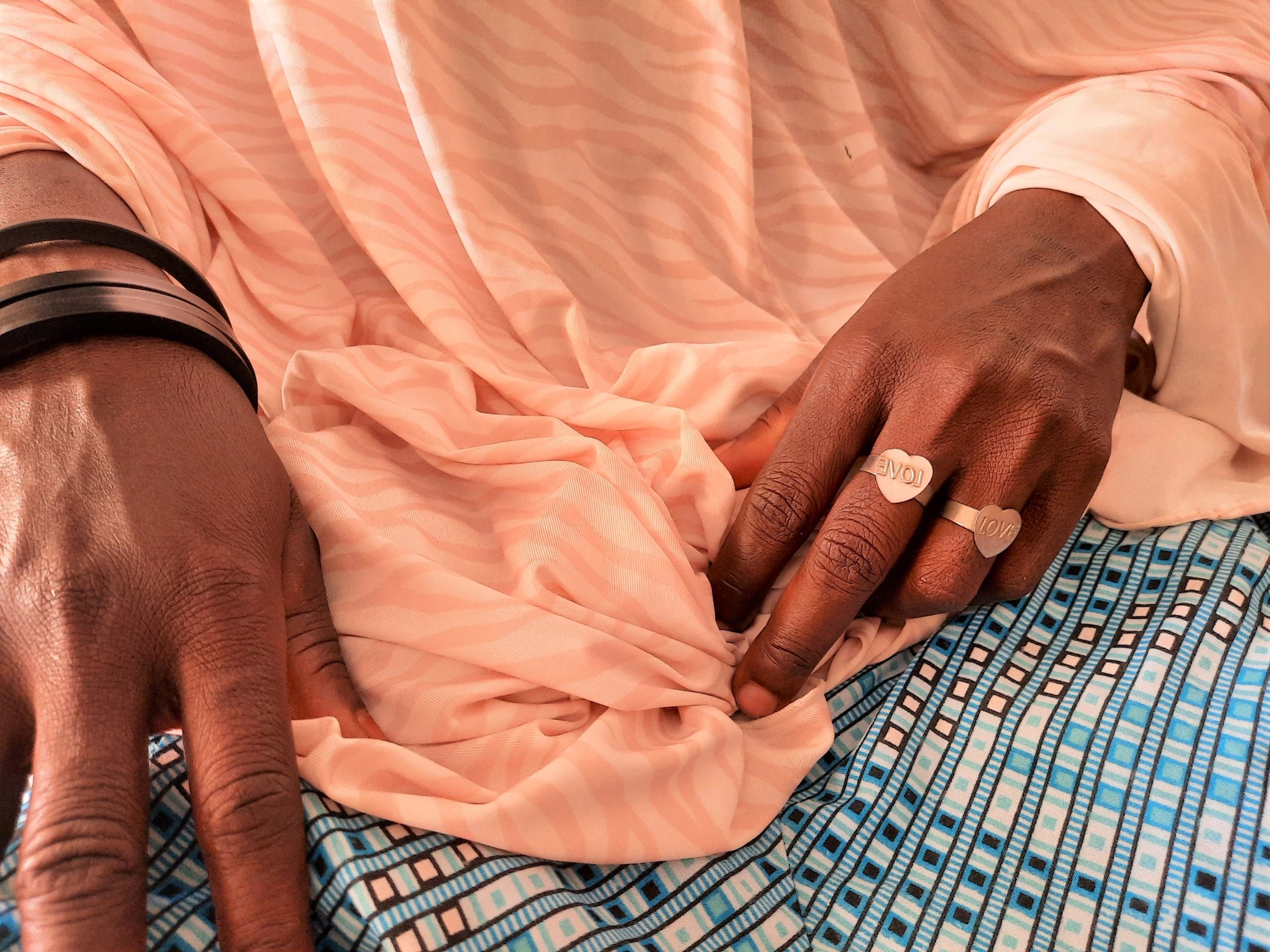 A much younger Zainab Audu does not have to bear her burdens by herself. Her husband, Aminu, was killed by terrorists in May 2020 when she was six months pregnant with their first child. 
"It was in the middle of the night. He had just finished mixing clay when the bandits came and they killed him," the 20-year-old narrates. 
After completing the taqaba (waiting period for Muslim women to grieve), she returned home to Sabon Gari where her parents take care of her and her one-year-old son. "I didn't really find myself in that much of a terrible situation as I'm staying in my family house," she explains.
She is the only one among the women wearing visible facial make-up that matches with her wine-coloured hijab. It is likely her way of announcing her readiness to remarry, which she says should be as soon as she weans her baby.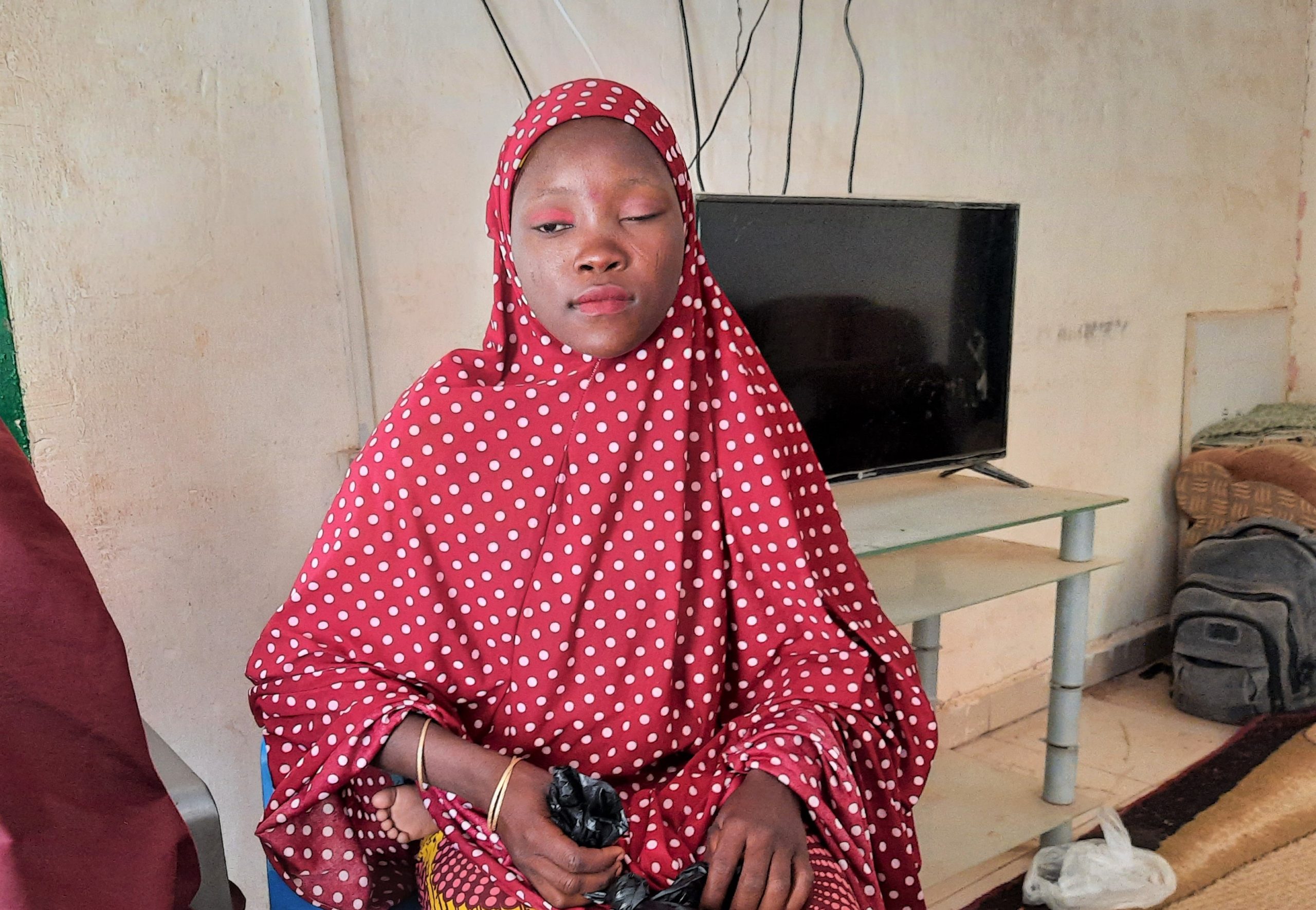 'Goggo' (Elderly woman) Asiya's loss is the most recent. Her husband's murder happened less than a month to her meeting with HumAngle in mid-June. The terrorists had barged into their house and demanded money. When he brought out some, they replied that it wasn't enough. He brought some more, and then they shot him.
Asiya is confident her older children will come to her aid when she exhausts the foodstuff at home and says they can also rent out her late husband's farmland to buy essential needs.
All three women's pleas to the authorities are similar: help with food, loans to support their businesses, and improved security.
"Whatever God decrees," Zainab concludes, rounding off the conversation as she nervously rubs her palms together. "We just want to take care of our orphans."
---
This is part of a series of reports supported by the Centre for Democracy and Development (CDD) to unmask the impact of rising insecurity in Northwest Nigeria.
---
Support Our Journalism
There are millions of ordinary people affected by conflict in Africa whose stories are missing in the mainstream media. HumAngle is determined to tell those challenging and under-reported stories, hoping that the people impacted by these conflicts will find the safety and security they deserve.
To ensure that we continue to provide public service coverage, we have a small favour to ask you. We want you to be part of our journalistic endeavour by contributing a token to us.
Your donation will further promote a robust, free, and independent media.
Donate Here