Featured
Features
Human Rights
News
Her Husband's Death 'At The Hands Of Nigerian Soldiers' Drove Her Crazy — Literally
The Boko Haram insurgency in Nigeria's Northeast is taking a toll on victims' mental health, and this is not receiving as much attention.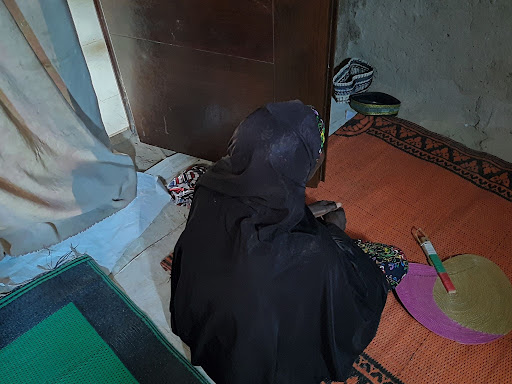 Saraya's life took a turn for the worse when her partner was killed in 2014. She had been happily married to Awaza for three years, and they both lived quietly in Taradan, a village in Bama Local Government Area (LGA) of Borno state, in Northeast Nigeria. But, by this time, the Boko Haram insurgency, whose seeds were sown nearly 80 miles away in Maiduguri, had started spreading to surrounding regions.
Bama was one of the terror group's targets in 2013. The militants started by launching attacks against security formations in May, killing scores of people, freeing over a hundred inmates, and holding women and children hostage. Other communities under fire included Baga, Banki, and Marte. By June, male residents were fleeing to avoid being forcefully conscripted into the group, which had set up camps and was threatening to behead whoever resisted its invitation.
The attacks continued into the later part of the year, with the terror group sparing neither security agents nor civilians. The atmosphere was tense. Suspicions were rife that Boko Haram members were embedding themselves in various communities. With the military unsure of who the enemies were, many civilians bore the brunt of state highhandedness. One of them was Awaza.
According to Saraya, 40, military personnel set fire to the town's market, claiming it served as a hiding place for terrorists. One of the stalls belonged to her husband where he sold vegetables and condiments. When he visited to repair the burnt structure, "they shot him." Awaza died immediately.
Extrajudicial killings and the destruction of buildings by the Nigerian Army were not uncommon between 2013 and 2014. Many alleged that its officers gunned down unarmed civilians "without asking questions" if they faintly suspected them of being affiliated with Boko Haram based on their appearances, relations, or ethnicity. In one incident, about 200 people in Baga were allegedly killed by state forces while over 2,000 homes were burnt. Refugees in the neighbouring Niger Republic described the military's approach as being characterised by "indiscriminate bombing and shooting, unexplained civilian deaths, [and] nighttime roundups of young men by security forces." The previous year, residents of Maiduguri accused soldiers of opening fire on civilians and killing 30 after a bomb blast targeting the army had injured two officers. The soldiers were also said to have set fire to about 50 homes and businesses.
Dr Yagana Bukar, a researcher and senior lecturer at the University of Maiduguri, explains that the Nigerian Army was often unable to distinguish innocent civilians from combatants until the Civilian Joint Task Force (CJTF), a vigilante group, emerged in 2013. Its members were better informed since they had lived in the affected communities for long periods.
"They contributed a lot to ensure that we chase Boko Haram out of our towns and cities because they were the eyes and ears of the military," says Dr Bukar. "The military did not know who was Boko Haram. When there was a bomb attack, everyone became a suspect. In the process, a lot of atrocities were committed by them."
An unpleasant descent
When Saraya received news of Awaza's death, she collapsed from the shock. "I was in a coma and did not know when he was buried," she says. "The alms-giving ceremony and prayer for the repose of his soul were conducted when I was unconscious."
During her interview with HumAngle in Maiduguri, we enlist the help of two internally displaced women she is familiar with to make her comfortable and make her speech more coherent. She has on a multicoloured dress and a matching scarf barely visible under her black hijab. A tiny ring glistens above her right nostril and bracelets adorn both her hands.
She narrates that after the three-day alms-giving and prayer rituals that followed her husband's death, she left for Banki town. Shortly afterwards, in September 2014, Boko Haram insurgents seized control of the town. Days earlier, they had similarly declared Bama, another town in the LGA, part of their rapidly growing 'caliphate.'
The terrorists mandated that she remarried after observing 'iddah, a waiting period for Muslim widows that lasts about four months. Her new husband, Massaa, was, however, not pleased with the arrangement. Unlike Awaza who was a "very nice" spouse, Massaa did not take good care of Saraya. "He was not providing food for me. I think he lost interest in me because I was traumatised and sick," she says.
Massaa also attempted to divorce her as soon as she became pregnant. But Boko Haram insisted he couldn't until she had given birth. "So I stayed in his house until I gave birth to Mukhtar. When Banki was recaptured by the military [about a year later in 2015], they took us to the Bama Hospital IDP camp because there was no food," Saraya recalls.
Food was extremely scarce in Bama too though, causing hundreds of people, especially children, to lose their lives. Mukhtar fell sick and became malnourished but was lucky to have benefited from a medical intervention by Médecins Sans Frontières (MSF), an international humanitarian group, in 2016. The group relocated them to the Nurses' Village displacement camp in Maiduguri, Borno state capital, and admitted Mukhtar into its clinic. He became stable after two months of treatment but Saraya herself had started to show signs of instability.
"I started to reflect back on the killing of my husband and the dishonourable divorce with my other husband, which all compounded to make me traumatised and mentally unstable," she explains.
"There was no one to support me. So, on the advice of the people, my sister was invited to come. My sister later got married and wanted to take me to their house but the camp officials said they should leave me and a psychiatric doctor would come to see me in the camp. I kept waiting but the doctor didn't come. Then people took me to a native doctor who said I was possessed; he made some recitation and I came back to the camp after two days but still, there was no improvement."
Heeding her sister's advice, she sold her properties (polythene mats and blankets donated by the Red Cross) to pay for treatment, but still not at a conventional healthcare facility. Her sister took her to a Muslim cleric who prescribed medicine for her before returning her to the IDP camp. Her condition only became worse.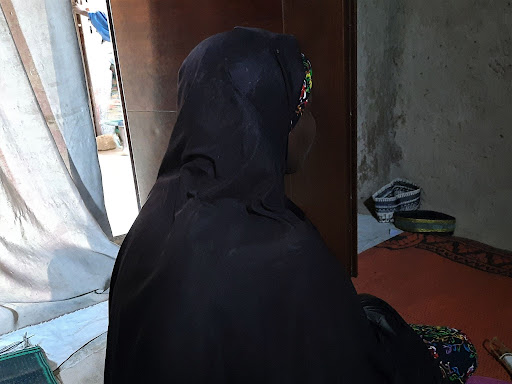 Saraya starved herself and was unable to take care of her child, whom people noticed had started to eat his stool. This sight troubled some members of the Knifar Movement, a group of women formed in 2017 to advocate for the release of men unlawfully detained by the military. The group called an ambulance, had her taken to a psychiatric hospital, and contributed about N35,000 so she could be admitted. But there wasn't enough money to sustain their good intentions. The hospital refused to discharge her after three months because they owed about N70,000, her bill for the additional weeks spent in admission. The women had to raise some money to secure her release. By this time, Nurses' Village camp had been closed and Saraya had to find shelter at another camp around the state capital.
"At the new camp, they handed me over to Mallam Musa and said he should be taking me for follow up every month. But when we went there, the hospital said they wouldn't treat me until my outstanding bill was paid, and my people said they didn't have money. So I was taken back with some drugs. My sickness became worse."
Mallam Musa, who is a close friend of the Knifar group, tells HumAngle they later took Saraya to Kadau Mind Rest Clinic, a private establishment in Maiduguri. She was there for two months, with the bill rising up to about N200,000, and noticed significant improvements. The hospital staff later suggested seeking help at the Federal Neuro-Psychiatric Hospital in the state.
An unaffordable service
Various studies have confirmed the prevalence of mental health challenges among Internally Displaced People (IDPs) in the Northeast, worsened by the loss of loved ones and livelihoods, sexual violence, and food insecurity. One study published by the Journal of Public Mental Health last year found that 96.1 per cent of IDPs across six camps in Maiduguri suffered from different levels of depression and 78 per cent had symptoms of Post-Traumatic Stress Disorder (PTSD).
"It is really very common; the majority of them are very traumatised," says consultant psychiatrist Dr Nkereuwem William Ebiti. He explains that the illness is easily discernible in some like Saraya who have developed psychosis, but it is not as obvious in others.
Despite its prevalence, however, treatment for psychological illnesses is neither cheap nor easily accessible. Prescribed medicines alone could gulp between N5,000 and N150,000 every month.
"You will agree with me that it is not cheap. Even those who are working will find it very difficult to afford this treatment. Medication is a major expense and this is a drug that the patient will likely take for life because it is a chronic illness," Dr Ebiti says.
Milestones Rehabilitation Foundation, a non-profit he heads, recently implemented a project in Borno State to support the healing and rehabilitation of victims of gender-based violence. But while the programme's peer-to-peer approach has proved effective, Dr Ebiti emphasises the additional need for funding to provide drugs and for months-long psychosocial support.
He urges private establishments to consider IDPs when delivering on their Corporate Social Responsibility. He also encourages international NGOs and civil society groups to continue to play their part and for more people to volunteer to support the displaced communities. These organisations, he suggests, "should bring some form of transitional justice to these women to enable them to tell their stories."
Dr Ebiti adds that the best solution is to restore peace because, if the country erupts into one big displacement camp, the resulting trauma will be too much for even the mental health facilities to handle.
"For the women and girls, beyond the fact that they have lost loved ones, most of them have been raped serially by Boko Haram. Some of them have been raped by the military, some by camp officials, some by the police, some by the CJTF people who are supposed to look after them. So you can see that there are multiple traumas that many of them are going through. Maybe it is time for us to focus a little bit on the issue of transitional justice. Our own experience with the women shows that they do not require much; they really just want to be heard."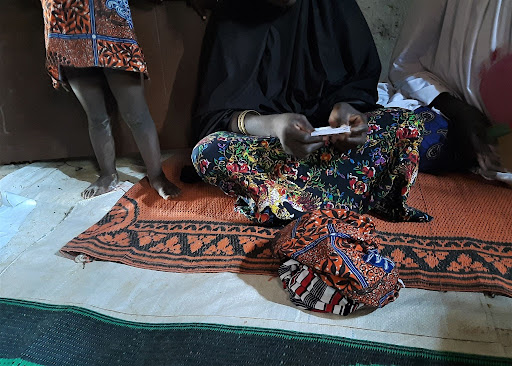 An unquenchable void
Saraya has been in and out of marriages, partly due to her condition. She had a husband before Awaza with whom she had two children who are now grown-ups. Then there was Massaa, her third husband. At her current IDP camp, she got married to a fourth man. They have a daughter together, who plays calmly by her side as she speaks, "— but he divorced me because of my medical problem."
The fourth husband, also an IDP, has not supported the mother and child with sustenance since they separated. For that, she has depended on relief materials from the State Emergency Management Agency (SEMA) as well as food tickets from humanitarian organisations. Other times, she gets support from Mallam Musa, who has continued to help with her drugs, though irregularly.
Meanwhile, if she does not take the medicine prescribed for her, her limbs stiffen. She also becomes mute, loses her appetite for food, and would be unable to bathe for several days. It is not clear if her slightly long finger and toenails are a side effect of her condition.
Saraya has an unsettling habit of staring for a long time without blinking or smiling. But when, at the later stage of the interview, her playful daughter walks into the room and leans against her, she slowly unfolds her face into a smile.
When I ask about the problems she still encounters and which of her experiences have continued to bother her, Saraya's face loses more colour. She stares at the floor, fiddles with a twig, and does not speak for about five seconds.
"Those I live with assist me in getting my food ration and support me all the time. I feel very bad when I think of my past experiences. I have my daughter who is married in Bama and another relative who is also an IDP. I cannot go to Bama and stay with her because she stays with her husband and it would be a burden for them," she finally says.
"I always imagine that if Awaza were alive, he would take care of me."
---
This report is a partnership between the African Transitional Justice Legacy Fund (ATJLF) and HumAngle Media under the 'Mediating Transitional Justice Efforts in North-East' project.
---
Support Our Journalism
There are millions of ordinary people affected by conflict in Africa whose stories are missing in the mainstream media. HumAngle is determined to tell those challenging and under-reported stories, hoping that the people impacted by these conflicts will find the safety and security they deserve.
To ensure that we continue to provide public service coverage, we have a small favour to ask you. We want you to be part of our journalistic endeavour by contributing a token to us.
Your donation will further promote a robust, free, and independent media.
Donate Here