Features
Humanitarian Crises
News
The Deradicalised (3): Life With Boko Haram, On The Run, And As A Free Woman
While the vast majority of people who pass through the government's deradicalisation programme are men, there are a few who aren't.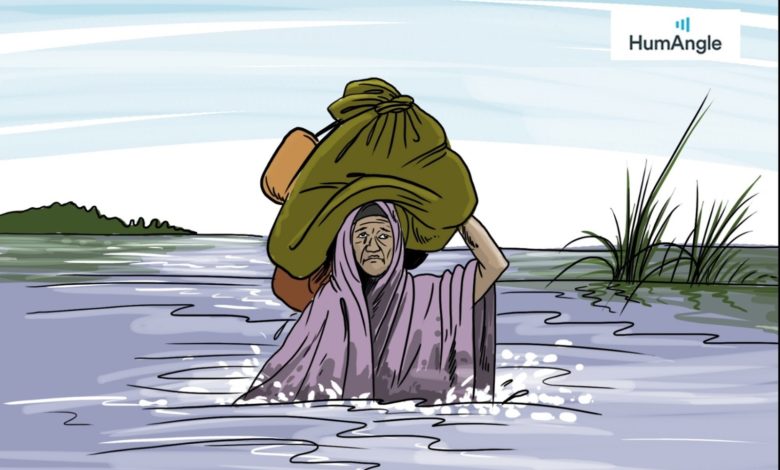 As she hobbled through the stream and muddy waters, Zuwaira, 28, could feel the long weeds scattered along her path slicing through her skin. Sometimes during this tortuous journey that lasted hours, she saw snakes. Other times, she was mobbed and stung by insects. But they were the least of her worries.
Behind her in the infamous Tumbun Islands of the Lake Chad camped a group of terrorists, including a furious "husband", who could kill her if they found out she had slipped away and caught up with her. Ahead of her lay a tempting promise of freedom and an opportunity to reunite with her true family.
Zuwaira has spent a chunk of her life on the run since 2014. This was the year Boko Haram fighters seized her hometown of Gwoza, located in southern Borno State, planted its flag over the emir's palace, and declared the area a part of the Islamic State.
ㅡㅡ
She may be soft-spoken and have a gentle demeanour, but Zuwaira's story is that of uncommon resilience. As she sits to flip through the pages of her experience in one of Maiduguri's largest displacement camps, a number of traits jump out: her perfectly aligned and white dentition, lush eyebrows, short tribal marks shaped like a pair of antennae, and a richly hennaed left hand. Three-year-old Fatima, also spotting a set of thick eyebrows, sits nearby, wearing a blank expression as flies dance around her face and occasionally perch on her tiny frame.
ㅡㅡ
Before the invasion by Boko Haram, Zuwaira's husband, Ibrahim, worked as a commercial motorcyclist while she knitted caps and made henna tattoos. The first three days after the invasion, in the chaos that ensued, she lost sight of Ibrahim. When a fighter jet belonging to the Nigerian military bombarded the town, she rushed to hide in a different house and found her husband there, already seeking refuge.
She decided to flee to Shuwa, a separate community, with her children. She gave Ibrahim some money and asked him to join her later in the night.
But after waiting for seven days without a glimpse of her husband, she had to return to Gwoza to find out if something had gone wrong. He was in the same hut where she had left him, camping with two other men, who had severe injuries. In an adjacent house, there were six other men, all desperate to escape. Zuwaira brought flowing hijabs with veils, disguised them as women, and together, all 10 along with Zuwaira's sister, Maryam, sneaked off to Shuwa under the cover of dusk.
A few days later, they moved to Mubi, a town in neighbouring Adamawa State, which would later be captured by the rampaging terrorists in November that year.
On hearing rumours that it was safe to go back to Gwoza and that female residents were returning to pick up their belongings, she again set herself upon that journey while Ibrahim migrated to Maiduguri, Borno state capital, with the children. But the rumours weren't true. At Michika, she and others encountered a group of terrorists who took them captive and marched them to Shuwa.
Abduction number one
Food was scarce and no stores were available to buy groceries in Shuwa. The women were forced to make do with the leftovers they had and were too afraid to go outdoors for fear of being caught and punished.
One day, all the captives were gathered with the promise that they would be taken to visit their relatives. Hundreds of women were jampacked inside cars. Apparently, the insurgents had got wind of an imminent military raid.
"When they were going to the bush, they said you are now under our colony and you are not going anywhere," Zuwaira recounts.
They settled in Bita and gave food to the abductees. They made the women wash their clothes and look after their properties while they went to various places to wage war, from which they often came back with looted items. Then it started. They married off the women one after the other.
Zuwaira was in Shuwa for six months before the insurgents took her and other women to the Jere Local Government Area for a brief visit. Since it was close to Cameroon, she managed to escape to Kirawa, a town on the outskirts of Gwoza.
ㅡㅡ
Back in the IDP camp, sweat droplets start to form on Zuwaira's forehead. This causes her hijab's light grey to become darker around her face. The shelter is filled with searing heat despite two large windows and an open door leading outdoors. She occasionally plays with pebbles on the floor like someone picking through a tray of beans as she allows the translator to take over.
Abductions two and three
While in Kirawa, Zuwaira met Ibrahim's mother. She then called her husband, who was still in Maiduguri. He promised to send money across so she could join him. But before that happened, she landed again in the spider's web.
She was accosted by Boko Haram members on her way to the market alongside her in-law and taken to one of the group's camps within the forest area. There she met many of her relatives, including her father who had been abducted in Madagali and her senior brother, Habu. While her father was not a member of the terror group, Habu was, she says.
Stubborn as ever, she sneaked off to visit her in-law in the town. "When they realised I was missing, they arrested my father, senior and junior brother and threatened to slaughter them for advising me to escape," she narrates.
Some of her siblings went to see her in-law to warn her. After calling her husband for his advice, she decided to go back. Going through Gamboru Ngala, the insurgents took her to Daban Masara, a border village between Nigeria and Chad in the Monguno Local Government Area. It is about 270 km from Gwoza and is within the vicinity of Lake Chad.
The reason they gave was so that she could not escape again with her father's help. Little did they know that she did not need the old man's counsel to do so.
She was kept under the custody of a Boko Haram member called Sikde Siye who, she says, took good care of her. After about two weeks in Daban Masara, there was a flood that forced them to relocate to Damasak, a border town with the Niger Republic. They again had to leave, a few weeks later, following a military onslaught that left the houses razed to the ground. They proceeded to Tumbun Magarya, one of the Lake Chad islands, and then to Dogon Chuku.
She spent six months in this new location during which Siye left for a different cell. She was then married off to a senior Boko Haram commander, Abubakar Director, with whom she moved to Tumbun Bera and Kangarwa. She soon had a child for Abubakar who they named Firdausi.
The reason for the constant relocation, Zuwaira explains, was repeated attacks from the Nigerian Army. She suspects they were getting information about the insurgents' movements.
The long trek
Months into her stay in the Lake Chad islands, Zuwaira decided she had had enough. The year was 2016. First, she went to Dogon Chuku with another female captive, Maryam, to meet a woman she knew hailed from Gwoza. The Gwoza woman then linked her up with a Fulani woman in Tumbun Magarya who gave them directions to government-controlled territories. But they had to go through water bodies that varied in depth and safety.
There were sections they had to pass through on foot and others where canoes were available to ferry them. Realising the journey was too dangerous for a newborn child, Zuwaira left Firdausi with the Fulani woman. Till today, she has not been able to re-establish contact with the woman or her child.
The journey through the waters lasted an entire day and they only reached land in the late evening. Her companion, Maryam, whom she had persuaded to join her in escaping, was not pleased. Every major obstacle drew complaints and bitter regrets from her.
By daybreak, they made their way to a village called Garere. The Fulani woman had given them descriptions of villagers who would further guide them. From Garere, they proceeded to Gortinomi Pompom. They then followed a stretch of road for three days till it led them to Kukawa, a town in northeastern Borno.
No person was in sight except, at a point, Fulani herdsmen stopping to get water for their cattle. The previous year, over 50 Boko Haram militants had stormed Kukawa and killed at least 97 people just after Maghreb (evening) prayers in different mosques. The news of the attack did not get to the city until two days later.
Five years later, the community is still not safe. Last August, about 1,200 people, who had been in displacement camps in garrison towns, finally returned to Kukawa, hoping to restart their lives. But hundreds of them ended up getting abducted by the terrorists.
Zuwaira and her friend continued to another community. Still, the only living things they found were dogs and chickens and a young malnourished girl who gave her name as Maryam. Her parents, or anyone in fact, were nowhere in sight. Maryam agreed to continue the journey with them. The following morning, they entered a different village.
"The people ran away from us, came with their vigilantes, and told us to leave for a bigger village," Zuwaira recalls. So, they passed through the bush and spent the night in yet another community.
By morning, as they tried to flag down vehicles headed in the direction of Maiduguri, scared residents of the previous village stood closeby to warn the motorists against helping. Bomb! Bomb! They are carrying bombs, they shouted.
Eventually, the women asked if there were soldiers around. When the military operatives arrived, they searched them for explosives and then took them to Mairari, a town in Guzamala Local Government Area about 85 km southwest from Kukawa. From there, they were taken to Monguno, where they were given medical treatment.
In all, the journey from the Lake Chad axis to Monguno took her and Maryam six days. They were able to survive the early days of the trip thanks to cans of Peak milk and Maltina, which Zuwaira had stripped from Abubakar's store.
ㅡㅡ
At a quarter past 1 pm, the temperature inside the shelter starts to become more bearable. A fresh breeze blows through the room. Minutes later, three-year-old Fatima, who had fallen asleep on her mom's lap, wakes up with a few coughs. She whispers something to Zuwaira, who asks an older girl to escort her outdoors, likely to have her bowels emptied.
Branching at Giwa Barracks
The military personnel in Monguno asked the women about the terrorist camps in the Lake Chad islands, matching their descriptions against points on a large map. They then asked about the sort of weapons used by the insurgents.
"When we described them, they said they didn't have those kinds of weapons," Zuwaira says, the tribal mark on her left cheek forming a prominent union with her dimple to take the shape of a hand sickle.
She gave the army officials a memory card containing videos recorded by the Boko Haram militants. This, she says, alarmed them. After five days in Monguno, they were taken to Maiduguri as part of a large convoy of over 20 vehicles. They made a stop at the 7 Division where pictures of Little Malnourished Maryam were taken.
"The military in Monguno were very sympathetic to us. Some even shed tears and did not come close to us because they could not help crying," she says.
But the tables seemed to turn once they got to Maiduguri. She was expecting they would be taken to the Army Headquarters. Instead, they were locked up in one of the cells at Giwa Barracks, a notorious military detention facility reserved for suspected Boko Haram members.
"There were many women and children in the cell. I saw one woman I knew in the cell. I knew her in Gwoza; she was my neighbour. But she looked very rough. At first, I thought she was a madwoman but it was the terrible condition of the cell," Zuwaira describes what she initially observed.
She shared the lice-infested cell with about 130 other people. The smell of dirt, urine, and stole rent the air. 'Mad Woman' asked what brought her to Giwa and, after hearing her story, suggested she really should have stayed back with Boko Haram. Seeing the horrible conditions of the cell, Big Maryam also started cursing and blaming Zuwaira for her predicament.
The next day, army officials brought them food and continued their interrogation.
"They asked if we had married them [Boko Haram]. We replied yes. They said 'you said the truth but these people [others in Giwa] refused to tell us the truth, and if you don't tell the truth you will remain here like them'," she says, quoting the officials.
Two days later, they brought them out again for questioning. They asked about a fighter pilot whose jet was shot down over the Sambisa forest.
"We said we knew him and stayed in the same place as him. They brought many photos and we identified him from them. Then after seven days, they came and told us to bathe and get dressed. They said we were going to Abuja."
Another cellmate, Aisha, joined them on the trip to Nigeria's capital city. Malnourished Maryam was, however, left behind in Maiduguri.
Between Abuja, Gombe, and Borno
From the Nnamdi Azikiwe International Airport in Abuja, the three women were taken to a private house and then an underground cell at the Defence Intelligence Agency (DIA) office. They were given food and doctors came to attend to them.
"They said they brought us here to make us comfortable so that we would tell them our stories," Zuwaira tells HumAngle. "We didn't see them again for a long time; we got tired and sometimes we even refused to eat because we wanted to go home."
At first, they tried to keep count of how long they had spent in the cell but, after a while, they grew weary and did not bother estimating. After about six months into their stay, Aisha was taken out.
The presence of this underground cell has been confirmed by several other former detainees. Meanwhile, according to Nigeria's Terrorism Prevention Act, suspects can only be detained for 24 hours but, with the go-ahead of a judge, this may extend to a period not exceeding 30 days.
An email sent to the Defence Headquarters about the possible violation has yet to be replied. Calls placed to separate phone numbers of Major General John Enenche, Coordinator of Defence Media Operations, were not answered nor was a text replied to. Likewise, the DIA's website containing a contact form was also not accessible at the time of writing.
The young women's months-long interrogation continued in Abuja. The intelligence officers asked about the Chibok girls: a group of over 200 secondary school students abducted by Boko Haram in 2014 from a town in Borno State. They replied that they interacted with some of the girls and that some of them had been converted to Islam.
"Some wanted to come back while some didn't want to," they told the military. "They wanted to sell off some of them. They were usually recognised through the small gowns they wore."
One of the Chibok girls, Amina, was Zuwaira's neighbour. She sometimes asked her if she was interested in returning home to her worried mother. But Amina said she preferred that her mother joined her and paid allegiance to the Islamic State.
They also asked if the women could lead soldiers through the routes in Sambisa for a military operation. Big Maryam, however, retorted that they knew the way even better than them.
Maryam is extremely bold, Zuwaira observes by the way. It was because of her insistence that they "weren't kids" that they got to have juice and chicken instead of confections. And it was because of her on-the-feet thinking they survived getting lynched by villagers back in the remote parts of Borno. Big Maryam had wrapped a bag around her tummy and pretended it was an explosive belt that would go off if the people moved closer.
"One day, they came and told us they were taking us home where our leaders would receive us," recounts Zuwaira.
Instead, they were taken to Gombe, where the government runs a Deradicalisation, Rehabilitation and Reintegration (DRR) camp for what is known as Operation Safe Corridor (OSC). The programme was launched in 2016 by the Defence Headquarters to rehabilitate "repentant Boko Haram militants" and thereafter reintegrate them.
At the facility in Gombe, there were three other male participants, one from Maiduguri, one from Abuja, and the third from Zaria. And then there was a third female participant, Amatullahi. All six formed the programme's first batch of 2017/18. Various Islamic scholars were invited to preach to them. Zuwaira also learnt cap-knitting though she already had the skill.
"Some white men came and they gathered us in a hall. The foreigners asked us if we knew how to make bombs and repair rifles. We said we didn't know but we saw them planting them. They said we were going home and we should feel free," she says, hinting that the government must have misinformed the visitors about their involvement with Boko Haram.
"One time, they took us to a church for Valentine's Day… They asked us to dance when they were playing music. Maryam and Amatullahi got up and danced but I refused. A day after Easter, General Buratai [Chief of Army Staff] visited us and shook hands with Maryam and Amatullahi but I refused to shake his hands.
"I told him I am a woman. Then he said his leader was Muhammadu Buhari and my leader was Shekau."
She later learnt from the Islamic clerics that Buratai seemed to have directed that their programme be extended because she was still radical. The clerics urged them to comply with whatever instructions they were given. So Zuwaira loosened up and danced in the hall the following day.
When Buratai returned about six months later, she shook his hands "and he laughed". This was sometime in 2018.
She describes the food as good, especially since they ate from the same pot as the military personnel. But the quality of the food seemed to have worsened over the years. A Batch III OSC participant informed HumAngle the meals served were sometimes inadequate and said seven people died as a result of the food's poor quality. Amnesty International gave the same death toll in a 2020 report, citing "inadequate food and health care as well as the lack of safety in vocational training".
HumAngle learnt from a security source that further investigation about the deaths revealed they were caused by the poor handling of chemicals from the cosmetology classes, one of the vocational skills later introduced.
When it was time for the pioneer participants' release, six vehicles were brought, one to take each participant to their hometown. Zuwaira was taken to the Bakassi displacement camp in Maiduguri, where she was received by her husband and eventually reunited with her family and friends.
The Operation Safe Corridor authorities had promised to provide support for the participants to set up businesses but Zuwaira says, two years later, that they had yet to fulfil this promise. On top of this, the food provided at the IDP camp is not adequate.
"What they give would not feed us for even two weeks," observes Zuwaira, who caters for six other mouths, including five children, in her tent. "It is NEMA/SEMA [federal and state emergency management agencies] that give the food here and they don't give enough, unlike in camps managed by the World Food Programme (WFP). What they give here is 15kg of beans, 10kg of rice, and maize."
Other camps overseen by NEMA in Maiduguri include Teachers' Village, Muna Garage, and Farm Centre. The government agency has, in the past, been accused of inefficiency, corruption, and diverting aids meant for displaced persons.
Zuwaira explains that she could not continue her henna business because displaced people in the camp were not rich enough for such luxuries. And she had to pause knitting her caps since she became pregnant in May.
She, however, got a sewing machine alongside another IDP. "They gave it to us as a loan. Anyone who completes the payment first would take the machine. I have so far paid N10,000 from money I received from Allamin Foundation. She has also paid N10,000 and we are competing," she explains.
Education at all costs
Before she gave birth to Firdausi, she had a son, Ubaidah, who still suckled her breast during her second abduction. A woman who escaped from Sambisa last year told her she saw him in the forest.
He would be seven years old now. He speaks Hausa and studied at Boko Haram's Qur'anic school, the escapee said. But that is not the kind of education Zuwaira desires for her children.
Asked what she wants from the Nigerian government, sadness floats visibly to the surface of her eyes as she talks about her daughter's academic needs. And when she stops talking, her lips quiver. Her eyes become watery and she immediately lowers her gaze.
The most important help she craves from the government is an opportunity for her children to get a formal education. Zuwaira herself attended school up till Junior Secondary School back in Shuwa before getting married. She hopes her daughters will be able to push further.
The older Aisha has been pestering her about getting enrolled at a Junior Secondary School but the resources are simply not available. While there is a primary school within the displacement camp, many children find it difficult to advance to higher classes after passing common entrance examinations. This is mostly due to an inability to afford the fees, textbooks, uniforms, and other basic needs.
"I have observed that all these Boko Haram did not go to school and that is why we have this problem," Zuwaira says, still focusing her gaze on the shiny pebbles. "So, this is my only request."
---
This is a multiple-part report; click here to read other 'The Deradicalised' stories.
---
Through this series, HumAngle with the support of the Africa Transitional Legacy Fund (ATJLF), examines the lives and pasts of alumni of the Federal Government's deradicalisation and rehabilitation programme, Operation Safe Corridor.
---
Support Our Journalism
There are millions of ordinary people affected by conflict in Africa whose stories are missing in the mainstream media. HumAngle is determined to tell those challenging and under-reported stories, hoping that the people impacted by these conflicts will find the safety and security they deserve.
To ensure that we continue to provide public service coverage, we have a small favour to ask you. We want you to be part of our journalistic endeavour by contributing a token to us.
Your donation will further promote a robust, free, and independent media.
Donate Here