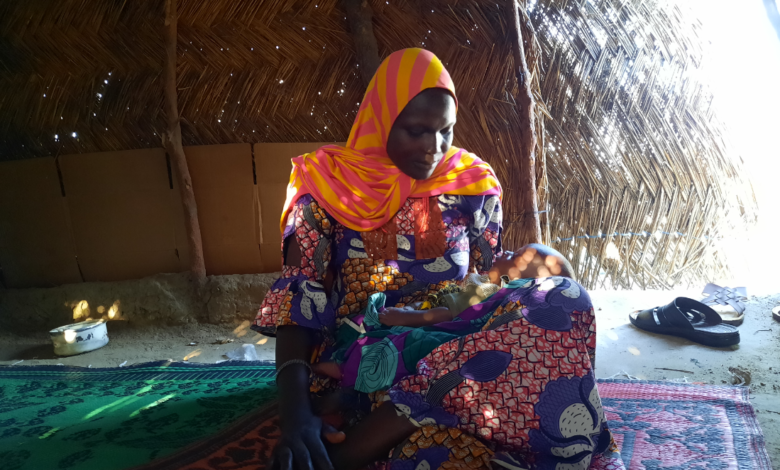 Balu Agah, 25, has been through hell and high water. But nothing compares to the events of the past year. One of many Internally Displaced Persons at the Muna Garage camp in Borno State capital, Maiduguri, she has had to visit nearby forest areas to get firewood, which she sells so she can afford foodstuff. 
Whenever the IDPs embark on such trips, they set off at the crack of dawn. The first time Balu combed through the forest, she returned with a bunch of firewood that fetched her N1000. The second time, she made a little less but was still satisfied. The third time, she was abducted by members of the dreaded insurgent group, Boko Haram.
When she finally escaped, it was with an eight-month-old pregnancy.
*  *  *
It was September 1, 2019, or, as she remembers it, 20 days after Eid-el-Kabir. The IDPs, 13 women and one male escort, got to work in the middle of tall, leafy grasses close to the Maiduguri-Mafa Road. It was impossible to see anyone approaching in the distance. While she split a large tree branch, Balu suddenly had a premonition. She lifted her head to see a young man closing in on her, holding an assault rifle. 
"I thought to myself that so it is true Boko Haram were still around," she chuckles ruefully as she recalls the event.
She instantly took to her heels and shouted to alert her fellow IDPs. Unknown to her, they were not going up against just one gunman. Others crept upon them from the woods. She later counted 19. Five held guns and the rest brandished broad, heavy knives and cutlasses. Because they were closer to the city, they would rather not fire guns so as not to attract attention from military personnel, she explains.
The Boko Haram fighters soon descended on the girls and women, beating them severely with canes. Their crime? Being "wives of unbelievers". A panic-stricken Balu turned to her God in prayers, seeing no way out of the predicament. 
The women were made to discard their cutlasses and axes and assembled under a tree. The terrorists also made them strip too ostensibly to confirm they were truly female. They would soon understand why after learning that the male IDP who accompanied them had been summarily killed. He was husband to Hauwa, one of the abducted women and the most elderly, being in her early 40s. She neither saw the corpse of her late spouse nor had a chance to bury him.
Still, some of the insurgents hungered for more bloodshed. "One of them asked if he could kill us," Balu recounts. "But their commander said no." 
Journey
After they were abducted, a long journey started. They walked for two days without food. When they arrived at one village, the insurgents cooked beans and offered the women. They were, however, too terrified to enjoy the meal. Balu describes the soup as tasteless. It had no salt, seasoning, or pepper, and felt strange on the taste buds. "But we forced ourselves to eat," she says.
In all, they passed through about three villages before settling in Burari.
Tons of kilometres behind her, back in Maiduguri, Balu was leaving behind her kinsmen, father, husband, and three children, including a seven months old baby, whom she was still breastfeeding.
Balu is originally from Dowumba, a community in Borno State's Mafa Local Government Area. She had fled Dowumba about five years ago to escape from Boko Haram's killing spree. She met and married her second husband, Mele Agah, after settling at Muna Garage Camp in 2017. Her first husband, with whom she had two children, had died from a snake bite back in the village.
Escape
Days into their stay in Burari, nine of the women attempted to escape under the cover of the night sky. Heavy rain had just fallen, causing enough unrest to make sneaking off conceivable. The other four who stayed in the hut were scared and thought the escape plan was foolhardy. They were right.
The insurgents soon caught up with the fleeing IDPs as they wormed through the bushes. They had a brief argument about what to do with the fugitives. Let us kill them, some suggested. But another group objected. They then started shooting to instil fear in the women.
"Ratatatatatatat," Balu describes the gunshots as they tore through the dusk. 
The women were again taken captive and returned to the makeshift shelter. But Hauwa, whose husband was murdered days earlier, was not with them. They later found her in a different section of the bush and brought her in. But the insurgents did not allow her to join her friends. Instead, to serve as a deterrent against further escape attempts, they tied her hands, laid her on the ground, and beheaded her ㅡ forcing everyone to watch.
"After they slaughtered her, they picked up her head by the ears and placed it on the rest of body," Balu says. 
"They said, 'Did you see what happened to her?' We answered yes. So, they warned that whoever attempted to run back to Maiduguri would face the same judgment. They kept us in the room again. We had no option but to leave everything in the hands of Allah." 
Marriage
The women's arduous trek continued. They journeyed through a few more villages, including Chille, and then settled in Bonei. The Boko Haram fighters repeatedly took the IDPs to their superiors through the journey. When they arrived at one village, the leader examined them and asked that they be taken to the previous village. He also warned that if they escaped, the captors would be held responsible.
They were kept in this village for about nine months. At some point, they started introducing other members of the insurgent group to the women. If a man saw someone he admired, he would point at her and arrangements for marriage would be made. The woman, afraid she would be killed, could not reject his offer.
Two of the IDPs, who were pregnant, had to give birth before they became eligible to be married off. One was heavily pregnant while the second pregnancy was two months old. "If we marry you off and later discover you are pregnant for a non-believer, we will kill you," the terrorists threatened icily.
The youngest among the abducted IDPs was a 13-year-old Shuwa girl, Kori. She was just about to get married to her beloved and her mother had bought all the materials needed for the ceremony when tragedy struck. The last Balu heard of her was that she had been sent to Sambisa Forest to be married off to a higher-ranking commander of the jihadist group. 
Meanwhile, Balu was married to a man named Ibrahim. She always had a quarrel with Ibrahim, she says, and he often beat her on the slightest pretext. She describes him as a problematic person who made life horrible for her.
"There was a time he beat me till my hand became swollen. I then reported him to the Boko Haram leader who warned him," she narrates to HumAngle.
She confirms that her fights with Ibrahim were often about intercourse but would rather not speak on that aspect of her experience. "It is over now," she says after exhaling deeply. "It has passed, as I was able to leave where I was taken forcefully to a place where I have freedom."
Freedom
Balu could not bring herself to live with her new "husband". She could not trust him. Above all, she could not live without her family at the Muna Garage IDP camp. She always thought about her infant child and wondered how he was doing. So, about nine months into her forced marriage, she plotted her escape. 
The plan was simple. She would pretend to visit someone and, by the time she was out of sight, would veer into a different direction and take flight. She ran as fast as her legs could carry herㅡand her unborn eight-months-heavy child.
After two days of trekking, she burst out at Dikwa, a town in Dikwa Local Government Area, about 90 km east of Maiduguri.
She finally got back to Muna Garage IDP camp in the third week of August. Her family was overjoyed to see herㅡexcept for one person, her months old child who had passed away in her absence.
One month after her arrival, she was delivered of a baby boy, "problematic" Ibrahim's child. About her new child, she says she and her husband have simply accepted it as Allah's will.
She named him Abubakar, likely not realising he would coincidentally be sharing an identity with Boko Haram's grand leader. But will she tell him the circumstances of his birth when he becomes old enough? "Yes," she replies without hesitation. "If I don't, he will hear it from other people."
Survival
Tough conditions at the Muna Garage displacement camp in Maiduguri force IDPs to risk their lives to make money. The IDPs, unlike in a few other camps in the city, do not receive monthly food allowances. Mele used to have a ticket with which he collected food in Konduga, where he worked. But he only received the package twice. The card was later rejected as fake when he could not show up with his wife. 
Backed in a corner with little to no choice, women often go into the woods to fetch firewood and then return to town to sell or use for cooking. But it is not safe. Even after she returned about three months ago, people have been kidnapped in the forest areas.
According to a 2019 joint report by the Food and Agriculture Organization (FAO), World Food Programme (WFP), and United Nations High Commissioner for Refugees (UNHCR), 79 per cent of households in Borno depend only on firewood for cooking, 8.1 per cent depend on charcoal, and another 8.4 per cent make use of a combination of the two. The demand for wood fuel and less efficient energy sources such as traditional biomass, was even higher among IDPs.
"The high number of people who buy firewood can be explained by the widespread protection risks, the strict security perimeters around towns, the restriction of movement of petroleum, oil and lubricant products in some locations and the expensive cost of kerosene out of Maiduguri," the report explained.
In a second report published by FAO and UNHCR with focus on Muna Garage and a few other camps, 83 per cent of the IDPs interviewed said they had no income and about 4 per cent depended on selling fuelwood. It was the second largest source of livelihood after food-selling. 
Also, 83 per cent of the displaced persons bought their cooking fuel from the market, a meager 3.2 per cent received it from humanitarian organisations, and the rest had to resort to collecting wood from the forest.
If they had other means of livelihood and readily available fuel for cooking, most of the IDPs would rather not visit the bush, which continues to harbour all sorts of danger a decade into the insurgency.
Boko Haram and its splinter group, the Islamic State West Africa Province (ISWAP), are increasingly targeting farmers, loggers, and fishermen, accusing them of spying in support of the Nigerian military.
Last October, members of the jihadist group killed 14 farmers in Ngwom, a village 14 kilometers north of Maiduguri. They cut their throats and a 15th farmer escaped with a deep slash. Two weeks later, another eight farmers suddenly disappeared after visiting their farmlands in Njimtilo, a village bordering the state capital. Their bodies were eventually found by members of the Civilian Joint Task Force (CJTF). They had been executed at close range.
"It is a game of luck," Balu suggests. "But people have no choice. If they don't go, what will they eat? How will you be in a room without food? It is not possible. And since you see some people going and returning safely, you will muster the courage to follow them the next day."
*  *  *
Abubakar's mother is not sure where her next meal or income will come from, but one thing she knows for certain is that it will not be from the forest area. "After all what I have seen, I am not going back, even if I have to stay a long time without getting N5," she says emphatically, suggesting that she would rather starve than relive those experiences.
She still thinks about Hauwa, the elderly woman who was gruesomely murdered for daring to seek freedom. Three months into her death, whenever Balu closed her eyes, she would involuntarily picture her, lying in a pool of blood, her head drained of life and exhibited for the acknowledgement of Balu and the other women like it were a laboratory specimen, a teaching aid. 
"I still see her in my dreams," she groans. "I still see her eyes as they roll back and turn white."
---
Support Our Journalism
There are millions of ordinary people affected by conflict in Africa whose stories are missing in the mainstream media. HumAngle is determined to tell those challenging and under-reported stories, hoping that the people impacted by these conflicts will find the safety and security they deserve.
To ensure that we continue to provide public service coverage, we have a small favour to ask you. We want you to be part of our journalistic endeavour by contributing a token to us.
Your donation will further promote a robust, free, and independent media.
Donate Here