Displacement & Migration
Features
News
Surviving Hell (2): From Wrongful Imprisonment To Displacement
Kaadi Aji, a gold dealer, was one of the men detained by the Nigerian army in 2015 on suspicion of being a Boko Haram terrorist. He was finally released without indictment but now faces displacement.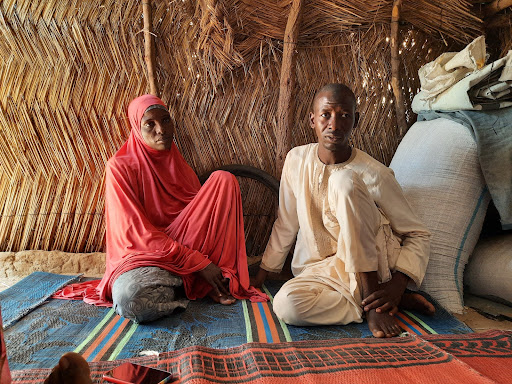 There are many things one would expect a man newly released from prison after years in detention to find strange about freedom, and there were many things that Kaadi Aji found jarring. But what he found most uncomfortable was walking freely, without restraint, with no one hustling him back into a cell. 
"Even when I walk from this place to that place," he says, using his hands to point at a distance less than one kilometre away, "I feel so strange. I can't believe it." Here, he smiles sadly. For a man who had spent the past six years across three detention facilities, it is an understandable dissonance.
Kaadi Aji was one of the men detained by the Nigerian Army in 2015 on suspicion of being Boko Haram terrorists. He, alongside his wife and children, had crept out of their village, Boboshe, at 2 a.m. to begin their journey to Maiduguri, the Borno State capital, which had become the safest place in the terrorism-ravaged state, he says. It was safer to travel at midnight because then they could benefit from the cover of darkness, which protected them from running into Boko Haram terrorists, who had frequently been patrolling the village in those days. 
"Even in the night as you're travelling, you have to be hiding. Because if you run into them, they'll kill you or burn you. That's why we left at 2 a.m," he explains. 
They travelled on foot for three days until they reached Mafa Local Government Area (LGA) and were detained for questioning at the military base by soldiers, alongside his wife and children. 
Usually, they let the women and children go after a maximum of three days. But still, some women get detained in that fashion for years. 
The soldiers told them that they looked suspicious and could therefore not be allowed to go, and that they would be transferred to Giwa barracks, a military detention facility in the heart of Maiduguri, for questioning. He did not know where this next facility was or how long they would spend there, but instinct told him that it would not be a good place for his family. So, he pleaded that his family be left to go to the IDP camp. 
"I went to one of the senior soldiers, and I said, 'Oga, I want to ask for a favour.' I told him I had one of my wives here who has two children and another wife who had four children, and that he should help me and allow them to stay at the Muna Camp. I said I would go to the barracks, but they should allow our wives and children to stay."
The soldier asked him how he thought his wife and kids would feed if he left them alone there.
"They asked me whether they would get food to eat. And I told him that even if they stayed there for a year, they would not starve, so long as there were people there. At that time, I did not know that I would be away for many years. That was why I said that."
The soldier then asked him whether he had made secret provisions for food for them that would last up to a year. Kaadi says he wanted to reply in the affirmative but thought that his answer might implicate him, and so he said, "I believe that Allah would feed them."
Thereafter, the women were released to leave for the Muna garage displacement camp, and Kaadi and the rest of the men were gathered in a car and driven away.  
It was the last time he would see his family for the next six years.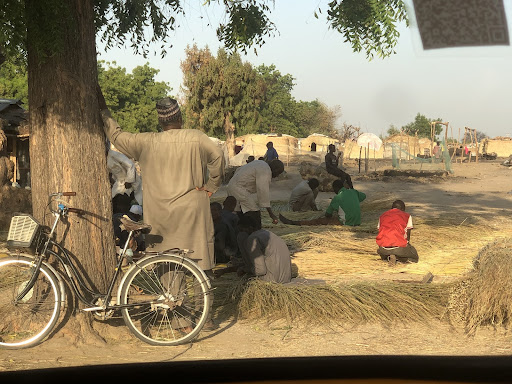 Life in detention
Kaadi tells HumAngle that he was transferred to Sector 2, a military barracks, where he spent a day in detention and was finally interrogated. 
"They asked me why I came to Muna, and I told them that there had been terror attacks everywhere, and it was not something that I would be able to handle if it came to me and my family. We used to farm and trade, but all that stopped with the advent of Boko Haram, so we couldn't just sit and allow them to come to attack us." 
Thereafter, he was transferred to Giwa barracks, where he spent the next nine months, and where he believes he saw the worst days of his life.
The cell where he was kept could not adequately contain the inmates, he says. On top of that, there was no proper ventilation. "There were only two very tiny windows high up on the walls." He says that people died daily from the congestion and that up to 300 died on one notable day, either from the congestion or thirst, as they were only given half a cup of water to drink daily. Both his claims about the quantity of water they drank, as well as the record number of people who died on that notable day, were corroborated by other former inmates who spoke to HumAngle.
"Life was miserable there. There was no space, and no proper toilet, just a bucket at the corner. Whenever we wanted to sleep, we just leaned our backs against the wall and slept."
Eventually, he was transferred to the Borno Maximum-Security Prison, where he spent five years. 
His time there was bearable, he says. "Some cells had bunks, some had two mattresses…Because we had more comfort there, I had the presence of mind to constantly think of my family."
From detention to displacement
Before all these, Kaadi Aji was a gold merchant in Boboshe, Borno State. He specialised in the business, and from the proceeds, he could care for his family. He has, however, lost everything, first to the Boko Haram insurgency, and then to detention. Now that he has regained his freedom, he is unsure what to do with his life and how he would fend for his family.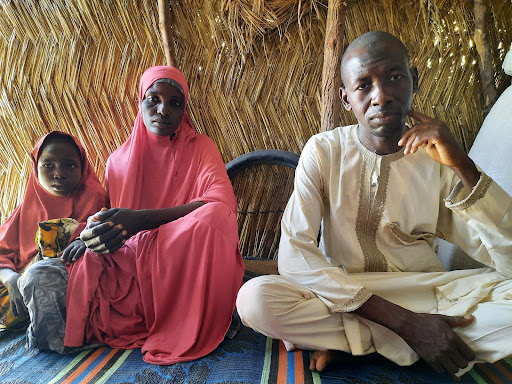 "As I'm talking to you now, I have no idea where I'll get food for the family to eat dinner today. And yet, I have to provide it because my wife cannot continue to slave away for food like she was doing before they released me. Now that I am back, I have to take over. But where will I start from?" he laments.
His family has always been dear to him, he tells HumAngle. While in prison, he recalls starving himself many times, because eating filled him with guilt and questions: Had his family eaten that day? Did he deserve to eat while they hadn't? Were they even alive?
"For three months, I skipped lunch every day because of guilt. And breakfast was usually just pap. Dinner too was pap."
Finally, on Friday, Nov. 12, he was released from prison, alongside hundreds of others. 
The state of IDPs in Nigeria
The number of Internally Displaced Persons (IDP) in Nigeria has skyrocketed in recent years, with the insurgency and terrorism spreading from the Northeast to the Northwest and now to the North-central. People increasingly leave their ancestral homes, which have either suffered attacks or are vulnerable to attacks, for safer places. This has increased the number of people in IDP camps. As a result of their having to flee, oftentimes without money or their property, they are steeped in poverty and are at the mercy of assistance from the government or non-governmental organisations. This assistance is neither sufficient nor consistent. For example, women in the Dalori displacement camp tell HumAngle that though they were entitled to ₦18,000 monthly as assistance from the state government, it had been months since they last received this.
Some IDPs also allege preferential treatment. Single mothers, for example, say they are sidelined when it comes to relief materials. "They tell us whose husbands are not with us to stay apart from those whose husbands are around, then they share foodstuffs with them and tell us that they will get to us another time." 
But they never get to them.
Like many of the women in the IDP camps in Borno state, Kaadi's wife, Hauwa, had resorted to the firewood business, and sometimes into farming. 
She sells firewood for ₦1,200. From this money, she pays the driver or truck pushers who help her convey the firewood to the settlements. In the end, she is usually left with around ₦800. She uses it to buy grains for food. If she's economical, she can use 40 measures (mudu) for 40 days. But it is not all the time that she can get firewood.
This is the hardship that Kaadi Aji returned to and which he must now alleviate his family from. He wishes to go back to his gold merchandise; however, they are still displaced, and so his immediate community are not people who can afford to buy gold. In addition, he will require considerable capital.
But he remains hopeful because he is alive and healthy. And that is more than many people have.
"There were people among us that, despite being alive, lost their minds because of the hardship we faced in detention. But, alhamdulillah, I didn't even fall sick. I was okay all through my detention…I was filled with joy when I saw my wives and kids; I was grateful to the senior soldier who listened to me that day and allowed my family to stay back in the Muna camp."
This report is produced in partnership with the Centre for Democracy and Development (CDD).
---
Support Our Journalism
There are millions of ordinary people affected by conflict in Africa whose stories are missing in the mainstream media. HumAngle is determined to tell those challenging and under-reported stories, hoping that the people impacted by these conflicts will find the safety and security they deserve.
To ensure that we continue to provide public service coverage, we have a small favour to ask you. We want you to be part of our journalistic endeavour by contributing a token to us.
Your donation will further promote a robust, free, and independent media.
Donate Here