Displacement & Migration
Features
News
Inside Benue IDP Camp Where Mosquito Net 'Cave' Is Home
Abandoned by the state government, thousands of IDPs in Benue, North-central Nigeria, live in tents made with old mosquito nets. They are rinsed by the rain and dried by the sun as they battle hunger.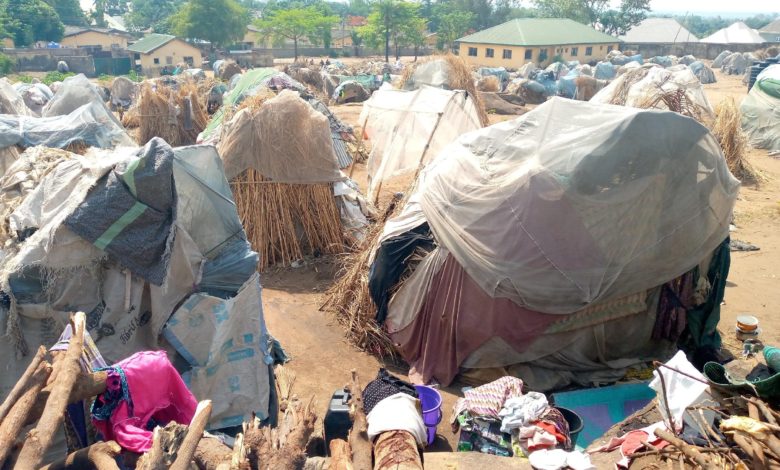 At first glance, the camp looks like heaps of rags. But on a closer look, one can see the intricate workmanship of the mosquito nets pinned together with some clothes to create makeshift shelters.
In Tse-yandev camp, Benue State, North-central Nigeria, about 200 of these homes made with worn-out mosquito nets can be seen. They house thousands of Internally Displaced Persons (IDPs) affected by the myriad of crises plaguing the state and the region.
When it rains; IDPs, their shelters and belongings are drenched as there is nothing to protect them from the rain. They sit in the damp spaces, shaking feverishly willing their clothing and skins to dry of their own accord as soon as possible lest they catch a flu.
Old, tired and hungry
As the day breaks, Doowuese Atetan sits brooding. The 69-year-old has still not come to terms with her predicament. She was attacked by a militia and severely beaten with ropes, sustaining a fracture in the process.
Without access to proper medical care, Atetan and her loved ones attempted to treat her fracture with local herbal balms but it has still not healed.
Feeding has also been hard. "I don't know how I am surviving. I don't have any food or shelter. The only thing I know I have been doing is go to the rice mill, collect their chaffs of milled rice, bring them home to hand-mill them. Only then do I have food to eat," she said.
On another side of the camp, 56-year-old Agatha is forlorn. In the last three years, she has moved from one camp to another since she and her people were attacked at Guma. She moved here (Tse-yandev camp) from Bakarday camp.
She told HumAngle that life in both camps is different. "We were moved here where there is nothing to show except the air we breathe. There is nothing to eat, no water to drink. Thank God for some NGOs and other religious organizations that have been trying to provide. Even though it is little," Agatha said.
Ajir Godwin, a 78-year-old man is one of about 3,000 villagers who were displaced from Tukura, Umenge, Gbajimba, Ikyo villages of Guma Local Government Area about four years ago following a series of farmers-herders clashes. His family has reduced from 11 to six people because of the attacks.
"Living outside our home is not a life we bargained for. We could not refuse the circumstances that led us here.  We were living fine, happy and our children were going to school. Life was basically at its best for us. Everything changed four years ago. It was in the night. We heard guns and unfamiliar sounds."
"It was different from the usual local guns we had. Within seconds, we started hearing cries and wailing. Suspected herders had killed several people in the villages and everyone started running for their lives – children, women, nursing mothers, all ran for their lives leaving everything behind. No one was able to take anything," he said.
Godwin told HumAngle that at first, they were unsure where to run to or if they would feel safe staying anywhere else.
When it dawned on them that they were going to be living as IDPs, it was a battle between staying in a place where there is food and where there is shelter. Camps usually have more of one than the other. Some people who could not bear the hunger went back and were killed on their way to the farm.
"People are still dying there till today. The herders are still there killing every day. The security men are there in places like Umenge, Ikyo, Tukura, Uleva. The soldiers don't patrol. They warned the villagers to stay confined. Even now, people don't have the luxury of moving to their farms," Godwin added.
Like others, he feels abandoned by the government and noted that they have been surviving on the goodwill of individual donors and a few organisations.
Hustling for next to nothing
Agatu has three children; they are five, seven, and nine years old. When they are not drying their bodies in the sun after a rain shower, they run around the neighbouring streets looking for discarded iron items to sell. If they are lucky, they make enough for a meal or "whatever they see they will eat."
"The rain normally beat us. Just as it rained yesterday, it rained on us and also, this morning. You can see we are drying our clothes. I am already feeling feverish and there is just nothing I can do other than sit and wait for my fate. My two children are in the street already looking for condemned iron to sell," she told HumAngle.
HumAngle observed that teenagers and young adults are few in the camp. When some were asked, they explained that they go out to hustle. Mimi* engages in sex work to feed her siblings. She was coy when asked about it and said she makes sure to do what she can to ensure there is food.
"We have been killed till this moment. About 20 people have been killed in the last week. Our people are still running from camp to camp, some of them have relatives in Makurdi metropolis. They have gone there. Some have gone to be slaves in people's houses.  Children no longer go to school," she said.
Children dying avoidable deaths
Agule lost her son to an 'unknown ailment' a few months after she got to this. "He was sick and I was looking for money to take him to the hospital, I could not find money early. Before I could see someone to lend me money, he died," she narrated.
Recently, she almost lost her young daughter but was bailed out by generous doctors. Her daughter had surgery for appendicitis and she did not have money to pay. The doctors at the General Hospital Northbank, Makurdi, operated on the child and asked Agule to pay whenever she could.
Like Agule, Iornenge said she has lost children to a poor state of living in the camp.
Government has abandoned us
According to a camp official, Isaac Ornguga, the camp was initially situated in a market along 72 barracks road. The living situation was better because there were buildings and coverings.
Ornguga said the IDPs had to vacate the market because the Makurdi LGA chairman "drove us away because he promised to open the market soon. The market is not open till now."
He added that children die in the camp regularly because of malnutrition or cold. "It rains on them too like it does on the adults. We have just a room in this camp where about one thousand people are crowded to sleep. It is unbelievable how they sleep. Of course, some cannot enter inside so they resolved to stay in those 'caves.'"
There are about eight IDP camps in Benue: Agidegbe, Abagena, Gbajimba, Tse-yandev, Daudu, Nepa Quatres. Across them, the stories of lack and hunger are similar.
According to Godwin, the government, through the State Emergency Management Agency (SEMA), has only visited the camp once and that was during the last elections.
"We are not lazy people. We farm. Government should provide us with our community again. Our land is being captured. We could farm. We could provide for ourselves. We are not saying they should provide us with only feedings or shelters but they should retrieve our land back to us," another IDP Samuel Ubetey Guma said.
---
Support Our Journalism
There are millions of ordinary people affected by conflict in Africa whose stories are missing in the mainstream media. HumAngle is determined to tell those challenging and under-reported stories, hoping that the people impacted by these conflicts will find the safety and security they deserve.
To ensure that we continue to provide public service coverage, we have a small favour to ask you. We want you to be part of our journalistic endeavour by contributing a token to us.
Your donation will further promote a robust, free, and independent media.
Donate Here