Displacement & Migration
Features
News
Loss Of Livelihoods: Resettled Borno IDPs Unhappy With Govt-Chosen Relocation Sites
The displaced people fear their conditions may worsen, compared to what they faced at the displacement camps, as the state government flings them even further from their home communities.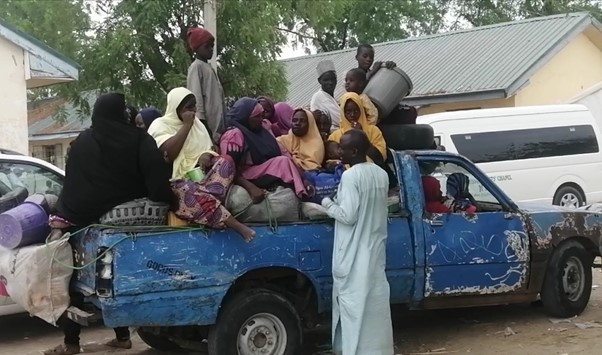 Hundreds of internally displaced persons (IDPs) who were recently moved out of displacement camps in Borno, Northeast Nigeria, to resettlement housing sites have expressed worries that they may not survive at the sites chosen for them by the state government.
The IDPs informed HumAngle in different interviews that they are bound to face a more difficult future "worse than what life was in the camps," should the government not review its stand on sending them to places far away from their original communities.
The Borno state government had on May 29 officially started closing some of the IDP camps as part of Governor Babagana Zulum's commitment to building the resilience of local communities against the scourge of organised armed groups.
Symbolically, IDPs from Damasak, Bama, and Konduga local government areas (LGAs) were given three options: accepting to be returned to their original communities, relocating to a government-established resettlement site, or receiving support to rent a house in the host city, Maiduguri.
The state government said the options were not imposed but freely chosen by each household before they were moved out of the IDP camps.
The government had, since 2020, set up a committee to supervise the rehabilitation of communities recaptured from terror groups. The committee claims it has fixed most of the homes destroyed by the insurgents who occupied those places after forcing the residents to flee.
Also last year, the governor fixed the end of May 2021 as the deadline for closing all IDP camps, though the target became infeasible given the subsequent deterioration of the state's security.
The government has, however, lately resumed the suspended relocation of IDPs out of the camps. It chose the MOGOLIS IDP Camp and the NYSC Orientation Camp as the first to be closed after over seven years of activity, hoping to fully use the former for academic activities.
Though the affected people were glad they would, at last, be moving out of the camps to saner and more decent environments, many of them were left with double-edged concerns for their future. For example, the IDPs at NYSC Orientation Camp, mostly from Bama and Konduga local government areas, have been moved to a newly built resettlement housing at Auno, along the popular Maiduguri-Damaturu highway. To many of them, moving to Auno is like taking them further away from the source of their livelihood.
Modu-Sulum Kayamla, a middle-aged man who hails from Kaleri village under Konduga LGA and has three wives and 13 children, lamented that going to Auno would make life more difficult for him and his large family.
"Honestly, we appreciate the concerns of the Governor of Borno State, Professor Zulum, on the need for us to move out of the camps after over seven years of living as IDPs," said Kayamla.
"But the truth of the matter is that bringing us to Auno, an upland area, where there is no wetland, instead of somewhere close to or towards the direction of our homes, leaves us in a greater dilemma. We are known vegetable farmers from Konduga; we don't have any other means [of earning a living]. Even when we were in the camp, we still went to the Alau dam axis to farm our vegetables."
He added that, if they had an opportunity to choose, the IDPs would have opted to go to Dalori, which they are familiar with and where they can continue to farm and fish.
"The government knows best, and we cannot question their decision. But the truth is that we are going to find it difficult to fend for ourselves, now that the handouts that they used to give us would be stopped."
The IDPs said they are aware of the existence of resettlement housing in Dalori, which is closer to Kayamla, and wondered why they instead had to go to Auno.
"We are originally from Kayamla village which is just a stone throw from Dalori where we used to cross the river Alau to go and crop our vegetables. Moving us to the resettlement housing at Dalori would have been better for us."
Muhammed Sani, an IDP from Bama who was displaced by Boko Haram in Sept. 2014, tells HumAngle many of them are confused about the relocation efforts.
"Even if you go to Bama, one does not have the space to farm; a kilometre outside the village is dangerous because of possible attacks by Boko Haram," he observed.
Bukar Saiyyina also mentioned his preference for Dalori.
"What the government must understand is that we are vegetable farmers, and taking us to Auno is denying us our means of livelihood. Dalori is still the best place for us to go. Here in Auno, we are already faced with a lack of water because there is no water in the resettlement housing," he said.
Others like Mustapha Alhaji-Adam worry that living in Auno, which lies at the outskirts of Maiduguri and whose gates are guarded by the military, would shut them out from the rest of the world.
"When we were in the camp, some of us could easily go to Dalori axis to cultivate our vegetables and do some fishing to supplement the food relief and whatever handout the government gave," he explained.
"We could go to Dalori and return at any time. But taking us to Auno now means we must travel far distances, pay more money for transportation, and even get locked out at the entrance gate if we fail to return on time. That's why we said if the government had moved us to Dalori, we wouldn't have to bother about how to survive there because the area is safer for farming and other related activities."
Zaitu Abdullahi, a mother of eight, said apart from knitting traditional hats, displaced women often travelled to Alau and Dalori to buy fresh vegetables to sell in the Maiduguri town, a business strategy that had helped many of them manage their homes in the camp.
"It is easier to get to Alau from Maiduguri because one could set out in the morning and return by noon. But now that we are moved further away from the town, that kind of business trip would either be more tasking or even impossible," she said.
The United Nations Protocol on the Protection and Assistance to IDPs stipulates that authorities should ensure they create conditions that allow IDPs or refugees to return voluntarily to their homes or other parts of the country.
"Special efforts should be made to ensure the full participation of internally displaced persons in the planning and management of their return or resettlement and reintegration," it adds.
The Borno state government says it has met all the requirements of resettling the concerned IDPs, stressing that they were duly profiled and given options of either returning to their original communities in Damasak and Bama or be taken to newly built settlements where each household would given free homes to live.
The Commissioner for Reconstruction, Rehabilitation and Resettlement (RRR), Mustafa Gubio, told HumAngle that each household with a patriarch would be given an apartment with two rooms while a household with a matriarch would get a room and some cash token, half of what the male-headed household gets.
"I can assure you that none of the displaced persons was forced out of the camp; they were given three options of resettlement in Auno, or Maiduguri metropolis, or in their respective communities."
Speaking along the same line, the Director-General of Borno State Emergency Management Agency (SEMA), Yabawa Kolo, said, "Everything is done by choice; we respect their dignity and all international laws guiding IDPs."
She further informed HumAngle that a total of 700 households were moved from MOGCOLIS IDP camp to the Auno resettlement housing; while about 1,464 households were relocated out of the NYSC Orientation camp. According to Gubio, so far, over 4,967 households in eight local government areas have been relocated to their communities since the programme started in 2020.
A 32-year-old IDP, who asked to remain anonymous because he feared that his views about the relocation programme may jeopardise his pursuit of education and status as a resettled IDP, said the three options given to them were not fair enough.
"I am currently in my second year as an NCE student here in Maiduguri, and I have no option than to accept one of the options because, whether I like it or not, the government had said it would be closing the camps at all cost," he noted.
"Many people who chose going back to Mobbar or Bama did so because they fear that living in Maiduguri or going to Auno may not be sustainable; even though they still fear possible attacks when they get back to their communities. Those that did not go to their communities due to fear for their lives have no option than to accept going to Auno or living in a rented apartment in Maiduguri even though they know the future would still be very difficult. So, you see the choices have their limitations and the future is still uncertain."
---
This report is the product of a partnership between the African Transitional Justice Legacy Fund and HumAngle Media under the 'Mediating Transitional Justice Efforts in North-East' project.
---
Support Our Journalism
There are millions of ordinary people affected by conflict in Africa whose stories are missing in the mainstream media. HumAngle is determined to tell those challenging and under-reported stories, hoping that the people impacted by these conflicts will find the safety and security they deserve.
To ensure that we continue to provide public service coverage, we have a small favour to ask you. We want you to be part of our journalistic endeavour by contributing a token to us.
Your donation will further promote a robust, free, and independent media.
Donate Here