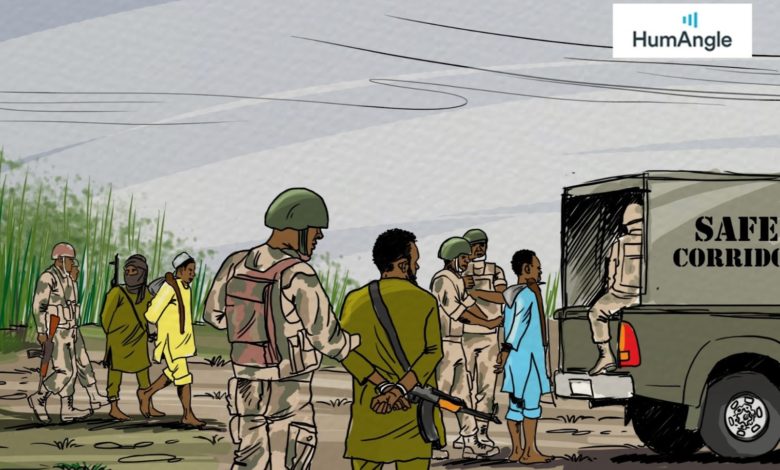 When Nigeria's armed forces recaptured Banki in September 2015, a year after it was seized by Boko Haram, members of the terrorist group sought safety in other villages within Borno State's Bama Local Government Area. One of those villages was Kote Gana, where 14-year-old Mohammed* lived with his parents and three brothers.
Before the invasion, they engaged in farming activities but also operated a family business that involved trading. With the arrival of the insurgents, the business was brought to a halt as residents could no longer move freely.
The insurgents instructed them to construct a shed and dig a well. Then, they ordered them to start attending Qur'anic classes under the shed while they continued with their militant activities. One of the community members who tried to escape the dictatorial regime was captured, brought back, and shot.
Mohammed's father increasingly grew uneasy and concerned about his sons. Finally, in late 2016, he plotted their escape and promised to secretly join them later.
Their first destination was Kolofata, a town in northern Cameroon. Fortunately, because Bama is a border town between Nigeria and the Central African country, the distance between the two places is roughly 65 km. With a car, the distance can be covered within one and a half hours. But on foot, it takes about half a day.
As he fled with his heart in his mouth and worried sick about his parents' safety, Mohammed had no idea he would later be condemned as a member of the same group that ruined his home and childhood. That, for this reason, he would be punished unfairly and then forcibly offered redemption.
Wearing a lavishly embroidered and unusually long babariga that nearly reaches his ankles, Mohammed, now a displaced person plugging away in Maiduguri, narrates his story. He has an almost permanent smile on his face. Sometimes it grows broader as he speaks, but more often it shrinks under the weight of his harsh experiences.
Road to Giwa
The three brothers were in Kolofata for three days before Cameroonian soldiers rounded them up, assembled them at a local market, and deported them back to Nigeria. They were taken to Banki alongside about 98 others and detained by the Nigerian military. Then 53, including Mohammed, were separated and taken to the correctional facility in Bama.
Though he says the soldiers beat those arrested especially if they insisted on their innocence, he was spared because of his young appearance.
"If you confessed, they left you alone. But if you said you were innocent, they would keep beating you. So for this reason, many people confessed they were members of Boko Haram," he says, adding that he was fortunate not to have had a confession beaten out of him.
The use of this non-transparent and brutal interrogation technique was recently confirmed by Amnesty International. In a report released in June, the organisation stated that screening processes for people exiting Boko Haram territory, which took place in Bama, Monguno, and Damboa, involved physical torture with the aim of extracting confessions. The screening was conducted by military officers and members of the Civilian Joint Task Force (CJTF).
"CJTF men were the ones beating us, while the soldiers sat and watched," a 19-year-old man shared his experience at Bama prison with Amnesty International.
"My legs and hands were bound together at the back and I was hung from a tree, head facing down. When they untied me, I couldn't feel my legs and hands and could barely walk. The same thing was done to my younger brother. They did that to us because we refused to accept that we were Boko Haram, during interrogation… My younger brother was beaten so badly that he could not eat with his hands."
According to the officers, they could not possibly have lived with Boko Haram for several years without joining them.
The Nigerian military and other security agencies have continued to deploy torture despite various studies showing that it simply is not a reliable means of getting information from criminal suspects. "While torture does make captives more likely to confess, the information obtained is not likely to be accurate, and could be pure fabrication," noted Wellcome Trust Senior Investigator and Professor of Experimental Brain Research, Shane O'Mara.
O'Mara explained that a "broken" captive is almost certainly going to say what his interrogators wish to hear in order to put a stop to the inhuman treatment.
Seven days into Mohammed and his brothers' stay in Bama, they were transferred to Giwa Barracks, a notorious military detention centre close to the state capital, Maiduguri. It was 2017, and he would not leave until nearly one year after.
Mohammed thinks his classification as a Boko Haram member started from his time in Cameroon and was based on the report passed on by the foreign soldiers.
There were many young people like him at Giwa. He was kept in Cell 10 with nine other young men and over 400 adults. On the other hand, his two brothers, aged 10 and 13, were kept in the Underage Cell, which he estimates must have had about 250 juvenile inmates.
The difference between Cell 10 and the Underage Cell was clear. Though inmates in both cells were fed three times a day at the time, he says the food was rather inadequate for the adult detainees.
"The condition in the Underage Cell was better than the other places. They took care of them very well. They fed them, clothed them, and they were allowed to take baths. Also, there was a fan and television in the cell," he says.
In contrast, as a member of Cell 10 for over six months, he took his bath only once a week. He confirms that the children in Cell 10 were sexually harassed by the older inmates but does not volunteer details.
In the middle of his stay at Giwa Barracks, his two junior brothers, perhaps considered too young to be terrorists, were released. "I was also young but I was not lucky," says Mohammed who was about to turn 17 at the time.
In its 2020 report, Amnesty International observed that though some conditions of detention for children have improved over the years, they still fall extremely short of requirements under international law. Former detainees cracked open with agonising stories of avoidable deaths, overcrowding, sexual violence, inadequate food and water, and generally savage conditions.
Over 3,600 children were detained by the military between January 2013 and March 2019 for alleged involvement with terrorist groups, according to estimates by the United Nations.
Asked what his saddest experience at Giwa was, Mohammed finds it difficult to narrow it down. He snorts and then lets out a hollow laugh.
"Wahala ne [it was horrible]," he says, tugging at the edge of his trousers. "It was a lot of suffering. Every day in Giwa was terrible. It was our brother who kept telling us to be patient and that we would be released one day."
He was right. Towards the end of 2017, the authorities asked some of them to take their bath and led them to where they could change their clothes. Mohammed immediately knew he was on the path to freedom and could not hold back tears from sprinting across his cheeks.
But rather than compensate him for holding him in deplorable conditions and without trial for one year as well as unlawfully keeping him with adult detainees, the Nigerian military instead sent Mohammed with other inmates off to its deradicalisation programme in Gombe State.
He later learnt some of the other inmates were taken to the Borno Maximum-Security Correctional Facility, and that the evacuation might have been triggered by concerns about overcrowding in the cells.
Innocents and insurgents at Gombe
Known as Operation Safe Corridor (OSC), the programme was launched by the Defence Headquarters in 2016 to rehabilitate "repentant Boko Haram militants" and introduce them back to the society. The programme is run at the Deradicalisation, Rehabilitation and Reintegration (DRR) camp in Mallam Sidi, Gombe State.
Life in Gombe was much better than that in Giwa Barracks. The food was served in larger quantities and there was a place designated for exercises. In the morning, the clients, as they are called, go to the football field and then have their breakfast by 8 am. They then proceed to a hall where they learn different skills from tailoring to welding and cosmetology, which Mohammed opted for because "it was easy to learn".
He was particularly grateful to have more food to eat and the opportunity to have his bath as many times as he wanted.
Mohammed was part of Batch 3 and says there were 161 other clients who were enrolled in the set. At the facility, he interacted with both Boko Haram members and regular civilians like himself who were at the wrong place at the wrong time.
"We talked about our life in the village, our farming, business while they [former Boko Haram members] talked about their life in the bush, how they fought and the rest," he says. Most of the clients were ex-militants, however—by his estimate up to 75 per cent.
"Not everyone who went to Gombe were Boko Haram. There were many innocent people among them," he stresses.
When those who said they were innocent raised an objection about being lumped in the same programme with former insurgents, the military authorities retorted by asking why they stayed behind when people migrated after the major towns were recaptured. Mohammed explains that they could not embark on the journey because the routes were full of danger and they felt trapped. But their side of the story fell on deaf ears.
The presence of non-insurgents at OSC was substantiated by Amnesty International in its June report, where it stated that "many people there are not former fighters who committed crimes … but instead farmers who lived under Boko Haram control and escaped—only to be detained unlawfully for years".
Officials at the centre often referred to the clients as "active perpetrators" and "non-active perpetrators," with the latter group including "victims of circumstances" who lived with insurgents against their will.
"People from each group can be sent to Giwa Barracks, for months or years of detention. From there, through Nigeria's Joint Investigation Centre (JIC), detainees can be deemed 'high-risk' and sent to Kainji for prosecution; 'low-risk' and sent to Safe Corridor; or sent to 'transit centres' and released," the non-governmental organisation explained.
* * *
At first, the clients were told they would only be spending three to six months at the facility but Mohammed says they ended up spending about one and a half years. An email sent to the Defence Headquarters about this extension has yet to be replied. Also, calls placed to separate phone numbers of Major General John Enenche, Coordinator of Defence Media Operations, were not answered nor was a text replied to.
"Eventually, they gathered us and the commander told us we would be released. They said we would be united with our people, we would work to live from what we learnt, and that we should stay in peace with people."
The authorities gave them N20,000 each and transferred them to a rehabilitation centre in Maiduguri often referred to as Umaru Shehu, where the government is supported by the International Organization for Migration (IOM) to empower former insurgents.
They spent three months at the centre, during which Mohammed says they were given adequate food and opportunities to have their bath. They also received adult education and vocational training on tailoring among other skills. After a brief protest, upon the completion of the programme, the government released them.
Mohammed's senior brother came to pick him and, from there, Mohammed stayed with one of his cousins in Maiduguri. Two weeks later, he joined his brother in one of the major displacement camps in the city.
From detention to displacement
Though he got to the camp in September 2019, he did not receive support to start a business until a year after. At Umaru Shehu, he had told the IOM that he would rather take up the sale of provisions. Though he learnt cosmetology at the DRR camp, he feels it is not fashionable enough in the region.
Though displaced families at his camp are eligible to receive food tickets worth about N17,000 every month, Mohammed is yet to get one despite having been screened. So, before help came officially, he got a grant of N8,000 from one of his brothers with which he started selling Over The Counter drugs. This relative also supported him with feeding.
In the first week of September, a little over a month to his interview with HumAngle, the IOM finally donated plastic products worth about N50,000 to Mohammed. Business is going well, he says. The Internally Displaced Persons at the camp buy his products, especially after they get their monthly food stipends from the World Food Programme (WFP).
Whenever he sells, he keeps the profit. When it gets N20,000, he plans to deposit the cash in a bank account, and then support himself with it after he gets married.
Before a combination of Boko Haram's vicious campaign and the Nigerian military's arbitrary detention policy upended his rustic childhood, Mohammed considered his life perfect. He had his parents and siblings and, together, they ran a successful family business.
"Back at home, we were living well with our family and livestock, going to farm, and doing our business," he says as he reflexively pulls at his left ear.
Today, his family has been torn apart by a war they were not party to. Mohammed's father stays in Banki with one of his junior brothers and his mother is still back in their home community in Bama. He has another close relative living in a displacement camp in Miniyayo, Cameroon, and his second junior sibling is studying at a Qur'anic school in Moduganari, a community inside Maiduguri.
However, now aged 19, Mohammed is excited about the prospect of settling down to a family of his own, as soon as he raises enough money from his plastic product business. He currently has two girlfriends: one from his village, Kote, who now stays in Banki, and the second from Kumshe, whom he met at the IDP camp.
His aspirations are simple. "What I need is assistance," he says. "Any type of assistance to support me or capital so that I can improve my business."
---
This is a multiple-part report; click here to read other 'The Deradicalised' stories.
---
Through this series, HumAngle with the support of the Africa Transitional Legacy Fund (ATJLF), examines the lives and pasts of alumni of the Federal Government's deradicalisation and rehabilitation programme, Operation Safe Corridor.
---
Support Our Journalism
There are millions of ordinary people affected by conflict in Africa whose stories are missing in the mainstream media. HumAngle is determined to tell those challenging and under-reported stories, hoping that the people impacted by these conflicts will find the safety and security they deserve.
To ensure that we continue to provide public service coverage, we have a small favour to ask you. We want you to be part of our journalistic endeavour by contributing a token to us.
Your donation will further promote a robust, free, and independent media.
Donate Here