Features
Humanitarian Crises
News
Borno IDPs Relying On Alms Begging For Upkeep Despite Hostility
Thousands of women and girls displaced by the insurgency have become beggars in the Borno state capital, many with their distinctly sad stories of pain, tears, and frustration.
It was 7 p.m. in Maiduguri, Borno State, Northeast Nigeria. The rush hours were over and the streets were getting emptier by the minute. An old woman in the traditional hijab stood on the opposite lane of the dual carriageway that led to the junction connecting the University of Maiduguri Teaching Hospital and the Tashan Bama axis. Even from afar, one could detect her state of desperation. She was eager to cross over to the other lane, but the cars travelling at high speeds would not let her do so quickly. She suddenly took her chance and landed in the middle of the road. Passers-by who saw her screamed when the tire of a fast-moving car screeched as a careful driver matched the brakes to avoid a ghastly accident. Some reprimanded her angrily for being reckless.
The woman jumped over the median separator to get to the other side of the road. She was visibly shaking as she kept muttering prayers in Arabic and thanking God for sparing her life. She staggered to a car wash by the roadside where many posh vehicles were parked and started begging for alms. 
Maryam Usman, as she would later identify herself, is one of the hundreds of displaced beggars whose sight has become a signature of Maiduguri, the Borno state capital. 
Mostly women and girls, they leave their homes as early as 6 a.m. to beg in the streets and would not return home till the late hours of the night. However, many residents of the city now see them as 'businesspersons' who would not engage in anything productive for survival. Local customs additionally discourage women from roaming the streets after sunset.
The state police command, in 2019, discouraged begging and threatened violators with "the wrath of the law". It warned that mobile courts would prosecute anyone who was caught, especially at roundabouts and close to traffic lights.
"You won't understand why I beg; you simply won't understand," a disappointed Maryam muttered as she walked away from the car owners who turned down her plea for alms.
"Do you think I enjoy doing this?" she said in a tone that is a mix of anger, pain, and frustration after this reporter tried striking a conversation. "Would you ever understand the torture I go through every day that forced me to be here? Oh no, you wouldn't understand, my son. You wouldn't."
After receiving some money, she relaxed a bit and a hard smile flashed on her face as she prayed continuously for the source of the charity. 
Forced by circumstances
Maryam explained that she trekked more than 10 km to the city centre every day to beg for alms so she could feed her large family. 
"It is not my doing that I come here to beg every day," she said. 
"If you look at me closely you may have seen that I have the appearance of one who had seen good days in the past. But fate decided to bring this to me, and I have no choice than doing what is not a crime to see that I feed and take care of my family. 
"I have not had any meal since dawn. What I had in my stomach is nothing but water that I drank all day. I only had N15 on me before you gave me this money. I became desperate as nighttime approached because I was about to break my promise to the 11 children under my care that I would return home with food for them to eat." 
She is from Bulabulin Gaura, a remote village in Damboa Local Government Area (LGA) of Borno, where she and her aged husband used to farm before Boko Haram attacks forced them out in 2015.
"Back in my village, my family was among the well-to-do in terms of food and availability of means to survive. We produced all kinds of cereals and even cocoa. After every harvest, I used to have at least eight bags of cocoa of my own," she said. 
"But that has become history since the day we were forced to flee. I lost many of my family members. Some of my children and sons-in-law were either forcefully taken away by Boko Haram or killed during the attack."  
She explained that her position as the youngest wife to her aged husband meant she had to bear the responsibility of taking care of the family, including orphaned grandchildren. 
"Eleven of us live in a single room apartment that was given to us by a distant family member," she said. 
"Four of the children are my direct kids, the rest are my grandchildren and some orphans left for me after their parents were killed. I have to feed these dependents, including my aged husband who can no longer do anything. 
"I left my three grown-up girls at home to sew and knit traditional caps which we sell. But it takes up to three to four weeks to get one cap sewn. And the profit is so small because we have to sell them to retailers."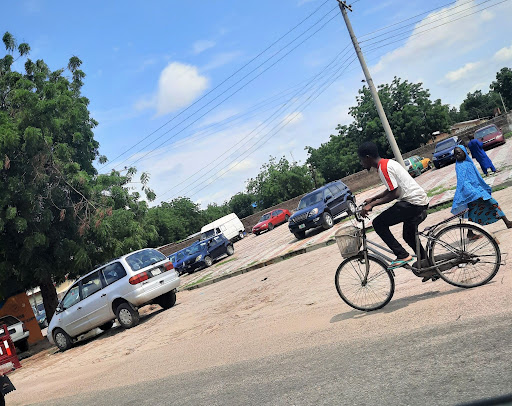 Not in IDP camp
Borno State is host to the majority of people displaced by the Boko Haram insurgency, and a good percentage of them live in camps and camp-like settlements. At these displacement camps, the government and other humanitarian agencies usually go round to distribute food monthly. 
Maryam, however, opted not to live in an IDP camp, not for lack of space but, according to her,  to protect the dignity of her family and children. 
"I have daughters in their teens and I fear that they could be abused or corrupted in the camps," she said. 
"I cannot sit and watch my daughters being sexually abused or turning wayward in the name of survival. I can barely raise money through begging in the streets to feed them. Where would I get the money to abort a pregnancy that would humiliate my family? I have seen many families destroyed simply because of an unwanted pregnancy brought into the homes in IDP camps. I have seen the anguish and shame of parents having to foster a child from an unwanted and untraced source of pregnancy. That is why we would rather cramp in our single room apartment in the host community." 
Cases of survival sex and the abuse of underage girls at displacement camps in Borno are well documented.
Prioritising kids' education 
One of the reasons Maryam storms the streets for alms every day, she said, was to ensure her children remained in school. Though she could use a few words in English, the 52 years old grandmother said she had never been to the four walls of a classroom. 
"I would not have been walking up and down the streets if I had had the opportunity of being in school," she said. 
"That is why I do everything, including starving myself, to see that my kids continue going to school despite our state of displacement. Food is still a luxury for us here in Maiduguri. Sadly, the government cares less about those who chose to live outside the camps. But that would never make me give up on my children's future."
Going back home
Though she had a strong nostalgia for the good life she had back in her ancestral community, Maryam said she was not currently considering going back to Bulabulin Gaura.
"Where is home in a community that has been annihilated by the insurgency?" she said. "There is nothing there. Not even a block to remind one that some communities once existed there."
"It is very sad that villages around our community have not been seen as the most dangerous locations where Boko Haram still have their strongholds. They are not even talking about them. Those that attempted to return to the areas, to the farms, were brutally murdered – they never came back. I do not see us returning to those communities in the nearest future; never," she added. 
Maryam is just one out of the thousands of women and girls that have become beggars in the Borno state capital, many with their distinctly sad stories of pain, tears, and frustration. 
The 12 years old Boko Haram insurgency has displaced over two million persons, mostly women and children from their hinterland communities to camps as IDPs. The Borno state government has kickstarted the process of returning the IDPs to some of the "reclaimed communities" as a way to build resilience. But the effort only gets most of the returnees to their local government headquarters that are still surrounded by bushes unsafe for farming. 
---
Support Our Journalism
There are millions of ordinary people affected by conflict in Africa whose stories are missing in the mainstream media. HumAngle is determined to tell those challenging and under-reported stories, hoping that the people impacted by these conflicts will find the safety and security they deserve.
To ensure that we continue to provide public service coverage, we have a small favour to ask you. We want you to be part of our journalistic endeavour by contributing a token to us.
Your donation will further promote a robust, free, and independent media.
Donate Here