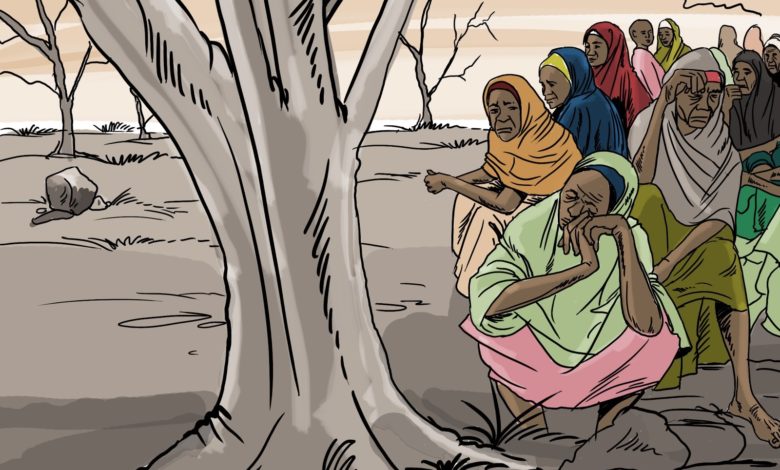 Aminata, 20, escaped from Boko Haram's captivity in 2015 with seven other female abductees. At the time, she had no doubt it was the right thing to do. She was at least returning to the land of freedom and opportunities.
But, having lived the dependent life of an Internally Displaced Person (IDP) in Maiduguri, Northeast Nigeria, for over five years, she is having a rethink — that perhaps freedom alone is not enough.
The young woman was part of a group of Bama residents abducted by terrorists after they invaded the town six years ago. Older women, including Aminata's mother, were left alone. Fortunately, barely two months into her abduction, she managed to slip away.
"We were with some other women. They heard we were planning to leave so they joined us and we left together. We were about eight in all," she recalls. A painfully shy girl, she sometimes covers her mouth soon after smiling, an act that reveals few vacancies in her front teeth.
Forced matrimony
Members of the terror group are notorious for snatching women from their villages or along roads. Non-muslim abductees are often forced to convert to Islam. They are generally tortured, forced to watch acts of terror, engaged in labour, exchanged for prisoners or ransom, and used in military operations such as to ambush soldiers, hold bullets during combat, or carry loot as they return to the camp.
Boko Haram members also forcefully take wives from among the abductees. If they refuse, they would be threatened with death, torture or, at best, prolonged detention.
Some former abductees interviewed by Human Rights Watch (HRW) said they were raped during these "marriages" and, in some instances, even before. The organisation noted that abductions targeting women spiked in mid-2013.
"I did not know him," Aminata says about her Boko Haram arranged husband, Muhammad Bukar.
But, despite her misfortune of being taken away from home and getting yoked together with a gun-toting stranger, she was still lucky. She says she lived peacefully with Bukar and had no issues during the marriage. She was 15 at the time and Bukar 25. She was his first wife.
Not all the women abductees could say the same about their insurgent partners though. Amnesty International, an advocacy and research group that spoke to over a dozen victims of forced Boko Haram marriages, said last year that they "described suffering beatings, lashings, or canings at the hands of an abusive 'husband' for missing religious instruction or reciting the Qur'an poorly, or for any sign of wanting to leave."
"It was good for some, and not that good for the others. Some did not like the men they were given," Aminata admits.
She was a housewife. She did chores and cooked for the household. She also performed other wifely obligations that led to a pregnancy and then, after she had regained freedom, the birth of her son.
Bukar was a fighter and assistant commander, a mid-ranking position in Boko Haram's hierarchy.
A group of militants often set out early in the morning to fight and at night they — or at least some of them — would return to the forest camp.
"On days when none of the fighters was killed and the attack was successful, he told me. When some members were killed, he would not mention anything about it. He only recounted his experience whenever they were victorious," Aminata says.
Between eight and 11 every morning and another two hours in the afternoon, Aminata would attend a Qur'anic school (Islamiyyah) where she had the opportunity to interact with other women. When they closed from the school, they would chat as they trekked back to their various shelters. Any other time, she would need to get her husband's permission to visit friends.
"After waking up early in the morning, we pray and prepare breakfast, and do the house chores. Then we revise what we were taught the previous day before we set out to Islamiyyah in the morning," she recalls. "We were taught to recite the Holy Qur'an, hadiths, and fiqh [Islamic jurisprudence]. We were also taught how to perform ablution."
There were about 2,000 girls and women at the Islamiyyah, divided into different classrooms. Aminata's class had 50 members. Many of the abductees were much older and there were countless teenagers as well, as young as eight years.
It did not matter that they were underaged, every girl above the age of 10 was assigned to a "husband." There are records of Boko Haram militants marrying girls as young as five and then consummating the marriages when they grew older.
Cutting loose
When Aminata decided to attempt an escape, it was because she was deeply worried about the well-being of her parents back in Bama. "I could not stay there any longer because the thought of them kept bothering me," she says. Many of the women abductees who joined her also had loved ones on the outside who they longed to see again.
Luckily for them, escaping did not come with insurmountable hurdles: "We woke up early in the morning at about 4 am and left. We were halfway through when we saw them coming with their motorcycles to search for us. We hid and let them go their way, then we went around to Gudu to avoid getting caught."
Aminata first set out for the displacement camp in Bama in search of her parents, but they weren't there. She heard they had moved to Maiduguri. Apart from that, the conditions of the displacement camp in the town were awful. "The food was not good. There was hunger, you do not get to eat every day. Water was expensive," she says.
So, two months later, with the help of familiar members of a paramilitary unit, the Civilian Joint Task Force (CJTF), she journeyed northwest to the capital city.
The escapees were placed into custody at Bama Prison when they first arrived at the garrison town. They spent two days at the detention facility where their names were documented and they were asked questions about their encounter with Boko Haram, how they escaped, and some of the group's activities.
Longing to return
Aminata's father died after a brief illness before the insurgency started. She has eight siblings, three older, five younger. Her elder brother also camps in Dalori and two of her sisters live with husbands in Maiduguri. Three other siblings had passed away over the years.
She currently lives with her mother at the Dalori II IDP camp but parental care is not enough to get by. "They gave us food, but I did not get," she laments.
At some of the displacement camps including this one in Dalori, IDPs are registered and given tickets, which entitle them to receive monthly food allowances worth about N17,000 per household. Aminata does not have a food ticket of her own because her mother is already a direct beneficiary.
To fend for herself, she depends on contracts to make kufis, a traditional cap commonly worn by men in Northern Nigeria. Even though it is a time-consuming craft, it does not pay enough to take care of her and her son. She only makes between N4,000 and N6,000 monthly, which she spends on detergents and some foodstuff. She once learnt to use a sewing machine that was donated to IDPs but later abandoned that line of business.
"I try to make money whatever way I can," she whispers, likely a euphemism for sex work but she is too shy to throw light on what she means. Survival sex is common among young IDPs in Northeast Nigeria, who are often sexually exploited in exchange for money, foodstuff, and other supplies.
"The lack of food, hunger is my biggest challenge and worry," Aminata says without hesitation. "Six of us are all dependent on my mother, including me and my son. We all must feed on the foodstuff that is allocated to her."
"Life here is difficult. I just want to have food so I can feed myself and my son," she complains, tracing the lines on the mat before her with her fingers. She is wearing two rings on the middle and ring fingers of her right hand—one of them shaped like a twisted 'X' and the second with a heart-shaped emblem made with plastic.
In contrast with her bitter experiences at the IDP camp, years ago when she was a captive of Boko Haram, she had access to all sorts of food including rice, spaghetti, beef, and chicken. She admits she had no idea where all the foodstuff came from but there was a constant supply.
"We never had an argument, not once," she says about her marriage to Bukar. "I even prefer living there with him. We had foodstuff and had nothing to worry about. I want to go back because I did not have to work for anything. Livelihood was better there."
"We go to Islamiyyah, return home, and eat. Life was simple," she adds, her wine-coloured nose ring glistening against the evening sun.
But the conditions of Boko Haram abductees appear to have worsened considerably. More recent escapees narrated to Amnesty International tales of acute malnutrition and increasing food shortages "exacerbated by Boko Haram's attacks on aid workers and the Nigerian military's restrictions on humanitarian access."
Aminata is not the first former abductee to openly long to return to the forest. Young Zara John expressed a similarly strong sentiment in 2016. "If I had my way, I would retrieve the phone number he gave me," said the 16-year-old who wished she could continue to call her Boko Haram husband. While in captivity, she explained, she had freedom, could sleep anytime she wanted, and was given "everything that a woman needs from a man" including food and clothes.
"How women were treated when in Boko Haram captivity depends on which camp a woman was exposed to. It depends on the commander running the camp," says Dr Fatima Akilu, psychologist and executive director of the Neem Foundation.
"Those who were treated better were the ones who willingly married Boko Haram members or who joined the group voluntarily and that's not the majority. Most women did not have the same treatment."
Aminata used to attend Qur'anic classes at the IDP camp just like in the Boko-Haram controlled territory, but they have stopped holding them because the instructors returned to Bama and no replacements were available. It seems though that other arrangements were eventually made to allow children and adults to learn more about their religion.
The young IDP is currently enrolled in a semi-formal secular school also inside the camp. Her thirst for knowledge is one of the reasons she has not paid attention to suitors yet. Her child, conceived in Sambisa and delivered 60 kilometres away in Maiduguri, has just clocked the age of five. He is not old enough to be admitted into the school, the administrators said. But she looks forward to signing him up as soon as possible.
Though she misses the relative comfort life with Boko Haram afforded her, she remains a strong believer in formal education — something that could get her killed in places governed by her former abductors.
---
*The IDP's name was changed to prevent stigmatisation
---
This investigative report is the product of a partnership between the African Transitional Justice Legacy Fund (ATJLF) and HumAngle Media under the 'Mediating Transitional Justice Efforts in North-East' project.
---
Support Our Journalism
There are millions of ordinary people affected by conflict in Africa whose stories are missing in the mainstream media. HumAngle is determined to tell those challenging and under-reported stories, hoping that the people impacted by these conflicts will find the safety and security they deserve.
To ensure that we continue to provide public service coverage, we have a small favour to ask you. We want you to be part of our journalistic endeavour by contributing a token to us.
Your donation will further promote a robust, free, and independent media.
Donate Here