Displacement & Migration
Features
News
Surviving Hell (1): He Was Fleeing Boko Haram, Got Branded As One
Thousands of men and women were wrongfully detained in 2015 and 2016 in Borno State by the Nigerian Army on allegations of being Boko Haram terrorists. While hundreds have regained freedom, the fate of thousands is still unknown.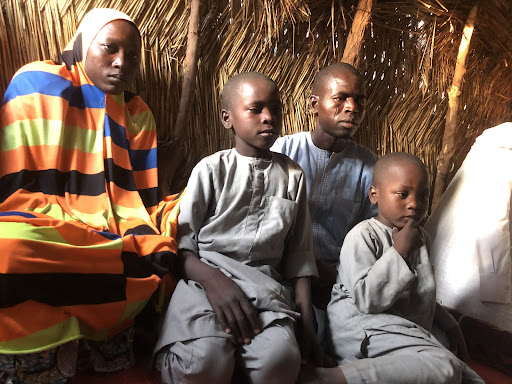 In the days leading up to Khadijah Gambo and Gambo Modu's wedding in Boboshe, Borno State in northeastern Nigeria, the former spent a lot of time adorning herself, getting elaborate henna designs done across her hands and her feet, under the watchful light of the moon and the excited chattering of women. 
She was so excited about the wedding that she picked out three different ceremonial textiles that guests would wear. She wanted the celebration to be colourful.
"We had known each other since childhood, and had been in a relationship for two years," she tells HumAngle, her face in a smile that was sometimes shy, most times big and unbridled. 
She sits beside her husband now, opposite this reporter, in a hut made of straw and tarpaulin in the Muna Garage displacement camp, Maiduguri. Sometimes, when her smile grew bigger than she could control, she used one edge of her multi-coloured Hijab to cover her face, shyly. Other times, she pulled her knees to her chest. Or she looked away. 
"I was very happy. Because it's not like it was one of those forced marriages, it was a wedding born from love," she says.
A few years and two children after their wedding, the Boko Haram insurgency in Borno began to advance towards their village, and eventually in 2015 they had to flee. First, her husband and other men left the village for the Muna Garage displacement camp. Then, five days later, Boko Haram members came and drove her and the other women away from the village. "They said anybody that knows her husband ran away from Boboshe to Maiduguri, they don't want to see that person there again." 
So she and the other women packed their things and followed their husbands' trail. She was three months pregnant at the time.
On reaching the military base at Mafa Local Government Area (LGA), they discovered that their men had been captured and detained by the Nigerian Army on allegations of being Boko Haram members. Khadijah and the other women were instructed by the army, who had been holding the men hostage, to proceed on their journey to Maiduguri, and that their men would join them the next day. While Khadijah was slightly worried, she was confident that all would be resolved and she would soon be reunited with her husband, because surely an accusation as grave as being a terrorist could be dissipated quickly where the person in question was innocent?
Khadijah would not see her husband for the next six years. 
What happened to Gambo Modu?
When Gambo and six of his traveling companions reached Mafa LGA, they were intercepted by members of the Nigerian Army. Though they would learn much later that they were detained on suspicions of being Boko Haram terrorists,  at the time of their detention they were not told why they were detained. The Nigerian constitution provides that a person be informed of their offence at the time of their arrest. 
They were held there for three weeks. On the 21st day, they were told that they would be reunited with their families that day. But first, they had to sweep the entire premises for the army. This, they did gladly. But when they were driven away, it was not to Muna, to meet their families. 
It was to the notorious Giwa barracks, where inmates have for years been reportedly treated under atrocious conditions, such as being kept in overcrowded halls with no room for stretching of legs, such as being horsewhipped —according to an inmate who spoke to HumAngle— such as being left to die of starvation. Amnesty International and other organisations have done reports on the questionable conditions that wrongfully held people are subjected to at Giwa barracks; some of these reports were done as far back as in 2013, suggesting that the practice had been going on for a long time unchecked.
Gambo Modu and his six companions would spend the next one and a half years of their lives in inhumane conditions at this military detention facility, through torture, starvation, thirst, and total confinement. 
"They never for once told me what my offense was during all that time," he tells HumAngle, his face showing dejection as he remembers. "Though at some point, they took our statements. We spoke and they wrote, but I don't know what they wrote."
Then one day, he and about 600 other inmates were transferred to the Borno Maximum-Security Prison. They were told that they would merely spend three days there and thereafter be released back to their families. 
They ended up spending four years there.
Freedom from Giwa Barracks(?)
Though the living conditions remained appalling, he found the Maximum-Security Prison far better than Giwa barracks. 
"They let us bathe once a week, even though we were only given one bucket of water to share amongst ourselves. We were also 150 in the cell, but the cell had allowance, it was bigger than the cell in Giwa barracks. We could lie down, but we did not have room to turn throughout the night."
How then was this better than Giwa barracks?
"At Giwa barracks, we could not so much as lie down, and even when we sat, we could not stretch our legs. We only had our first bath after six months. And we were only given half a cup of water to drink each day," he explains.
Congestion is a major problem in Nigerian prisons and correctional facilities, and certain reports and research have argued that the judiciary is to blame. This is because inmates continue to await trial for years, while still being held in prisons. Hundreds of inmates at Giwa barracks and the Borno Maximum-Security Prison spend as long as six years without ever seeing a lawyer, much less being tried in court. 
In July 2021, a report said that the national custodial facilities had the capacity to hold a maximum of 57,278 inmates. "But at the current count, a total population of 68,747 inmates, made up of 67,422 males and 1,325 female inmates are housed across the country which is above the capacity by 18 per cent."
The congestion at both Giwa barracks and the Maximum-Security Prison —but particularly Giwa barracks— has been described as one of its most unbearable elements, according to past inmates. They also complain of the confinement, and the bitterness and resentment that came from going through all that for a crime they not only did not commit, but had been victims of themselves.
"The most painful part of these past six years has been the stagnation of our lives," Gambo tells HumAngle, his low voice rising a little with the sting of the memory. "Sitting there, every day, without freedom, not able to do anything for oneself … I also seldom heard from my family. At Giwa, I heard nothing, at all, of my wife and children. But at Maximum, I sometimes heard that they were doing okay."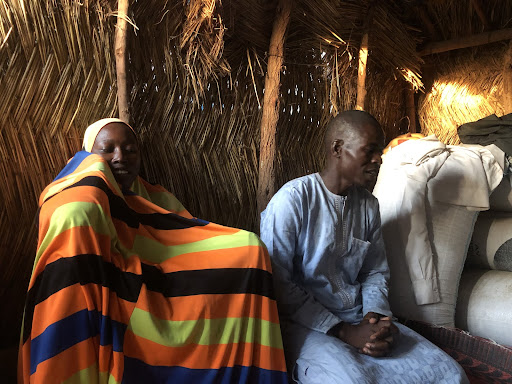 From outside the hut, a few women's voices filter through the rag used as a curtain. They talk in Kanuri, greeting Gambo Modu and his wife, expressing their gratitude to God for his safe release, and sympathy for what he has had to go through. 
Freedom at last
On Nov. 12, about 600 inmates at the Borno Maximum-Security Prison, arbitrarily arrested between 2015 and 2016, were released. By protocol, captured or surrendered Boko Haram members were usually transferred to the deradicalisation camp in Gombe State, where they would learn a skill for about six months, under the Operation Safe Corridor programme, then be reintegrated back into the society. 
This implies that those released to go home from the prison, and not transferred to Gombe state, were cleared of Boko Haram suspicions. Still, they were usually released with no apologies nor compensation. Gambo Modu was given a measly N7,000 to transport himself back home. 
"They took six years of my life and gave me nothing in return," he laments. 
There were many things that Gambo Modu found had happened in his absence, when he returned: both his mother and daughter had died in his absence. But he also had a new son, conceived three months before his arrest, and born while he was in detention. Naturally, the boy did not know him, and ran away from him for the first two days. Now, he sits close to him, his little arm resting on his father's lap, finally having warmed up to the fact of his identity.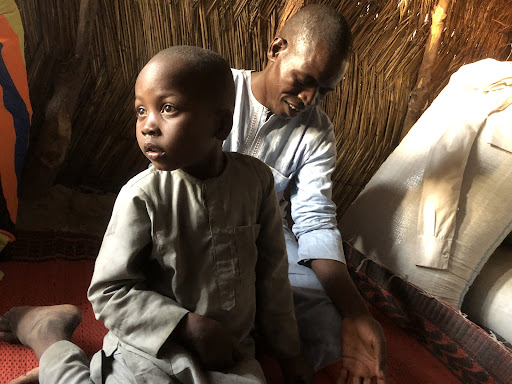 His wife has also had to take up odd jobs to be able to feed and clothe herself and their two children. "Mostly firewood business," she says. "We find firewood from the forests and then sell them. With the proceeds, we buy grains for food. Recently there was a fire that burned through all the bags of grains that we had been piling up. I had gone to find more firewood to sell and by the time I returned, fire was everywhere. If we were in our homes and not in this camp, and a fire broke out, it would be easy to put it out before it spread to the next house. But because of the nature of this place, it burned many things before we could put it out," her voice now is bitter, her constant smile gone, and it's the only time she's shown anger or hurt. 
Asked if at any point during his detention, he feared that by the time he returned, his wife might have remarried, Gambo smiled, and gave an emphatic 'no.' "I never had such fears. I knew she would wait for me. I only worried about how she was faring."
Here, Khadijah smiles shyly. She, too, had never thought of the possibility, even when surviving as a single mother became difficult. "The thought of remarrying was impossible," she says. "There was love between us before we got married. It is the sort that would make you think even if you marry someone else, he could never treat you as well as your former husband did…Some men would marry you and then treat you badly, but he treated me well. He never betrayed my trust," she says. 
And so on Friday, Nov. 12, around 8:30 p.m. when Gambo Modu arrived at the camp, having been finally released by the army from the Maximum-Security prison, Khadijah stood by one of the huts, staring at him, her eyes and face full to the brim with joy.
"I just stood there and I was staring at him. And I was very, very happy."
---
This report is produced in partnership with the Centre for Democracy and Development (CDD).
---
Support Our Journalism
There are millions of ordinary people affected by conflict in Africa whose stories are missing in the mainstream media. HumAngle is determined to tell those challenging and under-reported stories, hoping that the people impacted by these conflicts will find the safety and security they deserve.
To ensure that we continue to provide public service coverage, we have a small favour to ask you. We want you to be part of our journalistic endeavour by contributing a token to us.
Your donation will further promote a robust, free, and independent media.
Donate Here