Displacement & Migration
Featured
Features
News
Borno IDPs With Detained Husbands Torn Between Moving On And Waiting Without End
The guilt of having children outside recognised marriages grips Nigeria's displaced women who have not set eyes on their husbands in many years.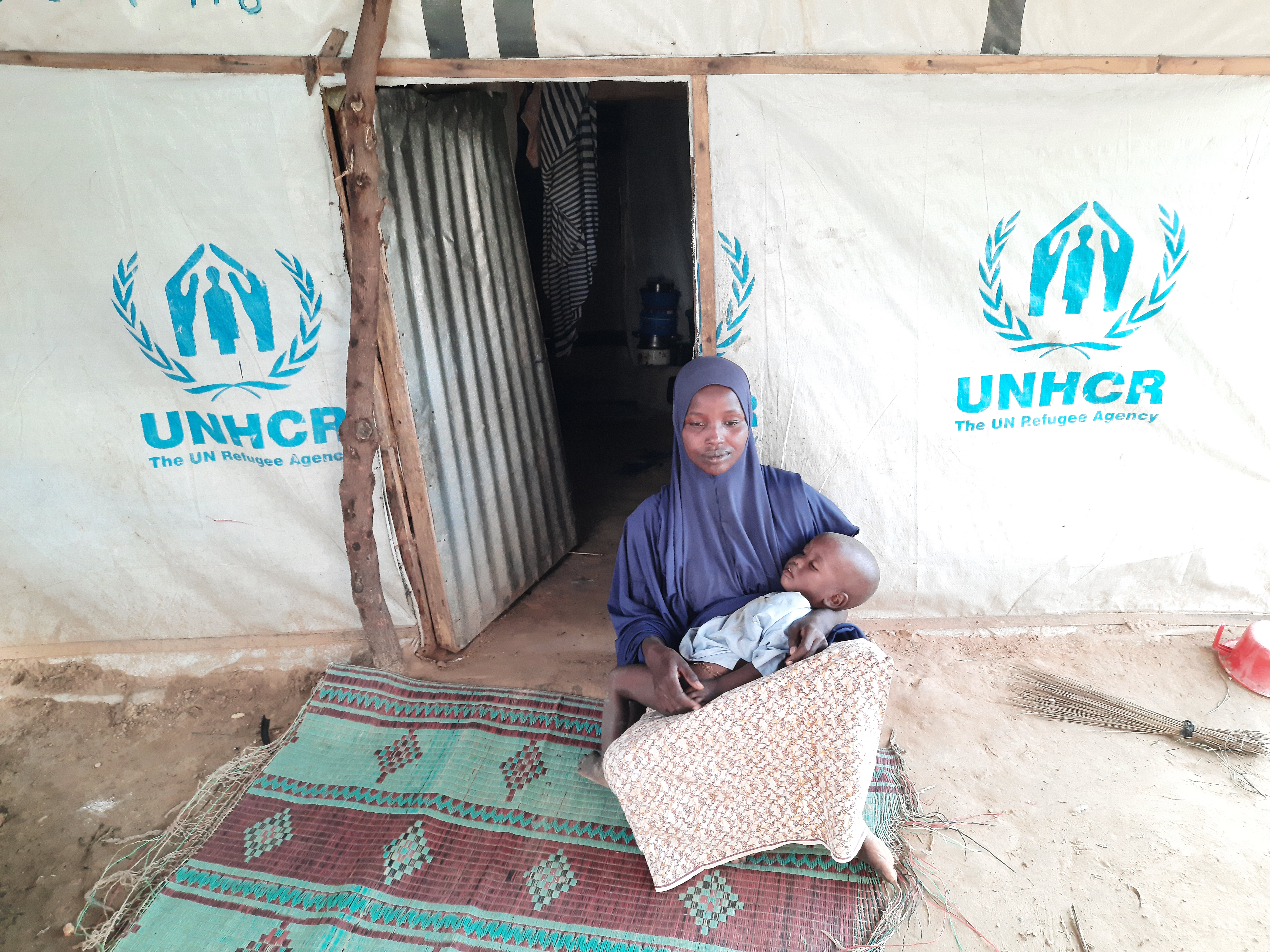 When her husband returns, if he does, Falta Gambo is not sure what to tell him. Modu Ngubdo was picked up by the Nigerian military in 2015 after escaping from a Boko Haram-controlled area with his family. He has since been kept in detention without trial, leaving Falta uncertain of what to expect and vulnerable as she assumes the role of breadwinner.
Welfare conditions for Internally Displaced People (IDPs) in Northeast Nigeria are unsatisfactory at best, forcing people like Falta with very little support to find succour however they can. For her, this quest led to survival sexual relations with a Maiduguri local and the birth of a son while Modu is still away. Hence, her dilemma.
…
"Excellent" is how Falta remembers life when she was still a young person, before the world was introduced to the sting of Boko Haram, a terror group that declared war against the Nigerian state in 2009. Back in Kala Muddo, a small village in Kumshe, townsmen often got their daily bread from planting guinea corn and beans. There was relative peace. Kumshe is a district in the Bama Local Government Area (LGA) of Borno State, Northeast Nigeria.
"Everything was fine before," 30-year-old Falta says. By that, she means before the insurgents struck. They had been hearing about the group, its extremist ideas and plan to topple the country's secular government, but had not been impacted by its violent campaign until 2015.
Bama was one of Boko Haram's targets in 2013. The terror group started by launching attacks against security formations in May, killing 55 people, freeing over 100 inmates, and holding women and children hostage. By June, male residents were fleeing to avoid being forcefully conscripted into the group, which had then set up camps in the district and was threatening to behead whoever resisted its invitation.
It formally seized control of the town in the third quarter of 2014. But communities like Kala Muddo were not directly affected until the military recaptured the LGA in March 2015 and the insurgents had to flee to the outskirts.
"When the military chased them, they came to the surrounding of our village. They started coming to preach to us and they later opened a school for us," recalls Falta.
The villagers attended the Qur'anic school twice a day. The first session started at 9:00 a.m. and the second at 2:00 p.m. Only men were allowed to farm. Female residents had to stay indoors with their niqāb, a veil worn by Muslim women that covers the face. They could not visit family members or even step outdoors to fetch water. One time, she was flogged by the terrorists for joining others to harvest beans from her husband's farm.
Displaced; separated
In a bitter-sweet development, Cameroonian troops invaded Kala Muddo as they hunted down Boko Haram members. The soldiers had come from Waza, a town in Northern Cameroon almost sharing borders with Nigeria and about three hours drive from Kumshe. Under the Multinational Joint Task Force (MNJTF) arrangement involving mostly Lake Chad countries, troops from Cameroon, Chad, and Niger have in the past entered Nigerian territory to help beat back insurgents.
But, in this instance, the neighbouring country's soldiers were neither precise nor patient in their approach. They burnt down the village after accusing its residents of harbouring terrorists. The locals, forced to seek refuge elsewhere, migrated to Gamboru and then Bembem—about five kilometres from their community and closer to Cameroon.
Life in Bembem was characterised by acute food and water shortage. Those who managed to travel with some foodstuff found it easier to cope but the relief didn't last long. In the night, the women would sneak out to get water, trying as much as possible not to be detected by Boko Haram terrorists. One year into their arrival, Bembem was also burnt to the ground by soldiers and the townspeople, including 20 adults (11 men and nine women), had to hit the road again. This time, they finally crossed into Cameroon, but the conditions were not any better.
"The Cameroonians searched our properties and the children. They asked our men to take off their clothes and beat them. They also tied their hands. We heard them cry. But they didn't touch us (the women)," Falta recounts.
"In the evening, they took us to Mannu, a village near Banki in Nigeria. We then went to Banki. Five of our men, including my husband, were taken by the Nigerian military. We don't know where they are up to now. "
She had been to Banki with her family, including her father and husband, Modu. After two days, they were transferred to the town of Bama and held in a prison alongside about a hundred other displaced people. The women were freed after spending a night in the facility. The men, however, were not so lucky. About two weeks into detention, they were transferred to Giwa barracks, an infamous military detention centre in Maiduguri, Borno state capital. Only the aged ones were allowed to go: Falta's father and another man in his age bracket. All this happened in 2015.
Six years later, Falta has not heard from any of the young men from Kala Muddo who were locked in Giwa barracks, including her spouse. Amnesty International, a research and advocacy group, had in 2016 described the barracks as a "place of death" and recommended its closure. The non-profit noted that in the first four months of that year alone, at least 149 detainees had died due to starvation, dehydration, and disease.
Falta is hopeful though that Modu is still alive. "Some people came in January, last year, and they said my husband was in the facility," she tells HumAngle, her tone laced with optimism.
Birthed; buried
When they trudged away from their birthplace in Kumshe, Falta had five children with her: three girls and two boys. But a few years down the line, this number would reduce harrowingly to two.
Upon arriving in Bama, the displaced people of Kala Muddo faced one of their greatest adversities. It was here she lost most of her children, all three daughters, making her "very sad".
"When we stayed in Bama, the situation was very bad. There was no food. They cooked only once. At 6:30 in the evening, they would give us food in the kitchen. You would not get again until 6:30 the next day," she narrates. When the authorities did serve food, it was usually maize grits and kuka soup.
Water was also scarce at the displacement camp, which at the time housed about 3,000 people. The taps could be barren for up to two days as thirsty women and children lined up in wait. During the rainy season, the IDPs had to resort to scooping and drinking groundwater. As it was not potable, a lot of people fell sick as a result. Falta believes the death of her three daughters is not unconnected to this together with the lack of food.
She solemnly mentions their names: "Falta Moduye and Fatima Moduye were twins and four years old. The other one, Yizsa, was 18 months old." Their older siblings, Fanna and Fanne Modu, were the ones who survived the hard knocks of Bama. Also twins, they are 10 years old now. The birth of twins is common in Falta's lineage, with two of her own sisters being identical too.
Desperate; abused
The atmosphere of desperation in Bama allowed some of the younger women to be exploited by men who had access to badly needed resources, including soldiers, vigilantes, and members of the Civilian Joint Task Force (CJTF). The line between life and death, or more and less misery, was manned by these men who sought sexual gratification. It is the point where many displaced women with arbitrarily detained husbands first had their marital vows tested by the will to survive and protect their children.
Falta was not one of those women, she confirms. "We would have gotten but didn't wish to. My boy was with me and his dad was with me," she adds, hinting that she didn't go down that road because of her in-law's presence.
"Those that had boyfriends got food and water. They took their baths and got everything. For those of us that didn't have, we didn't get anything. No food, no water, no bath. We were always dirty and did not look like human beings."
Deprived IDPs like Falta would scratch about the kitchen floor for food remnants after each evening distribution. The young ones would wash whatever they find and, the next morning, it would serve as their breakfast.
Survival sex, a form of prostitution engaged in due to extremely harsh circumstances, is common in displacement camps in Northeast Nigeria. Underage girls are often pimped by older IDPs or camp officials in exchange for cash and foodstuff even though this practice violates both local and international laws. Young women, faced with severe hunger and the task of taking care of their children alone, are not left out too.
"At the IDP camps, what we have is not a growing case of rape but a growing case of consent and less and less sex without consent," one displaced woman explained to HumAngle. "It has become normal. If you are a lady, you co-operate and get what you want much more easily."
Falta's experience with survival sex was not from her time in Bama but rather happened much later after she moved to the Dalori II displacement camp on the outskirts of Maiduguri. When she first arrived, food was in ample supply. They were served meals twice a day. This, however, ceased eventually and the authorities started giving three kilogrammes of guinea corn every few weeks instead.
"We then had to fend for ourselves. I had to go and work in the villages around. We had to go and look for firewood. There was no SIM card [for cash-based assistance] at that time. From there, I got a boyfriend and got pregnant."
Her boyfriend, a married man himself, is a member of the CJTF, a paramilitary group formed in 2013 to battle Boko Haram and gather intelligence at the grassroots. Members of the Task Force interact frequently with the IDPs and are stationed close to the displacement camps to prevent attacks.
The officer's farm is one of the places Falta had gone to work as she sniffed for extra cash. Falta bears most of the burden of catering for their child but he occasionally sends money for the young boy's care.
"I always think about how to explain it to him," she says, referring to her husband who is still locked up inside Giwa barracks.
But it seems Modu is only a fraction of the people who could take offence. When she gave birth to her child, she recalls, the camp manager refused to give her her share of guinea corn "saying I got a baby". "He chased me away… I went back crying. Even the women we live together are looking at me somehow. Sometimes, they talk about me when I am not around," she says.
The emotional burden was made even heavier by her displeased parents who stopped visiting after they realised she had given birth. But they have since made peace with the development and are again dropping by to see her.
There are many women in Northeast Nigeria all patiently awaiting their husbands' release. Knifar, a support and advocacy group, was formed in 2017 to pressure the authorities and today has thousands of members. Many of them have similarly troubling experiences as Falta. But some like Jugudum Modu, 20, and Yeza Bukar, 30, lost their children born in inopportune circumstances before their spouses returned.
Bukar learnt a few years ago that her husband, Abubakar Bulama, was also taken to Giwa barracks from Bama and then the Maximum Security Prison in Maiduguri. They had both been displaced from their hometown, Hijilije, in Banki. About 300 of the villagers planned to escape Boko Haram's rule under the cover of night but the terrorists found out and opened fire on them. In the chaos that ensued, she lost contact with her husband and journeyed to Dubule, a town in Cameroon.
She was pushed to survival sex during her stay in an IDP camp in Yola, Adamawa State, which she describes as a "malnourished centre". Food was in extremely short supply for a long time and the IDPs were forced to fetch and sell firewood among other items to scrape a living.
When it was time to give birth, Bukar could not visit the clinic and had to be delivered of the child inside a tent. The clinic only opened during the day between 8:00 a.m. and 2:00 p.m, but the labour had started after nightfall. Her baby died two days later.
Yet there are other displaced women who have gone as far as remarrying as they reluctantly closed the chapter with their old loves. That is the experience of Maryam, 30, who hails from Darajamal and whose husband was similarly transferred from the prison in Bama to Giwa barracks after they were uprooted from their community.
"When I waited for four and half years for my husband, I went to his people and they told me I could remarry. I then handed over the children to the family and got married to a new husband," she tells me.
…
Falta has not spoken to her husband in years but, if she had the opportunity, she would want him to know she is safe at the displacement camp. She would also like to ask how he is faring at the detention facility.
"We hope they will come and we are praying for them to come back," she would add in response to the first question to light up her face with a brief, sheepish smile.
As much as she can, Falta gives sadaqah (alms) of dry groundnuts, supporting this with prayers for the safe return of Modu and other detainees. But while she remains God-conscious in her wait, she has also not lost sight of the government's role in all of this.
"We need soap, jelly and other things for our children," she says. "We also want our people to be released. They are innocent. We have waited for six years now."
---
This investigative report is a partnership between the African Transitional Justice Legacy Fund and HumAngle Media under the 'Mediating Transitional Justice Efforts in North-East' project.
---
Support Our Journalism
There are millions of ordinary people affected by conflict in Africa whose stories are missing in the mainstream media. HumAngle is determined to tell those challenging and under-reported stories, hoping that the people impacted by these conflicts will find the safety and security they deserve.
To ensure that we continue to provide public service coverage, we have a small favour to ask you. We want you to be part of our journalistic endeavour by contributing a token to us.
Your donation will further promote a robust, free, and independent media.
Donate Here