Displacement & Migration
Featured
Features
Gender & SGBV
News
Sex For Survival: Displaced, Orphaned, Underage… But Still Has To Fend For Herself
A young, displaced girl, who lost siblings and both parents to Boko Haram terrorists, is forced to go into prostitution. She now raises two children all by herself in a Maiduguri displacement camp.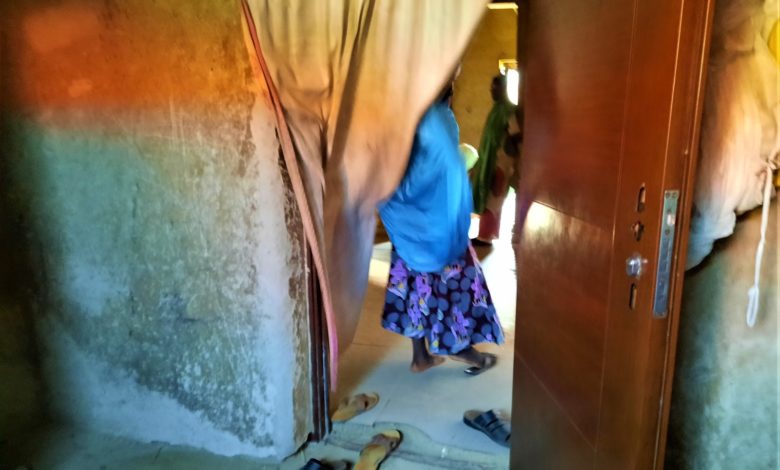 Fatima was 11 years old when she started to carry all of the world's imaginable weight for one person on her delicate shoulders. Members of the vicious insurgent group, Boko Haram, had visited their campaign of terror and devastation on her hometown of Bama, Northeast Nigeria. The year was 2013, half a decade after the group had launched an uprising 70 kilometres away in the city of Maiduguri.
She lost most of her family to the terrorists' invasion. The murders were gruesome and, for someone her age, surely traumatising. She was the youngest child.
"My father was slaughtered along with five others including my two brothers when Boko Haram came to our house," Fatima narrated. She is an exceptionally cheerful girl but a dark cloud gathered suddenly on her face as she flashed back. "When my mother saw the corpses, she fainted, then passed away too." 
Bama was one of Boko Haram's targets in 2013. The terror group started by launching attacks against security formations in May, killing 55 people, freeing over 100 inmates, and holding women and children hostage. By June, male residents were fleeing to avoid being forcefully conscripted into the group, which had set up camps in the district and was threatening to behead whoever resisted its invitation.
The attacks continued into the later part of the year, with the insurgent group sparing neither security agents nor civilians. On Nov. 4, dozens of heavily armed terrorists droned through the town on motorcycles and pickup trucks, killed 27 people, injured 12 others, and razed at least 300 homes to the ground. If the tragedy that befell Fatima's family ever made it to the pages of newspapers, this would have been it.
"They first came to our house and asked if there were any men. We told them there was no one and tried not to attract suspicion for over a week," she said. "Later, the Boko Haram fighters caught our neighbour outside when he was trying to catch his hen. The man admitted there were men in our house. They came in and fished out my father and brothers. They then took them to an uncompleted building belonging to my father and slaughtered them."
She added after an uncomfortable pause: "We couldn't find my late father's head."
Immediately following the attack, Fatima, whose last name is not disclosed to protect her from stigmatisation, was taken in by her late brother's wife—a 30-something-year-old woman with seven children. Together, they went to Kashimri, a nearby village, spent the night there, and proceeded to Maiduguri the next morning. They stayed with a relative in Gwange Sabon Layi, a community in the Borno state capital, for two years before relocating to the Dalori II Internally Displaced People (IDP) camp. 
But rather than get the psychosocial help she desperately needed, living only four kilometres away from a city that hosted both the state government secretariat and tons of humanitarian organisations, it seemed the young girl's troubles had only just started.
*
"She would ask me to look for money from men," Fatima recalled, speaking about her late brother's wife. "When I get the money from begging, she would not give me anything. She was not giving me food and would not allow me to sleep in her tent."
It did not end there. After they moved to the displacement camp, Fatima's widowed in-law took to sex work and had male clients frequenting her tent. Not long after, she forced Fatima to trade her body for money too; money she would regularly take from her. Asked how many times she had to sleep with men, Fatima replied that she could not count.
"When the men came, she would collect the money and ask us to go inside. When we finished, she would not give us the money. She was not even giving me food and was not allowing me to sleep in the camp. I got tired of it and left her place," she said.
At this time, she had met Gaddafi, a young man from Kano State. He lived in Dangote Village, a housing estate close to the camp that was donated to the Borno state government by Nigerian business mogul Aliko Dangote in 2018. Seeing how she was being maltreated, Gaddafi invited Fatima to live with him and provided food. 
As one would have guessed, the relationship was not platonic. Gaddafi is the father of Fatima's first child, conceived during their stay together over three years ago. But that did not stop him from abandoning both mother and son and returning to Kano. Fatima had to go back to the IDP camp and her old lifestyle of having multiple sex partners. She had friends who engaged in prostitution to stay alive too, about five of them. They lived in the shelter of one Aisa who also served as their handler. 
"It was very hard," she said. "We were suffering. We were moving from one place to another. Men used to come to sleep with us and give us money. They used to come to us and take us out of the camp."
She is not sure of all the other girls' ages but one of them was 15 and the others, she noted, were young as well. "There was one younger than me. She has left now and most of them have left. At first, they chased us away and when we came back there was still no food card. So they left. Some of them went to Bama and others I don't know where they went; it's been quite some time."
The provision of food tickets is part of the cash support programme in place to improve the living conditions of IDPs at camps managed by the World Food Programme (WFP). The Dalori II camp in the border between Maiduguri and Konduga local government areas is one of such camps. But not all the IDPs are able to get the tickets, which entitle them to a monthly food allowance of ₦17,000. 
Without the food ticket and a guardian, Fatima was forced to rely on other means of survival. But she also could not easily get the ticket because of the stigma of being a "harlot" and allegations that someone was already giving her food. It was a no-win situation.
The clients, some displaced people themselves, or regular residents of Maiduguri, usually paid between ₦1,000 and ₦2,000. Out of this, the girls would give an average of ₦250 to Aisa. "Most of them were young men. But this child's father has two wives and seven children. He comes from the town," she said, referring to her second child, an eight-month-old girl who was innocently sucking her left thumb.
The old man told her himself about his family, she continued. One time, she reported him to police officers at the camp to compel him to take care of herself and their daughter. He started giving them food but later stopped. "I've even lost his number," said Fatima. She has not seen him since July 2020.
Though the girls insisted on the use of condoms, accidents still happened. Fatima said some of her friends have had to abort their pregnancies in the course of the business. But she resisted the temptation. "I didn't want to commit another sin," she explained, implying that she considered the sexual relations themselves to be morally wrong. "It would be a grave sin."
As Fatima spoke, the child in her constantly jumped out. She tried to crack jokes to break the tension and frequently played with her blue dress's rim. The lengthy tribal marks on her dark cheeks caved in with every smile.
Survival sex, a form of prostitution done due to extremely harsh circumstances, is common in displacement camps in Northeast Nigeria. Underage girls are often pimped by older IDPs or camp officials in exchange for cash and foodstuff even though this practice violates both local and international laws. 
"At the IDP camps, what we have is not a growing case of rape but a growing case of consent and less and less sex without consent," one displaced woman told HumAngle. "It has become normal. If you are a lady, you co-operate and get what you want much more easily." 
Dr Nkereuwem William Ebiti, consultant psychiatrist and Executive Director of Milestones Rehabilitation Foundation, says it is likely because of how prevalent sexual violence has become among IDPs that such experiences do not "induce that level of stress they are ordinarily expected to" in people like Fatima.
"All of them seem to be going through the same kind of experience. So, over time, there is a tendency to normalise the abuse. They think maybe this is how life should be… Of course, it is not normal," he explains. 
His organisation helps survivors of gender-based violence among displaced communities in Maiduguri to heal and reintegrate. It achieves this by providing psychosocial services and training volunteers among the women to give support to their peers. Dr Ebiti encourages the government to absorb these volunteers into existing structures in addition to building the capacity of workers at Primary Health Care facilities and providing enough security for IDPs to return to their normal lives.
He adds that it is important to create avenues for victims of sexual abuse to share their experiences. "Hearing people's stories and having them tell them from their own perspectives is the beginning of the healing process," he stresses. He advocates also for the provision of more relief materials to reduce IDPs desperate reliance on others for survival. But, most importantly, he says, governments and non-governmental organisations should not assume but rather ensure that whatever solutions they are providing are what the IDPs genuinely need.
*
Fatima's parents did not enrol her in school—a decision she still feels very bad about. She has attended Qur'anic classes but craves more learning, both for herself and her two young kids.
"I will look after them and when they grow up I will enrol them in school," the 18-year-old mother assured herself. "I want them to grow and get educated to become doctors so that they can help people."
In the meantime, she has more pressing challenges clutching her heart, top of which is the lack of food. "My children are malnourished," she sighed. She additionally faces the problem of discrimination because of her history of survival sex, but there are people who sympathise with her regardless and sometimes offer her relief materials.
Since Boko Haram killed her father and two brothers, nothing has saddened her more than how she has had to prostitute herself for money and how, in spite of it all, she still faces difficulty feeding her children. "All I need is to get enough food so that I can take care of them," she told this reporter.
---
Support Our Journalism
There are millions of ordinary people affected by conflict in Africa whose stories are missing in the mainstream media. HumAngle is determined to tell those challenging and under-reported stories, hoping that the people impacted by these conflicts will find the safety and security they deserve.
To ensure that we continue to provide public service coverage, we have a small favour to ask you. We want you to be part of our journalistic endeavour by contributing a token to us.
Your donation will further promote a robust, free, and independent media.
Donate Here