Human Rights
News
Denied Compensation, Apo Demolition Victims Not Allowed To Save Valuables
'The land belongs to the government and we don't recognise those who bought theirs illegally,' responds FCTA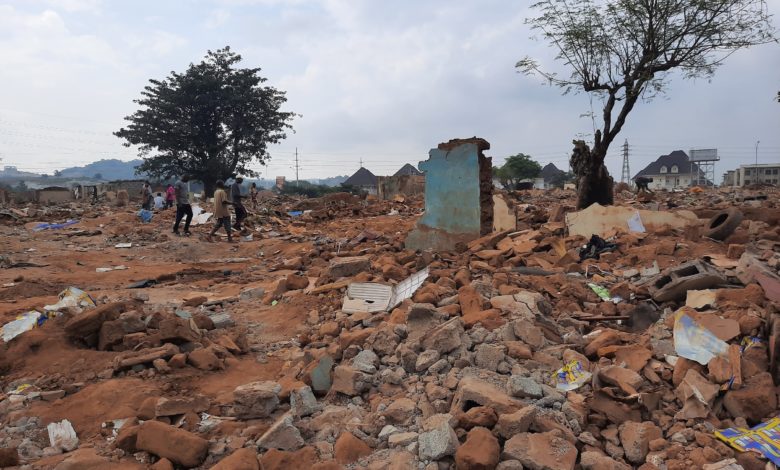 Lydia Semo lost her husband, Solomon, three years ago. Solomon who was an inspector of the Nigeria Police Force, died in active service in Jos, Plateau State, but the family has yet to be paid his death benefit.
In the middle of last week, Semo lost her brother, who passed away at the National Hospital in Garki. She was at her hometown for his burial when she received a call at 5 a.m. on Saturday that she had also lost her house.
The mother of six was crestfallen when HumAngle met her on Monday, two days after bulldozers from the Federal Capital Territory Administration (FCTA) demolished 134 houses at Apo Akpmajenya,  including hers. It is estimated that the exercise affected at least 500 residents.
According to Muktar Galadima, the Director, FCTA , Department of Development Control, the community was marked for demolition in January because it fell on one of the road interchanges linking Oladipo Diya Road with the planned Outer Southern Expressway (OSEx). 
The News Agency of Nigeria (NAN) quoted Nasir Suleiman, the Deputy Director of Planning and Resettlement at the Department of Resettlement and Compensation, as saying that 131 houses and 169 plots were marked out  to compensate those affected by the exercise.
Suleiman said the government's policy was  to resettle all indigenous people in the area and that "most of the affected individuals had already moved to Apo Resettlement Scheme quarters".
Residents, however, told HumAngle that majority of the house and shop owners were non-indigenes who had not been compensated for their losses. They said while representatives of the government interfaced with the Gwari community, the indigenes, they were left in the dark about the developments and had been falsely given assurance all was well.
While many of the victims had left for their friends' houses and hometowns, some stuck around to see which of their properties could still be salvaged. The ones they had saved, many said, were kept temporarily in uncompleted buildings in the area. 
A large iron pot full of burukutu (local alcoholic beverage), which is Semo's only source of income, steamed a few steps away as she lamented her ordeal. 
During the demolition, scavengers for metal scraps (baban bola) had made off with her grinding machine with which she milled millets. About 10 scavengers could still be found at the site two days after the incident, digging through the debris for useful items.
"We did not see even N10, we are truly suffering," Semo repeatedly said in pidgin.
Tens of policemen, according to witnesses, stormed the community at 3a.m. on Saturday, August 15, 2020,  while residents were fast asleep. 
They woke up to cries from the officers and blinding smoke from teargas canisters launched into their homes and on the streets. Their phones were collected and they were ordered to step at least 100m from their houses as they helplessly watched  the demolition of the structures. 
Semo's younger sister passed out and had to be resuscitated using red oil and milk, , she recalled, adding:  "People suffered a lot; many could not carry anything." 
She said it was unfair how the government prioritised the welfare of the indigenes above theirs since they were also legitimate house owners.
"We who are the majority were not assisted even to pack our properties. They just told us to leave and that if we stayed back we were on our own. When they came at night, they said they told the Gwari we should leave but they did inform us," she said. 
"I'm even tired. I didn't think I would be alive to see today considering how I was unwell. I had to go to Garki to get medications before coming back here. I swear to Almighty God, if we received up to N10, nah God go punish my life; N10, Allah!
"Some people almost went mad. I came and started crying. I could not even recognise the house again; the zinc had gone. If death comes, it comes. There is no one who will not die; but even if you want to kill a person, this is not how to go about it. Even if it was 30 minutes they gave us to pack, it would have been better. They just came suddenly."
'I slept in the car this morning'
By far the greatest victim according to many of the residents is the Ekma family, which had the largest investment in the commercial community –  five shops and a house.
"That is my house over there, where that man is standing," Sunday Ekma, the breadwinner, pointed at a fellow with a blue sweatshirt tied around his waist.
He built the house, which stood out in terms of size, in 1995 after purchasing land from the old chief of Akpmajenya. Through his shops, which were managed by his wife, fondly called Mama Ruth, he distributed products from Cocacola, Indomie, and Nigerian Breweries. 
He also had a factory where he produced sachet and table water. But, on Saturday, he was defenceless against the bulldozers from the FCT Task Force on City Sanitation and had to painfully watch his investments go to waste.
"The most painful thing is that they did not even allow anybody to take any of their properties. My voter's card, international passport, everything is buried there. I have experienced almost four demolitions in this Abuja but I have never experienced one like this," he said.
Ekma, a father of four, added that he had no idea where to go and had to sleep in his car the previous night with his wife and two of his children. He would like to sue the government for the damage done but observed that he lacked the means to do so.
"If I have any organisation that can help me, I have to go and complain even if they will not give me anything, so that people may learn from what they did to me," he said. 
Who deserves compensation?
Suleiman, the Deputy Director in the FCT Department of Resettlement and Compensation, had said in June that all the inhabitants had been adequately compensated and their resettlement concluded.
"All the people living in this village have been resettled, We have given them 135 houses and all we are supposed to give have been given. We served them notice since January," he said.
It, however, seems there had been a communication gap between the government and the non-indigenous members of the community. 
"I don't know about any compensation," Ekma said. "We have our chief here. He did not tell us there are people to receive compensation; only that sometimes I would see these government officials come to the chief's palace and talk for long periods of time and then leave. We, as non-indigenes, we go there to ask them, 'What is the problem?' They said nothing."
Another resident said whenever they asked the natives what was going on, they often told them the issue had been resolved.
Abubakar Sani, Special Adviser to the FCT Minister on Media, however clarified to HumAngle that the non-indigenes did not lawfully acquire the land in the area and that the government had  compensated the right people.
"The government has done the right thing. What we are after is development, both physical and human, which is what the government has applied there," he said. 
He added, "The Act setting up the FCT commenced in 1976 and that Act vested all land on the Federal Government of Nigeria. So if anybody in 1995 tells you he bought land from a chief, will you say he has any right? It is a constitutional matter. 
"No chief, no indigene, nobody has a right to transfer any piece of land in Abuja. If you want land, you go to the Abuja Geographic Information System (AGIS), fill the application form, do all their processes, and enter the queue. If God blesses you, you will get it."
Recalling the incident of Saturday morning, Sunday Bitrus, who worked as a dry cleaner in the neighbourhood, said the policemen did not kill anybody "but they hit us with sticks or stoned us with bottles or stones".
"Many people left their phones and other valuables as they were escaping," he said. "Even if you say you want to pack, where are you going to get that money to send the objects to the village so you can stay back to make some money?"
For now, Semo continues to brew  and sell burukutu in an open space a few metres away from the ruins. But she is afraid the government would not let her carry on the business in the environment for long.
---
Support Our Journalism
There are millions of ordinary people affected by conflict in Africa whose stories are missing in the mainstream media. HumAngle is determined to tell those challenging and under-reported stories, hoping that the people impacted by these conflicts will find the safety and security they deserve.
To ensure that we continue to provide public service coverage, we have a small favour to ask you. We want you to be part of our journalistic endeavour by contributing a token to us.
Your donation will further promote a robust, free, and independent media.
Donate Here