Displacement & Migration
Featured
Features
News
Surviving Hell (5): Women Experience War Differently
While the men detained by the army narrate having gone through hell, their women say they've gone through a different kind of hell, even outside detention.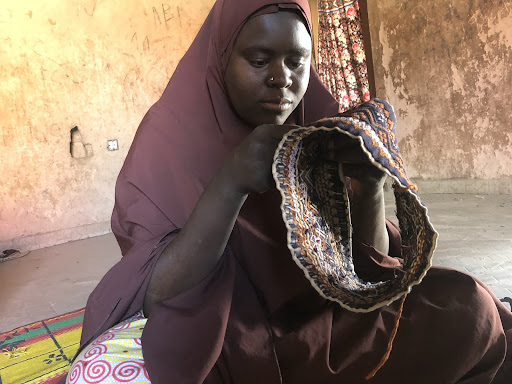 A woman, dark-skinned and nose-ringed, sits on an old mat wearing a hijab, as she weaves a threaded needle in and out of a cap. The motions she's making show that the pattern is intricate, and it seems like a task that demands complete devotion. Her concentration is fixated on it. 
She sits in the Dalori Internally Displaced Persons (IDP) camp located somewhere at the outskirts of Maiduguri, the Borno state capital in Northeast Nigeria. Her name is Fatima Bukar, and she has lived in a Boko Haram governed town before. 
According to an IDP who successfully fled his village, Andara, after the terrorist group took over in 2015, some of the laws they laid down were designed to cripple the rights of women and bar them from going out of their houses. 
"We used to stay peacefully, but they came and took over our village. When they refused to let us leave, they imposed their laws on us; they said we shouldn't allow our women to go out to fetch water, gather firewood, and we should be doing all that for them," Baana Alhaji Ali said. Other men corroborated this to HumAngle.
Researchers had suggested that due to the nature of the backbreaking chores that women were likely usually immersed in as part of their status as housewives before the terrorist group took over and imposed their laws, women might have considered the new rules helpful and enabling them to 'rest'. However, when HumAngle spoke to some of the women, they expressed shock at the idea of having been comfortable under these laws. 
"When you uproot a person's life, there is no way they would be happy about it. What they did to us was that they violated our rights," Yakura Kumshe, an IDP and Baana's wife, told HumAngle. 
"There were families amongst our community where the women used to farm; they would farm and harvest things like beans, okro, groundnuts, and the rest. A woman [after harvesting] won't sell them; she will store them in her house to cook food. The husband's job would be to get other ingredients and clothe the family and buy things like soap. 
"This was for families where the women needed to support their men; that's if the men do not have the means to fend for the family alone."
She explains that in other families, such as her own, before the insurgency, women did not necessarily have to do house chores or farm, as there were workers who did this for them.
"Ever since I got married to him, I never had to do any chores. We had people who fetched water for us…and got firewood. Even our husbands never even farmed. They had workers who did the farming for them.
"But all of a sudden, these people came and said all these modes of living were unacceptable. The way they were free to make their lives useful and live freely, they felt we the women were not allowed to do that too. That is a violation," she said.
"There was no matter of 'rest'," Fatima Bukar, another IDP, said. "Just an overwhelming fear all around. We were very afraid."
Even though there are oral accounts suggesting there are women who might have found the draconian laws livable and an alleviation, this was not everyone's experience. 
Still, HumAngle once reported that Aminata, a former Boko Haram captive who was once forcefully married to one of the terrorists after she was abducted, said — after she escaped — that she found life with the insurgent group better than her current life as an IDP. The report explained that female abductees were "generally tortured, forced to watch acts of terror, engaged in labour, exchanged for prisoners or ransom, and used in military operations such as to ambush soldiers, hold bullets during combat, or carry loot as they return to the camp."
But women like Aminata have reported preferring life as abductees because they had a constant supply of food, unlike at the IDP camp where she now lives.
"I even prefer living there with him," she says of her Boko Haram husband. "We had foodstuff and had nothing to worry about. I want to go back because I did not have to work for anything. Livelihood was better there," she said. 
This preference can be attributed to how women, wartime or not, experience the world differently. From interviews HumAngle had with some of the women who have lived through vastly different circumstances, it is noticeable that there is hardly ever a period where women have not experienced institutionalised forms of marginalisation. For some, like Aminata, the consequence of this is that in times of violence and war, they find that switching from a supposedly free society to one governed by a terror group means having to trade off certain rights for others. 
Women living as IDPs
The Dalori IDP camp is an entire community of people who have been displaced by the Boko Haram insurgency. The occupants of the camp are mostly women and their children, partly due to the mass and arbitrary detention of men at places like Giwa barracks and Borno Maximum-Security Prison, especially between 2015 and 2016.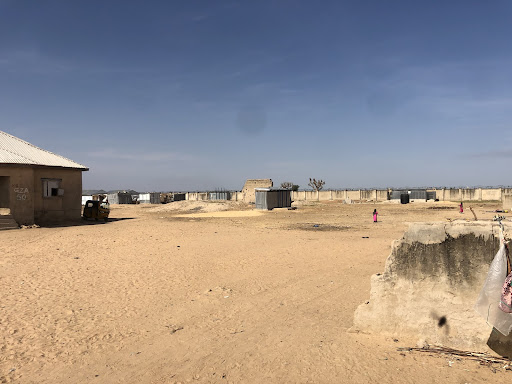 Many of the men detained at the time were reportedly IDPs fleeing the insurgency in their villages to garrison towns and the Borno state capital, Maiduguri, for safety. While HumAngle reported the release of hundreds of them in July and November this year after several years in detention and in inhumane conditions, at least many hundreds more remain in detention. 
Their wives continue to wait for them at various IDP camps in Maiduguri. But waiting is costly. 
The women's sources of livelihood have been limited, as they now mostly depend on the food tickets handed to them by the government as well as the United Nations' World Food Programme (WFP) and other non-governmental organisations. Those who used to farm are now unable to. 
HumAngle had earlier reported how the women were entitled to food tickets worth ₦17,000 monthly. However, according to them, they do not receive this amount regularly. They tell HumAngle that they have gone months without it.
Still, the economic hardship hits single mothers whose husbands are in detention the most. They allege being sidelined by organisations who come to distribute relief materials, on account of them not having their husbands around. "They keep telling us they will attend to us later, but they never do," Yakura says. "When they're sharing relief materials, they tell us who do not have our husbands to stand aside."
"A few days ago, the governor sent us new vouchers and the officials said we will be registered again. We collected the cards, filled the forms, and signed, but when our SIM cards were about to be linked with the vouchers, they attended to only the men, and women with husbands," Ali Hadiza, a mother of four, told HumAngle. 
This has contributed to their lack in significant ways.
To make ends meet, they resort to works like firewood business, which requires them to walk long distances to fetch logs, which they then split and sell at the camp. However, this pays little, in addition to being tedious and unsafe. Women who have had to go into forests tell HumAngle that they have run into terrorists in their search for firewood.
"Our friends ran into the terrorists two weeks ago. They warned the women never to come back to that side of the forest again. They said that if they were men, they would not have gone back alive," Yakura told this reporter. 
Nevertheless, the women continue to go back for firewood as it is one of very few decent means of getting money. Another common vocation is the knitting of local caps for men, but this takes time as they could spend up to two months on one cap.
"We get tired from looking for firewood because we do it all day. By the time we get home in the evening or at night, we are too tired to knit caps," Yakura further explained.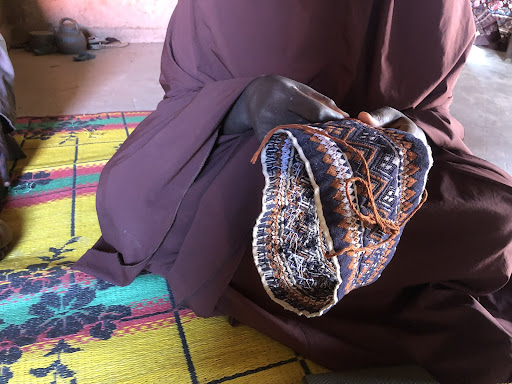 "There are women that have left here since dawn today to go fetch firewood. Until now that I am talking to you, they have not returned because it is a lot of work and the distance is long," she says. By this reporter's wristwatch, it was 4:10 p.m.
Resettlement plans
The Borno state government has now expressed plans to close down the IDP camps in Maiduguri and resettle the occupants back to their former villages, many of which remain unsafe. These plans are already underway despite reports that they may signal an impending humanitarian crisis. The state government has also banned non-governmental organisations from sharing relief materials to (former) IDPs in resettled communities, in order to spur them into 'building back their resilience'. 
In an earlier report by HumAngle, the state Governor had explained that the reason for this decision was "to support the regional process of transiting from dependence on humanitarian assistance to socioeconomic self-reliance."
It also said in a statement that the move was to "support our people to build resilience and support ourselves out of poverty…to wean people off humanitarian food distribution and instead empower people and give them dignity to buy their own food."
For widowed women and mothers, and heads of households generally, the government has said it will support them with ₦100,000 each to ease their resettlement. While people in the recently vacated Bakassi IDP camp have received the funds, some women from other camps say they have not. 
"I have not received the said amount even though my husband was killed by the insurgency seven years ago. So we're not ready to leave until we get the amount. I am from Baga, and that's where we're supposed to return to now," Maryam, an IDP, tells HumAngle. 
Another IDP, Ali Modu, tells HumAngle that while they're expected to return to Baga, the government seems to be misunderstanding the people's hesitation to mean a lack of will to go back home. "It's not as if people do not want to go back home, nobody could ever hate their own home. The thing is, if you look at it on one hand, it's good — because existing as a displaced person here means there is no privacy, if you pee or poop, your neighbor would know, your child grows up with no proper upbringing. If you look at things from all these perspectives, the resettlement plans are good. But the way it's being gone about is problematic and just seems like politics. If he [the Governor] empowered us in the right manner, I tell you he wouldn't even need to give us the ₦100,000 assistance. He would simply peep into this camp by morning and find it empty,"
For Ali Modu, the right way to go about it would be to "actually disburse the amount of money being announced on social media to everyone, make enough vehicles available to transport people, open the roads that lead to Baga — not the open and close being done now — make it safe again for us to fish and trade in our home when go back…"
He makes an example with the first time they were displaced in 2015, saying that when these measures were put in place, IDPs did not need to be told to leave the camps. "People were leaving on their own. They only returned again in 2017 when things got worse."
There is also the question of safety, especially for single mothers and women generally, who Ali Modu confirms are usually less likely to receive financial support. "One time, they distributed relief to the men and said the women would get theirs the next day…I even think some might be more concerned about the impoverishment and lack of means of livelihood when they are resettled, than they are of security," he says. 
For Maryam, it is both.
"There is fear. We don't feel Baga is safe to return to, but what can we do? In all the seven years I have spent here, I have never received any kind of support from the government for my children," she says. 
While all faces of the conflict continue to plunge people into various hardships and lifestyle changes, the ways that women experience them — from living in Boko Haram governed towns, to being displaced, to being abducted and forcefully married off to terrorists — makes sure that the war rages differently for them. 
(Additional reporting by Yakura Kumshe and Fatima Bukar)
---
This report is produced in partnership with the Centre for Democracy and Development (CDD).
---
Support Our Journalism
There are millions of ordinary people affected by conflict in Africa whose stories are missing in the mainstream media. HumAngle is determined to tell those challenging and under-reported stories, hoping that the people impacted by these conflicts will find the safety and security they deserve.
To ensure that we continue to provide public service coverage, we have a small favour to ask you. We want you to be part of our journalistic endeavour by contributing a token to us.
Your donation will further promote a robust, free, and independent media.
Donate Here