Armed Violence
Featured
Features
News
The Deradicalised (5): Three Detention Facilities Through The Eyes Of One Man
Hogtied by the suspicion that he was a Boko Haram member, he was led to various detention centres, all in different parts of Nigeria, before he was finally signed up in the military's deradicalisation programme.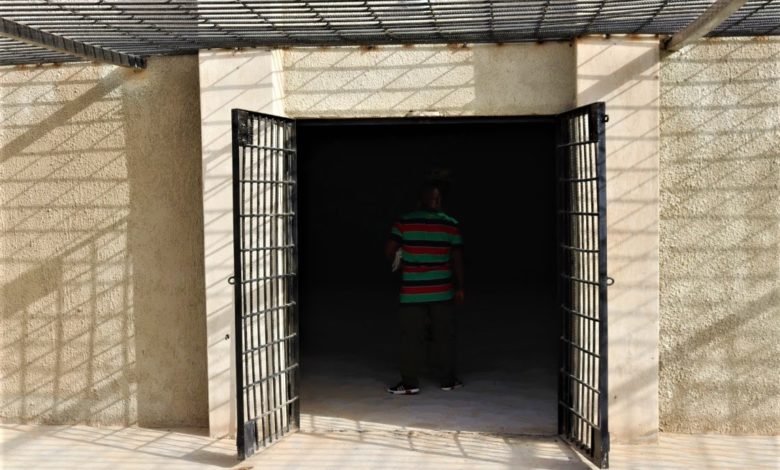 Hussein once contemplated joining Boko Haram. But when he followed five of his terrorist-friends to their camp tucked deep in the forest, he knew he could not cope with their subversive lifestyle. He was only there for a week, but it was more than enough time. He would not be able to wash off the terrorist badge until about four and a half years later. Years that took everything from him but his life.
The 37-year-old hails from Marya, a town in Dikwa Local Government Area of Borno State, where he worked as a farmer.
One recent afternoon, he sits with this journalist inside a small hut made of dried palm fronds and held up by sticks of various sizes. The shelter is one of countless at the Muna Garage displacement camp in Maiduguri, Borno's capital. An intravenous saline drip used by another IDP is placed conspicuously in the ceiling alongside a covered syringe. Two to three baby chickens strut in a corner where rusty frames of an abandoned bicycle and sewing machine are kept.
Hussein's chocolate-coloured babariga has started to fade top-down due to excessive use and exposure to sunlight, the affected parts assuming the milky brown of desert sand. It is not only his dress that has shown signs of bleaching; his carefully trimmed beards have started welcoming white strands as well, despite his relatively young age. Like tree branches, the veins on his wrists are remarkably pronounced even when his hands are resting.
He realised sometime in 2014 that joining a terror group was a far simpler move than leaving. When he admitted his plan to return to his old life, some of his friends warned him to leave the area because he could otherwise be seen as an apostate and killed. He fled with his two wives to Maiduguri, where he stayed at the Shehu Sanda Kyarimi displacement camp for two months. He then travelled 800 miles to Lagos, Southwestern Nigeria.
"I was driving okada [motorcycle taxi] in Ikeja," he says. "Then they called on the phone and said I should come and testify that I was not Boko Haram."
Believing he had nothing to hide, Hussein travelled back north to meet with officials of the Civilian Joint Task Force (CJTF) which contacted him. Again, it turned out it was easier for a man to be associated with the terror group than for him to clear his name. His explanation that he only had friends who were Boko Haram members earned him a pounding.
"They said I was a Boko Haram. I said I was not Boko Haram but my friends were. They started beating me, tied me with rope, and took me to Sector 8. They were beating and interrogating me for three days before they took me to Giwa barracks," he narrates. "They even used nail and hammer to torture me … I still feel the pain."
He raises his sleeve to reveal the scar left by the nail, likely narrowly missing one of his finger bones. The small size of the darkened spot conceals how painful the experience would have been. There are at least three other scars on his left hand alone and more on his upper back, belly, among other places, from the torture.
During his detention at Sector 8, a military station in Maiduguri, one soldier was the voice of reason. He asked why other officers mistreated Hussein since he denied the allegation, arguing that he would not have travelled all the way from Lagos if he were truly a terrorist. The soldier then brought him food—his first meal after several days in custody.
Despite the kind soldier's intervention and Hussein's insistence, he was transferred to Giwa barracks, a notorious military detention facility in Maiduguri where suspected Boko Haram members and allies are kept indefinitely.
"One day, a military man called me out. I even fell down when he slapped me. They interrogated me and put me back in the cell," he recalls.
Giwa
In the early days of the insurgency, Giwa army barracks served as a refuge for residents fleeing from violent incidents involving the infant terror group. But, by Oct. 2012, there were already reports that it had become a facility where "Boko Haram suspects" were tortured, detained indefinitely under inhumane conditions, and prevented from communicating with lawyers or their families. That reputation has stuck.
Amnesty International reported in May 2016 that scores of people died at the barracks every month, including children. "In all cells, detainees were subjected to conditions which amounted to cruel, inhuman or degrading treatment," the group noted, blaming the centre's congestion on arbitrary arrests of civilians based on random profiling.
Reacting to the allegations, former army spokesperson Col. Sagir Musa last year described them as "mere claims" that lacked any basis. But hundreds of former detainees who have spoken to journalists and researchers would find it difficult to agree.
"It was terrible in Giwa," says Hussein. "Food and water were not enough. The cells were congested, one could barely lie down and one had to sit sometimes. We shared razor blades with 10 other people. They gave us a very short time to take baths. They flogged detainees, including even elderly people. I also met Lagos in Cell Three; he jammed people's heads on the wall and they often died the next day."
'Lagos' is one of the cell 'chairmen' especially infamous for his cruel treatment of other detainees. The chairmen were appointed by the military personnel to keep other people in check while they received unique privileges, which included bigger food portions and opportunities to have regular baths.
Hussein was kept at Giwa barracks for four months and one night. Then, a military officer came with a list and called out about 120 names including his. When the detainees trooped out, the soldiers blindfolded and handcuffed them, loaded them onto a large truck, covered the truck with a tarpaulin sheet, and zoomed off. The vehicle dropped them off at the Maiduguri International Airport. From there, they were flown to Minna Airport in Niger State, 600 miles southwest of Borno.
Another truck transported them to New Bussa, home to the popular Kainji Dam which supplies about one-fifth of electricity generated in Nigeria. But, as Hussein would later find out, the town was not only a source of light and delight to millions of people, it also hosted a facility that spread just the opposite: gloom and anguish.
Kainji
The Wawa military barracks has not generated as much scandal as the Giwa detention facility with reports about detainee conditions there being extremely scarce. It, however, shot into the limelight in Oct. 2017 when a special court was set up to try the over 1,600 suspects detained there at the time.
When the Giwa transfers arrived at the barracks, the blindfolds finally came off and so did their clothes. But the handcuffs remained — for about eight months. Hussein counted five cells when he first arrived. He was shoved into one of them with four others, including one mentally ill person, Abdullahi. He points in the direction of a pit latrine outside the shelter to illustrate how small each cell was.
"They refused to give us food and water for three days. When it got worse, some of us even drank urine thrown out by the female detainees. We couldn't sleep because of hunger," he says, folding his arms, tightly placing them on his tummy, and drooping to demonstrate how the inmates coped with the intolerable pain. "After about a week, they gave us warm water with milk in the morning and beans soup in the afternoon. Thereafter, they started giving us food but it was not enough."
In the first six months, the detainees were never allowed to step outside the cells. And when they did step out, it was only for about half an hour. Then, inside they went again for another terribly long time. Whenever nature called, they had to answer using plastic buckets placed inside the cell. Porters came for the buckets and emptied them when they got full.
Their brief breaks every six months coincided with visits from officials of the International Committee of the Red Cross (ICRC), who came with food supplements to prevent deaths from severe malnourishment.
During the first Red Cross visit, he discovered his weight had dropped to 40 kg. For a man at least six feet tall, this suggested he was severely underweight. It was also during this visit Hussein had his first bath. "We stayed in dirt and lice," he says about the early months. Following the ICRC visit, baths were more frequent. Each cell got one bucketful of water for bathing every few days and another bucket for drinking.
After the 120 people from Maiduguri were brought in, other batches of detainees arrived from various places including Lagos and Abuja. The total population eventually was 2,004, Hussein says, with the number including 12 women.
"Life was very bad," he says reflectively. He remembers one of his cellmates having diarrhoea and vomiting till he breathed his last. Throughout his stay, which lasted three years, detainees died in the hundreds. About 800, according to his estimate.
The quality of food served improved two years into Hussein's detention. A Federal High Court judge, Justice Binta Nyako, had visited in the company of some lawyers. When she left, the authorities started serving three meals a day, but the portions were still paltry. Hunger was a daily constant. It was so bad they delayed announcing the death of a co-detainee just so they could get food allocated to him.
"For some time, we would tell them he was sleeping because we wanted to be collecting his food. At least two people died almost daily. When the corpse started to decompose after two days or so, we would call their attention to it and they would take it out," Hussein says.
Though death always felt close, it stared him in the face on two occasions. Once, when he fell sick and fainted. And a second time when he could not find water to drink for days and became deranged with thirst.
Another improvement brought about by Nyako's visit was to the sanitary system. From emptying their bowels inside buckets, they graduated to using PVC (polyvinyl chloride) pipes, also installed inside the cells. This was equally when water taps were fixed. Every three days, they would be opened to allow the inmates to flush the toilets.
That is not all; Hussein owes his freedom to the same event.
"They brought us out in uniform and gave us numbers; mine was 1307," he recalls. "Then they would take us to the court. There the judge asked if I was a Boko Haram. I said I was not. The judge said, 'We will forward your case to Abuja.'"
The proceedings in Kainji lasted between Oct. 2017 and July 2018. They featured mainly allegations that the detainees provided various forms of support to Boko Haram, offences punishable under the Terrorism Prevention Act of 2013. The trials, presided over by three Federal High Court judges, were noted by rights groups, including Human Rights Watch, to have "raised several fair trials and due process concerns."
In separate reports published in 2018 and 2020, Amnesty International referred to the proceedings in Kainji as "sham trials" that "egregiously" violated the accused persons' fundamental rights.
"Almost all defendants appeared to be victims of arbitrary arrests, unlawful and incommunicado detentions, and torture and other ill-treatment," the group wrote. "The trials were marked by prosecutions without evidence and convictions based on unreliable and untested confessions and guilty pleas. Defendants lacked adequate access to legal defence before and during trials, and all trial sessions were unduly rushed indicating the judges did not have appropriate time to adequately examine and deliberate on each case."
Three months after the preliminary trial, the military authorities took out some of the detainees, including Hussein, tied their hands, blindfolded them, and transferred them in a luxurious bus to Kuje Prison in the Federal Capital Territory, Abuja, 200 miles away. Hussein left his mentally unstable cellmate, Abdullahi, behind in Kainji and is unsure of what has since befallen him.
When HumAngle reached out to him about the conditions at the Wawa barracks, army spokesperson Brig. Gen. Mohammed Yerima asked our reporter to visit the Nigerian Army headquarters in Abuja and speak with the "Chief of Staff". But, understanding that only people whose names have been duly communicated can enter the premises, HumAngle asked for an appointment or the said official's contact. Brig. Gen. Yerima, however, did not answer calls later placed to his phone or respond to texts.
Nigeria's chief of defence staff, Lucky Irabor, recently said over 1,000 Boko Haram members have been prosecuted, about half of whom are now in jail. He added that a fresh batch of trials will take place before July 2021.
Kuje
In Abuja, Hussein was arraigned before the Federal High Court after another three months and he maintained his innocence. "No one will call you Boko Haram again," the judge assured him while giving a verdict. "You will be taken to Gombe for three months after which you will go home."
Though it is a prison, the conditions at Kuje were in stark contrast with those in Kainji. "The feeding condition was good," Husein says. "At eight in the morning, they would take you outside and by four, you would go back to your cell. They were organised; they scheduled everything."
What is more, he was able to communicate with his family. He received money regularly from Borno State and his brother even visited him multiple times.
Hussein remained at a rehabilitation centre in Kuje Prison for eight months after the court verdict and attended vocational training sessions. When former Kainji detainees protested their prolonged detention, the prison authorities said it was the military's fault they had yet to be taken to Gombe.
*
Kwami Local Government Area of Gombe State is home to Nigeria's deradicalisation camp where the Operation Safe Corridor (OSC) programme is run. The programme was launched fully in 2016 to provide a window for Boko Haram militants who surrender to get rehabilitated and reintroduced into society as productive, law-abiding people. Despite harsh criticisms and widespread distrust about its effectiveness, so far over 500 people have completed the programme.
At the deradicalisation camp, Hussein was exempted from receiving additional vocational training because of his experience in Abuja. He, however, attended classes on civic education, psychology, drug abuse, and Islamic knowledge. But rather than three to six months as promised, he ended up spending eight months and 10 days in Gombe.
"The food was not sufficient," he says about the camp's welfare conditions. "It was very strict. Everywhere you went, there would be intelligence [officers] with you, even toilets. If you were talking to them, you couldn't come close to them. They said we were free but it was very strict."
Upon his release from Gombe, he was taken to yet another rehabilitation centre in Maiduguri, where they were supposed to stay for three months—"but we protested that the court had released us and asked why they were keeping us."
He finally became a free man after many years, in Nov. 2019. Asked if he thought about his family while in detention, he answers the question indirectly, suggesting he considered it futile: "From how they arrested me, they didn't think I would come back and I also didn't think I would regain my freedom."
Hussein is today one of the thousands of displaced people at the Muna Garage IDP camp in Maiduguri, where he lives with his two wives and 10 children. The camp is about an hour and a half's journey from his hometown of Marya. His freedom nonetheless, he is still groping for the proverbial light at the end of the tunnel. Life as a displaced person is very bad, he says.
"I came and met my family, my children and wives, safe. But things are not good. You cannot even go to the farm. Just yesterday, they killed two people and when soldiers went there, they attacked and shot three of them. We have been here for 10 to 11 months and we didn't get anything; I was not registered for food. But my family was registered. They give them eight kg of maize, 10 kg of rice and 15 kg of beans every month."
He adds that he did not receive any cash support from the OSC programme and hopes the government will employ him so he can be financially independent to sustain his family. He smiles proudly as he scrolls through pictures of his twin daughters on his phone. The young girls aged about three years wear pink hijabs and white dresses. From the look on their father's face, one can tell he is deeply concerned about their welfare and future.
Hussein's body is a map of painful memories, a canvas of military brutality, and a refuge for all manner of scars. He is lucky to still be alive considering that he hardly received medical care throughout his years in detention. The wound left by the nail and the hammer back at Sector 8, for example, healed naturally. He, however, has no regrets for rejecting Boko Haram's invitation seven years ago.
"I left them because of the killings and they may even have killed me," he says solemnly. "People should be allowed to practise their religion in freedom."
---
This is a multiple-part report; click here to read other 'The Deradicalised' stories.
---
Through this series, HumAngle with the support of the Africa Transitional Legacy Fund (ATJLF) examines the lives and pasts of alumni of the Federal Government's deradicalisation and rehabilitation programme, Operation Safe Corridor.
---
Support Our Journalism
There are millions of ordinary people affected by conflict in Africa whose stories are missing in the mainstream media. HumAngle is determined to tell those challenging and under-reported stories, hoping that the people impacted by these conflicts will find the safety and security they deserve.
To ensure that we continue to provide public service coverage, we have a small favour to ask you. We want you to be part of our journalistic endeavour by contributing a token to us.
Your donation will further promote a robust, free, and independent media.
Donate Here