Armed Violence
Featured
Features
News
Vigilantes Defying The Odds To Protect Lives In Northwest Nigeria
Armed with homemade shotguns and a daring spirit, vigilantes are often the last line of defence preventing absolute chaos in communities in Nigeria's northwestern region. But sabotage from locals and the lack of sufficient support from the government is hindering their work.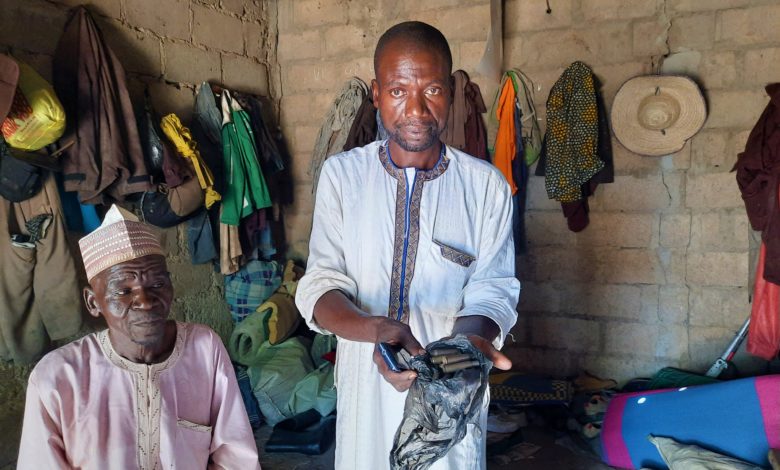 Musa Abdullahi understood the risks when he left life as a full-time farmer to sign up as a vigilante many years ago. But he didn't think he would, one day, be hunting down terror gangs.
The first omen was the sight of herders — who traditionally wield mostly swords and sticks — arming themselves with guns. When the townspeople queried, they replied that it was for their protection, especially against rustlers. But violence soon broke out. Zandam, Musa's village in the Jibia Local Government Area (LGA) of Katsina, Northwest Nigeria, was not immediately caught in the web of attacks. Residents initially heard of the predicament that befell Sabon Gari, another community in Jibia. Then it spread to Kan Dawa. Then 'Yan Gayya. Then Zangara. Then Bugaje. Finally, the terrorists, described locally as 'bandits', turned their attention to Musa's hometown. 
The attacks have not ceased since then. In June, two weeks before our interview with him, the terrorists killed four villagers, one police personnel, and burnt down a hospital facility that was in the last stages of construction. They returned afterwards and, facing no resistance from the police, were able to rustle cows. 
"They were constantly attacking," says Musa, who is a Makama (advisor to the emir) in Zandam. 
"They started raping the girls, stealing properties, and kidnapping people for ransom. It was chaos. The people were in constant fear. You'll see some whose relatives have been killed, wives have been abducted, daughters violated. There's no way for one to continue to live in a community like that."
Thousands of people from the affected villages have become displaced. Those who have relatives to run to now squat with them. Others are confined to the goodwill of strangers or settle in vacant buildings. The International Organisation for Migration (IOM) estimates that there are about 109,000 Internally Displaced People (IDPs) in Katsina, most of whom left their home communities between 2019 and 2020. Many live in harsh conditions as there is hardly any support from the government. 
"It's come to the point where we'll be here, sitting, and you'll see children of like three to five years coming here, begging for help," Musa says, reclining against the only table in his office. "They've killed their parents," he explains, adding that many IDPs in Magama and Jibia have similarly taken to begging. 
The only reason some people have remained in Zandam, he says, is that a Mobile Police (MOPOL) team was later despatched to the area. Before this development, the vigilantes were the first and final line of defence. 
"It got to a point where the attacks were getting out of hand. That time, my superior, the Magaji, used to send me to capture bandits in the bush and I would take them to the police station."
There are civilian law enforcement groups across Nigeria. Many of them operate under the Vigilante Group of Nigeria (VGN), which traces its origins back to the late 19th century. According to the authorities in Katsina, police personnel in the state are not up to 3,000. This means there are 38 officers for every 100,000 residents — grossly falling short of the global average of 300 per the same number of people, according to a United Nations analysis. 
The governor, Aminu Bello Masari, hopes to fill this gap by recruiting more vigilantes to support the state's security architecture. Already, vigilante groups in the state have proved helpful in rescuing victims of abduction, protecting farmlands, handing over arrested criminal suspects to the authorities, and conducting joint security operations with the police and soldiers.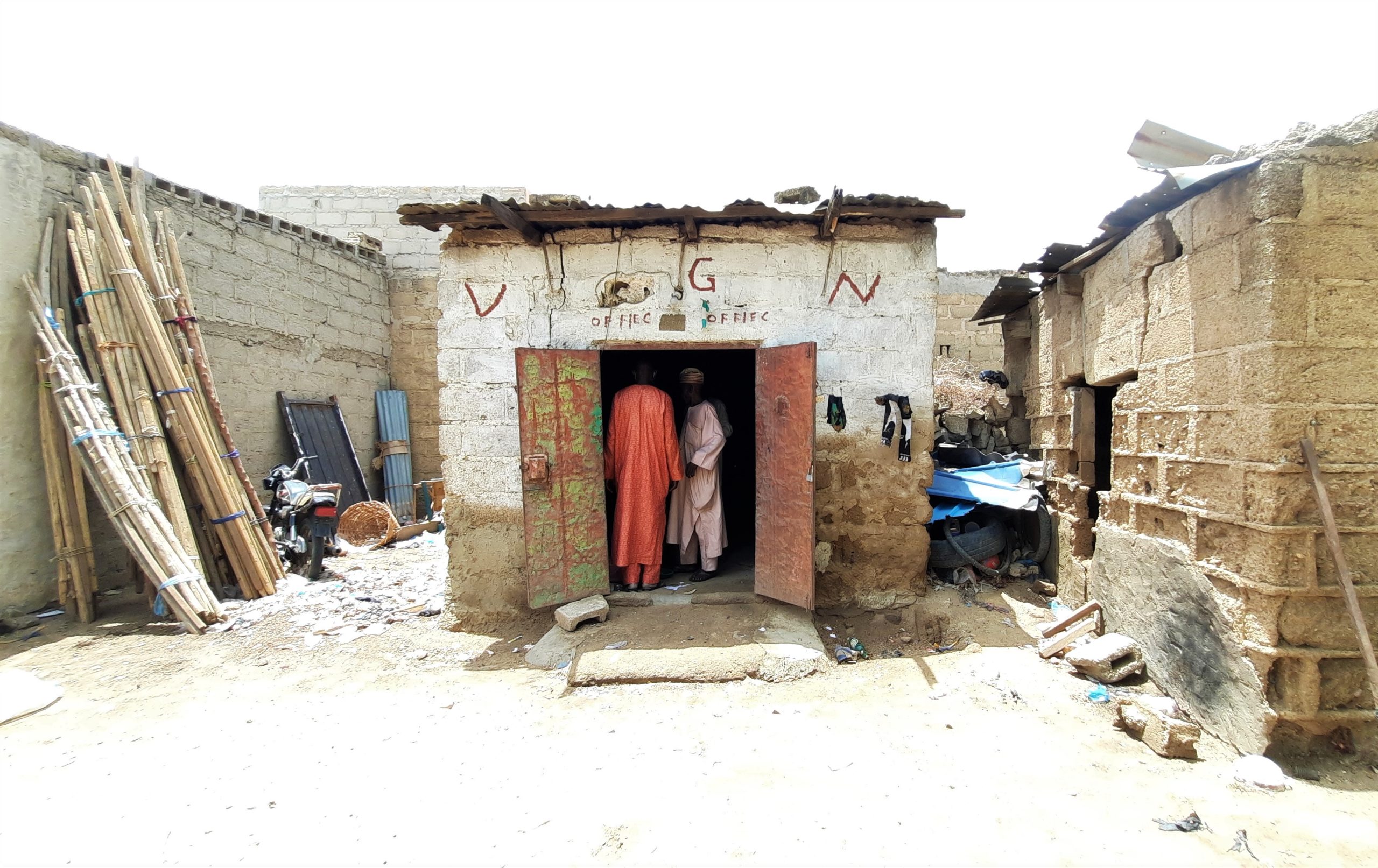 How they work; what they use
If it had all the necessary furniture, the office used by Musa Abdullahi and his men could hardly sit 30 people conveniently. A tiny structure with unplastered concrete blocks, its crudeness and decay is a testament to both its age and the inadequate support its users receive from those they serve. Its rusty steel doors, held in place by a broken cement brick, are the only source of ventilation. The generously spaced letters, 'V G N', are painted in red strokes on the structure's forehead over a backdrop of white that fades abruptly in the middle. The office faces a marketplace in Magama. The vigilantes who use it often hang around nearby, chatting and drinking local tea under a shed that promises more breeze than the old concrete structure.
"When night comes, we don't sleep," says Musa. "How you see us in this market is how we always are, day and night. If you see one of us leaving, they're going to check on their family to see what they can help with before they come back."
Inside the office are three items of wooden furniture: a stool, bench, and table. Underneath the table are food containers of various shapes and sizes. On it are notebooks, batons, a rechargeable LED flashlight, and so on. Leather jackets and other pieces of clothing are hung on the walls. And then there are the local guns.
Compared to the sophisticated firearms used by terrorists, vigilantes here only have access to revolver shotguns, muzzle-loaded rifles, and similar homemade weapons. As a result, they are known to compensate for this disadvantage using charms.
Nigeria's Firearms Act prohibits the use of artillery, rocket weapons, bombs, machine guns, military rifles, and other weapons without a presidential licence. The Inspector-General of Police may grant licences for the use of personal firearms such as shotguns, sporting rifles, and airguns. Muzzle-loading firearms like Dane and flintlock guns, common among vigilantes, can, however, be used without a licence unless they are banned by the police in a state.
"When the crisis started getting out of hand, the committee of Jibia helped us with guns," discloses Musa as he proceeds to bring out two firearms to show how they work.
"Before we used to make use of these locally made ones that we buy with our money," he continues, holding one firearm that is basically two long, hollow rods soldered to each other, two handles, and what appears to be a trigger. The crude gun is made locally and is easily accessible. "This is what we were managing to protect ourselves. When these bandits come and we shoot, the sound scares them a bit and they run away. It only has one round and you have to hide to reload it."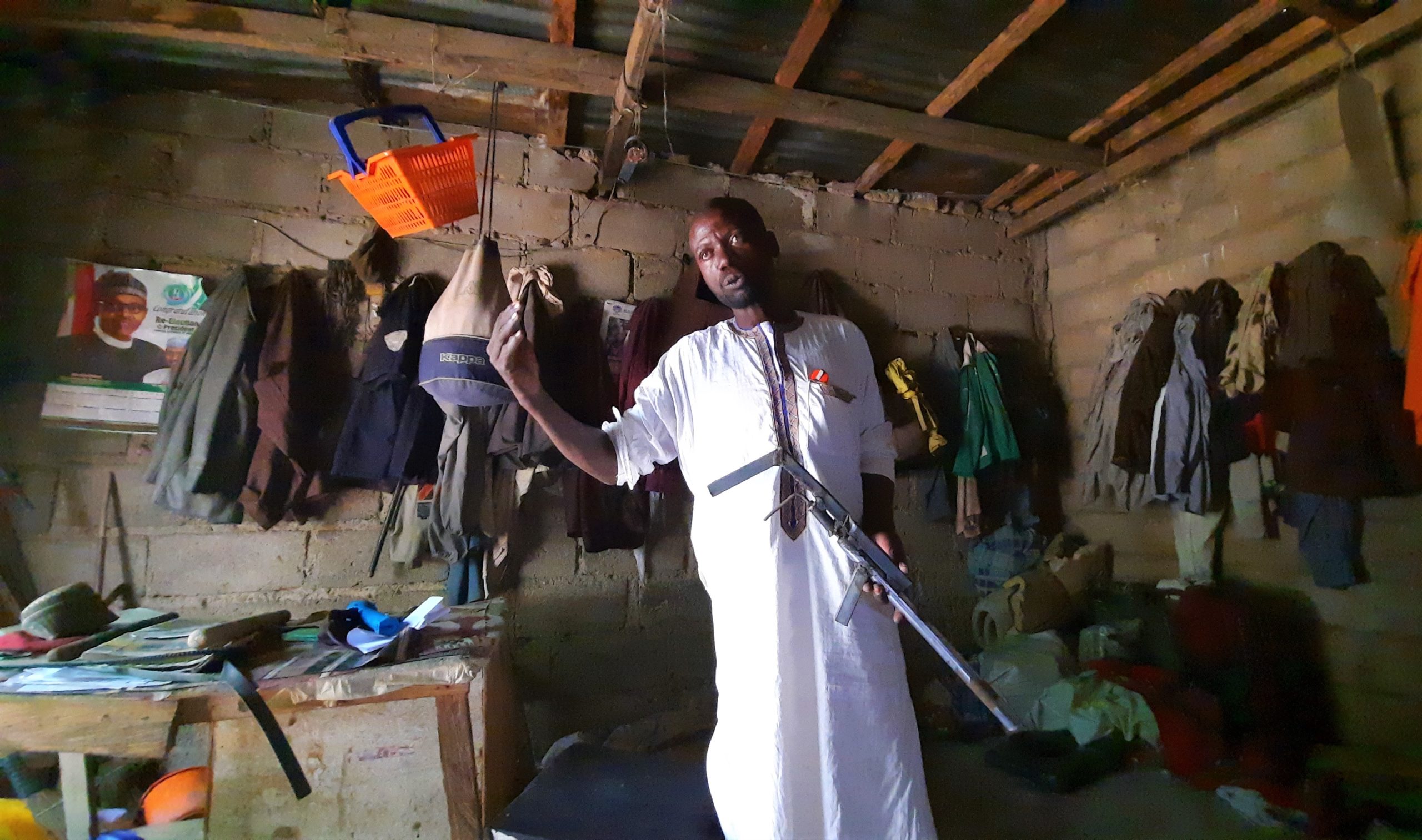 "We were later helped with this," he brings out a more complex firearm also made of steel. "This is what some of the Civil Defence officers use. It has nine rounds. You see, if you pull it like this, then like this, then like this, and come back to this," he says, deftly demonstrating how it is cocked. He finally pulls the trigger, causing the compression spring to snap suddenly. Satisfied, he chuckles and explains that it would have fired had it been loaded with ammunition.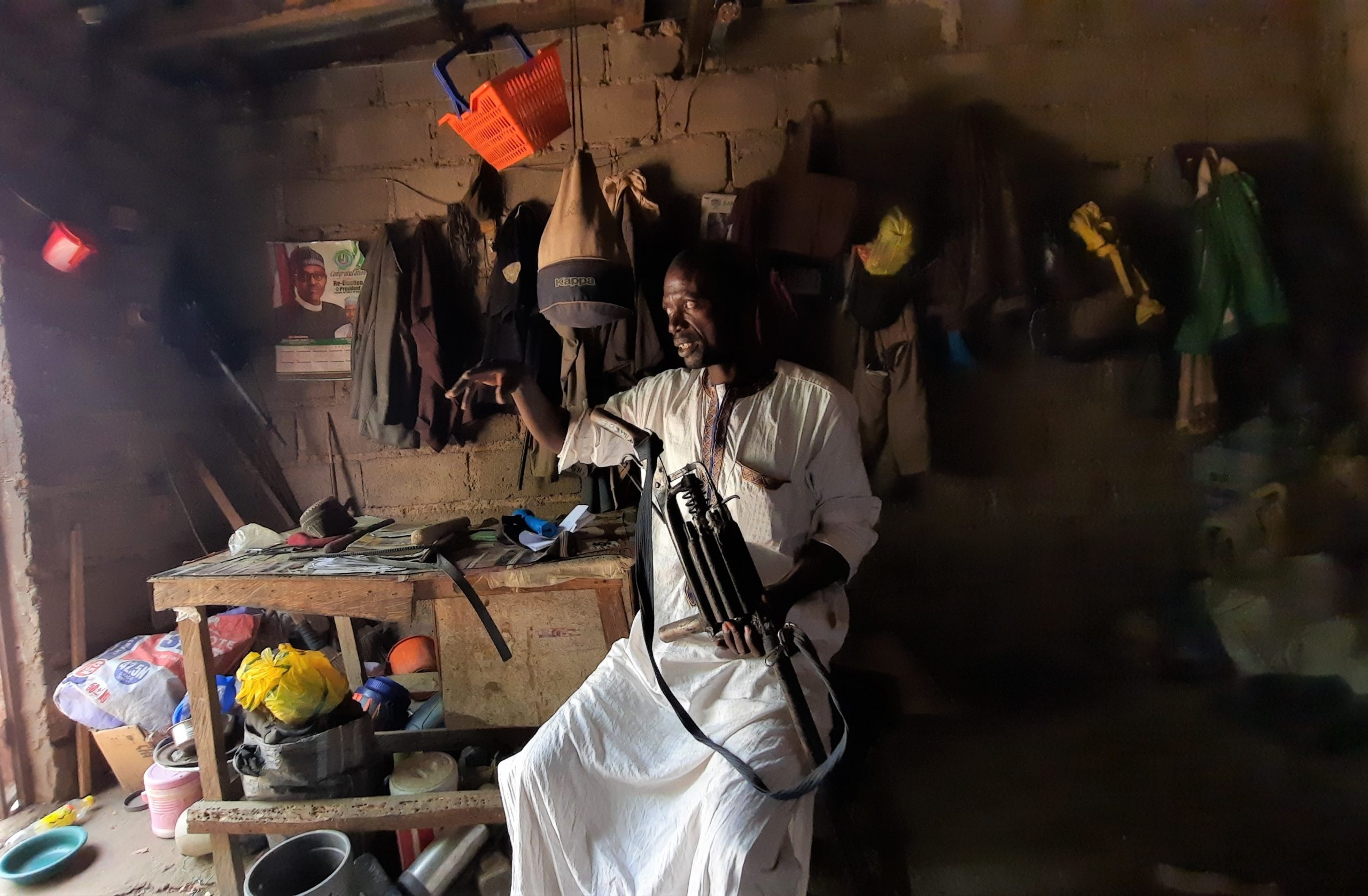 At night, the vigilantes split into separate groups and patrol the town.
"If we run into anyone suspicious, we catch and question them; and we also ask for witnesses and alibis. If we're satisfied and are sure that they are a victim of the same problem we're all facing, we then hand them over to the head of the village. If we aren't satisfied with our findings, we hand them over to the closest authority. Since we are also villagers, if we run into some troublesome people that we know, we can point them out and say what they're capable of."
Musa confirms that they support the formal security forces with intelligence, describing them as blind because they often do not know where to look. Often, he accompanies them during operations and ambushes, but this depends on who is in charge.
"There was one Captain Musa, a soldier. He was just transferred recently to Daura. We used to go on patrols together to ambush and capture them," he narrates. "So, when they realised we were frequenting there, they stopped coming. Now they're around areas like Mazanya, Bunkuru, Jan Lungu, and Sabon Garin Mutsu-Mutsu. If you go to these places at any time, you'll run into them. If we get on a bike right this moment, we will not reach 'Yan Nunu without running into a bandit with a gun. That is a fact!"
Lawal Hamza, who 10 years ago had joined the vigilante group in Batsari, another LGA in Katsina, and now serves as the secretary, echoes Musa's statement about the invaders being from the same regions they terrorise. "They're not some foreign thieves. They're people from here. We know them and they know us. We know their parents and they know our parents," he insists.
One strategy they hope to deploy is to put pressure on the terrorists' parents and spouses who live in the villages to prevail on their children to surrender.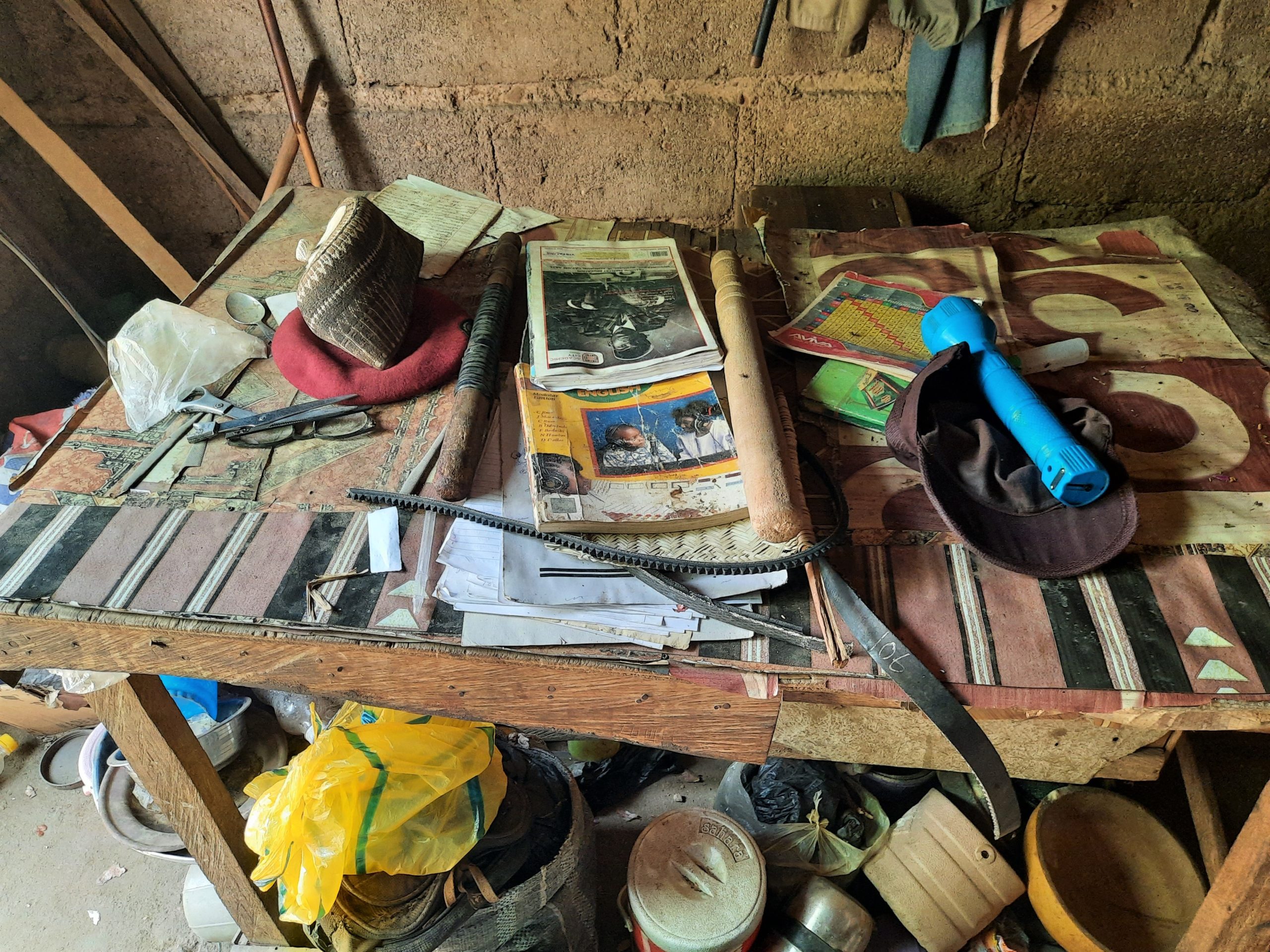 Two sides of a coin
Many people across Northwest Nigeria count on civilian law enforcement groups for protection. Mallam Suleiman,* a school principal in Batsari who was abducted by terrorists in May, feels safer in the local government metropolis because of the presence of vigilantes. "If you see any bandits here, they cannot spend up to 20 minutes in their hands, they'll kill them. They are afraid to enter Batsari because the vigilantes are very serious about the issue," he says confidently.
There have, however, been various reports of vigilantes engaging in ethnic profiling, jungle justice, and abusing their powers to victimise innocent people. Many of these incidents have triggered reprisal attacks from terrorists who see the killings as proof that their crimes are reactionary.
Lawal, in his interview with HumAngle, also hints at a pattern of extrajudicial killings by the vigilantes.
"When we find them out, we arrest the suspects. We have no business with their fathers, but the child that is terrorising people. Honestly, once we catch you, you won't make it out alive," he says. "We have government backing. We have the army and we're with the DPO [Divisional Police Officer]. And, naturally, when you're caught with weapons, it's over for you. We'll kill you."
Because of these trends, many state governments, including Sokoto and Zamfara, have officially banned certain vigilante activities, especially those of 'self-appointed volunteers' known locally as 'Yan Sakai.
But the people are not convinced.
"Maybe they believe we do not have the security training to handle them. But the government stops people from taking law into their hands, yet the government cannot also stop them. So, we have come to ignore the command saying we should stop," says Mahe Umar, 40, a resident of Gatawa, Sokoto State.
"We cannot just fold our arms and watch those people come to pack our animals and rape our siblings, sisters, and mothers. We cannot just fold our arms… When we see that the government can handle them, then we are ready to surrender."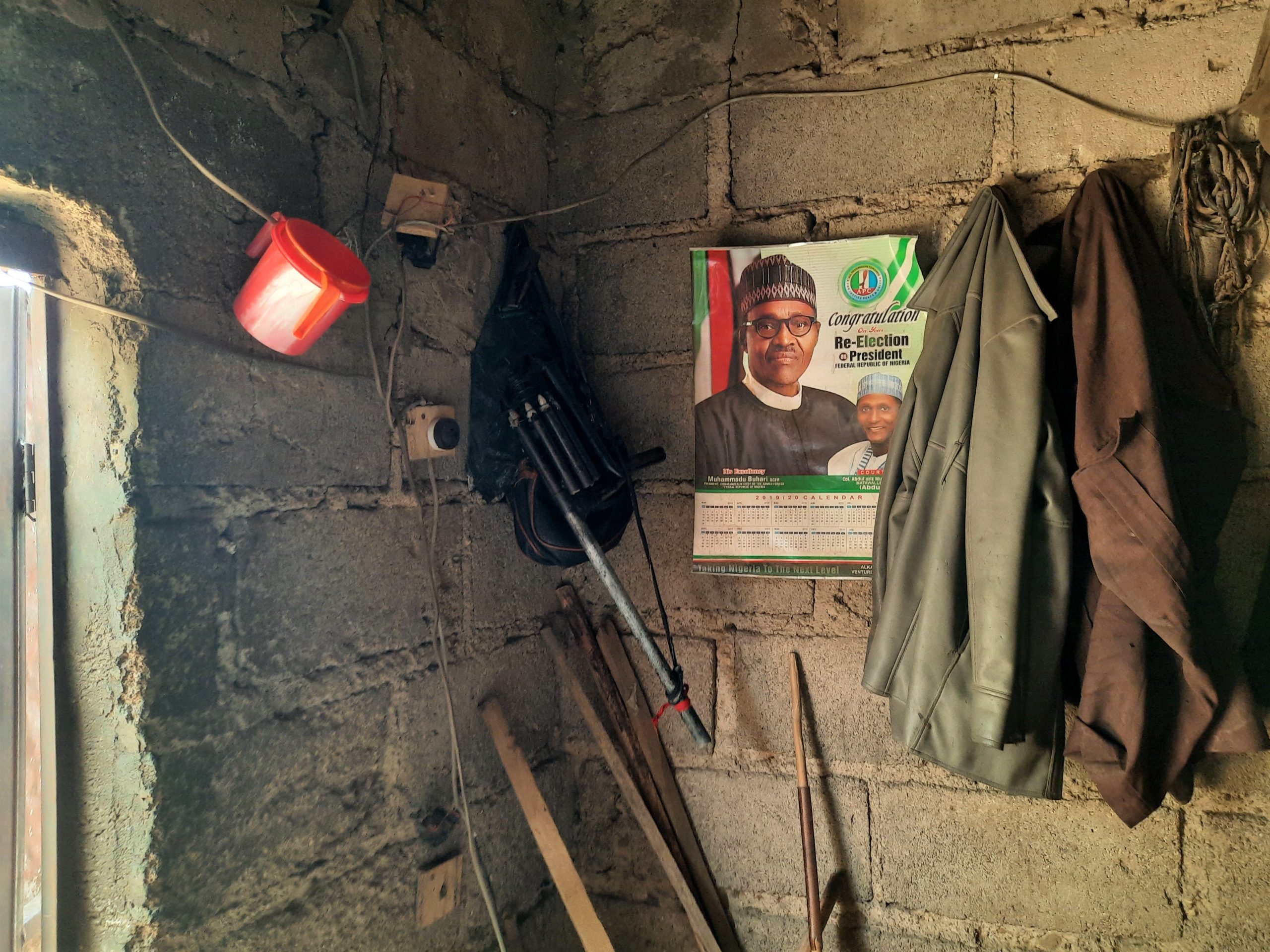 Unavoidable dangers; avoidable frustrations
As insecurity worsens in the Northwest with terrorists arming up with assault rifles, machine guns, and rocket launchers, the work of the vigilante becomes tremendously riskier.
Musa himself was forced to leave Zandam two years ago because of the heightened risks. He now serves as the commander of the vigilante group in Magama Jibia, handing over the command back in the village to his son, Yunusa. To keep them safe, his family members are scattered across different communities. 
"I can identify like 50 bandits that I know in this area, who also know me, and I know their houses," he explains. "When they started coming to Zandam, I found like 87 empty shells in my compound. And this is because whenever they attack, they come for me first as I am the leader. Luckily for me, they have never hurt me or my family. But just to be careful, I moved my family around to somewhere safe. Some family members are here and some are there."
Meanwhile, a bunch of factors team up to make the work even less attractive. 
First, Musa believes there are spies among the people who disclose the movements of security personnel to terrorists, allowing them to escape planned raids.
Second, terrorists are emboldened because security personnel are reluctant to act after sunset. "Whether here or around Zandam to Sabon Gari, anything past maghrib time, there's no security personnel that will accompany you to that place. They'll follow you to a certain point and then tell you that they do not have the jurisdiction to go past the place," he says. 
Third, there is a general lack of help and cooperation. Musa says 10 vigilantes can spend one or two nights in the bush to prevent terror attacks if they are confident their families will not go hungry. Since the job is voluntary, they rely on the goodwill of people to keep going. Sometimes, they receive bags of corn and other times cash donations.
"We just sit here and if we're lucky we get someone to give us something for sachet water. Some days, you leave this place without ₦10. As you see me now, I just take up fasting."
But do they get any help from the government? Yes, replies Lawal, but not much. While there are at least 506 vigilantes in Batsari, they receive a monthly allowance of only ₦40,000 from the local government. This is shared with 40 people. The rest are compensated through donations from 'Good Samaritans' and politicians. One member of the House of Representatives gives them ₦200,000 every month and has donated a car and motorcycles in the past. 
The situation is much worse for Musa's men. "Well, I can say that the government helps us with prayers," he says with a straight face. "But with regards to their mandate, there's really minimal input from them. Apart from that, they provided us with boots, some sticks, some cloth materials, whistles, raincoats, and then these white shoes." 
That is all. Musa confirms that they are not paid for their work but, fortunately, that is not enough to discourage them.
"We can't stop doing what we're doing because we're helping others and ourselves. And if we die doing this, we die as martyrs," he says, his right arm still resting on the table behind him. "We won't stop and we won't be scared. Every day, we're praying that God protects us from naysayers and may we not be naysayers. And if someday God says there's someone that will look after us, then we thank God and we welcome them."
---
Support Our Journalism
There are millions of ordinary people affected by conflict in Africa whose stories are missing in the mainstream media. HumAngle is determined to tell those challenging and under-reported stories, hoping that the people impacted by these conflicts will find the safety and security they deserve.
To ensure that we continue to provide public service coverage, we have a small favour to ask you. We want you to be part of our journalistic endeavour by contributing a token to us.
Your donation will further promote a robust, free, and independent media.
Donate Here