Features
Humanitarian Crises
Rebuilding With Tears, 10 Months After A Great Devastation
The people of Kukum District in Nigeria's Southern Kaduna are starting life afresh. This is after losing their homes and property to terrorists who attacked in early 2022. What happens afterwards?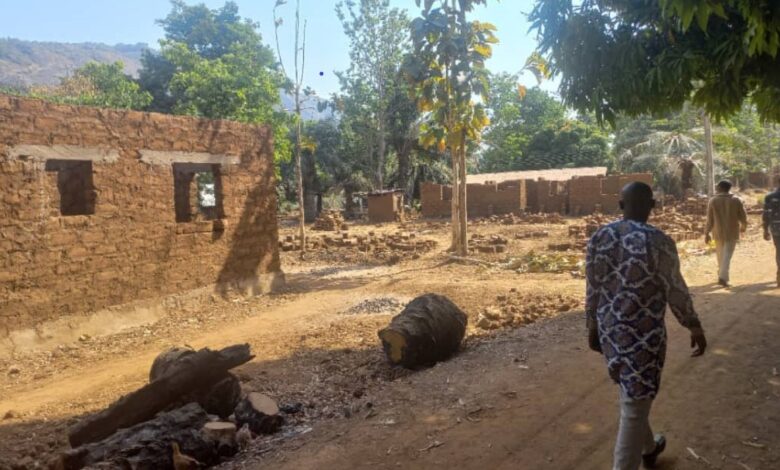 Since March 20, 2022, when her home was destroyed by armed men, 15-year-old Naomi Benjamin has lived in a classroom.
Before then, she had a life similar to that of several other teenagers in Adan. She was part of an extended family that had up to 21 members. She sought formal education too. She attended the Government Secondary School Kagoro, where she looked forward to her senior year. Her desire was to focus on the Arts.
But little did Naomi know that there would be an attempt by unforeseen forces to alter that dream.
Adan is a quiet village under the Kukum district in the Gworok (Kagoro) chiefdom of Kaduna, Northwest Nigeria.
On that fateful night of March 2022, sounds of gunshots would reach them at Adan. It would lead to killings in neighbouring communities and send Naomi's entire family scampering for safety. Behind them, their homes and property, everything they had once held dear, would go up in flames.
Later, 34 people were recorded dead and up to 109 households lost their houses, Dakaci Yashan, the village head, told HumAngle. Although no life was lost in Naomi's immediate community, she was left without a home. And so were many others.
About a hundred metres away from the primary school, a few people dotted the Adan community. All around, there was evidence of reconstruction as fresh mud structures dominated the landscape.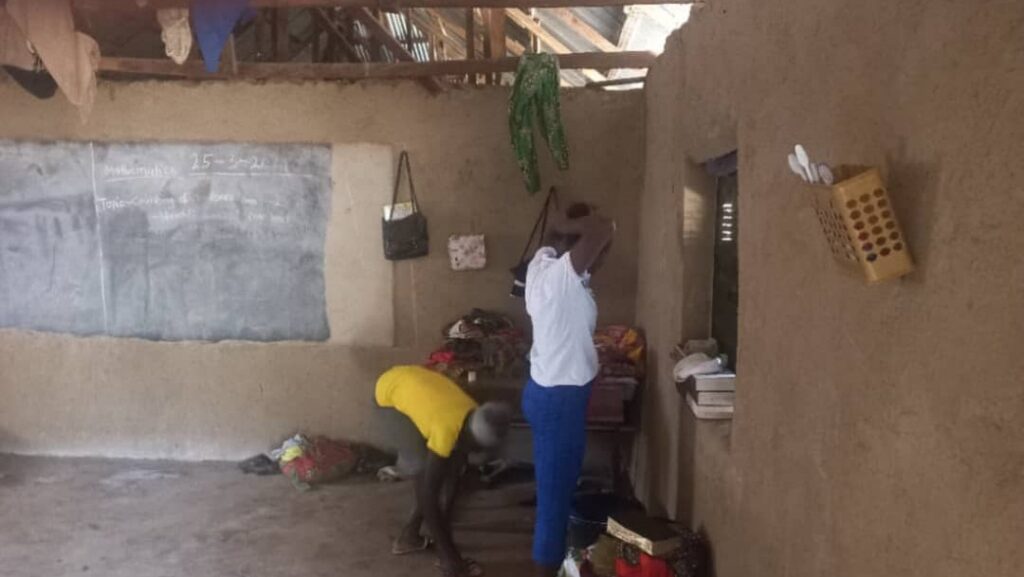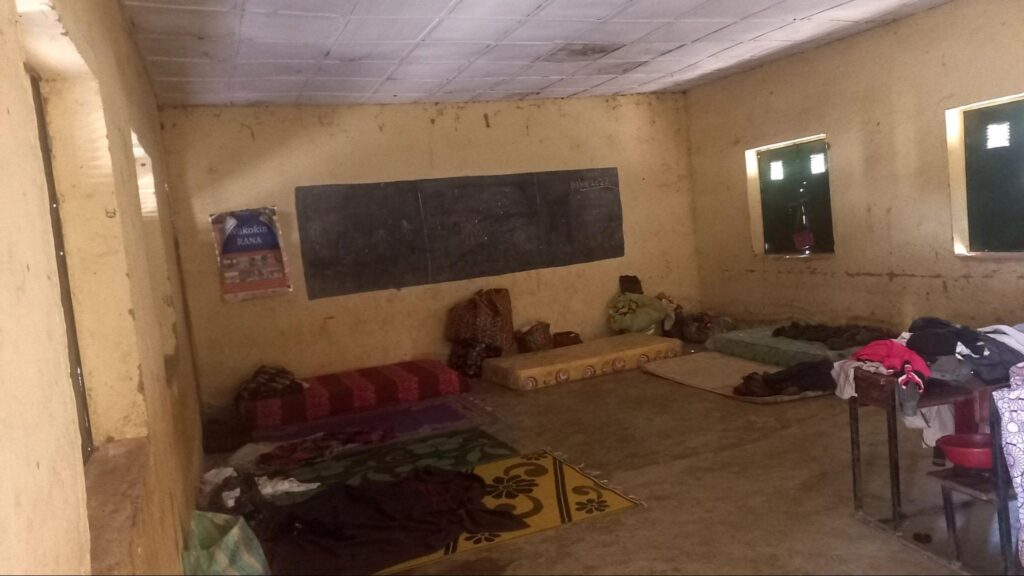 Survival of the fittest
They are unable to go to their farms, whether it is the rainy or dry season, Kumai Latong, a 65-year-old retired civil servant, began.
"Yet the attacks get to our houses … There's hunger in the land … There's no food. We have buried about 40 people. They tell us they are going to attack and they do it. Sometimes they do this by phone. They told us that from Mararaba down to Tsonge, they were going to attack and they did. In Tsonge, they attacked in one day," he said.
These words are not far-fetched. HumAngle had reported how news of impending attacks filtered through several communities before they happened.
Latong lived with his wife and six children in Mararaba Agban when the terror attack hit his extended family house at Agban Gida.
His narration of the attack shows that the culprits divided themselves into two groups and later moved to inner settlements like Adan. This was why there were no deaths recorded in Adan, where all locals successfully escaped.
The first thing the attackers did was to force doors open and carry out valuables. Then they set the looted house ablaze. They moved from one house to the next. "In some houses, they met people who could not run and burnt it down with them inside," Latong added, describing what happened to those outside Adan.
The destruction
Benjamin Daniel, Naomi's father, remembered how the terrorists came on March 20, 2022. They first heard a few gunshots around 6 p.m. Then some more.
"We gathered the women, children and our old," he narrated. "We instructed them not to take the main road but other paths of escape. If they can find a place to hide, then they should hide there."
The attackers flooded Adan soon enough and everywhere was engulfed in flames. But none of Benjamin's family members was left behind. All 21 had made it out alive.
Left homeless, his family separated into three groups. Today, some live in Fadan Kagoro and some in Agban Gida. A few remained within Adan, making the classrooms of the primary school there their temporary abode.
"In Agban, the first attack took place in Tsonge in Feb. 2022. It did not stop there. It happened again on March 20," Chief Joshua Kogaya, the district head of Kukum, pointed out.
Chief Kogaya explained that the Kukum district has been experiencing such attacks, even though they are unsure why.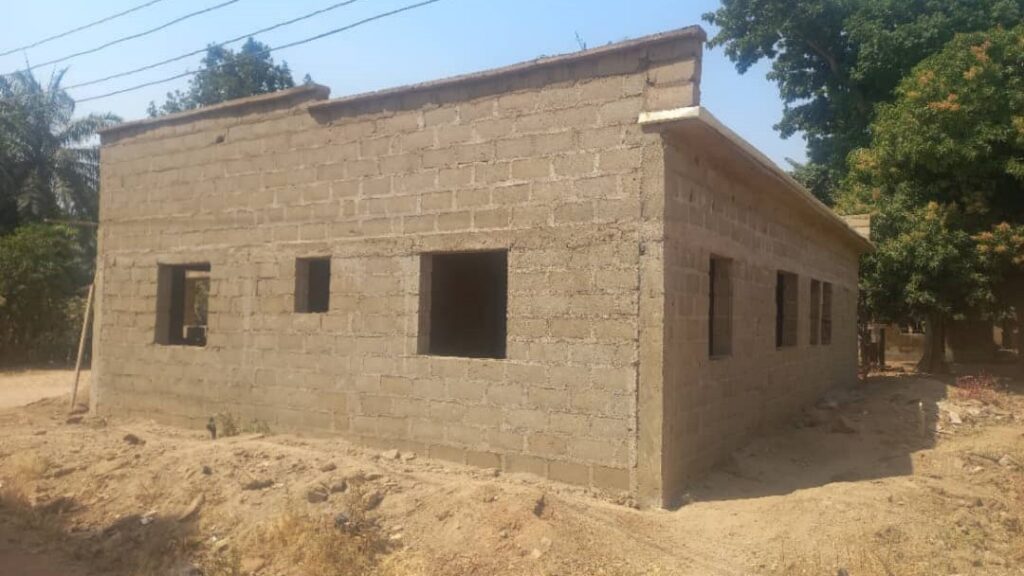 Kogaya himself was affected by the March attack. He waved a hand around the room he sat in, which was still a work in progress. It was undergoing reconstruction as a result of the tragic incident. Outside the door, sand and blocks littered the environment.
That Sunday, Kogaya, his wife and eight children were home when they heard gunshots close by. He did not hesitate. Without waiting to understand what was going on, they drove out of the neighbourhood as fast as they could. That was what saved them.
"It was the next day that we started counting the losses," he said. About 34 people were killed and many houses burnt down. Also, over 30 were injured.
Some of the displaced stayed at Kagoro Town Hall, which became the official Internally Displaced Persons (IDP) camp. There, nongovernmental organisations and the Nigeria National Emergency Management Agency (NEMA) provided food items and clothing. Many victims, however, moved out of the area entirely.
Once, Kagoro chiefdom had 11 districts. But the present state government restructured them into three. Kogaya now presides over five former districts currently called Kukum.
"The other district heads are handling three each, making the districts now a total of three. So, I have the largest in the Gworok/Kagoro chiefdom," he explained.
On March 20, 2022, communities of Tsonge, Kanwai, Agban and Adan, all under the Gworok chiefdom of Kaura, were attacked. Kilometres away, other settlements in the area, mainly Mallagun and Sakong, experienced a massacre on Dec. 18 of the same year. This drove many locals, particularly women and children, to a nearby hospital where they sought refuge every night.
In Agban, reconstructions are still underway, with some of the locals having moved in while others still live with relatives elsewhere.
Living in his kitchen
Dakaci Yashan, 57, is the village head of Adan community. He currently lives in what used to be his house's kitchen. The rest of the structure was not habitable since it was set afire.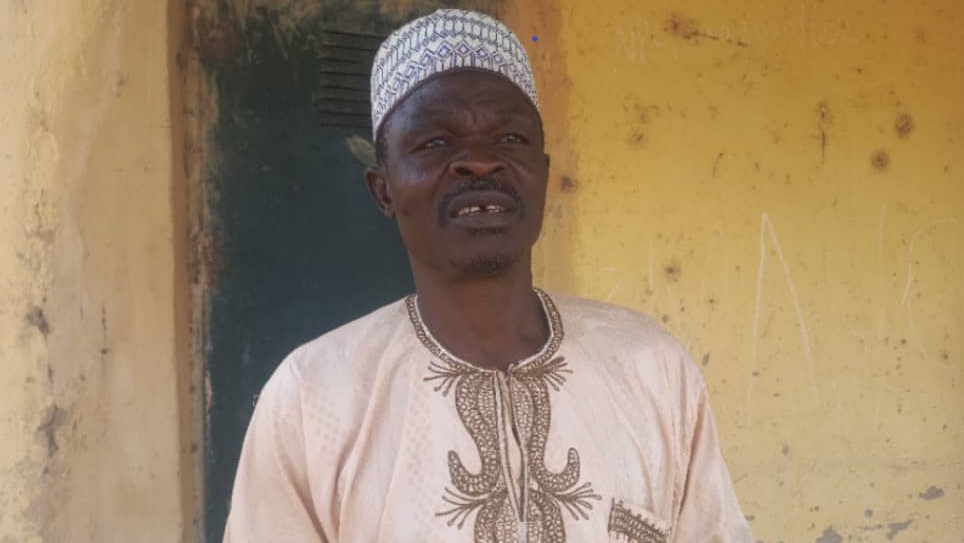 He used to spend the night at Agban, but as his people strived to rebuild their homes in Adan, he saw the need to return. This, he felt, was one way he could motivate them. At the moment, some of his family members reside in Fadan Kagoro, which is the main town of Gworok chiefdom. Others live elsewhere within the chiefdom.
"Since the attack on March 20, 2022, we have just been trying to survive with God's help. NGOs, such as Africa Service, NEMA, and several other organisations help us," he told HumAngle.
This was how they got items like the bundles of zinc they shared among households.
"We want to return to our community but our hands are tied," Yashan continued. "We lost all we had. We are starting life afresh. We don't have the things that would help us. The economic trees we had, the attackers cut them down."
Before now, some of the people made a living farming and selling bananas. But all these were cut down. Presently, only three houses out of the over 100 destroyed in Adan have been successfully rebuilt.
"And the owners of the three have returned," he said. "We are hanging around the primary school we have in Adan. Others have been living far away since they fled. We are in need of help."
---
Support Our Journalism
There are millions of ordinary people affected by conflict in Africa whose stories are missing in the mainstream media. HumAngle is determined to tell those challenging and under-reported stories, hoping that the people impacted by these conflicts will find the safety and security they deserve.
To ensure that we continue to provide public service coverage, we have a small favour to ask you. We want you to be part of our journalistic endeavour by contributing a token to us.
Your donation will further promote a robust, free, and independent media.
Donate Here