Emergencies
Featured
Features
Nigeria's Floods Leave A Trail Of Ruin And Heartbreak — Photo Essay (I)
A look at how this year's flooding has affected schooling, livelihoods, and food security across communities in Jigawa.
Young Aliyu Abubakar wore his beret like a union leader and folded his trousers above his knees to keep them from getting wet as he made his way towards Ganuwar Kuka Primary School. He is a student here. But the buildings were submerged in water and he could not get close.
"I am tired. It has been more than three weeks of sitting and waiting," the young man growled.
Aliyu loves school. Before the flood wrecked his community of Ganuwar Kuka, a suburb of Hadejia in Jigawa, Northwest Nigeria, he would play with his classmates during break time and after closing hours. When the flood came, he thought it would only affect the farmlands and perhaps homes, but not his dream of getting an education.
Ganuwar Kuka looked deserted when HumAngle visited in late October, with structures half engulfed in water, some about to collapse, and others completely damaged. The road, parts of it also destroyed, was buried deep in the water and could only be felt when walking. Worship centres were closed and farmlands were swept away.
"For sixty days, we have done all we could to prevent the water from entering our farms and homes. We have used all the methods we know, from building sand walls to diverting water channels, yet the water came. First to our farms, then our homes," Mallam Abubakar Ganuwar Kuka, 40, a farmer, said while supervising the building of his home. Before the flood, he had owned several farms of rice and millets and had expected a bumpy harvest, but the disaster pushed him into a hard situation. His family currently lives with a relative in Hadejia.
Abubakar said the only help they received from the government was the supply of a small number of grains and mosquito coils.
Communities around the Hadejia and Auyo local government areas in Jigawa are on floodplains and experience flooding during periods of high discharge from the Hadejia river, with the spillover leaving many homeless and hungry.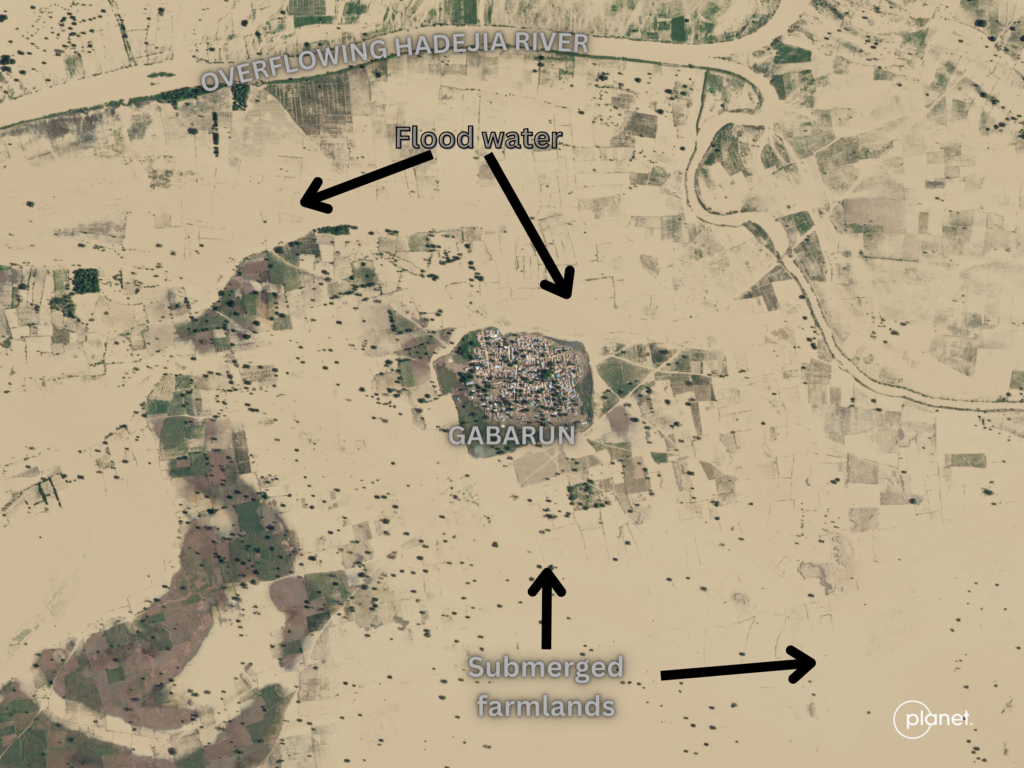 "After the dawn prayer, I remained in the mosque to supplicate. I was just a few minutes into it when I heard loud cries from the direction of my home. I rushed outside and met my house in the water. Some parts are already gone; the house I finished building 29 days ago," Muhammad Abdullahi, 38, a farmer, narrated.
"I have nowhere to go, and I can't do anything except farming. I got tired of staying in an IDP camp. Now that the water is receding, I have returned from the camp to build a room since I cannot restore my house like it was."
After the flood, Muhammad's first wife had to stay at her family house and the second wife, who was pregnant, was traumatised and hospitalised in Hadejia.
For years, the people of Ganuwar Kuka have asked the politicians representing them to build embankment dams where water would be diverted when the Hadejia river overflows. But no known step has been taken in this direction.
"Two years ago, when the government refused to build a wall that will block water from entering our homes and farms, as a community, we contributed ₦1.7 million ($3,830) and built sandbag walls. But the water became too much and the wall collapsed. Now my three wives are in a rented apartment in Hadejia," Ahmed Tijani, 66, a retired civil servant from Ganuwar Kuka lamented.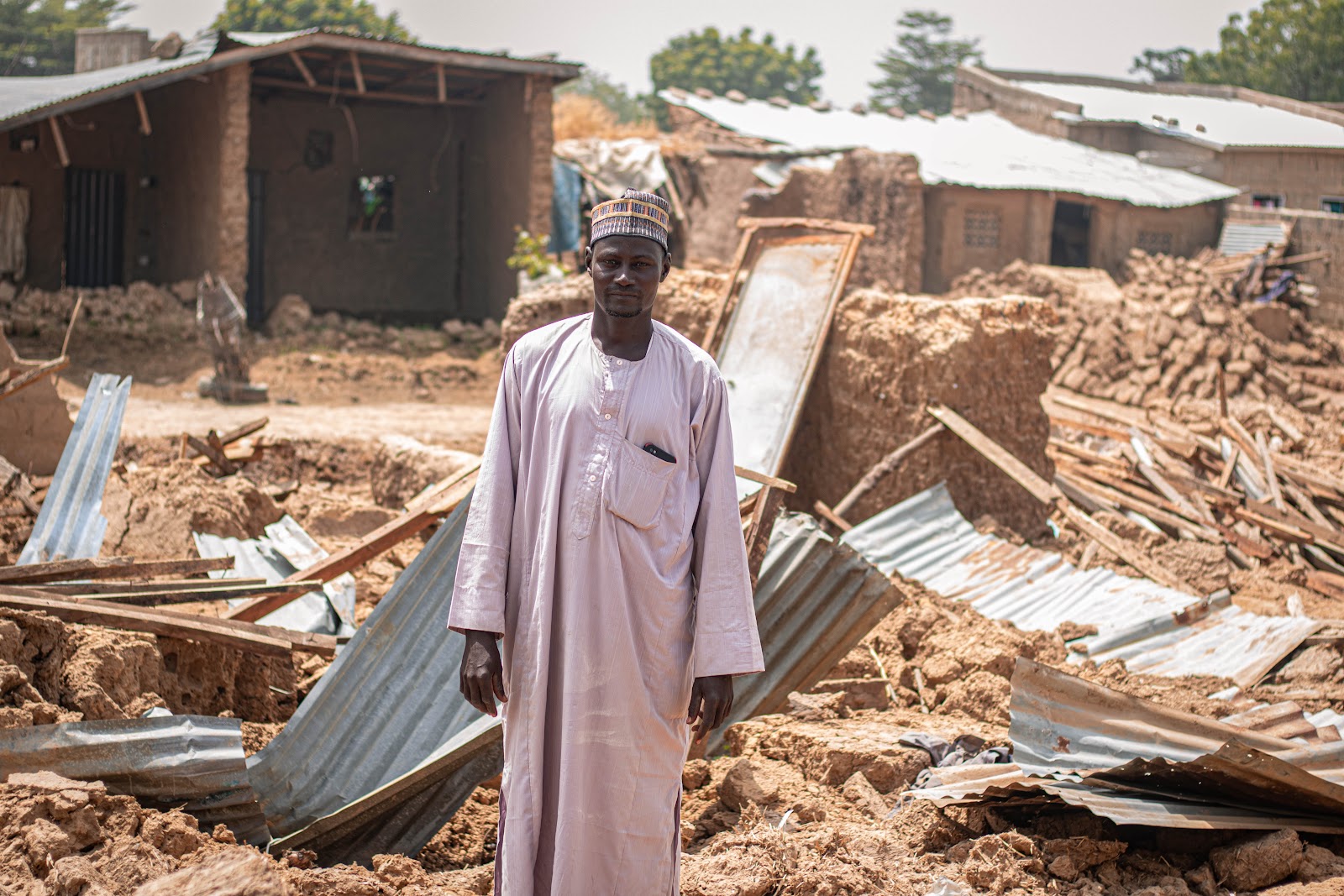 Excited children play and fish in the pools created by the flood around the community, many unaware of possible side effects. As the water recedes, more people return from the IDP camp in Hadejia to rebuild their homes and take care of their businesses, but the community's only school is still closed.
Asides the pause in academic activities, there are concerns about the increased spread of disease and hunger because food and fuel supplies have been disrupted and prices of commodities have gone up.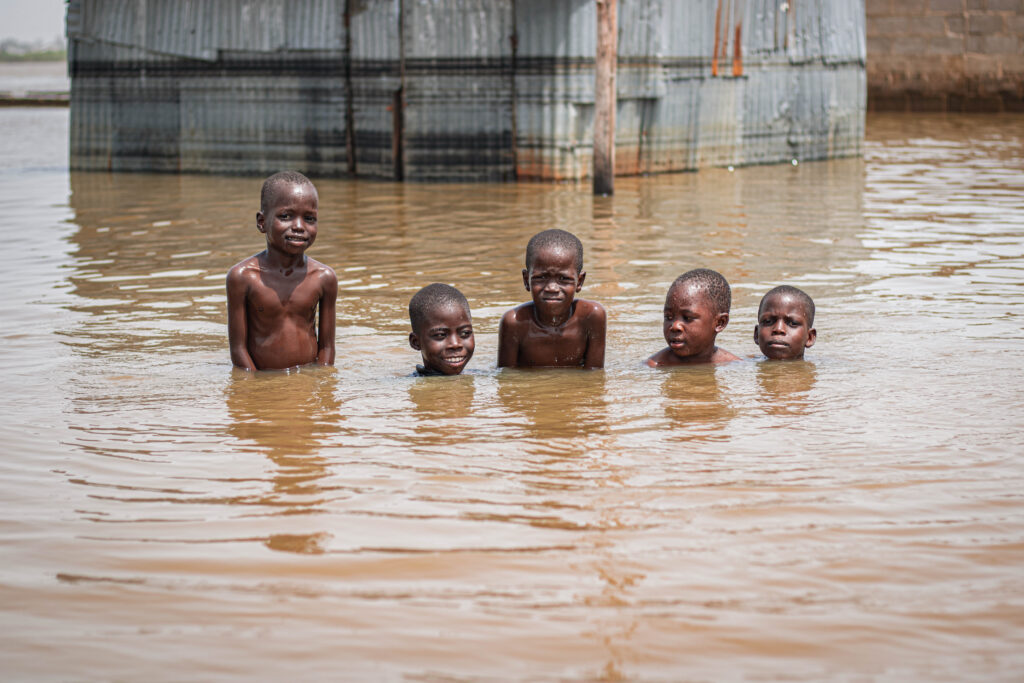 Displaced and struggling
In Hadejia, the Gandun Sarki Primary School was converted into an IDP camp by the authorities when the flood found its way into the Ganuwar Kuka, Marogwado, and Kubayu communities. Chairs were removed from the classes or piled on each other to make space for the displaced people. The rooms had no luxury and only mats were spread on the floor. Women and children clustered together, some cooking rice from a large pot, others styling hair. Everyone went about their business as if nothing had happened, as if they had not just lost so much to the flood.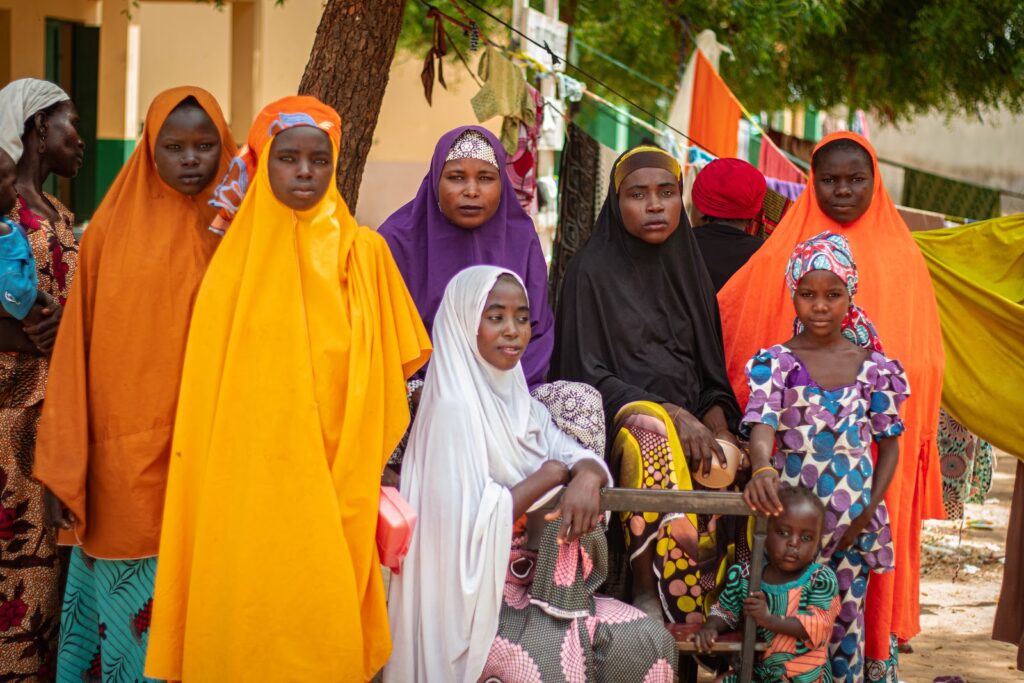 "When the flood happened, we were at home struggling with the water until it overpowered us, so the government gave the directives that we should bring our families to Hadejia," Umar Nuhu, a farmer and fisherman from Kubaya, said, explaining how he came to the camp.
When the water broke into Maragwado and Kubayo, local boats were used to evacuate the people and government officials directed them to go to the same primary school.
"Our house fell when the water entered. We lost everything to the flood. Not even a single grain was left when the government brought us to this camp, where they gave us food and nothing more. I want to go home. My sons have built my hut already; I will leave in two days," Yahanatu Hussaini, 41, a widow from Maragwado, said. She smiled when she talked about going home.
Iyana Bagara, 35, a Kubayo resident, moved with her husband.
"The flood wrecked our community. We no longer have a farm. We do not have food. We have nothing left except each other. I long to return home but there is no home to return to," she said in tears.
"I am a refugee as a result of the flood that destroyed our place of residence and farms. Where my house is located is susceptible to being flooded. Even if I rebuild the house, when the rains come back, it will destroy it. Left to me, I will not go back and build another house there. As of now, I am just here. Whatever happens, because we do not know what to do. We depend on Allah. I am neither sad nor angry. I am just waiting for God's miracle," Auwalu Abdullahi, 31, a farmer living in Maragwado, said.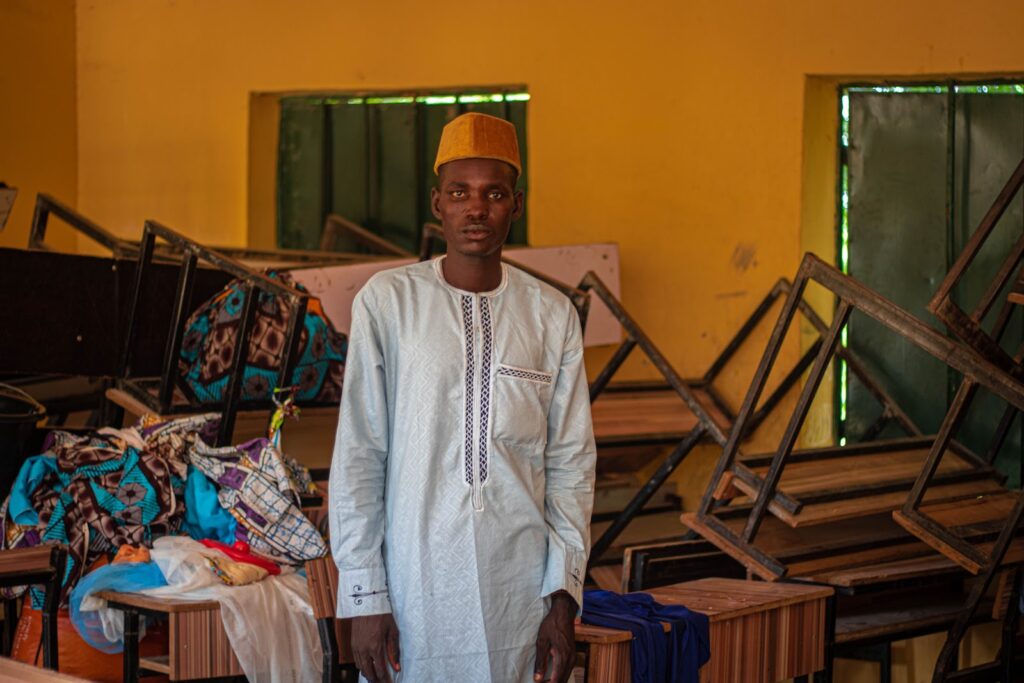 Like Auwalu Abdullahi, most flood victims hang onto God for directions.
Farms suffer, hunger reigns
Mallam Isah Amiyayi rummaged through the bushes for wood with an axe in one hand. He had parked his wheelbarrow at the end of the Branda bridge, which connects the state capital, Dutse, to Birini Kudu, the town housing Jigawa's Federal Medical Centre.
The bridge had been submerged by flood for weeks, leaving travellers from Dutse stranded. For days, Birini Kudu could only be accessed by boat.
Amiyayi found no wood and went deeper into the bush because his family's survival depended on the resource. The flood in Jigawa had left many communities battling hunger as their farms and food stores were washed away.
"I am here to get food. You see that barrow? If I don't fill it with wood and sell, my family won't eat today. Yesterday, I had to take credit to buy food and haven't even paid. Since the flood took over Amiyayi and washed away my farm and store, I have resorted to cutting wood and selling. It is sad what the flood did to me. Before, I was managing myself with the little I had. I couldn't afford to hire people to cultivate my farm. My son and I did the work. Then the flood came," Isah, 60, narrated.
In the Branda community of the Dutse, many farmers were shocked to find their lands getting flooded for the first time this year.
"In our history, we haven't seen this kind of flood in Branda. Our farms have never been flooded, even during the time of our fathers but they were all flooded this year. Six of my farms were flooded. My groundnuts, rice, and millet all died. It surprised me, but I leave everything in the hand of God," Haruna Huba, 50, said.
"I can't say much; it hurt me to talk about what had happened. The water didn't only wash my farms but my storage. It has never happened before; we have never experienced anything like this and nobody can tell us why it happened. Now that the water has receded, I am planting watermelon. I learned they do well after floods," Sali Muhammad Branda, 55, a farmer and butcher in Branda said.
Sali had hoped that the government would come to their aid either with seeds or fertiliser, "but nothing came and nobody came to sympathise us".
The flood had forced many farmers into early harvest, against their plans. Many were only able to harvest less than half of their projection. Others harvested only remnants.
Mohammed Garba, a resident of Amiyayi who farms in Branda, said he only got 10 bags of corn and 50 bags of rice from one of his farms. In the past, he got 100 bags of each produce.
"I didn't get anything from my other farm. We are in a difficult situation; we pray the government comes to our aid."
Some farms in Branda are still logged in water and serve as a ground for children to play and fish. The farmers are worried that they can't access their farms yet.
"I can't access the other end of my farm. It is still submerged and the water has killed my beans and millet. I don't think I can make even a seed from the farm. I pray the water goes soon, so I can see the situation. I pray Allah brings me comfort for my loss," Huddu Isayaku, 50, a farmer in Branda, lamented.
The flood victims all over Jigawa are devastated and unsure of what to do. As the government continues to turn a deaf ear to their demands, many say their hope lies with God.
---
Photography by Abubakar Sadiq Mustapha.
---