Features
Humanitarian Crises
News
Former Boko Haram Captive Fights Against The Odds To Get An Education
After what seemed a fruitless effort to secure her university admission, Zarah Mohammed, the teenage girl who survived multiple abductions, returns to her reclaimed hometown.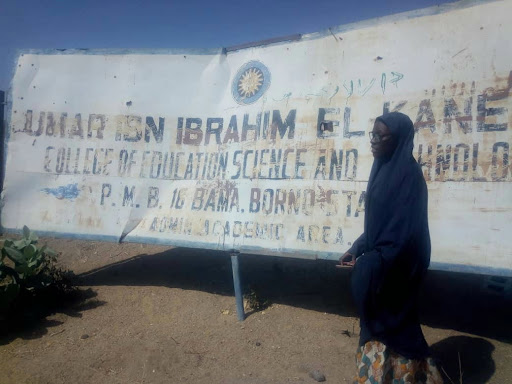 Her birthplace, Bama, holds many bitter memories for Zarah Mohammed. It was there Boko Haram seized her, subjected her to abuses and nearly forced her into marriage after offering a bride price of N5,000 to her terrified father. 
Bama, a major town in Borno, Northeast Nigeria, bears the vestiges of more than the decade long Boko Haram insurgency. The commercial town was, in 2014, completely sacked by the terror group.
Three times the terrorists captured Zarah, and three times she managed to escape. After her stretch of luck, her mother urged her to leave for the state capital, Maiduguri, for her safety. So, she set out, trekking for several days and drinking water from ponds along the way. She had just clocked 13 at the time.
Now, seven years later, at the age of 20, she returns to her family in Bama, a town slowly returning to normalcy. However, residents still go to great lengths to survive.
Zarah had, in June 2021, given up her university education because the government that promised her and other girls a bursary had allegedly failed to pay their tuition on time. 
HumAngle had exclusively reported Zarah's story of courage and resilience, especially how she intended to pursue conventional education as her non-kinetic way of fighting the extreme ideologies of groups like Boko Haram. 
Though disappointed that she could not obtain the bursary to further her university education, Zarah is not giving up easily. She opted to return to Bama, her hometown, even though the place reminds her of the most challenging and traumatising moments of her life. 
Zarah said three "strong reasons" motivated her return. 
"I know it is extremely dangerous living in Bama, but my poor mother still lives there, and the college in Bama has been reopened, so I hope to enrol there for a diploma programme," she said. "I also want to see if I could start up something like evening classes for many of the kids out there in Bama whose parents have not been able to get them enrolled in school." 
With the help of her mother, Zarah said she was able to save some money off the knitting and sales of local caps to pay for her tuition at the college. She is currently studying ahead of her first-semester examination as a Diploma Student of Accountancy. 
Life in Bama
As one of the communities liberated from Boko Haram's grip, Bama has one of the largest IDP camps in Borno State. The one-time commercial hub of the state hosts displaced persons from villages across the local government area. HumAngle learnt that it is still unsafe to live in villages outside Bama town.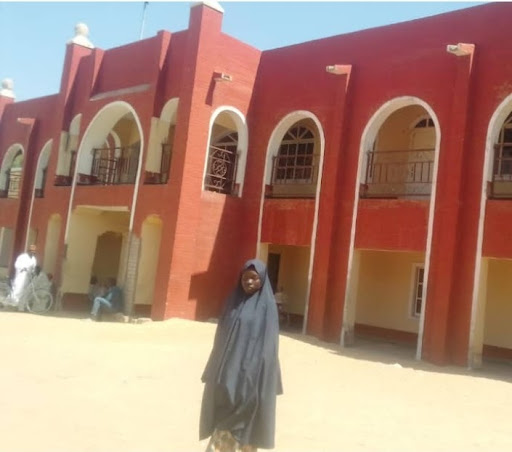 With her dreams firmly held in her palms, Zarah said she would not let go even if it entailed going back to the den of terror to make it a reality. 
"I could not continue with my university programme because our tuition was not paid by those who promised to," she explained. 
"We could not sit for the test and exams. We registered for the JAMB exam when we least expected we would have the money to pay; hence I did not get the required cut-off points. So, I had to make up my mind to return to Bama after the government had reopened the College of Education here." 
"The risk is there, the experience still haunts me, but if that's the only way I can afford the education that I so much desire, then the risk is worth it," she added. "It was not easy, but Alhamdulillah, with the help of my mother, I was able to pay the tuition fees."
In Bama, Zarah is happy to reunite with her mother and other siblings. But the town of her childhood currently lacks the freedom she once enjoyed while growing up. 
"We are here in Bama, but there is no safety. The streets are usually quiet, and there are a lot of places we still cannot go. I still avoid all the places I was held during my days of captivity. I still have those terrifying memories coming back each time I think about those places." 
Attacks outside Bama
Zarah said though the entire Bama town has been surrounded by trenches and parapets dug up by soldiers, they sometimes have to stay awake all night "whenever we hear distant gun shooting of the terrorists."
About a week ago, Boko Haram fighters reportedly attacked Awulari, a farming community, and killed two soldiers. 
"I am still scared of going behind our house because of the fear of likely attacks," Zarah said. "No one goes to farm here. It would be suicidal to dare step an inch outside the parapet."
People's inability to cultivate their food has worsened the economic situation in the town. "There is hunger here in Bama, and food is a luxury here," she said. 
Involuntary fasting
Zarah's father is dead, and most of her uncles were abducted by Boko Haram years ago, so her mom has had to assume the position of breadwinner for a family that comprises herself, her younger sisters, and three other relatives the war has orphaned.
"It is not easy for us and many other poor families here in Bama," she said. "With knitting of local caps as our only source of income, sometimes we go eating once a day. It's the only way to survive."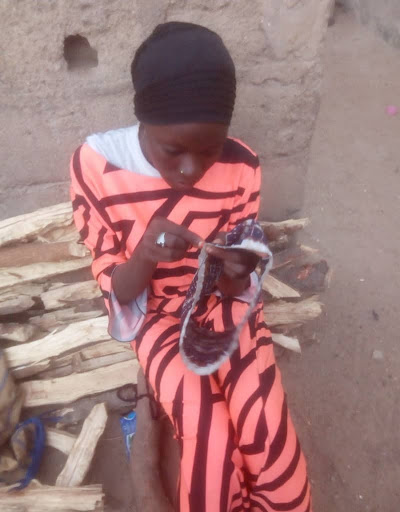 "We can easily count the days we had lunch because it is on a few occasions that I can remember. Once we eat the main dinner at night, breakfast is usually very light. With a hundred naira or N150, we can have a bean cake or moi moi from the vendors, and everyone uses that to hold the stomach. No one looks forward to lunch. The little children used to cry during lunchtime but gradually have now gotten used to skipping the afternoon meal."
For the caps, it takes four to five weeks to knit each one.
"So if one or two of us joins our mom to knit the caps, then we can get at least six to seven thousand naira after we sell each of the two for N5,000 to the dealers. That's what we depend on to feed," she said. 
Joined by a friend  
HumAngle had told the story of another Boko Haram escapee, Aisha Abba, who shares a similar fate with Zarah. The two girls met at an IDP camp —after their escape— where they became friends. 
Like Zarah, Aisha, too, couldn't continue with her university studies at the Borno State University, Maiduguri. Being an orphan whose parents died during their displacement, Aisha had to ask Zarah's family to stay with them in Bama, so that she too could pursue a diploma programme at the college. 
"It was delightful having my sister in fate living with us in Bama," Zarah said. 
"Aisha was very sad when I told her that I'd made up my mind to return to Bama. She is an orphan, and she, too, is from Bama. But she has no one to return to because all her relatives, except for her sister, who is married in Maiduguri, are no more in Bama. 
"We both shared the same dream of getting an education even before we got married. She later called me and said she would want to pursue her education at the College of Education in Bama if my mother would permit her to stay with us. And I told her my mother is like her mother; she won't have any problem with that." 
Both girls are now furthering their education in Bama, the town where they lost a great many loved ones and almost lost their own lives.
---
Support Our Journalism
There are millions of ordinary people affected by conflict in Africa whose stories are missing in the mainstream media. HumAngle is determined to tell those challenging and under-reported stories, hoping that the people impacted by these conflicts will find the safety and security they deserve.
To ensure that we continue to provide public service coverage, we have a small favour to ask you. We want you to be part of our journalistic endeavour by contributing a token to us.
Your donation will further promote a robust, free, and independent media.
Donate Here