Armed Violence
Displacement & Migration
Features
News
From Captivity To University: Bold Borno Girl Who Escaped Marriage To Boko Haram Thrice (1)
Twelve-year-old Zarah was abducted by Boko Haram several times and prepared to be forcefully married to a member of the terror group but her burning passion for education fired her courage to resist.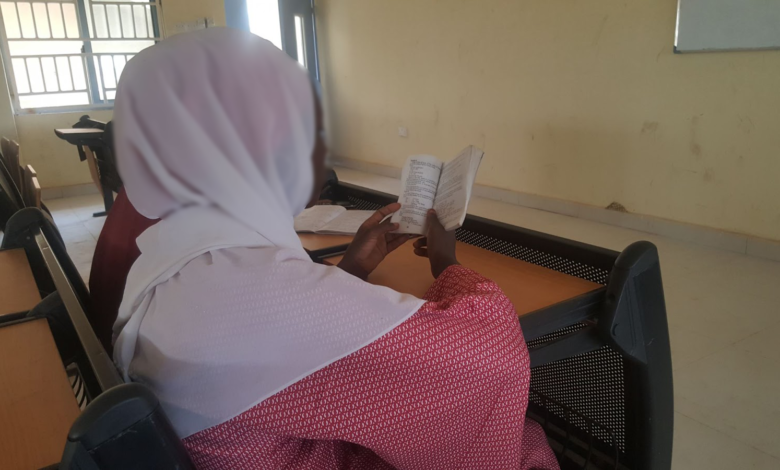 It was 9 a.m. in Maiduguri, but the sun was already scorching at 30°c. It is typical for the city to have such scalding weather that heats up to 43°c, especially between March and May. Only those who are devoted to accomplishing their outlined daily schedules could brave the blazing heat of Maiduguri in these months.
Eighteen-year-old Zarah Mohammed hopped off the city bus that stopped right in front of the Borno State University. She quickly adjusted her veil to shade her face from the heat of the maturing sun as she walked briskly through the gates of the university.
She was already thirsty and slightly dehydrated but drinking water was the minor urge in her mind at the moment. It was the month of Ramadan and she was fasting.
Zarah knew the day would be tough. Her lectures would start at 10:30 a.m. Many students consider learning in this period as torture. But such suffering never worries Zara, who always says she had experienced and survived worse situations growing up as a child.
Despite the challenges ahead of her day, she kept a bright smile on her face as she walked the nearly 600 metres distance from the university gates to the lecture halls. The sparkles on her face echoed the thoughts in her mind each time she walked towards the large lecture hall complex of the newest and "fastest-growing" university in Northeast Nigeria.
To many students, being an undergraduate is an achievement. But to Zarah, it is much more. "It is a lifetime accomplishment," she'd say.
Unlike other kids, she did not have a paved path to get to the university gate. Her story is that of a child born without a silver spoon but graced with uncommon determination and the ability to battle against several hurdles while seeking education.
At the lecture hall, Zarah mingled with her fellow students as they all exchanged pleasantries. She looked for an empty desk and sat down as she checked the time on her intelligent mobile phone. She still had about an hour to her first lecture.
Zarah had agreed to meet and share part of her story with HumAngle at the university campus. The story of a 12-year-old girl whose burning passion for education fired her courage to resist being forced into marrying Boko Haram terrorists. It is a terrifying anecdote of a little girl's escape from captivity to freedom and educational emancipation. Though it all started about six years ago, Zarah still recalled the episodes with gripping clarity.
The seizure of Bama
Zarah said she was 12 years old in 2015 when Bama town was attacked and brought under the control of armed insurgents.
"About six years ago, Boko Haram entered Bama after sending warning letters to us that they were coming," she said. "They attacked Bama, sent the security forces fleeing and held us captives."
She, her siblings, and other kids from her neighbourhood were washing clothes at the stream at the outskirts of the town when Boko Haram attacked. They did not sense anything had gone wrong until they returned to the city and found the streets deserted.
"Boko Haram mounted their flags with an Arabic inscription. No one was seen in our streets. Everywhere was deserted. Suddenly, as we were contemplating the situation, some Boko Haram gunmen appeared from nowhere and ordered us to come," she recalled.
"At gunpoint, they said they were taking us away to improve our faith. We were so terrified. That was how my sisters and I were taken. They kept us in a house. But after about a week, a military jet came to drop a bomb right behind the house we were being detained in. So when they began to exchange first, we seized the opportunity to escape and ran home."
But Zarah was the only one who made it home safely. To date, she does not know where her two younger sisters are.
Her parents were terrified as they saw her running into the compound. The terrorists had been picking all young girls and taking them away. Any parent caught hiding their girls were tortured or shot dead.
"My mother had to hide me in her room behind the door and sometimes under the bed each time the Boko Haram terrorists came to check for me in our house," she said.
She hid for days until her kid sister, who was about three years old, busted her cover.
"There was extreme hunger in Bama since Boko Haram took over the town because no one could go out or look for food. The only people who had such luxury were Boko Haram fighters and they used it to their advantage. My little sister, Aisha, being a child, fell into their trap. They offered to give her N20 to buy bread if she could reveal to them where our parents were hiding me. And she obliged."
"That was how I was caught for the second time and dragged to the house where they were keeping us," she narrated. "They threatened to slaughter me if I ever attempted to escape again. Within the first weeks of our abduction, they gave us some pounded beans to eat, which led to the death of many people who got sick."
Zarah said she was held in the house with other girls for three months, during which their abductors would periodically profile them for forced marriages based on their beauty, age, and skin colour.
"Boko Haram took some women and grown-up girls to the deserted palace of Shehu of Bam, where they profiled us for forced marriages," she said.
Zarah, who was in her early teenage years, was not immediately selected because she fell sick while at the palace.
"The Boko Haram men took me to the hospital, and it was there I developed the courage to escape. But I was too weak to walk, so I had to remain in the hospital till they returned me to the palace," she said.
When she recovered, the terrorists visited Zarah's father and offered him a dowry of N5,000 for his daughter's hand in marriage.
"My father resisted, but he was warned that they could tie him up and dump him inside the prison. So he reluctantly took the money and said they could go with me but pleaded that they should not harm me … My father allowed them because he had no option," she said in tears.
"I cried for days as they held me captive in one of the houses near the palace. My health deteriorated, so they had to return me to the hospital for medication and then brought me back."
The escape
One thing that was working for Zarah was her determination to escape. She refused to resign to fate as many other girls and women in captivity had done. One night, she found an opportunity to sneak back to her parents and seized it. It was before she had been betrothed to any Boko Haram member.
"But they had selected the light-skinned females and took them away for marriage with some top Boko Haram commanders – some were even taken far away from Bama," she said.
"They said they would be coming back to select the dark-skinned ones for the following category of fighters. After about a month, some of us managed to scale the fence of the house to escape. But we didn't go far when they spotted and intercepted us.
"They dragged us to the front of the palace and passed a judgment on us for trying to escape. They sentenced us to 100 strokes of the cane every day for three days. Every morning and evening, I would be flogged 50 times. The same thing applied to another girl who attempted escaping three times."
Zarah said the dark-skinned set of girls were selected and taken away in the next batch.
"I was not picked because I was very sick and weak. I had refused to eat much of what they gave us to eat," she explained.
Zarah was retaken to the hospital for treatment even though she had been profiled to be taken away amongst the "girls with a pointed nose".
"I had another opportunity to escape some months later. It was around 6:30 p.m. during the late evening (Maghrib) prayer. I was at their hospital when I saw them praying," she recalled.
Even as a 12-year-old village girl, Zarah was wise enough to understudy the routines of her abductors until she noticed a loophole for yet another escape.
She shared her plan with another girl, who was also there on admission at the hospital and persuaded her to join her.
"I noticed that during prayer time, no one keeps guard because all of them would join the congregation for prayers," she said. "So we both decided to flee because when they were in prayers, they hardly got distracted. I don't know the other girl's name, but we both were united by a common mission — an escape."
The nearly 12 years old Boko Haram insurgency has negatively impacted the education sector in Northeast Nigeria. At least 900 public schools have been destroyed in Borno State alone — a situation that has denied thousands of children, especially the girl child, access to education.
With virtually all her fundamental rights denied, the girl child is also exposed to all kinds of gender-based violence, including forced marriages, rape, and trading of sex in exchange for meal tickets at displacement camps.
Cold reception?
After escaping successfully, Zarah bolted towards home where she knew her parents were. The other girl, too, took a different path. But she did not receive the joyous reception she had expected.
"I found my way back to the house for the third time but my mother did not welcome me because she feared for my life," she said.
"She said she could not accommodate me in the house because my being around would bring more calamity for everyone. She insisted I should leave the house and find my way to Maiduguri or anywhere away from Bama.
"My mother cried and said her already weakened heart would not be able to contain the agony of seeing me captured again and dragged away."
Without as many shoes on her legs, Zarah had to leave where she had always known as home and headed for Maiduguri, sticking to bush paths to avoid detection.
"I was just 13 then. I understood the plight of my mother because two of my younger sisters, Baana and Yakaka, were taken away, and never returned to date," she said.
"We were first taken away on the same day. But at the palace yard where they kept us, they profiled us based on our skin colour or facial beauty. Either you are light-skinned, dark with large sexy eyes, a long nose, or bigger curves… They had categories of husbands for each set of women, and that's how I got separated from my siblings."
Baana was only ten years old at the time, while Yakaka was eight.
Zarah said she trekked for three days from Bama to Konduga, a distance of about 31 km. Her little legs could only cover short distances before she got tired. She kept breaking up her journey to rest during the day and continued at night.
"I had no food to eat but kept on drinking water from ponds along the way," she said.
"I avoided daylight movement because the Boko Haram gunmen patrolled the bushes and highway during the day. I was hungry and exhausted, but the pangs of survival bites more complicated than that of hunger."
"I no longer fear death because I have seen many deaths and how easy precious life leaves the body when shot at or slaughtered."
She reckoned it was either she escaped to freedom, or she died trying.
————————————————————————————————————————————————-
This investigative report is a partnership between the African Transitional Justice Legacy Fund and HumAngle Media under the 'Mediating Transitional Justice Efforts in North-East' project.
---
Support Our Journalism
There are millions of ordinary people affected by conflict in Africa whose stories are missing in the mainstream media. HumAngle is determined to tell those challenging and under-reported stories, hoping that the people impacted by these conflicts will find the safety and security they deserve.
To ensure that we continue to provide public service coverage, we have a small favour to ask you. We want you to be part of our journalistic endeavour by contributing a token to us.
Your donation will further promote a robust, free, and independent media.
Donate Here