Development
Features
News
#EndSARS Anniversary: Nigerian Protest Mobilisers Disappointed But Hopeful
The reaction of the Nigerian authorities to peaceful demonstrations against police brutality a year ago broke the hearts of the young mobilisers, but not their spirits. Unfazed, many are thinking of new ways to improve the lives of their countrymen.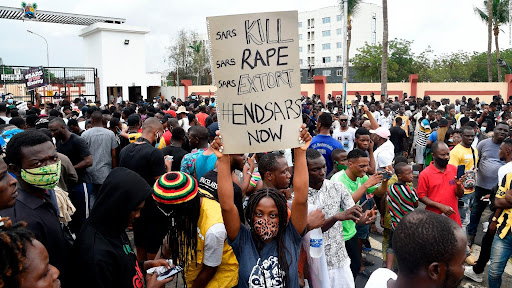 Solomon Adewole has seen first-hand how Nigerian police officers abuse their power to harass and extort people. He himself had been confronted thrice at least. One of those times, the officers threatened to shoot him for refusing to submit his phone. He witnessed a different incident where members of the notorious police unit, Special Anti-Robbery Squad (SARS), bundled a young man into their vehicle for no obvious reason at Iyana Church, a place in Ibadan, Southwest Nigeria.
So, when in Oct. 2020 he learnt of the anti-police brutality demonstrations taking place in Lagos, he immediately knew he had to join in and get others to participate in Ibadan, the capital of Oyo State. Thousands of people trooped out and the feedback he received from residents, both young and old, convinced him that the problem with the policing system was deep and widespread.
"We came out to ensure that we were unified and the government saw that something had to be done. Anyone who joined had a reason," says Adewole, who is the Coordinator of the YALI Network in Oyo.
Aside from physically mobilising people, he granted multiple interviews and visited local radio stations to create awareness about police impunity and needed reforms. He even had a close shave with death when travelling soldiers could not pass through the route occupied by the protesters and one of them cocked his rifle in readiness to shoot. "About seven of us immediately moved close to him and held him tight to ensure that he was unable to pull the trigger. Then his boss intervened and it was settled," Adewole recalls.
The #EndSARS demonstrations lasted about two weeks in 2020, starting from Oct. 8 and spontaneously sweeping across various parts of the country. For many years, Nigerians had endured the violation of their rights by members of the police unit established in 1992 to tackle robbery and kidnapping. The officers became infamous for torture, extortion, illegal arrests, and extrajudicial killings, while the authorities failed to bring them to account. James Nwafor, the Officer Commanding (OC) of the unit in Anambra State, one of the most notorious, went on to become an aide to the governor until the protests led to his sack last year.
The #EndSARS campaign was compelling both offline and online. The hashtag was the topmost global trend on Twitter as early as the second day of the protest with over two million tweets. The following weekend alone, over 28 million tweets with the hashtag were recorded. Hopes were high — until hoodlums, many of them found to have been hired, hijacked the protests and then the eventual military clampdown that led to a further loss of lives.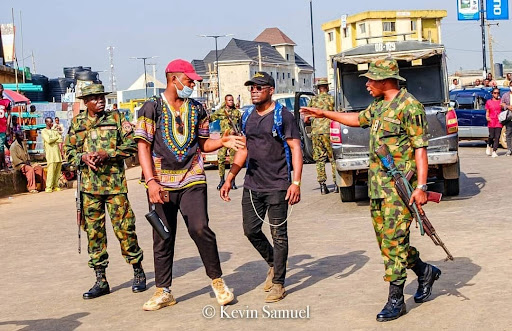 Deaths and dashed hopes
The Nigerian government did not completely ignore the demands of the protesters. On Oct. 11, 2020, the police dissolved SARS "with immediate effect" and later announced that it was replacing it with a Special Weapons and Tactics (SWAT) unit. Judicial panels of inquiry were also set up in different states to investigate allegations of police brutality.
However, the government has yet to implement most of the recognised five-point demands, including releasing arrested protesters, making sure all victims of police brutality get justice, prosecuting erring officers, psychologically assessing all disbanded SARS officers before redeployment, and adequately raising money paid to police officers.
On the evening of Tuesday, Oct. 20, soldiers stormed the Lekki tollgate in Lagos, the largest protest location, and opened fire on unarmed demonstrators as they sat, singing Nigeria's anthem and waving its flag. Many died. Amnesty International said at least 10 people were killed. Obianuju Catherine Udeh, aka DJ Switch, who famously streamed the incident on Instagram, said they counted at least 15 people who had been gunned down. The Foundation for Investigative Journalism (FIJ) documented 20 deaths, suggesting in a publication last January that there were many more casualties based on reports of missing people and others who lost loved ones but were unwilling to go on record.
Two days after the massacre, President Muhammadu Buhari delivered a speech, which contained no mention of it, but rather warned that the government would not condone disruptions of peace. A year later, the government has still not admitted wrongdoing, making young Nigerians more sceptical about the sincerity of those at the top.
"One of the reasons I am disappointed is that some of the things we advocated against are still in place," Adewole tells HumAngle. 
"I don't think there is any unit monitoring the Nigerian police across the roads in this country. Up till now, you still see them collecting money from public transport drivers and they are not being monitored. There is one in my area, I have never seen him in a uniform. He acts like a thug but he is a policeman and he is there to collect dues every single day. I think the whole monitoring team for the Nigerian police force is a farce."
When Emitomo Tobi Nimisire joined the protests in Abuja, it was because the mass action motivated her and she imagined, "Maybe it would actually lead to something positive."
"Many of us have kind of lost hope in this country. But for a second, the protest made me believe that maybe the government would actually listen," says the communications strategist and Sexual Reproductive Health and Rights (SRHR) advocate.
Hauwa Saleh, who joined two protest events in Kaduna, shared a similar sentiment, saying she participated because she "desperately wanted to believe this country is capable of changing."
Both Nimisire and Hauwa were disappointed with the way the events turned out. Nimisire says it is because the government could have responded differently and that it had the power to do better but chose not to.
She adds that she is unlikely to participate in such protests again given similar circumstances.
"There was a time I was really scared because you know they said they were tracking protesters' phones," she explains. "About the time, an unknown number called me and I was so freaked out. I didn't know it was for an interview. I was so freaked out, I didn't pick the call. I had mild anxiety. That's the kind of effect it had on me. So, I'm not sure I'll make those choices again."
Other young Nigerians who mobilised for the protests expressed similar dissatisfaction with the outcome.
Raheem Gbolahan Hammed, a policy consultant who joined protests in Alausa, Lagos, for several days before helping to organise one closer to home in Ayobo-Ipaja, complains that the police still kill, arrest, and detain people unlawfully. Also, some of the arrested protesters have yet to be released and people like DJ Switch who are in exile do not feel safe returning to Nigeria.
Another young activist, Baliqees Salaudeen, had told Al Jazeera, at the height of the campaign in 2020, that she was "really proud of this movement and I believe we're making progress". She was one of the prominent faces in the protest in Kwara, North-central Nigeria, and had led a Muslim Prayer Walk.
"I was really hoping that there would be a lot of sustainable change in the security sector, and right now I can't say I am satisfied with the result we are getting," she now says. "I recently saw in the news that a police officer raped a young lady somewhere in Nigeria and these things are going on every time but not every one of them makes it to the news."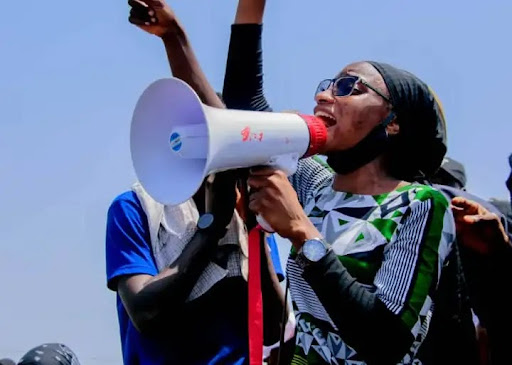 Charting a way forward
Seeing how hostile the government can be to mass actions organised to demand change and accountability, many young Nigerians are now channelling their efforts to civic engagement, political education and participation, electoral reforms, and public enlightenment.
They urge the authorities to uphold the rule of law, protect citizens' rights, and curb insecurity at all levels.
"We need to invest more in motivating our police officers and other security agencies to do the right thing," recommends Salaudeen. 
"If there is a proper security system, we will be able to go to farm without worry. We will be able to drive our Benz without anyone saying, 'Why are you driving Benz?' We will be able to work on our phones and carry our gadgets without accusations of being a Yahoo boy or girl. We will be able to go to shopping malls without looking back and wondering if our cars are safe. We will be able to walk on the streets with our loved ones without feeling unsafe. Our children, my sisters will be able to go to school without us panicking at home and worrying if they will be back. Everyone can travel by road, by train, or by flight without feeling insecure."
Gyang Emmanuel, who has been a victim of security personnel brutality and protested last year in Jos, Plateau State, says he had hoped for police reforms too. "But what I've realised is that that doesn't happen in isolation. You might want change but one protest is not going to fix the police because the police is not dysfunctional in isolation; it's a whole systemic thing," he tells HumAngle. 
"What will change Nigeria is not protest or activism as such. It is participation in politics," he concludes.
One of the benefits of the campaign, he observed, is that it was an eye-opener for young people like him, exposing them to "the harsh realities of how things work in the country." Adewole sees a silver lining too. One, he thinks the government now appreciates that young Nigerians know what they want and are willing to press for them. Also, he has noticed that the police officers who used to extort civilians around Iyana Church in Ibadan have not returned to the spot since the protests, as in other places.
"It might not be big. It might be small, but I think it is a step in the right direction," he says.
---
Support Our Journalism
There are millions of ordinary people affected by conflict in Africa whose stories are missing in the mainstream media. HumAngle is determined to tell those challenging and under-reported stories, hoping that the people impacted by these conflicts will find the safety and security they deserve.
To ensure that we continue to provide public service coverage, we have a small favour to ask you. We want you to be part of our journalistic endeavour by contributing a token to us.
Your donation will further promote a robust, free, and independent media.
Donate Here