Features
Humanitarian Crises
News
When A Clinic For IDPs Shuts Down: People Suffer, Children Die
Hunger, sickness, and deaths. Left to cope alone for years, an Internally Displaced Person (IDP) living in Wuro-Ahi camp, Adamawa, blames the government for neglecting their needs.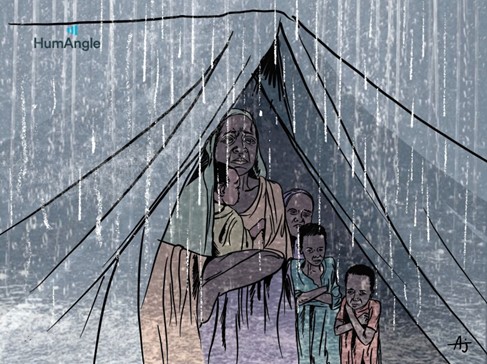 As clouds turn grey and the wind blows briskly, residents of the Fufore area of Adamawa, Northeast Nigeria, heave a sigh of relief as this means a respite from the town's high temperature. But for Internally Displaced Persons (IDPs) in camps and camp-like settings, it may mean losing a child.
Once the rain begins to fall, Safiratu Ayuba, 46, gathers herself and her children to the corner of their tent, holding the youngest to her body in an attempt to keep her warm, as water floods their shelter and wets their sleeping mat.
One time, as Safiratu held tight, her daughter coughed and coughed without gaps, shivering, till she drew her last breath and became still.
"When the children start coughing, it is impossible for them to stop within a day or two. So when she went silent, I knew she was gone," she recalls.
Since 2014, when Safiratu and her family left their home in the Gwoza Local Government Area (LGA) of the neighbouring Borno State due to the insurgency, their lives have taken a drastic turn. Their health worsens during the rainy season which usually lasts from May to September in Adamawa.
For her, it is usually pain in the waist, back, and knees; for her children, it is cough and fever. These ailments were easily managed until the camp's clinic closed in June last year.
Giving up home to terrorists
Safiratu and her family are amongst those who survived the Gwoza Massacre that happened on June 2, 2014, where, Boko Haram terrorists dressed as soldiers, razed four communities, killing at least 400 locals and displacing thousands.
While trying to flee from the terrorists, they had left their home in the middle of the night while it was raining heavily, and swam through a turbulent river to reach a safer place.
"It rained so much that night that we could barely see what was in front of us. I know I held on to my children tightly so none of them would drown. At that time, my husband had run in a different direction and I could not find him until days after."
Safiratu believes that was the point her daughter got sick, that was the point she started to experience crippling anxiety when the sky became cloudy.
For a year after they escaped, she and her family settled in a school right after the Cameroonian border. Safiratu reckons that it was the most challenging time of her life.
"There was hunger. The Cameroonian government did not assist us and for days we had nothing to eat. There was also sickness, children were terribly sick because it was cold and we didn't have anything," she recalls. "Till today I suffer from pain in my joints especially when it rains."
They would later find their way back to Nigeria through Madagali LGA in Adamawa State, also in the northeastern region, and then to Wuro-Ahi camp in the Fufore area of the state.
After the clinic's shutdown
When the clinic was shut down in June 2021, ailing IDPs were left to fend for themselves. HumAngle confirmed that the nearest hospital is about two kilometres away and that IDPs have to trek there. Safiratu reveals that most times it was on the way to the hospital that the ill person dies.
Safiratu's daughter died in August after the clinic was shut down and, during that period, she claims that 17 other children died too. "There is hunger; there is poverty; there is no medicine. For 15 days we were burying children who had died from fever or cold, in one of those days we buried three."
She explains that, sometimes, even when one opts to go to the hospital, they would have to seek financial help from fellow IDPs. She does not think this is proper as everyone lives from hand to mouth, trying to survive the days as they come. She says that it was why she chose to rub her daughter's back and chest with Robb [heat balm] and gave her crushed garlic boiled in water as a remedy for cough.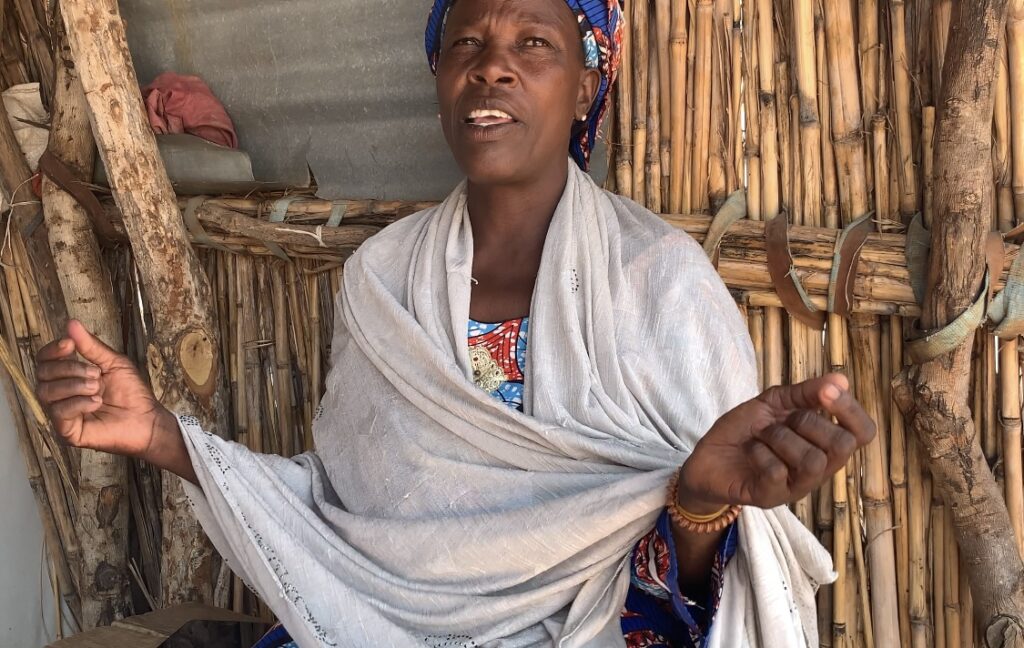 Aishatu Aminu, who was a midwife at the camp's clinic before it was shut down, explains that the facility was assisted by the United Nations Children's Fund (UNICEF) and had been operating since 2016.
"Then, the organisation assisted us with equipment and medicine every month and we were paid frequently," she says. However, this support began to weaken towards the end of 2020.
"There were lesser drugs for the patients but we were still paid. The organisation even sponsored the renovation of the clinic and did some maintenance. They drew water to the building and there was a standby solar system."
Aishatu says everything seemed normal. Even when the drug quantity became lesser, the IDPs did not complain and would ask for prescriptions so they could get their medications from nearby drug stores. At least, they had someone who would prescribe the drugs and follow up with them. "The IDPs co-operated."
By April 2021, UNICEF had announced that the state's primary healthcare agency should take full management as they withdrew their assistance from clinics in IDP camps all over the state due to a lack of funding.
There were negotiations between the government and the organisation, but by June 2021, the organisation withdrew assistance leaving the state to fund the clinic themselves. According to Aishatu, "Our allowances stopped coming too, but some of us, especially the midwives, stayed for a month after, then we left."
Dr Abdulmalik Garba, a medical expert who has carried out medical outreaches in IDP camps, told HumAngle that when it rains, children are ideally meant to wear thick clothing that protects them from the cold because of their relatively weaker immune system.
"When the weather is cool, cold usually penetrates the body through the bottom of the feet or through the scalp of the head. When it goes through the head, it can lead to blocked sinuses, which results in coughing."
He explained during a phone conversation that it is usually a mild illness that can easily be treated with medication but in the absence of such medication, the cold can build up and cause inflammation in the chest.
Most times, the cough is not a result of a common cold but pneumonia or tuberculosis. "For pneumonia, there are two types; neonatal and acquired pneumonia. If children are not born with it, they can acquire it in conditions where proper care is not taken in environments that are very cold, and if proper testing is not done, it can be misdiagnosed."
Dr Garba admitted that overall lack of proper medical care could cause even mild diseases to become fatal. This is because infections tend to develop, especially in a situation where constant rain is a trigger.
Eight years at Wuro-Ahi camp
Safiratu describes living as an IDP as taking the days one at a time. "Today, you may get food and tomorrow, you will not. Tomorrow, you could get assistance and the next day you will not. Those that have died are resting, for us that are still here, well, alhamdulillah [we thank God]."
She says at times when she has enough money, she tries to farm but the livestock that is being herded around the area eats her produce before she gets around to harvesting it.
"Every year, I have battled with the same problem. It is not like I can afford fertiliser so my crops can grow plenty, most times, weed covers it and then livestock eats it. I can't even do petty trading because I don't have the money. My husband farms too and he faces the same problem."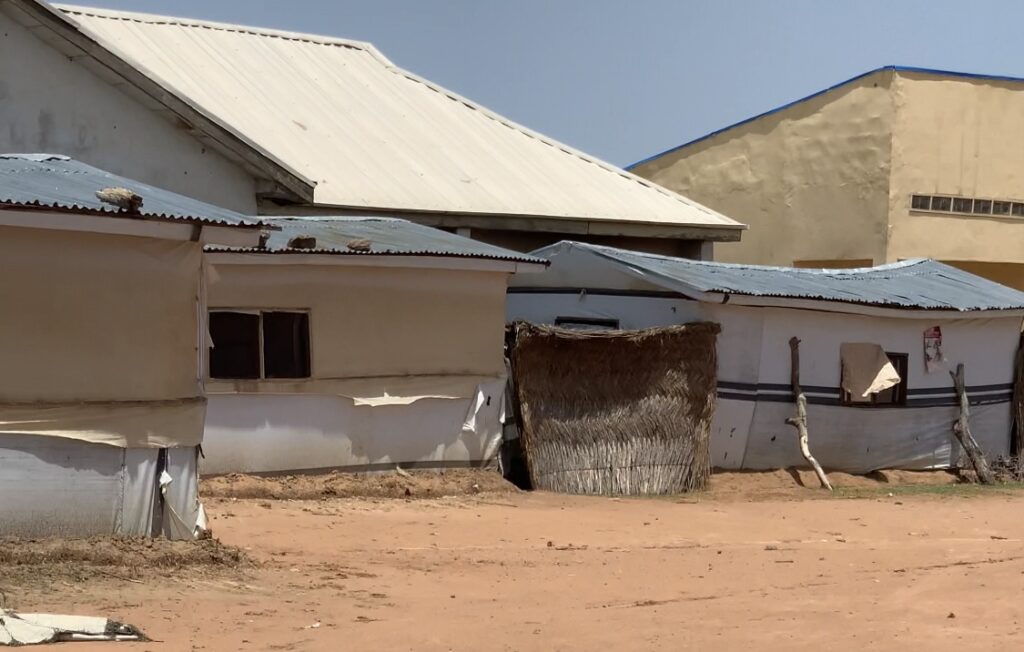 She admits that she did not expect to still be displaced almost eight years after as she expected the government would be swift in apprehending those who had chased them away from home but now her faith in the government has been lost.
"When we came here [the camp], they gave us food items, clothes, soap, everything we needed every month, but it has been four years now since we saw even a wrap of salt from them," she says.
Even though Mohammed Sulaiman, the executive secretary of the state's emergency management agency (SEMA), refuted this claim, Safiratu alleges that the agency has neglected them, particularly the IDPs who have been living in the Wuro-Ahi camp.
"There is no way we would share relief materials in other camps and single them out. The National Emergency Management Agency (NEMA) provides staple food and SEMA is in charge of distributing," he stated.
However, Safiratu says she and other IDPs are ready to plead with the government so things could improve. "We do not know what we did to the government. I tell anyone that comes to visit to please help us plead. Let them inform us if we did something wrong so we can correct our wrongs."
---
Support Our Journalism
There are millions of ordinary people affected by conflict in Africa whose stories are missing in the mainstream media. HumAngle is determined to tell those challenging and under-reported stories, hoping that the people impacted by these conflicts will find the safety and security they deserve.
To ensure that we continue to provide public service coverage, we have a small favour to ask you. We want you to be part of our journalistic endeavour by contributing a token to us.
Your donation will further promote a robust, free, and independent media.
Donate Here