Displacement & Migration
Featured
Features
News
Gwoza Massacre: Survivors Still Displaced, Unable To Return Home 8 Years Later
On Monday, June 2, 2014, members of the Boko Haram terror group killed about 400 people in Northeast Nigeria in what has now been known as the Gwoza Massacre. But there were survivors. Here, they tell their stories.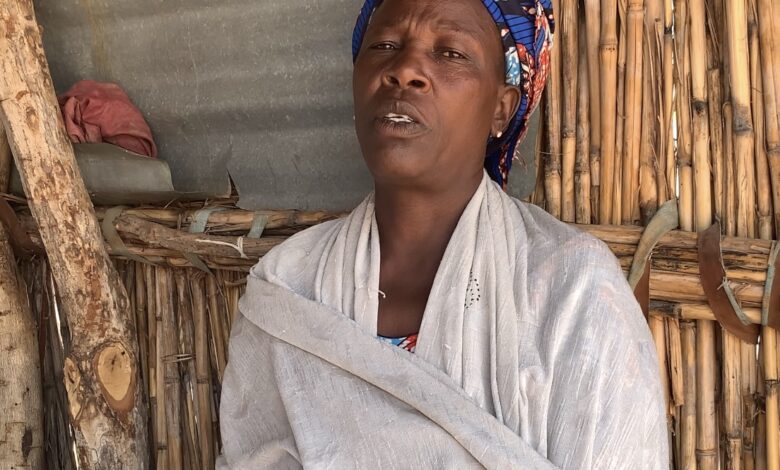 Before Safiratu Ayuba and hundreds of others fled their homes the evening the massacre happened, they had put up a good fight against the terrorists.
It began on a Sunday morning. Boko Haram insurgents had invaded the Gwoza Local Government Area (LGA) of Borno State, Northeast Nigeria, and began to shoot at locals. Safiratu, 46, recalled that women alongside men fought until the evening when the terrorists backed down and left.
The following day, the terrorists came back in their hundreds in an attempt to take over the town again.
"They returned around 9 in the morning, and we fought them again till 11 a.m. Those who had guns shot at them, those with cutlasses and axes fought too."
Safiratu remembers that at that point, many locals were either killed or had sustained varying degrees of injuries, so everyone started looking for a way out.
"We were surrounded, there were sounds of gunshots coming from every corner, but God finally made a way for us to run to Pulka."
Safiratu, Hamza Gakafa, and James Yusuhu, currently Internally Displaced Persons (IDPs) in Wuro-Ahi camp in the Fufore Area of neighbouring Adamawa State, are among those who survived the Gwoza Massacre.
The Gwoza Massacre
On Tuesday, June 2, 2014, Boko Haram militants dressed as soldiers razed the villages of Goshe, Attagara, Agapalwa, and Aganjara in Gwoza, killing at least 400 locals with men and boys being prime targets.
A community leader who recounted the incident said that residents pleaded for the military to send soldiers to protect the area when they heard that the insurgents were about to attack, but help did not come.
Gwoza, located 135 kilometres southeast of Maiduguri, Borno's capital, is one of the areas that have come under grave attacks by Boko Haram since the terror group's inception more than a decade ago, causing deaths and displacements.
Gwoza is considered vulnerable to recurring attacks because of its proximity to Sambisa Forest, which infamously serves as a haven for members of Boko Haram (and now the Islamic State West Africa Province). The town also possesses hilly environments that terrorists use as hideouts.
Although the Nigerian troops recaptured the town a year after the massacre, residents and returnees who went back home after years of being displaced continue to face terror attacks that make living there unbearable.
Leaving home for safety
Hamza Gakafa, 56, flashes back to the incident like it happened yesterday. In Pulka, a community also in Gwoza, he and his family stayed at the military base for about 40 days, "and then we decided we wanted to return home. The soldiers told us not to, but we insisted. We had left our farms which we were about to harvest, so they let us and accompanied us back."
By then, the insurgents had left, and the locals settled back into normalcy, but their fight with the terrorists was not over.
"They continued to come but in smaller numbers, and we would fight them and hand them to the soldiers in Pulka," he said.
Hamza tells HumAngle that this became a routine and military personnel from Pulka frequently visited to check up on them until one evening when one of their district heads received a call from the soldiers ordering them all to flee again.
"It was midnight, and it was raining heavily when the call came in. They [the soldiers] said that we should not let the sun rise, we should leave immediately and go towards the border of Cameroon.
"We left our homes in that rain and walked till we came to a huge river. I picked a long stick and dipped it into the water to see if we could walk through it, but it was too deep."
Whatever it was that made them refuse to concede in their several encounters with Boko Haram fighters did not make them give up at the banks of that deep river either. "We crossed it well," Hamza said, demonstrating how men, women and children linked arms together, like in a human chain, and swam without anyone drowning despite the turbulent flow of the water.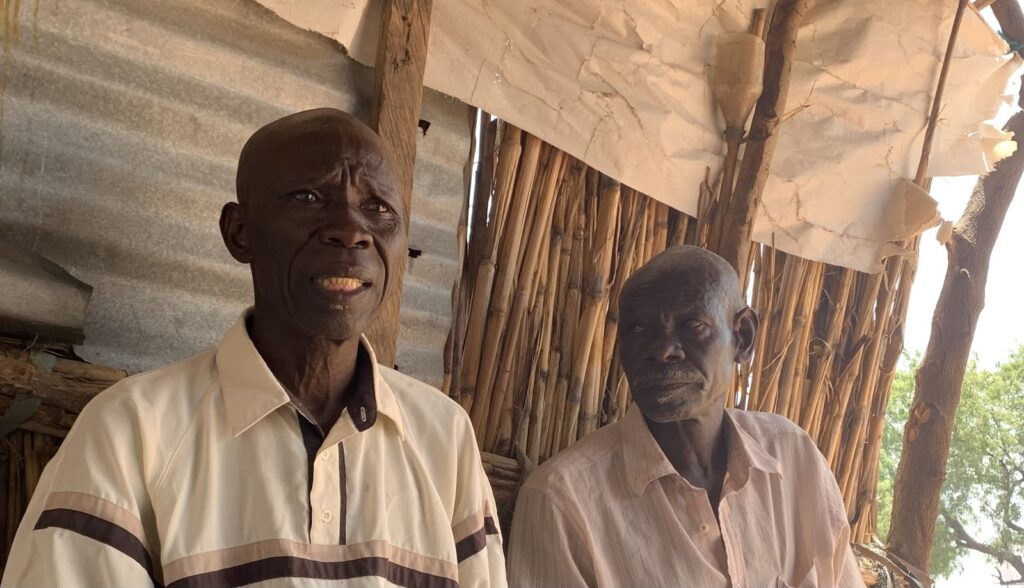 Living as refugees
For a year after they were ordered to leave Gwoza, Safiratu, her husband and children, alongside other IDPs, settled in a school right after the Cameroonian border. She reckons that it was the most challenging time of her life. "There was no food or any help from the government."
As time passed, they began to familiarise themselves with the terrain and sought manual labour from the village's residents. "Sometimes when we got jobs and got paid, we would put the money together and cook a big pot of food for everyone to eat. Even if one had just a spoonful, at least we ate."
Safiratu said that it was at that point in her life that her health and her children deteriorated. "Till today I suffer from pain in my joints especially when it rains, and one of my children suffered a chronic cough."
More people escaping terror attacks in various parts of Northeast Nigeria joined them at the border, but this aggravated the Cameroonian troops overseeing the Nigerian refugees.
"One day, they brought trucks and packed all the men, including my husband, saying they'll take them to the community chief's house to get food. For two weeks, we did not see or hear from them. Rumours that they had been killed started to circulate."
Out of fear, Safiratu gathered her children and left the school they had been living in, and they trekked through bushes and mountains for three days. "We walked from morning till night and from night till morning," she said.
When they eventually reached a town with people going about their normal lives as Safiratu once did in Gwoza, she was intercepted and questioned. She later found out that she had walked to the Madagali area of Adamawa State.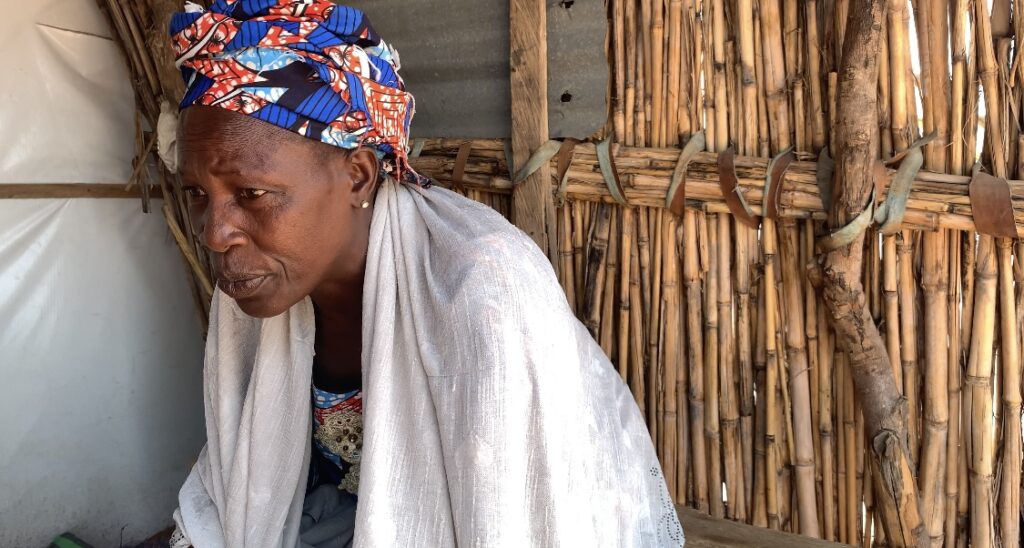 What happened after the big trucks left
James Yusuhu, 78, said they were not taken to the chief's house to get food. Instead, they were driven through a dark and unidentifiable path for hours. He admitted that "if not for God, I don't know what would have happened that night."
While they were being taken to an unknown location, he said, two men appeared wearing white garments. James described them as angels who, because of their interception, saved them. "They ordered the soldiers to return us back to where they picked us from or take us to Sawarde where Nigerian immigration officers will receive us."
That was how James, Hamza, and other men who were taken, found themselves in Adamawa through Mubi LGA where they spent a week before going to Fufore. "Then, they [the state government] took care of us, they gave us food, clothes, soap, and many other things."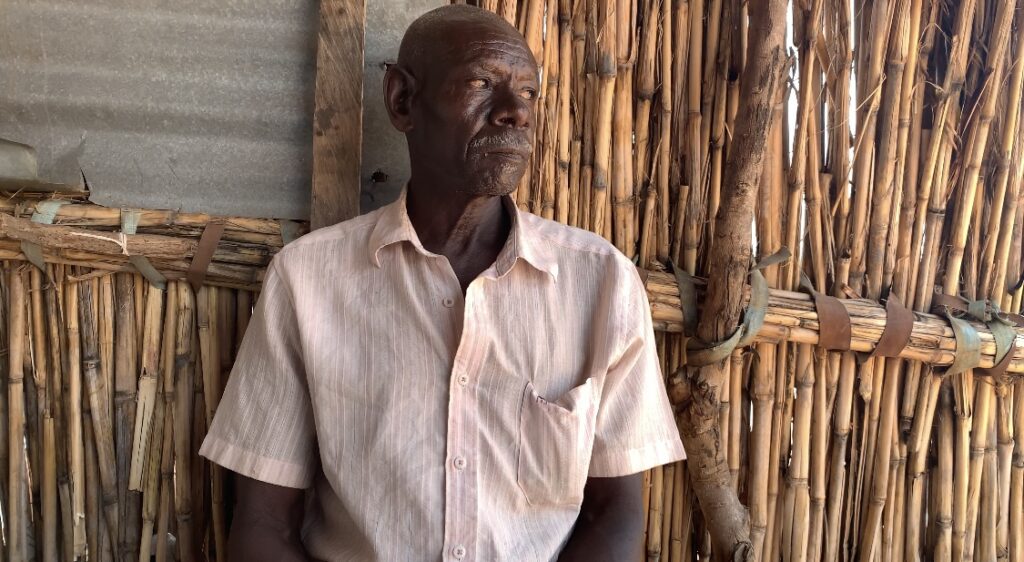 In June 2022, exactly six years after the massacre, thousands of locals who fled various communities of Gwoza due to terror attacks returned to their homes to pick up from where they left off, not because the town was safe but with hopes that the terror they once experienced will not occur again. James admits that he too wishes he could go back.
"If I hear that my village is safe, I will leave everything I am doing and pack my belongings. Today, if someone told me that Boko Haram boys are no more, before sunset I will be in Gwoza."
He believes that whoever leaves home, home has left them too.
---
Support Our Journalism
There are millions of ordinary people affected by conflict in Africa whose stories are missing in the mainstream media. HumAngle is determined to tell those challenging and under-reported stories, hoping that the people impacted by these conflicts will find the safety and security they deserve.
To ensure that we continue to provide public service coverage, we have a small favour to ask you. We want you to be part of our journalistic endeavour by contributing a token to us.
Your donation will further promote a robust, free, and independent media.
Donate Here