Development
Features
Solutions & Development
Using Tech, A Group Of Young People Is Restoring Care To Nigeria's Healthcare
On its journey to seal the cracks in the healthcare system, Famasi Africa arms itself with two things: technology and a truckload of compassion.
---
Elizabeth* and her inhaler were inseparable at the start of the year. The 22-year-old would fall asleep holding it and wake up gasping for air. She used the inhaler as many as eight times a day and had to buy a new one every other week. It was both stressful and expensive.
When she heard of Famasi Africa, she saw them as a company that could make her life a bit easier by delivering inhalers to her doorstep. But after subscribing, she "got something even better".
They assessed her health and recommended using mostly maintenance inhalers – not simply emergency ones. Within a month, Elizabeth was down to using the inhaler only thrice a day, reducing both the stress and the expenses. Famasi also regularly checked up on her, reminded her to take her medication, and supported her in achieving her health goals. She now sees it as more than a delivery company.
"They're just like a companion that makes my health their priority," she says. "It felt like they made it their mission that I was using fewer inhalers. After a year of using Famasi, my asthma got so much better."
The idea to start Famasi, a digital pharmacy and health tech startup based in Nigeria, came after a series of observations.
First, back in 2017, when the CEO and co-founder, Adeola Ayoola, 28, worked at Nigeria's National Hospital, she saw hundreds of people queue every day just to collect drug refills such as antiretrovirals. She noticed that despite going through that stress, many of these people did not always take their medication. It could be that they forgot or misplaced the pills.
"I didn't have a solution [at the time], but I spotted the problem," she says.
At another time, during an Uber trip in Lagos, Adeola and her co-founder, Umar Faruq Akinwunmi, noticed the driver chewing dried ginger and honey. He explained that the combination kept him healthy since taxi drivers hardly had time to visit physicians. The driver also expressed dissatisfaction with the healthcare system. Hospitals did not always provide the drugs they prescribed but would ask patients to find them themselves.
The COVID-19 pandemic made flaws in the system even more pronounced. Many chronically ill people died because they could not get crucial drugs, and it got Adeola thinking about how technology could come in. During the same period, Umar visited the hospital and realised that two out of five patients were only there for medicine refills. This means they exposed themselves to the deadly infection even though they could have gotten the drugs some other way.
"So, we decided: let's find a way to deliver medicines to these people at home on a monthly basis. That was how we started Famasi in 2021. The motivation wasn't to build a start-up, but to find a solution to problems we experienced."
As she points out, Famasi identifies hurdles to accessing healthcare and innovates around them.
For example, there is the problem of not adhering to treatment because of having to use so many drugs. Famasi partners with professionals to come up with more efficient medication plans. For one patient with diabetes and high blood pressure, it was able to reduce their pills from 10 to four, making them both easier to take and more affordable.
"When the pill burden is high, it discourages people from adhering to the medication because nobody wants to chew 10 tablets. It's not sweet," Adeola explains.
Another way the startup makes medicines cheaper is through partnerships. It gets discounts on medications from pharmaceutical companies and passes these down to its customers. Then for those who cannot afford expensive brands, it recommends alternatives.
Through its network of over 200 pharmacies, Famasi is able to get scarce drugs for people with urgent needs. It works with accredited suppliers to ensure the drugs are authentic and kept in great condition. It also has partners who conduct diagnostic tests and offer medical consultations.
The advantage of a fixed healthcare plan is the chance to avoid likely hiccups in the conventional system. Waiting to act only when there are emergencies can be dangerous, Adeola argues. "Logistics is bad, the health system is overwhelmed, the physician is probably unavailable, the medication is probably exhausted from where you want to get it. There are so many things that can go wrong, and it would be great to prevent these things from happening."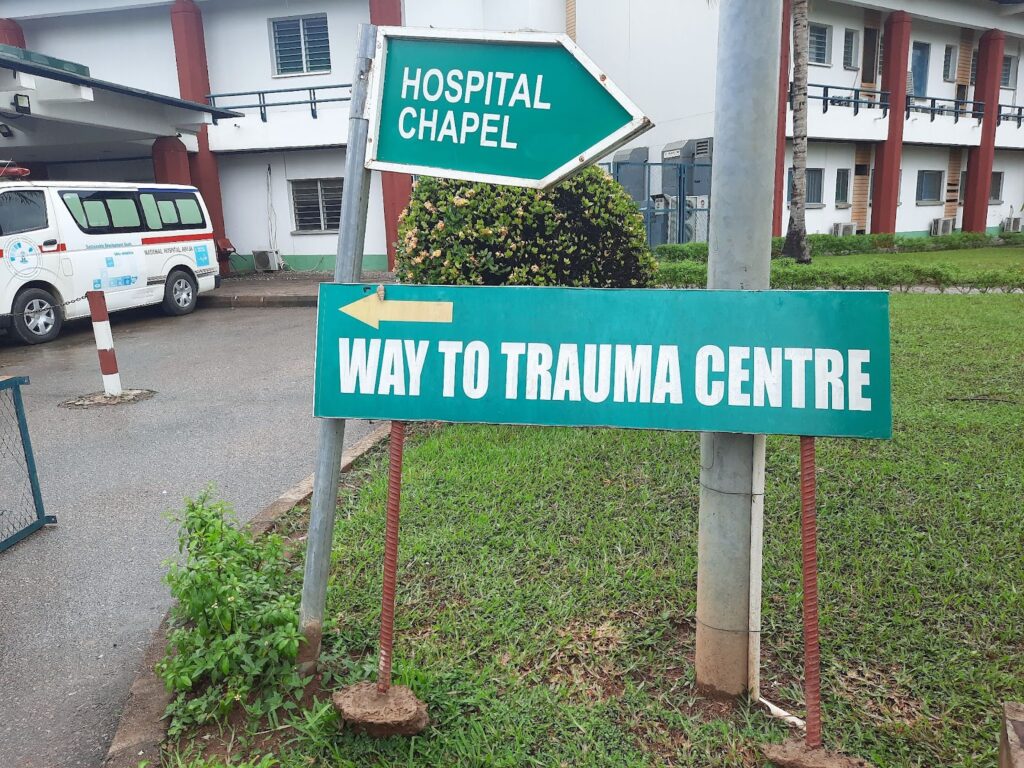 Speaking of scarce drugs, back in April, Nigerian singer Hadiza Blell-Olo, better known as Di'Ja, made a distress call. She urgently needed to buy an antibiotic medicine called Augmentin ES and had been to eight pharmacies in Lagos that did not have it.
"They say it's hard to find," she tweeted on April 21, attaching a picture of the drug.
Famasi's name came up in the replies and they got to work. The next morning, Di'Ja returned to Twitter with good news. Famasi had come through and she was "definitely using them again" when necessary. Because of that tweet, tons of people started to reach out.
"People started to buzz and asked for so many drugs, things that we wouldn't be able to provide. They would call about medicines from China or India and say, 'Can you get me this medication? My grandmother used it and it worked for her,'" Adeola chuckles. While they can get hold of medicines that other pharmacies say are scarce or unavailable, they are still bound by laws that require suppliers to be accredited in Nigeria and comply with NAFDAC regulations. 
"It was good because now people know that if they need anything related to their health, Famasi will get it for them. If today we don't have a partner that can facilitate that, then we would find a way to get those partners."
Di'Ja has made more requests since then, Adeola tells me.
Chidinma,* 29, had a similar experience last year when she needed thyroid medication. It had gotten scarce and the price had suddenly spiked from ₦2,000 ($4.5) per pack to ₦13,000 ($29.5). Famasi saw her tweet, got to work, and found the drug at the price of ₦8,000 ($18).
Recommendations from people like her are crucial to Famasi's sustenance. Since industry ethics do not encourage adverts, it relies on word of mouth, sharing educative content, and delivering talks at events.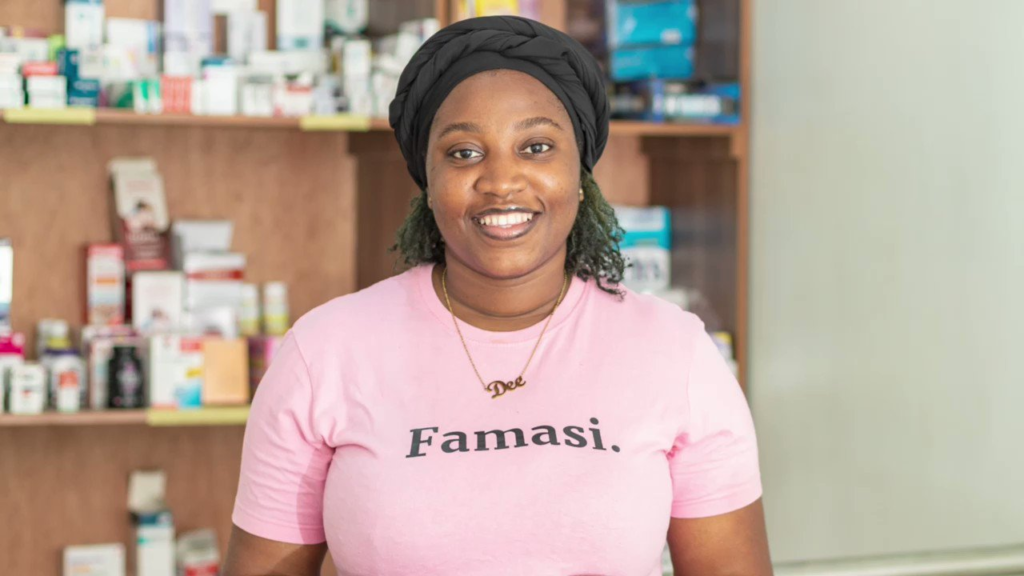 "Famasi assigns you a caretaker who checks in on you monthly, recalibrates your prescription on their end if it changes from the doctor, or just listens to you – almost like a therapist," says Chidinma, who is now Famasi's regular client.
"I had a mental breakdown in May and my caretaker was there for me. Arike checked on me regularly and I was grateful for the gesture in addition to the great service and prompt delivery of my medicines every month like clockwork. They are great people who truly care."
Chichi, 33, observes that even though the constant follow-ups can be a lot, she soon realised that they were necessary. And the moment Famasi saw that she was managing her condition well, the reminders became less frequent.
"And it's very nice," she states. "It's very nice that there is actually a healthcare service that is more than just taking my money and delivering medications; they are actually ensuring that I am keeping up with trying to stay alive. It is very different from the traditional healthcare [system]."
Chichi, who prefers to be identified only with one of her names, says she hopes that as the company scales, it will continue to retain this quality.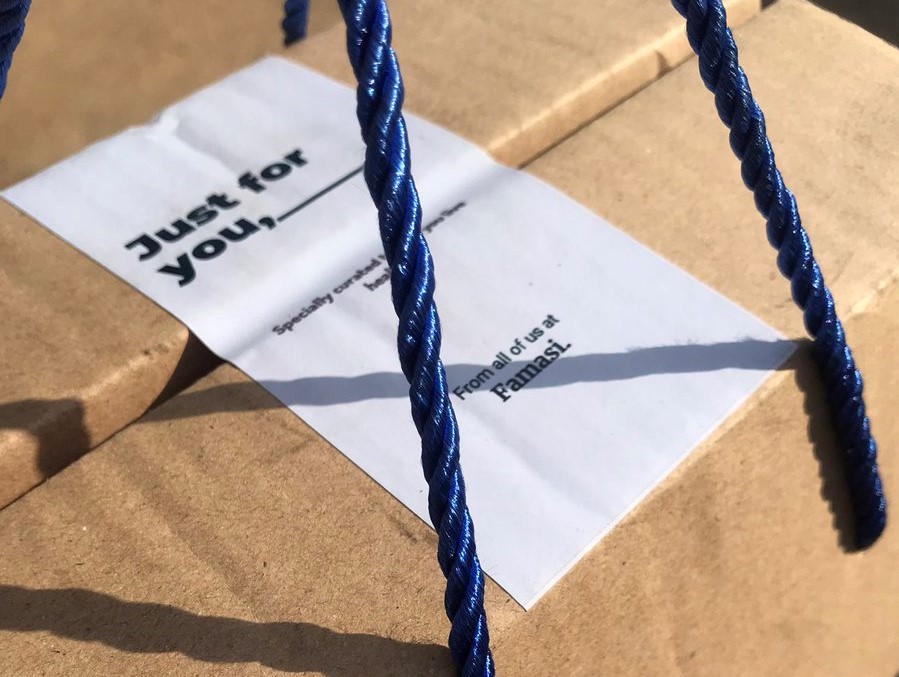 Running a digital pharmacy with hundreds of partners and thousands of clients would naturally come with challenges.
One of the biggest, according to Adeola, is logistics. Almost every e-commerce business grapples with this, but for Famasi, being in the business of medicine makes it an even bigger problem. "This means we don't have the luxury of time to wait four or five days before the medications are delivered because people need to get them before they need them," says the Famasi CEO.
The company worries not only about the promptness of delivery but quality. To prevent tampering, it seals the packaging materials. It had to change partner logistics companies in favour of those that are efficient and have tracking capabilities.
"I mean, it's better than it used to be when we started. But there's still a long way to go. We have to struggle. People don't want to pay for medications and they definitely don't want to pay for the delivery of those medications. Having to find a balance is a big challenge."
Another obstacle is that clients don't always use their medications when they should. Adeola calls this 'non-consumption'. It could be due to religious sentiments, side effects from the drugs, or inconvenient schedules. Famasi addresses this on a client-to-client basis. For some, it recommends easier timing, such as when they read their scriptures in the morning or before they get stuck in traffic. For some, it arranges home-based testing, so they don't have to be at the hospital when they should be resting on weekends. And for everyone, there are regular check-ups, which are often both personalised and automated.
The newness of health tech solutions is another challenge. People are used to the traditional walk-in healthcare service and are sceptical about anything different.
"Not many people trust that they will get the same level of care via a virtual consultation or a digital pharmacy. They feel like they need to walk there and let the other person see them and be able to diagnose what's happening to them," explains Adeola.
It has been tough trying to change this mindset, but Famasi continues to educate as many people as it can.
Finally, there's the thing with funding. Adeola thinks that investors shy away from reaching into their pockets to support the health tech ecosystem because it is impact-focused and relatively new. This is not the case for, say, fintech companies which are "more developed, more out there, and have huge returns". According to the TechCabal Health Survey, fintech attracted nearly six times more funding than health tech in Nigeria and across Africa in 2017.
Adeola wants investors to understand that as much as their priority is impacting lives, there is a big, untapped business opportunity in the health space.
In spite of these setbacks, Famasi's co-founders continue to show resilience. It is difficult not to, especially when someone approaches you to say their father may not have died four years ago if the organisation had existed. This was Adeola's experience last year after she delivered a TEDx talk at the University of Ilorin.
The outpour of praise on social media has been reassuring too.
"At the hospital, @FamasiAfrica called me. The rep heard my voice and gently pressed to know what was wrong (even though I had said I was fine). I explained, and I loved how warm she was. Asked questions, made corrections to my future period packages and gave suggestions," Orifunke Lawal wrote in March.
"If you need someone to be checking on you everytime, engage the service of @FamasiAfrica. I don't know if it's my pharmacist or something, the way he/she check[s] up on me need[s] to be studied. Customer service is 100%," Mercy Ejemudaro tweeted the following month.
Famasi says it did not ask for these tweets and several of the clients we interviewed confirmed this.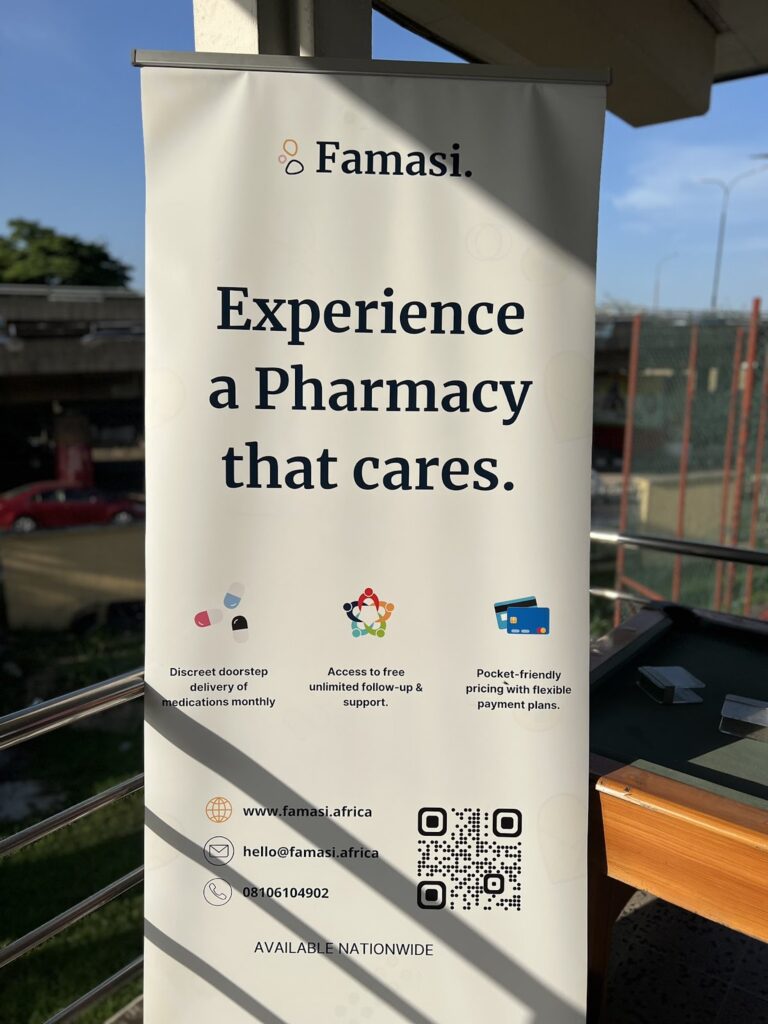 With a young team of 12 working remotely and in less than two years, the startup has covered nearly half of Nigeria's map, having footprints in up to 16 states. It also has a waitlist of thousands of people that it is onboarding to its clientele — but not too fast, the CEO says, so they do not get overwhelmed.
Famasi's goal is to have powered one million medicine refills across Africa in five years' time, including in places like Ghana and Rwanda.
Adeola agrees that it will take more than one person or one organisation to fix the continent's broken healthcare system. But she hopes Famasi can be that bridge that will bring together different solutions and tackle the various problems "one after the other".
---
*Names were changed to protect the clients' privacy.
---
Support Our Journalism
There are millions of ordinary people affected by conflict in Africa whose stories are missing in the mainstream media. HumAngle is determined to tell those challenging and under-reported stories, hoping that the people impacted by these conflicts will find the safety and security they deserve.
To ensure that we continue to provide public service coverage, we have a small favour to ask you. We want you to be part of our journalistic endeavour by contributing a token to us.
Your donation will further promote a robust, free, and independent media.
Donate Here