Displacement & Migration
Features
The Web Of Displacement For Victims Of Boko Haram
Thousands of displaced people, victims of the Boko Haram insurgency have been caught in counter-insurgency operations — some detained for seven years or more before they are cleared and released. Bintu Muhammad is one of them.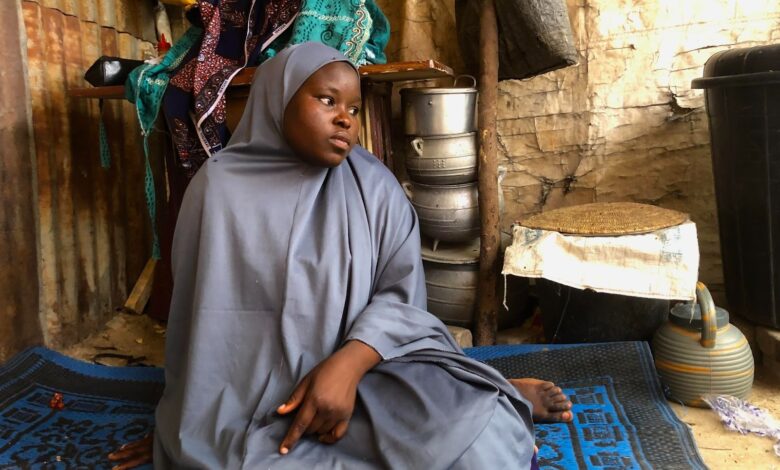 She was 16 and in labour. But that was not what scared the living daylights out of her.
She had, after all, carried the pregnancy for nine months and was fully aware that childbirth was what lay at the end of those months. But she was a prisoner held at the notorious military detention facility known as Giwa barracks in Borno state, Northeast Nigeria. What childbirth help could possibly come to her?
The other women in the cell immediately rallied together and tried to help her in that limited way that womanhood could afford a non-professional.
Finally, some prison officials took her to the facility's clinic, which was in terrible shape. There, a doctor attended to her. It was around 11 p.m. By 1 a.m., her child finally shrieked its way into the world. It was a boy. Immediately after, she was taken back to the cell.
"There was no special care," says Bintu Muhammad, now 22.
Before then
How did a 16 year-0ld girl end up in a cell in Giwa Barracks?
"Boko Haram," she answers.
It was 2014, and she had been married for a year and a half when the insurgents began to advance nearer and nearer to her village in the Gwoza Local Government Area. Before then, the insurgency had been a slow distant drumming whose sounds she and her family heard faintly but never really had the misfortune of facing directly. But it started to come closer. Then one day, they stormed the village. Then they did it again. And again.
"Boko Haram had not done anything to us at the time," she admits. "But they often came in and went out of our town. And then there was some chaos in the neighbouring villages as well."
Together with her young husband, Musa, they decided to flee to the state capital, Maiduguri, before things got out of hand. She was four months pregnant at the time.
Shortly after this decision, before they could make any real plans to actualise it, the roads leading to Gwoza came under attack and effectively became blocked. They did not know how to escape. Then luckily, during the counter-insurgency attempts, the military invaded the village and the opportunity to flee presented itself. They took it. They were not alone. Many of the village's residents also fled.
When they reached Gwoza, they were intercepted and held at a police station, told that their village head had been summoned and that as soon as he arrived and identified them, he would lead them away to continue their journey to safety. Bintu and her husband saw no problem with this, especially as it was easy for insurgents to move around like that unidentified. It seemed a reasonable security measure. But they went on to be held there for 15 days. It was very confusing, she says.
"We didn't know why we were being held. My husband was a farmer. There were many villagers who knew us." But most of those villagers were also being held in similar conditions and in similar circumstances.
Finally, on the 16th day, they were transferred to Maiduguri. They were informed they would be taken to one of the camps for internally displaced persons, which had been recently set up as people trooped out of their villages in search of safety, and that from there, their parents would be traced and contacted so that they could hand them over to them.
Instead, they were transported to Giwa barracks, a military detention centre inside Maiduguri, on allegations of being affiliated with Boko Haram insurgents. Bintu had no idea where those allegations came from.
Thousands of displaced persons fleeing the insurgency in Nigeria's northeast were caught up in this web, especially between 2014 and 2015. About a thousand of them were cleared and released last year after many years in detention, but many more remain in detention.
Once at Giwa barracks, Bintu and her husband were separated, him taken to the male section and she to the female section. She never saw him again after that day.
The cells were reasonably big, but up to 400 people occupied each one, so they were congested. Bintu was told by the others that at the time she was brought, conditions had even improved.
Childbirth
After she gave birth, prison officials went to the male section to inform Musa and ask what he wished to name the child.
They came back with news that he was nowhere to be found. Bintu found it strange. They had been transferred to the facility together. How was it that he was nowhere to be found? She did not know it then and would not until about two years later, but Musa had died in detention shortly after they arrived at the barracks. The circumstances of that death would never be known to her.
In the meantime, she named her son Saidu. On the third day, Saidu took ill. He was taken to the clinic, and the doctor administered some drugs there. It was not explained to her exactly what was wrong with her son, but three days later, he passed.
And just like that, she became alone in the world.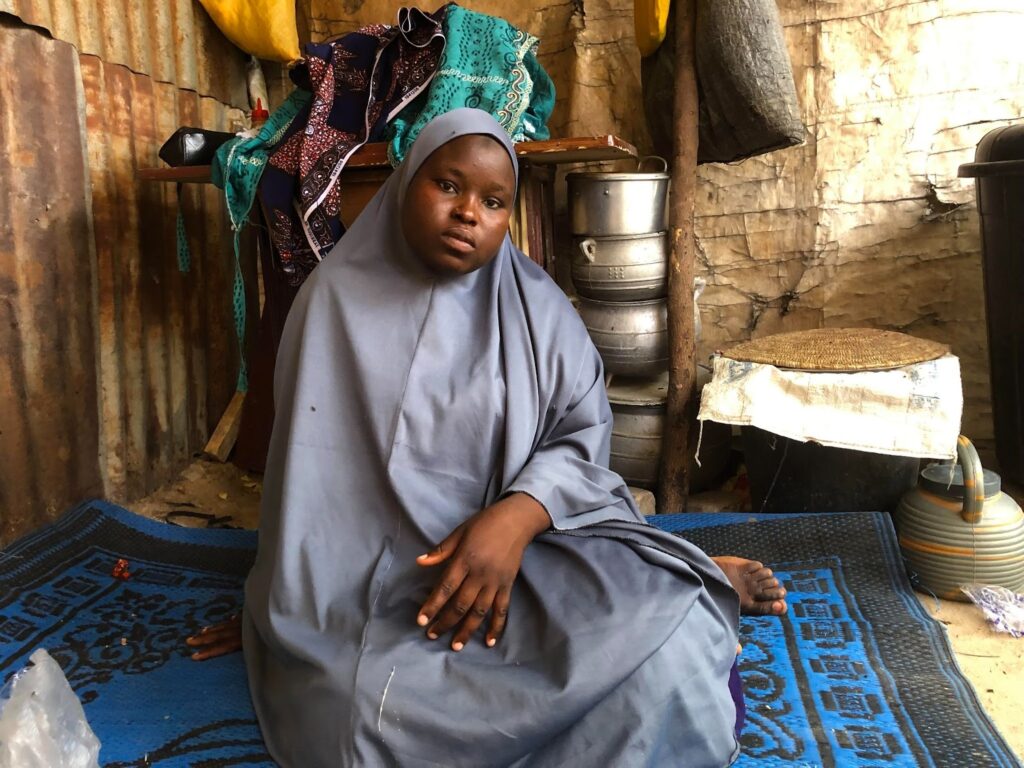 A year after that, as she was preparing her space in the cell to sleep, some officials came and began to call out the names of people. Her name was called out as well. They all filed out. They were told they would be transferred somewhere. They were transferred to the Borno Maximum-Security Prison. It was there that she found out that she was a widow.
"I saw his former cellmates there and asked them where my husband was. They told me he didn't even reach one year in Giwa barracks. My husband died, and for two years, nobody told me. I was not informed. I don't even know how he died."
Bintu was thrown into fresh grief that consumed her so thoroughly that even years later, when she found her way back to the free world, she struggled to function as a lively human. She speaks in a way that is so low one has to ask her a few times to repeat what she's said. Often, she looks away, her eyes transfixed to the floor, as though she cannot bear to look at anything else.
At the maximum-security prison, she got a measure of freedom that was not available to her in Giwa barracks. They were congested alright, the heat was often unbearable, but they were let out once in a while.
"The heat was too much, so they usually bring us out to get fresh air under the tree. Later, they would take us back to the cell."
Sometimes, in moments when the injustice of the past years hit her, she would ask the prison officials why she was being held, what her offence was. And they would say it was because of her husband who was suspected of having affiliations with Boko Haram.
"I told them that since he had died at Giwa barracks, I should not have been brought to the maximum prison and still be in detention, since I was being held because of him. What pains me the most is that we have been abused and humiliated for a crime we had no part in. Especially me, who was held even after my husband died," she says.
"And they never told me my husband was dead," she says again. It is clear this is the hardest part for her to comprehend amongst all the injustices. She starts crying. She fixes her eyes on the ground and the tears fall freely. Then she grabs the edge of her hijab and wipes her face.
At some point this year, Bintu and some other women were finally released. These days, her big brother cares for her. She spends her days brooding. Then in the afternoon, she goes to the Islamic school he enrolled her in. She returns at around 4 p.m. and continues to brood.
---
This report is a partnership between the African Transitional Justice Legacy Fund (ATJLF) and HumAngle Media under the 'Mediating Transitional Justice Efforts in North-East' project.
---
Support Our Journalism
There are millions of ordinary people affected by conflict in Africa whose stories are missing in the mainstream media. HumAngle is determined to tell those challenging and under-reported stories, hoping that the people impacted by these conflicts will find the safety and security they deserve.
To ensure that we continue to provide public service coverage, we have a small favour to ask you. We want you to be part of our journalistic endeavour by contributing a token to us.
Your donation will further promote a robust, free, and independent media.
Donate Here