Armed Violence
Features
The Terror Of A Southern Kaduna Community
The terrorists who came to Dooh, northwest Nigeria in Aug 2021, did not only attack homes. They mounted machine guns at a T-junction preventing the residents from escaping or getting help. HumAngle spoke to some survivors.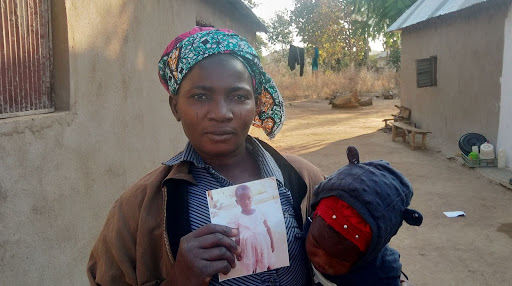 Endurance had been left behind.
Hauwa John only realised when she heard her granddaughter scream.
There were the shouts of bloodthirsty terrorists. Then the crackle of flames eating up their house followed.
All they could do was press their bodies to the ground in the maize farm, and cry silently in anguish.
As other houses were torched, smoke billowed over Dooh, a village in Zangon Kataf Local Government Area of southern Kaduna, northwestern Nigeria.
Just moments before, the community had been peaceful and quiet.
Narrow escape
At around 9 p.m. on Aug 21 2021, Hauwa had been fast asleep with 10-year-old Endurance beside her on the bed.
"Suddenly, I heard Steven, my son, call out my name…saying we were under attack," Hauwa told HumAngle.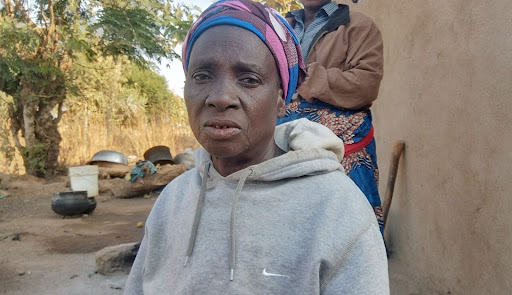 The rest of her grandchildren were sleeping in the parlour and, after waking Endurance, Hauwa rushed to get them out of the house. 
Double-checking, she returned to find a couple of the children hiding behind the door and she quickly dragged them out. Everything happened so fast afterwards – they narrowly escaped bumping into the terrorists as she pushed them through the door and away.
They made it to the maize farm behind the house just in time.
"By that time, the attackers had already entered our big house," she said, referring to the compound where the rest of the extended family lived.
But as they crouched in the stalks, Endurance was nowhere to be found.
The scream from inside was the sure sign of her fate.
"They set fire to everything in my house. By then, they had already killed people in the main house. We did not take anything out except our lives that God gave us. They were shooting and shouting."
It was only when the military showed up later that the terrorists vanished just like they had come.
When the family came out of hiding, Hauwa went straight into her bedroom. She dragged Endurance's still smoking corpse to the back of the house and covered it up.
In what Hauwa called the main house, five other members of the extended family had been killed.
A ploy
It was no different in other parts of the settlement. "Others heard when the killings were going on where we were and hid themselves," Hauwa continued.
But the terrorists were cunning and devised a ploy.
Some of them shouted out in Tyap, the people's language, that they were actually rescuers. And as the locals came out of hiding, they shot them dead.
"If not for the soldiers that came, the terrorists would have found and killed us in our hiding places," she said. "That was how it happened before our eyes. There was nothing we could do."
In another part of the same household, Precious Steven, Hauwa's daughter-in-law had bid her older children goodnight after a game of Ludo and got into bed.
Precious' day had been busy at the marketplace, so she told the youngsters she was tired and retired early. She had barely drifted off when her husband woke her up and told her to take the children out fast.
Swiftly, Precious strapped her son to her back. She was pregnant at the time.
She dashed towards the farm as gunshots kept ringing out. "I didn't even know that people had been killed in my house," she said.
The wailing began only after they had counted their dead later on. About 15 people were killed that day in Dooh.
"I remember soldiers telling us to take heart and let it go and I told one of them that it was painful," she narrated. "I continued crying, and he kept consoling me until he got tired and left me alone."
After their dead were buried, the family left the village for Kafanchan, which was several kilometres away. Then Kaduna City, where Precious successfully gave birth.
"It was much later that we returned. We were given a piece of land and members of the community helped us in building a structure." Six people lost their lives in her family, including Precious' 14-year-old son Jerry.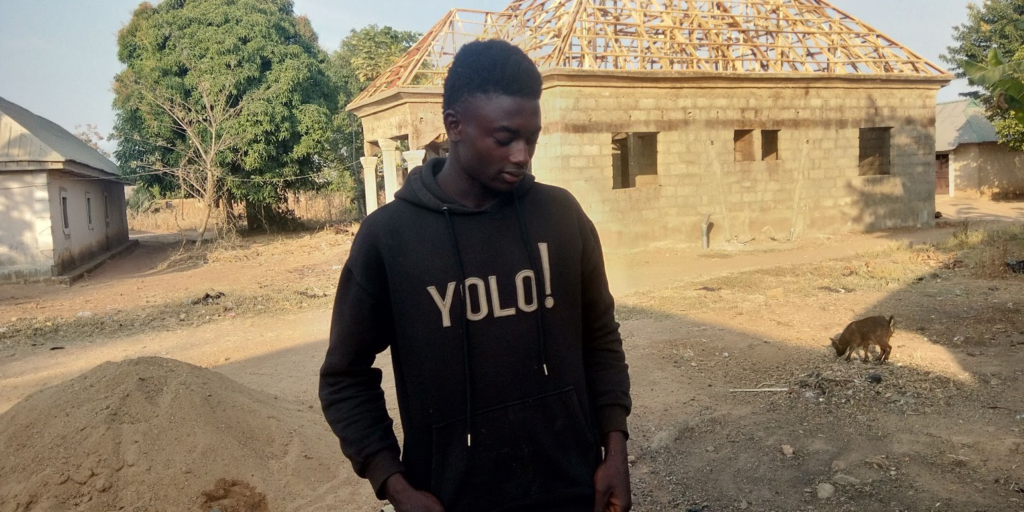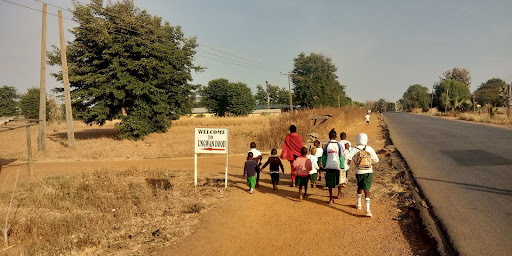 "My younger brother was the first to be shot in Dooh," said Jethro Bala, 16.
That evening his brother Jerry had been roasting some maize with friends outside. After a while he excused himself, said he would be back later, and wandered away from the house.
After their friends left, Jethro and his uncle Simon Dangana went inside and began to watch a movie on a mobile phone. That was when a shot rang out.
Running from the building, Jethro was hit by a bullet in the leg, he lay flat in a gutter until the terror ended.
But his uncle Simon was not that fortunate.
He too was shot dead.
T-junction trap
When entering or leaving Dooh, most visitors pass one of the dirt roads at a T-junction. Today, the T-junction brings back unkind memories to the residents.
Charles, who resides in neighbouring Samaru, recalled how the terrorists mounted guns at the T-junction and laid in wait for people to flee that way.
They killed eight people trying to escape Dooh.
None of the residents of Dooh could get out, and no one could come from neighbouring Mabushi or Samaru to help. 
"The military who were at a checkpoint in Samaru later came. That was when the terrorists fled. They even left behind a G3 gun," Charles said, referring to a type of assault rifle.
One of those who survived the T-junction shooting was 25-year-old Alisabatu Audu. With a little girl strapped to her back, she ran right into the terrorists' trap.
"They were many. They shot at us. A bullet hit me, and I lay injured on the ground," she told HumAngle.
After the attackers left, walking past the fallen forms of the dead, people from the neighbouring community of Mabushi came out and helped the injured.
Alisabatu was shot in the leg, but fortunately, she survived.
So far, she has passed through her first surgery and should have had a second, but she lacks the money.
"Over a million naira is required. I had to leave the hospital because my family could not afford it," she said. Currently, the surgery is long overdue and Alisabatu still uses crutches.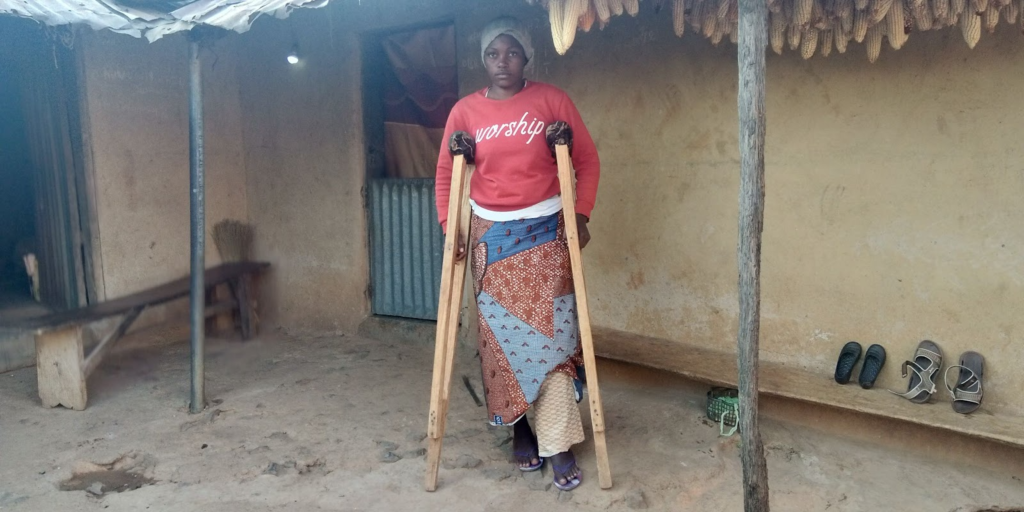 This puts Alisabatu at risk of serious damage, according to medical charity Orthogate. Extended use of crutches causes skin irritation and muscle pain. But the worst is probably paralysis due to "damage to nerve endings in the armpit" as her crutches continue to put pressure on them.   
Not completing the surgery may have other consequences for her long-term mobility.
Escaped death
Some Dooh residents like Solomon Michael escaped death by running into the bush.
"The houses closer to the road were not so fortunate," he said. "They were the first houses they entered. They surrounded a house and killed about seven people. They were also able to shoot down about eight people who were running towards Mabushi."
Today, some of the houses that were burned have still not been rebuilt. Their owners have relocated to other settlements.
"Since then, life hasn't been easy. From that August to December, people left Dooh. By January 2022 some returned and started sleeping in their homes."
But the people still do not feel safe.
The attack on Dooh is just one out of many massacres carried out in Southern Kaduna in the past year. In March 2023, Unguwan Wakili in the same local government was attacked, and at least 17 people killed.
In 2021, Madamai in Kagoro chiefdom, Kaura LGA suffered an attack that left many homeless. And then the 2022 attack on Sakwong and Mallagum, two neighbouring communities in the same local government, where many were killed and others displaced.
"The trauma is still there, especially when people hear that something has happened elsewhere. This has also affected children's education a lot," Michael said.
---
Support Our Journalism
There are millions of ordinary people affected by conflict in Africa whose stories are missing in the mainstream media. HumAngle is determined to tell those challenging and under-reported stories, hoping that the people impacted by these conflicts will find the safety and security they deserve.
To ensure that we continue to provide public service coverage, we have a small favour to ask you. We want you to be part of our journalistic endeavour by contributing a token to us.
Your donation will further promote a robust, free, and independent media.
Donate Here