Featured
Human Rights
Investigations
News
The Day 'Peacekeeping' Troops Became Murderous In Nigeria's Cross River Community
The residents of Nko and Onyadama have fought for decades over a land dispute. But the bells of inter-communal clashes were soon drowned by gunshots from soldiers, who had been sent to protect them.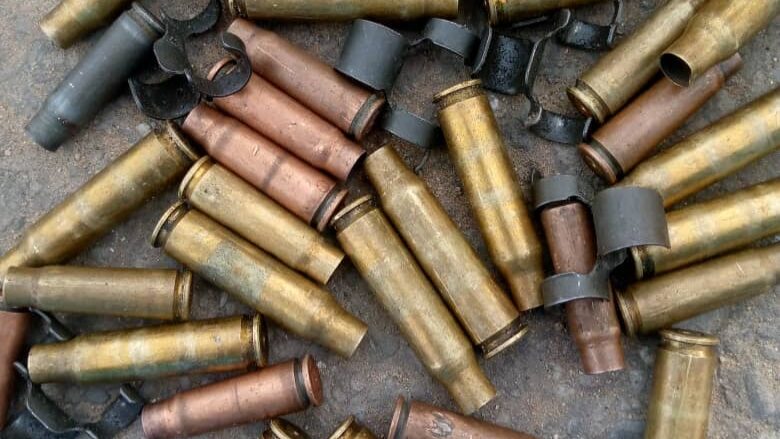 Isoko Eta, 42, sat quietly in front of his burnt house. He had just swept the surroundings of his late wife's grave and was thinking about how to raise their newborn twins.
HumAngle learnt that Eta's wife, Joy, died of shock from Nigerian soldiers' gunshots while trying to give birth on June 26. The soldiers had attacked the community in retaliation to the alleged killing of one of their officers during a peacekeeping assignment that followed a communal fight between Nko and Onyadama — both communities in Cross River, South-south Nigeria.
Aside from opening fire on civilians, the soldiers also burnt several homes, leading to the displacement of many, including children. Eta is one of those directly hit by the incident.
"It was a very unfortunate day for us in the community," he says. "My wife was in labour and we were trying to rush her to the hospital when the soldiers arrived at night, shooting sporadically at people. We could not proceed until she gave birth to twins at home, but she died minutes later."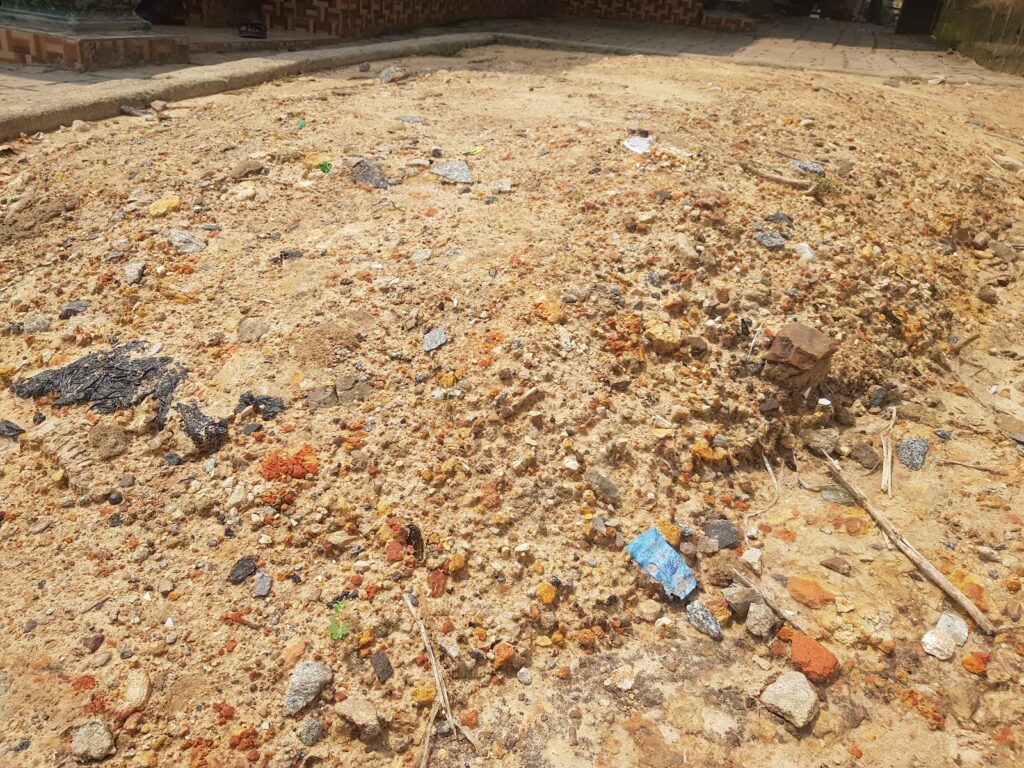 "I can't say exactly how I feel when I remember her. I never thought she was going to die like that because we waited for about three years before we could have the twins. It isn't certain that I will ever recover from this because I remember her anytime I set my eyes on the babies."
Genesis
Nko in Yakurr Local Government Area and Onyadama in Obubra Local Government Area have been at war over a parcel of land at the boundary for nearly a century. The crises have led to repeated killings and abductions on both sides.
In Dec. 1947, a district court judgement made available to HumAngle handed the disputed land to Onyadama. Not pleased with the ruling, Nko approached the West African Court of Appeal, but the court dismissed the case with cost against them in April 1949.
Although the court judgements doused tension at the time, a crisis brewed again in the early 90s after Onyadama accused Nko residents of trespassing. The two communities have been at war since.
"Although there have been a series of inter-marriages between the two communities, the crisis continues every year with at least five people killed on both sides. It is always during the farming period. We are tired of the inherited crisis," Innocent Efiok, a resident whose farming business has been affected, told HumAngle.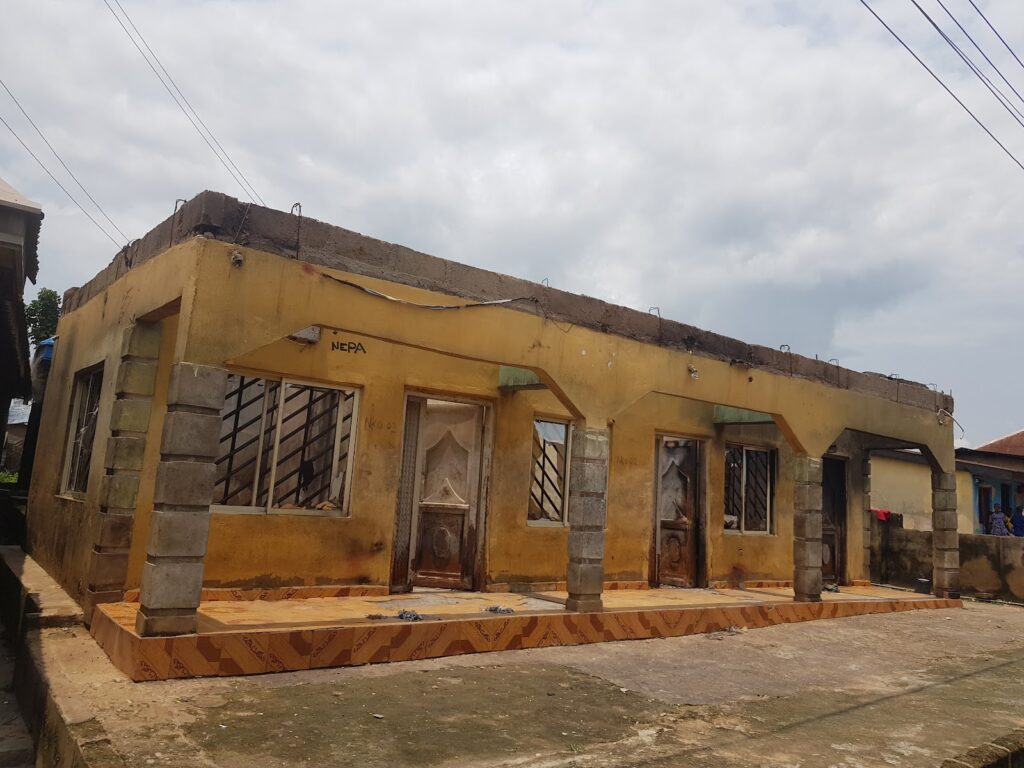 In a bid to end the crisis, Ex-governor Liyel Imoke, in 2009, set up a judicial commission of inquiry headed by Justice Ekeng Efiong (rtd), but the panel's report was not released to the public. In 2016, Governor Ben Ayade constituted another panel to investigate the root of the age-long inter-communal war and find a lasting solution. Again, the panel's recommendations were not made public.
Ayade's chief press secretary, Christian Ita, did not respond to HumAngle's calls and texts requesting an explanation.
Since efforts to coexist peacefully did not yield a positive result, violent clashes continue, with a lot of people losing their lives and many others sustaining injuries. The last altercation that led to the deployment of soldiers started on June 7 after the alleged kidnap of an indigene of Nko. By Friday, June 24, it had become a full-blown crisis with at least seven people killed from both sides.
On Saturday, June 25, the Nigerian Army deployed soldiers from Edor Barracks in Ikom to restore peace to the area, but it did not end well for people living in Nko. Though the International Humanitarian Law, to which Nigeria is a party, provides that the military must take precautions to minimise harm to civilians during armed conflict, soldiers deployed to Nko have been accused of using extreme force. This was reportedly in retaliation for the death of one of their colleagues killed in Nko, but the residents deny this accusation and say the women 'only injured' some of them through stoning and pouring water.
"Everything happened in my presence. I was sitting in my shop when the soldiers came around 5 p.m. on June 25 and started beating people in the community. One of my friends, who is a police officer, approached them on why they were beating innocent residents, but he got the worst beating of his life," said Osong Obeten, an eyewitness who survived the attack.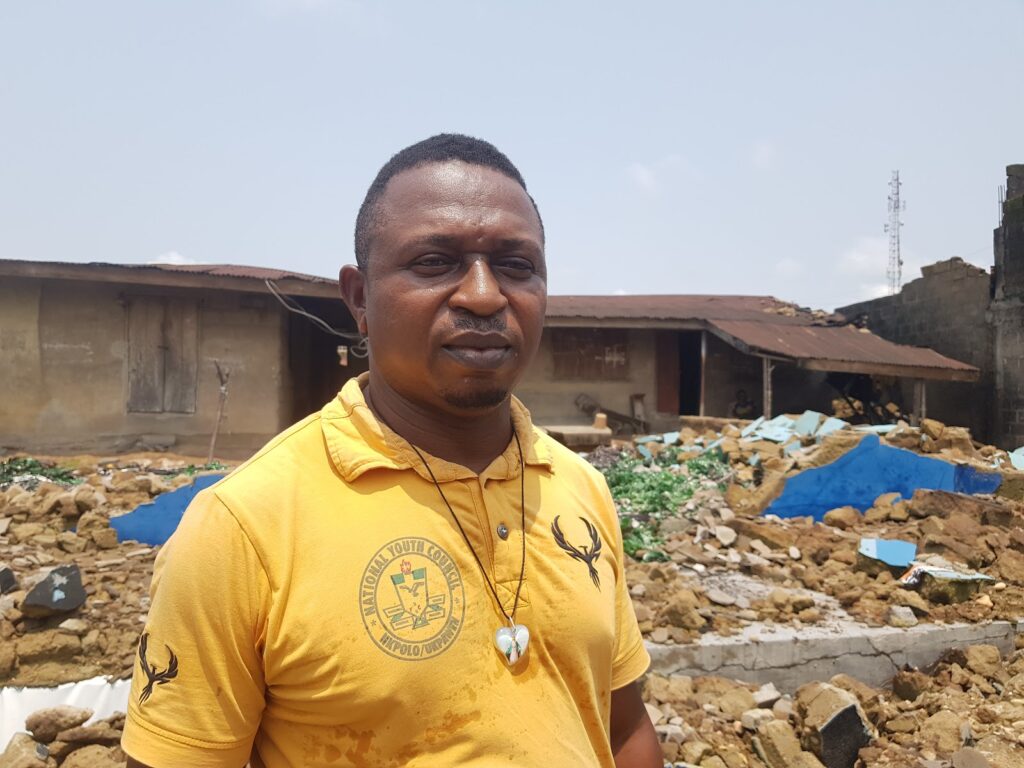 Obetan said the soldiers were resisted by women and children who could not stand the assaults on their husbands and fathers.
"The women were so angry that they started stoning the soldiers and some of them sustained injuries in the process until they drove away. We were surprised that they came back with armoured tanks the following day and started shooting sporadically over the claim that we killed one of their officers."
The gruesome murder
Like Eta, many others are yet to recover from the incident. One of them is Eta-Iko Mary, wife of Eta-Iko Ebri, a 43-year-old farmer. The couple had been married for two years and eventually had a child on June 3 this year. Three weeks later, Ebri was killed.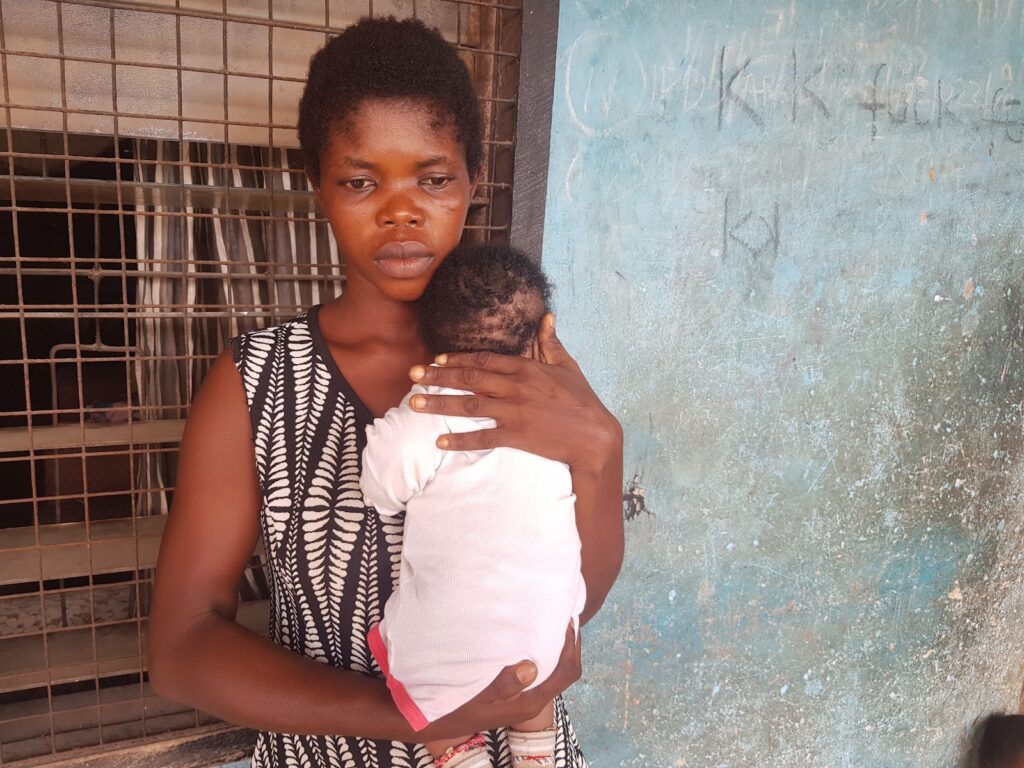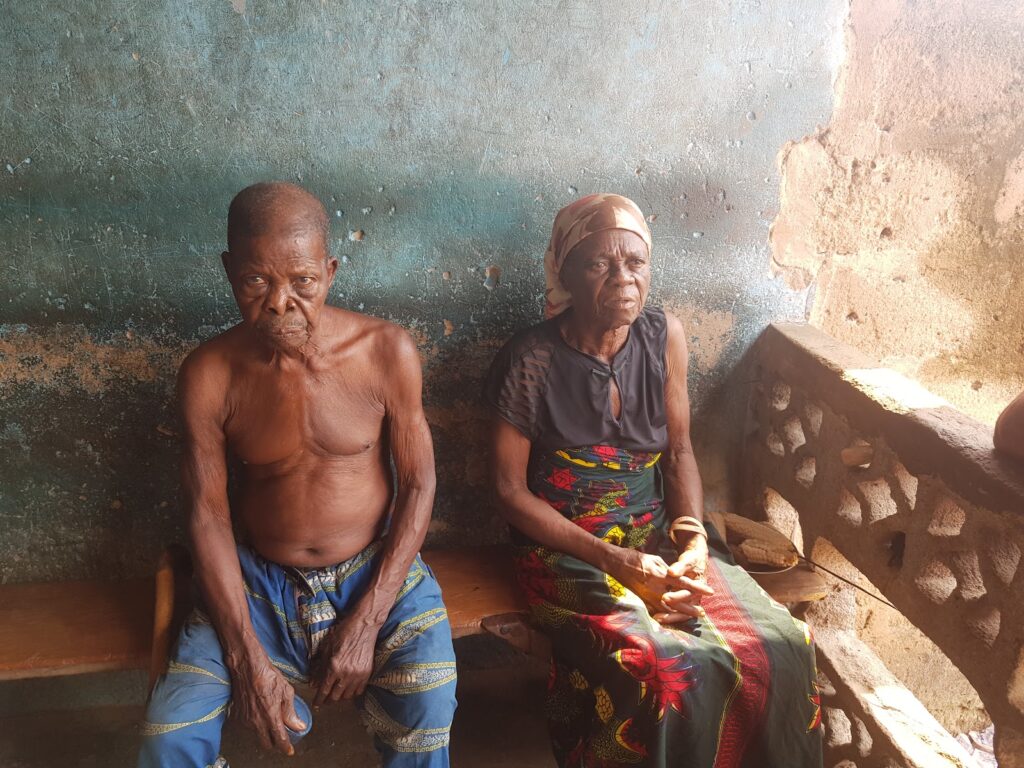 "I have been living in tears since the day he was shot dead. I remembered how close we were when he was alive and how he took care of me during the pregnancy. He was killed for committing no offence. Aside from the fact I feel bad that I am being fed by his parents who should be reaping the fruit of their labours, I cry anytime I remember that when the child grows, he will ask for his father," Mary said.
The pain of losing a relative was also evident on Usani Ofem's face. The 60-year-old woman wept over the death of her only son, Ikpi. They were about to leave the farm when soldiers started shooting sporadically.
"We were caught while trying to hide in the bush and they killed my son in front of me. This was a child that promised to take care of me after I had eye surgery last year. Now, I don't have a child to bury me."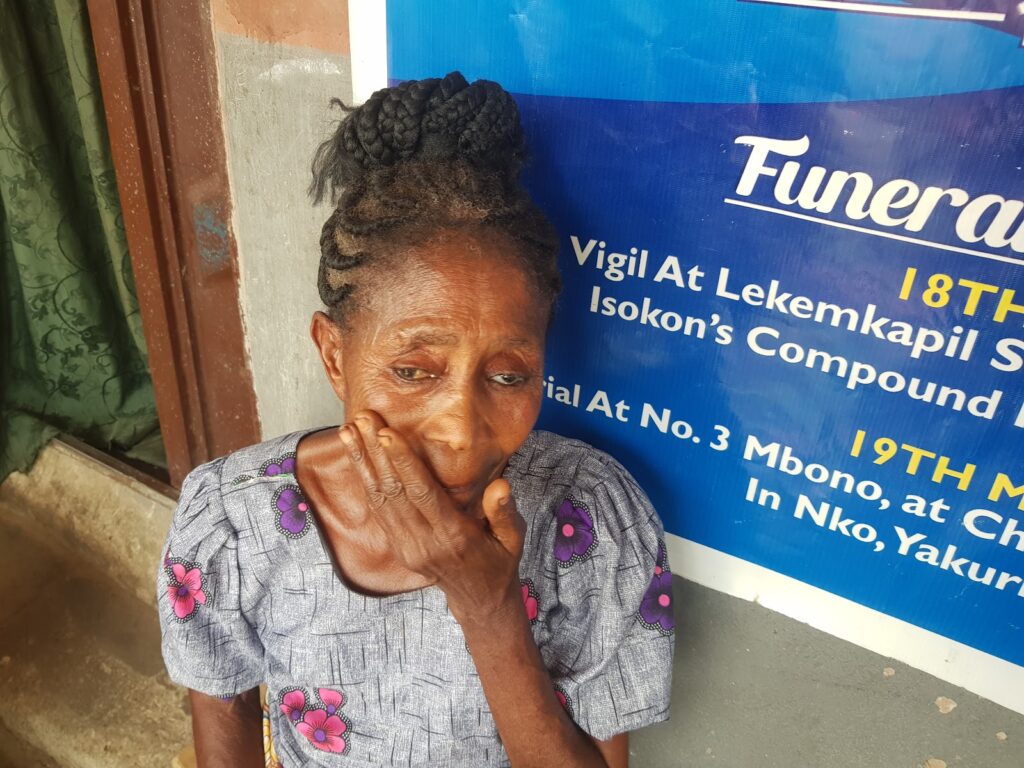 The deceased had a six-year-old son, who left Nko with his mother because of fear of future crises in the community. Ofem said her neighbours and family members are currently feeding her because she can no longer return to farming due to old age.
Akpama Offem, 65, also told our reporter his 25-year-old son, Uwofy, was shot dead while trying to escape from a building razed by the invading soldiers. He says he knows no amount of crying would bring his son back, so he only hopes the authorities would investigate and compensate him accordingly.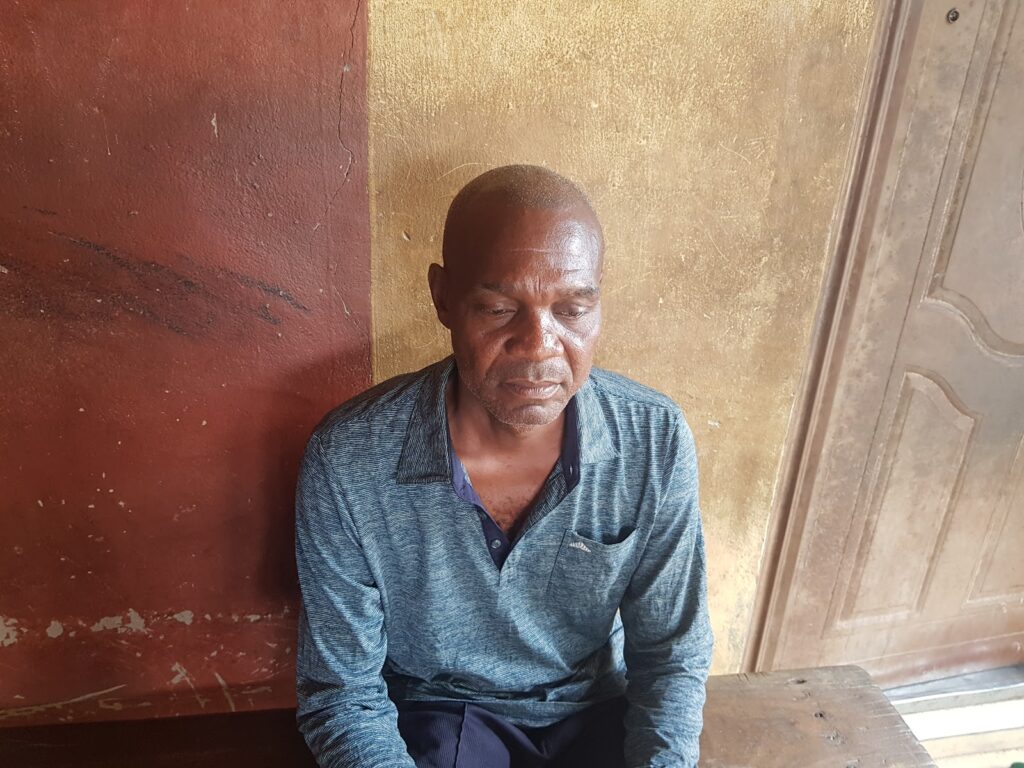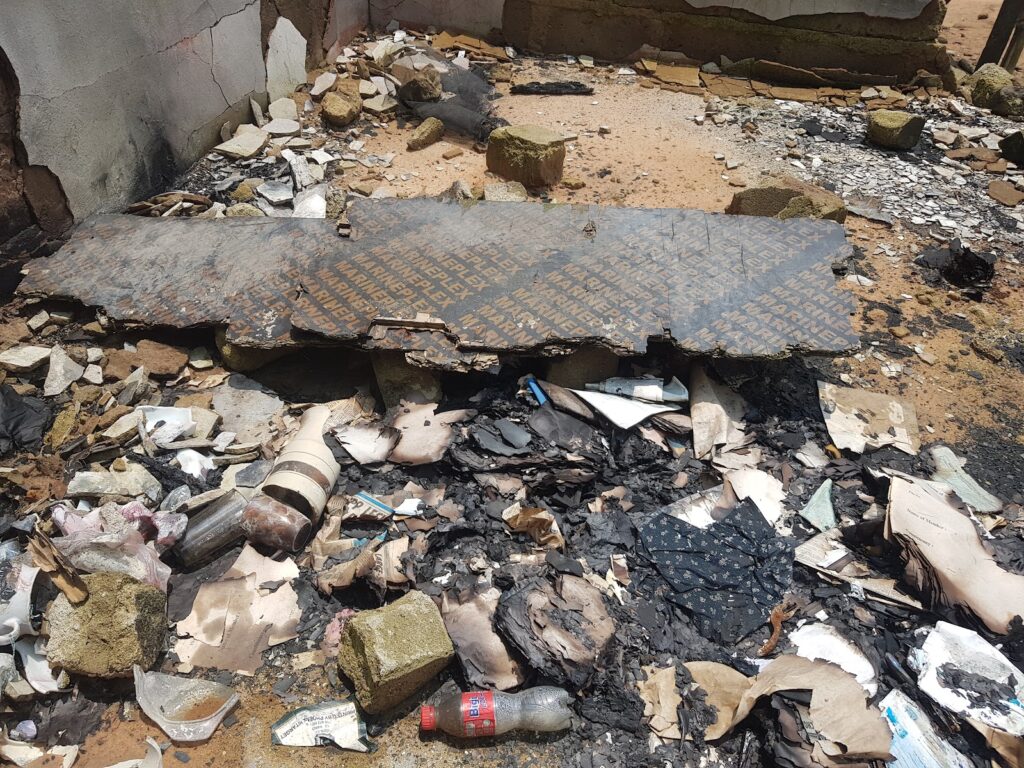 Unlike others killed with bullets, Offem Okoi, 70, was burnt alive in his house. He had arthritis, so he could not leave the building when the soldiers arrived. The deceased's daughter, Esther, told HumAngle that life has been terrible for the family, especially her mother, who was married to the late Okoi for over 30 years.
'How we sustained gunshot wounds'
Oju Sunday, 40, was sitting outside his house with three friends when they heard repeated gunshots. In the blink of an eye, the soldiers surrounded them and shot directly at them. While two of his friends died on the spot, he sustained a gunshot injury on his left leg. His third friend also sustained a gunshot wound.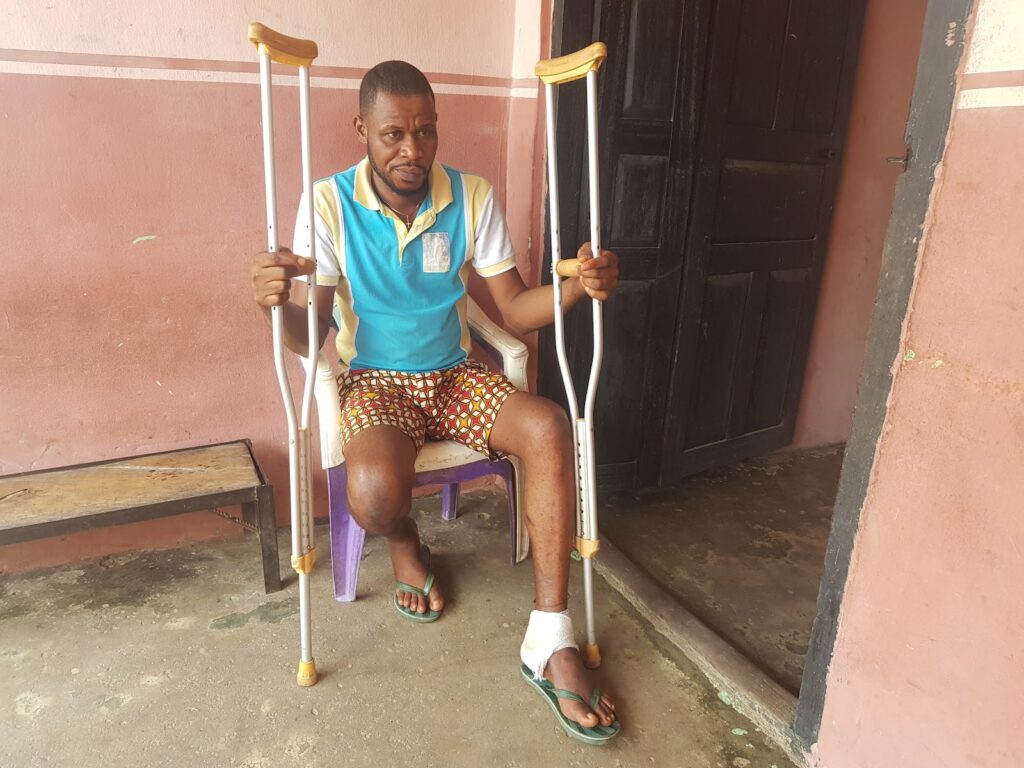 "Some of our neighbours rescued me after the soldiers who shot me left. They took me to the bush that night and all we did to stop me from bleeding was to cut some leaves and put them on the spot," a devastated Sunday recounted.
"The bullet entered my foot and came out through my ankle. I thought I was going to die. I was in pain in the bush till the following day when I was taken to Ugep General Hospital for proper treatment. I spent six weeks in pain at the hospital. I am just grateful to God that I didn't die like two other friends who were killed. I hope this injury will heal fast."
Another survivor, Akpan Emma, who was shot in his lower back, said he had to crawl to the bush from the scene and could not get anyone to help him except "my son who was dragging me and crying."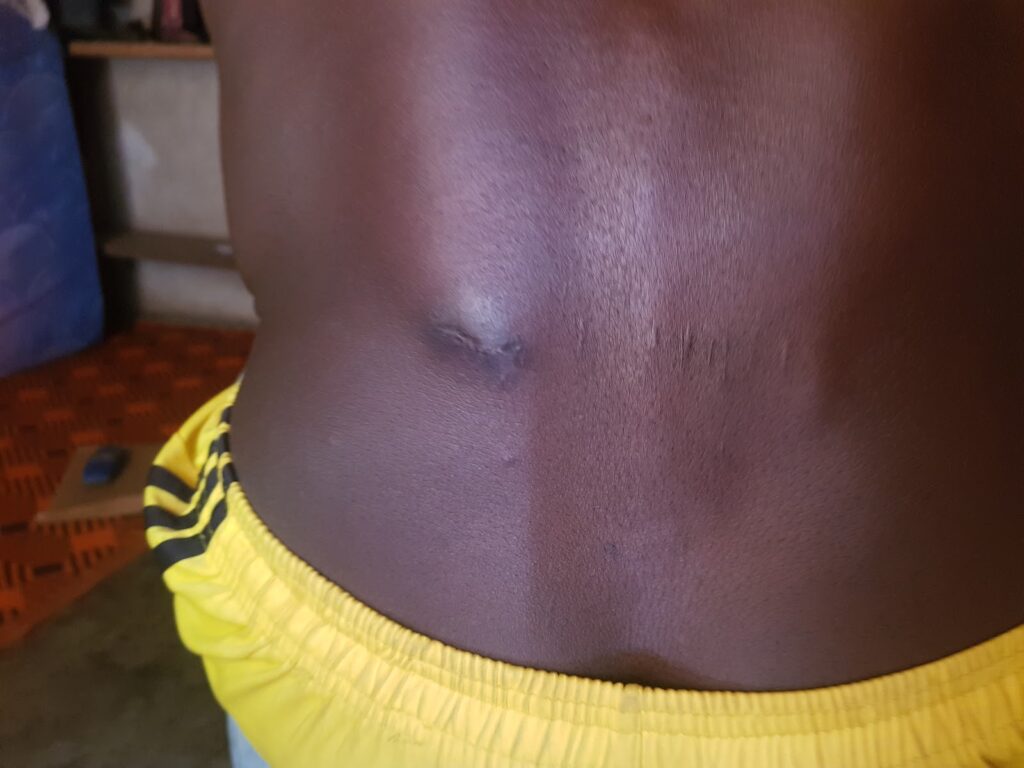 "I was in the bush suffering throughout the night. I found my way to the road the next morning and a motorcyclist who saw me in pain took me to the hospital. I spent two weeks praying not to die before I came back home. It was a sad experience for all of us in the village."
Some other people recalled hiding in the bush for up to three days and feeding only on corn during the period.
Destruction
HumAngle observed that a lot of properties were destroyed during the raid. Our reporter counted at least 20 houses and shops, including a palace, razed during the deadly attack. Esther Solomon, 25, was a wholesale provisions seller before the military attack. Today, putting food on the table for her children is hell. She said she had goods worth ₦500,000 ($1,175) in the shop before it was burnt.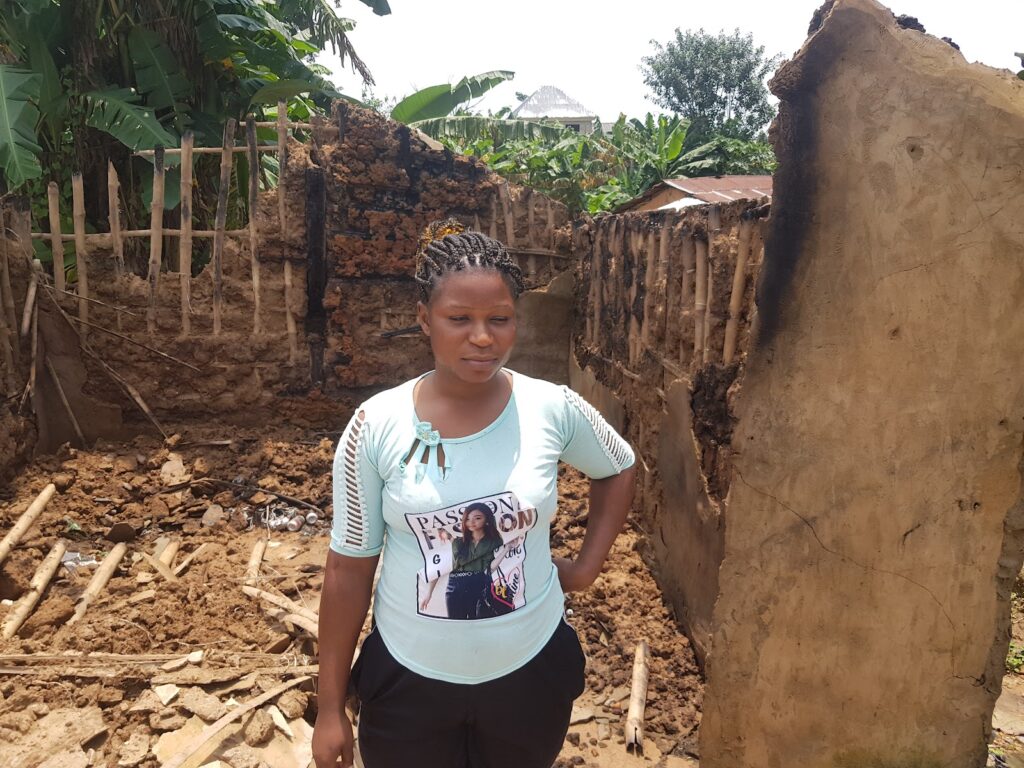 "My husband is a motorcyclist and he invests all his savings in my business. We ran away when the soldiers came and had to stay in the bush for more than a week before I could burst out in a neighbouring community in Biase," she said.
"My children also ran with my husband to Ekori, his hometown. Even though I lost goods worth half a million in the shop, we thank God for sparing our lives. We do not pray for such to happen again and the only remedy is prompt government intervention."
Obeten, who earlier told HumAngle that the brutality began in his presence, said his beer parlour was also razed. He started the business when he graduated from the university in 2008 but returned to ground zero due to a communal crisis he inherited from his forefathers.
"Some of the youths in our community have held different peace meetings with Onyadama youths, but our efforts are not yielding the desired outcome. It is sad that we lost some of our friends to this; for those of us alive, we have been reduced to nothing."
He also ran to Ekori after most residents in Nko were displaced.
"One of my friends later called to tell me that my shop had been burnt. It was at that point I told myself that I had nothing to fear again since they had burnt all that belonged to me. I sat down to take the statistics of my assets, and I realised that I lost over ₦10 million ($23,629)."
Wofai Mbang, 38, graduated with a degree in Medical Biochemistry from Cross River University of Technology (CRUTECH) in 2014. Since he could not get his desired job after schooling, he took loans and ventured into pharmacy and trading cement. He estimated the contents of his shop, before it was destroyed, to be worth nearly ₦30 million ($70,888).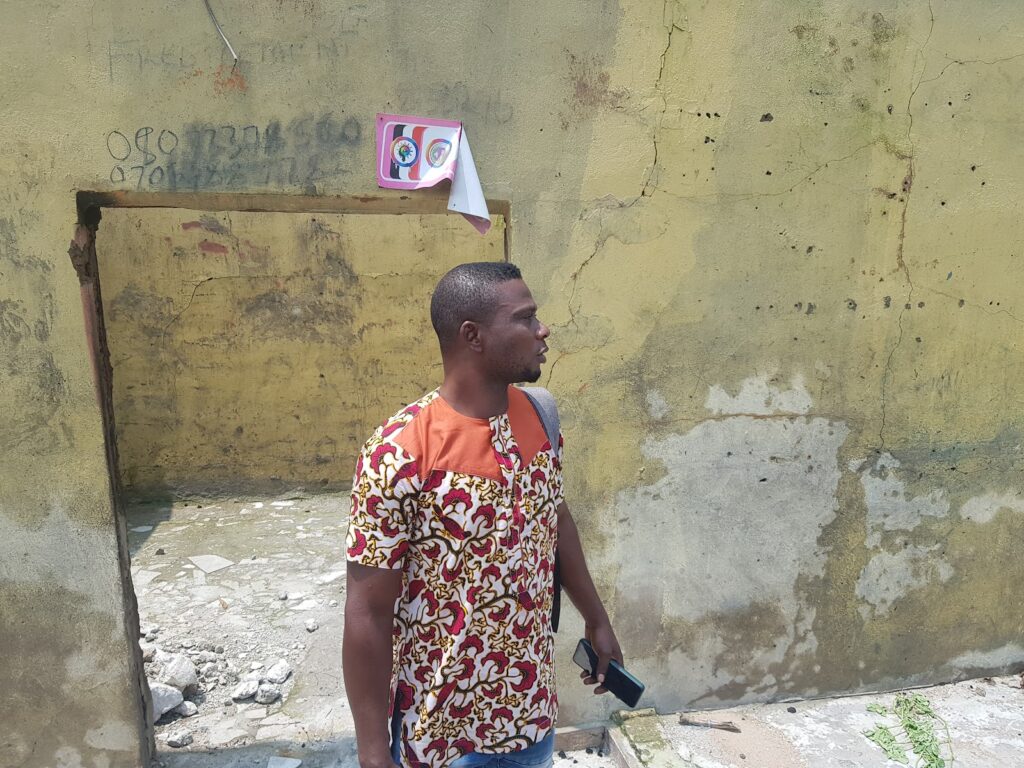 "My properties were part of the first set attacked by the soldiers. I currently keep my wife and five children with my family members in Ugep while I struggle for survival," he said.
Brutalised in military barracks
Aside from killing defenceless people and razing their houses, the soldiers arrested six people accused of masterminding the communal war. One of them is Arikpo Mbang, 65, who was picked up while returning from his farm.
"They accused me of leading the war against Onyadama. Despite telling them that I was coming from the farm, they brutalised me and took me to Edor Barracks. I was arrested alongside five other people and we were seriously tortured into saying what we did not do."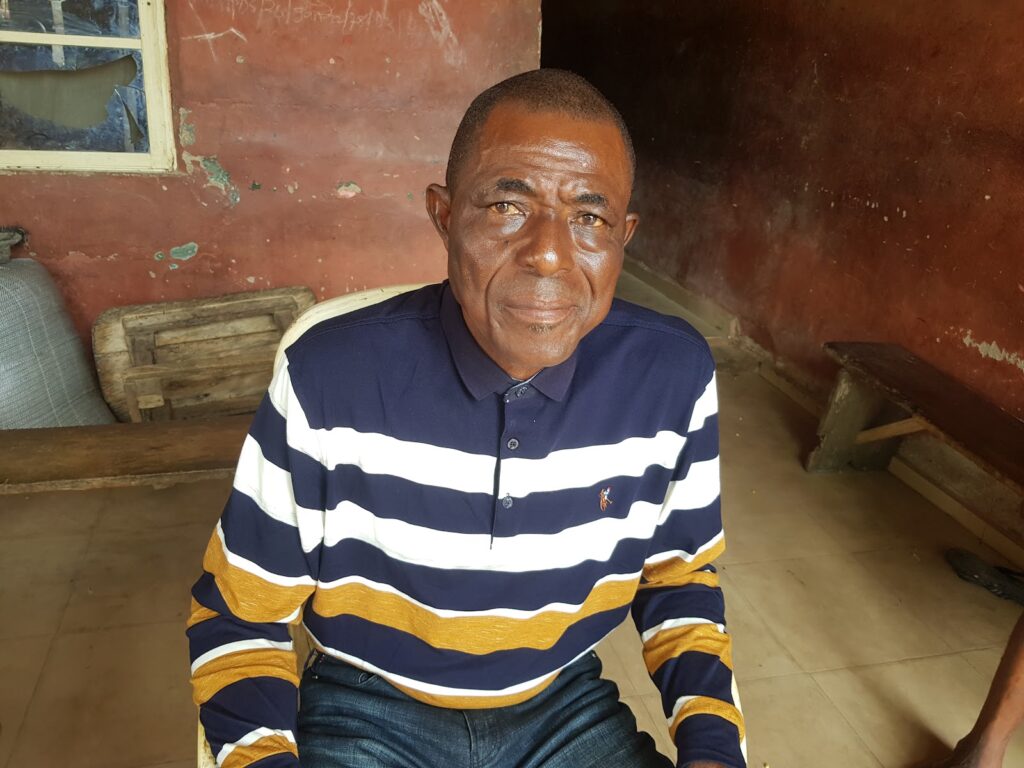 He was kept in the guard room for 11 days and later transferred to Akim Barracks in Calabar, where he spent another 15 days.
"My wife and children could not locate me, and I was also crying, thinking they would kill me. I feel so bad whenever I remember these incidents. I was mentally disturbed because of the torture," he said. "The soldiers later took me to the Police SCID. I ended up spending 42 days in detention for the offence I did not commit."
Contacted by TheCable at the height of the crisis, Cross River Police Command spokesperson, Irene Ugbo, confirmed that soldiers attacked Nko following the alleged killing of a senior army officer. She, however, did not respond to enquiries from HumAngle.
Nigeria's Chief of Defence Staff, Lucky Irabor, in an interview with Arise TV on June 29, denied the attack took place. He simply said enemies of the Nigerian Army were spreading reports on killings and destruction of properties. He also did not respond to HumAngle when contacted to react to our findings.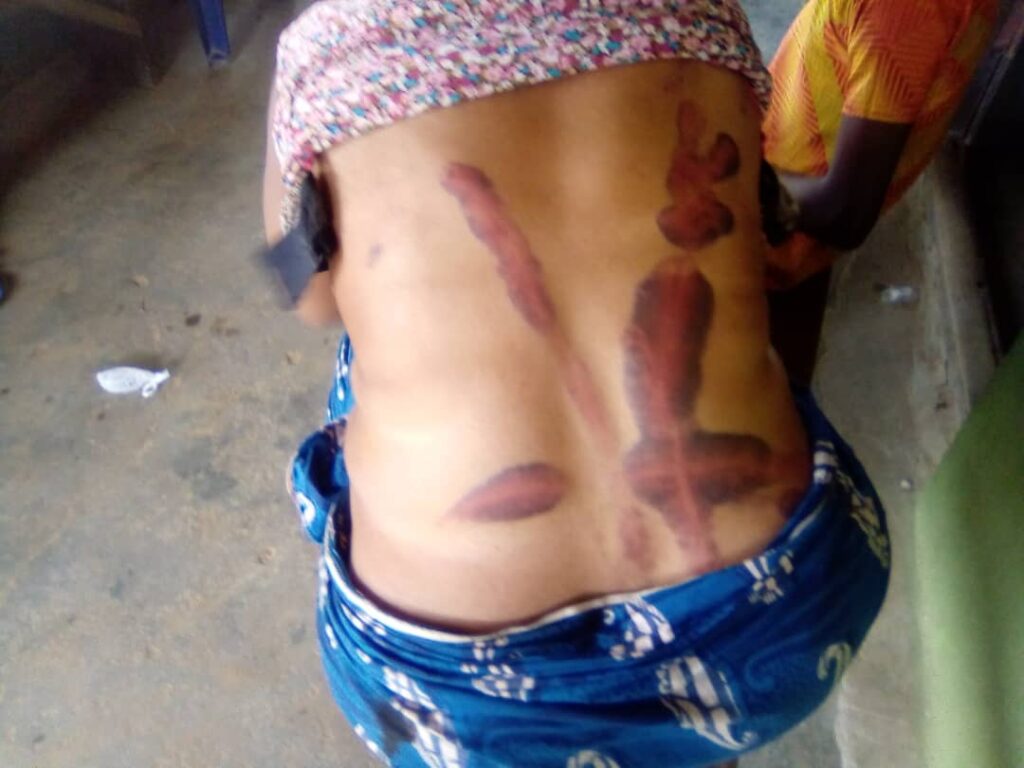 In reaction to the crisis, Cross River ordered the dethronement and de-certification of Obol Etim Ayomobi, the Obol Lopon of Nko, and Ovarr Vincent Erena, the Clan Head of Onyadama — leaders of the two warring communities.
The government was silent on the soldiers' conduct. No response was provided to HumAngle when our reporter reached out to Governor Ayade's press secretary on this.
Dethroned leaders want peace
The dethroned monarchs of the two communities say they are ready for peace and would want the state government to genuinely investigate the repeated crisis. The Obol Lopon of Nko, Ayomobi, said the boundary determined in the 40s is "against the wish of the people; hence, authorities must intervene."
"I thought the soldiers came for peace, but they started attacking our people. They were even looking for me and threatened to kill me. I pity the governor who allowed this to happen to the people. He has not even come to commiserate with us," he said.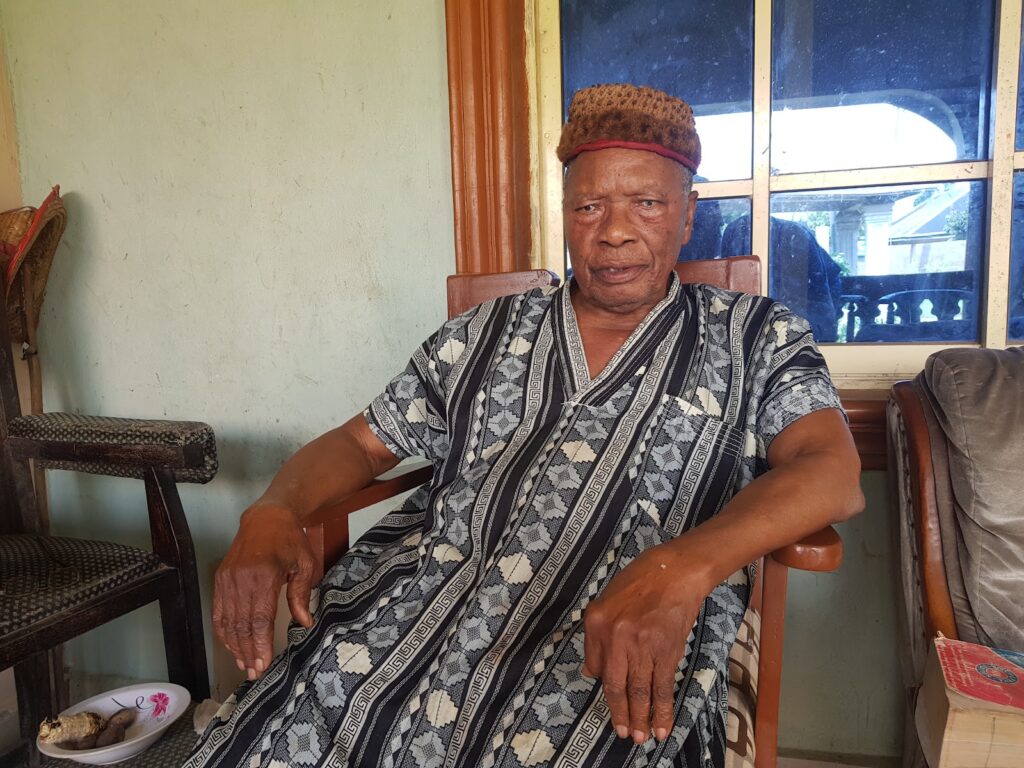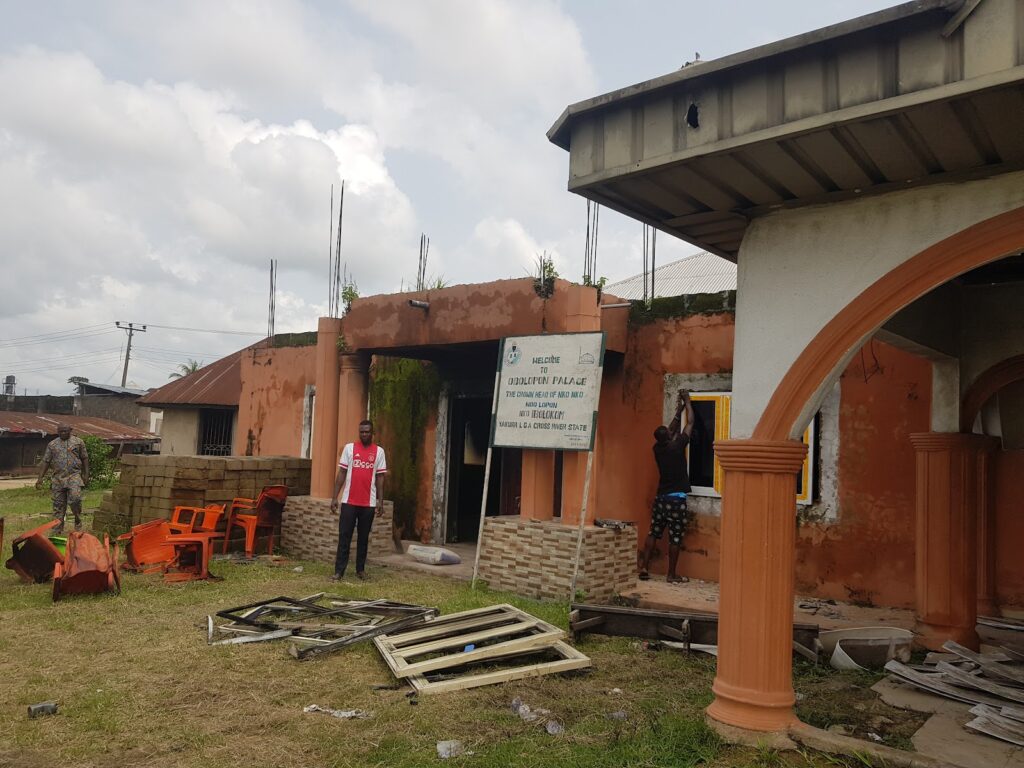 The Clan Head of Onyadama, Erena, wants the government to make the findings and recommendations of its panel public for peace to reign. "A panel was set to look at the crisis, but we are yet to get the white paper of the panel. So we blame the government for the war. We have been praying for the white paper to come out so that we can implement but nothing. The whole thing is a civil matter, but the government is not trying. I am a human being and I don't like fighting."
He also expressed his displeasure over the dethronement, describing it as unjustifiable.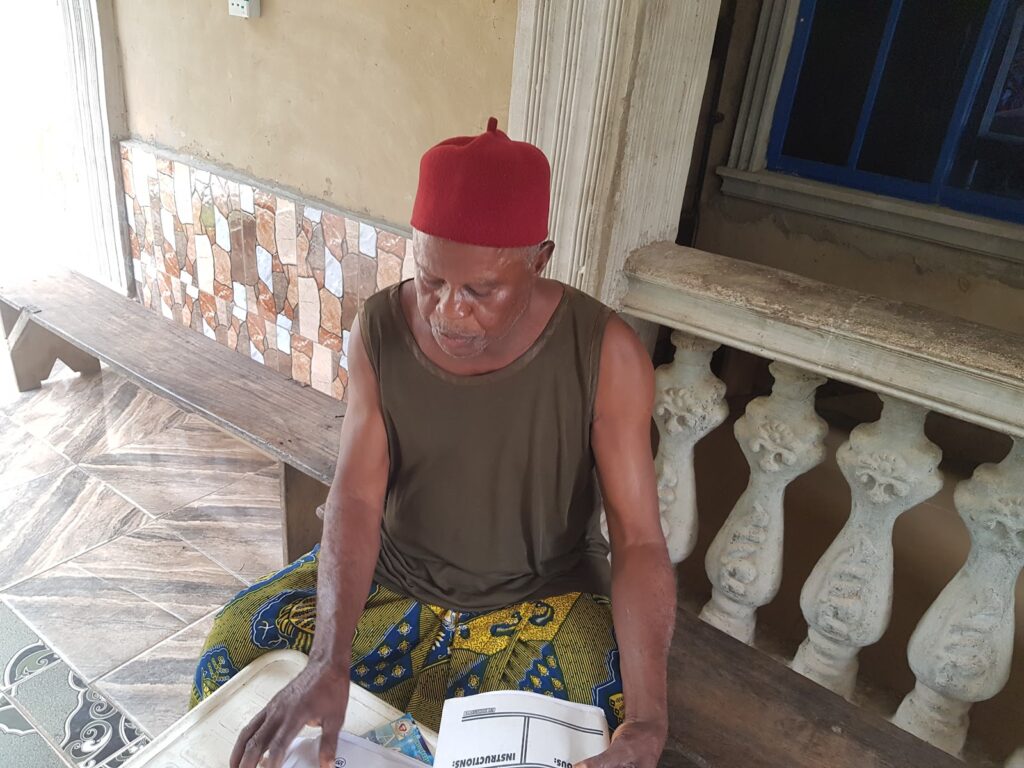 Records show that the Nigeria Army has a history of aggravating already tense situations with highhanded reprisals. Mike Ozekhome (SAN) condemned the deployment of soldiers to Nko. He also advised against military incursion into civilian spaces.
"The military men are trained to kill, and that is why the business of policing is left to the Nigeria Police Force under Sections 214 and 215 of the Constitution. The military men are to defend the territorial integrity of Nigeria. What were they doing with civilians in Cross River? They are pursuing butterflies when the house is on fire. It is high time the President and Commander-in-Chief of the Armed Forces called the military to order and stopped the killing of unarmed civilians," he said
Lagos-based lawyer Ademola Owolabi urged the army to respect the sacredness of life. "The soldiers appear not to be properly trained in civil engagements because no compensation can bring back those that were killed," he observed.
Owolabi also asked the government to take interest in ending land boundary issues which are fast becoming a norm. "The major solution is not to drag the military to court but to ensure that unborn children do not inherit all these land boundary crises," he suggested.
Amnesty International has also demanded that the allegations against the military be investigated and those found to have violated human rights made to face justice. "The investigation must be impartial and independent," said AI conflict researcher Aminu Hayatu.
In the meantime, people might start to look to themselves for a lasting solution. "If the government cannot give us peace, we should give ourselves peace," reckoned Ayomobi, Nko's traditional leader.
---
Support Our Journalism
There are millions of ordinary people affected by conflict in Africa whose stories are missing in the mainstream media. HumAngle is determined to tell those challenging and under-reported stories, hoping that the people impacted by these conflicts will find the safety and security they deserve.
To ensure that we continue to provide public service coverage, we have a small favour to ask you. We want you to be part of our journalistic endeavour by contributing a token to us.
Your donation will further promote a robust, free, and independent media.
Donate Here