Armed Violence
Features
News
The Deadly Crises Tearing Nigerian Rural Communities Apart
Nigeria is bedevilled with several security issues. But boundary disputes, which are rarely on the front burner, remain a silent killer.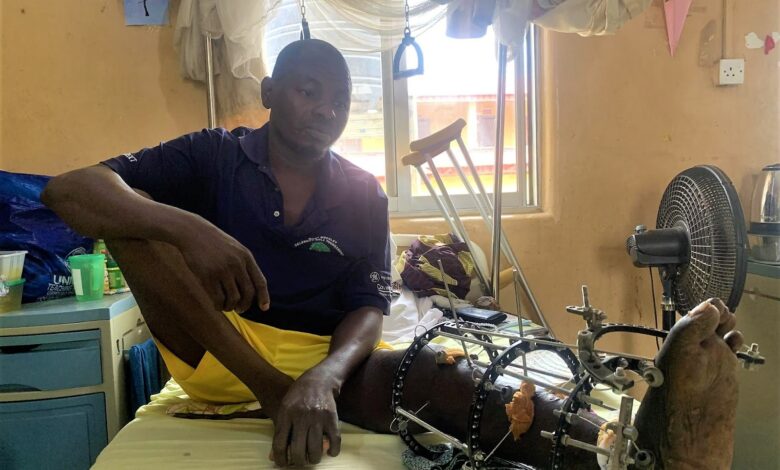 Azeez Adam, 52, stretched his left leg, braced with a metal cage, in his hospital bed by the door of the male orthopaedic ward of the Osun State University Teaching Hospital, Osogbo. On the bedside cabinet lay unwashed plates as Rofiat, his younger daughter, sat, watching keenly. Other patients quietly went about their daily routine; nurses checked vital signs and provided physical care.
It was Adam's one year at the orthopaedic ward after his leg was riddled with bullets while returning from his farm. Fighting had broken out on the morning of Feb. 6, 2021, between Ilobu and Erin-Osun communities in Osun, Southwest Nigeria, over boundary issues.
The conflict was sparked by disagreements that followed the National Population Commission's Enumeration Area Demarcation exercise.
HumAngle gathered that the officials had visited Ireakari and Ahoro Afin, two areas claimed by both Ilobu and Erin-Osun, to demarcate landed properties ahead of the exercise.
The area around the disputed areas where Adam was waylaid has also been a hotbed of communal dispute for years.
Two days before the conflict, his eldest daughter, Mutiat, had called requesting some money to buy study guides in school. "She needed ₦6,000 ($14) to buy materials, without which, she said, they would not be allowed to sit in class," he recalled. "I was cash-strapped, so I decided to go to the farm to get Kolanut and sell, to raise the money for her."
A mechanic, he had gone to Erin-Osun that day to repair a client's vehicle, noting that the atmosphere was unusually calm. But he was unruffled since he was well-known in the community. "While we were coming back, I realised there were fewer people on the street. But if at all anything would happen, who would say he does not know me?" he grimaced.
He wasn't entirely wrong, except that the fight took a more brutal turn. A few metres away, he saw some young people, presumably in their thirties, their faces veiled, barricading the main road. "The only thing they asked was the name of my village. I couldn't answer them." Something about this, he stated, caused knots to build up in his throat, "then I heard that we were from Ilobu, and had to be killed."
The next moment, he would lay flat drenched in the pool of his blood, writhing in agony. They, however, spared his youngest son who was with him. Adam has not fully recovered since, like other victims of deadly conflicts that have held rural communities across the country to ransom.
"My shops have been closed down, and I'm literally just living from hand to mouth. This is the third surgery [I am doing] on the leg and there has been no support from the government whatsoever. I've spent more than a million naira, and my drugs cost ₦11,200 ($27) every week," he noted.
Cost of conflict
Nigeria is confronted with multiple security challenges. But boundary disputes often fall off the radar, despite intensifying in recent years, leaving hundreds of people dead and thousands displaced.
A report by Nextier SPD shows that in the 12 months to Sept. 2021, communal clashes accounted for 14 out of the 890 conflict incidents and 80 out of the 3,787 casualties.
During this period, there were communal conflicts in eight states. Ebonyi and Osun states reported three incidents, Benue and Gombe states had two incidents, while the other four states – Kwara, Niger, Bayelsa, and Edo – had one incident each. Ebonyi, with 39 casualties, accounted for 49 per cent of the reported deaths. Osun, Kwara, and Bayelsa states accounted for another 43 per cent of the deaths.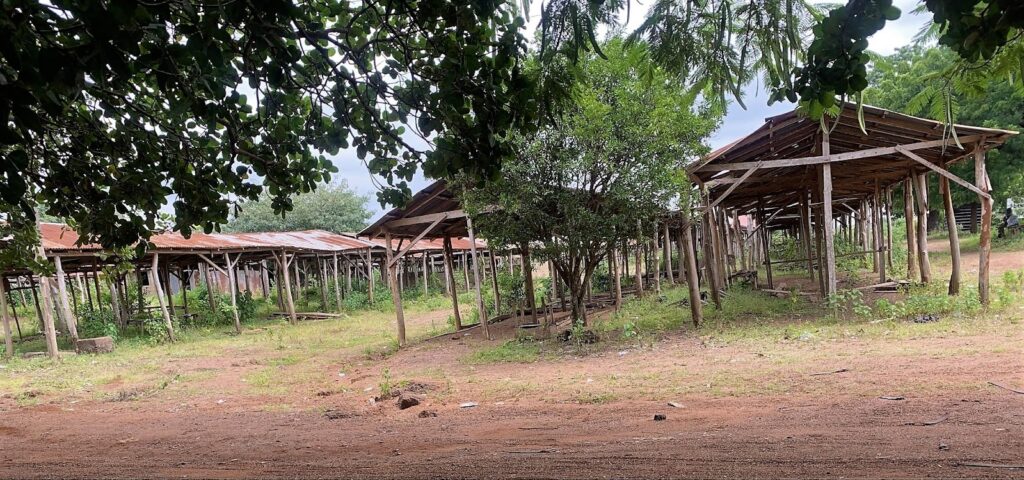 In 2006, the Nigerian government signed the National Boundary Commission (Establishment) Act into law. The legislation seeks to define and delimitate boundaries between states, local government areas, and communities in the country, including encouraging negotiated settlement of border disputes in preference to litigation.
However, according to analysts, this remains a drop in the ocean, as shown by the number of land disputes and boundary-related matters in courts.
For instance, Offa and Erinle, two communities just 10 minutes' drive apart in Kwara State, have been locked in recurring violent clashes over boundary issues for years. The division — so deep and lacking compassion — has claimed lives, properties, and court judgements.
Ben Okezie, a security analyst based in Abuja, believes the raging dispute over boundaries across the country is largely due to the laxity of the authorities.
"People feel naturally attached to what they call their ancestral home (land), and can do everything to defend it," he explained. "But the thing is, most of the boundaries are just natural boundaries. In all parts of the country, there are hardly any definite demarcations to show whose boundary it is. And not until we start doing that, we won't stop having this kind of problem."
Debt, and more debt
Badmus Kafayat, 27, still recalled the uneventful day her makeshift kiosk was torched a few hours after the fight broke out. She sat upright on a wooden bench in front of a brown iron kiosk as she unboxed cartons of biscuits. She sells soft drinks and charcoal, too.
Kafayat had hurriedly closed her shop when she learnt that the perennial fight between the two communities had riled up again. "It was the saddest day of my life yet. I had just restocked my shop three days earlier and watched everything I worked for in seven years go up in flames," she narrated with mournful eyes.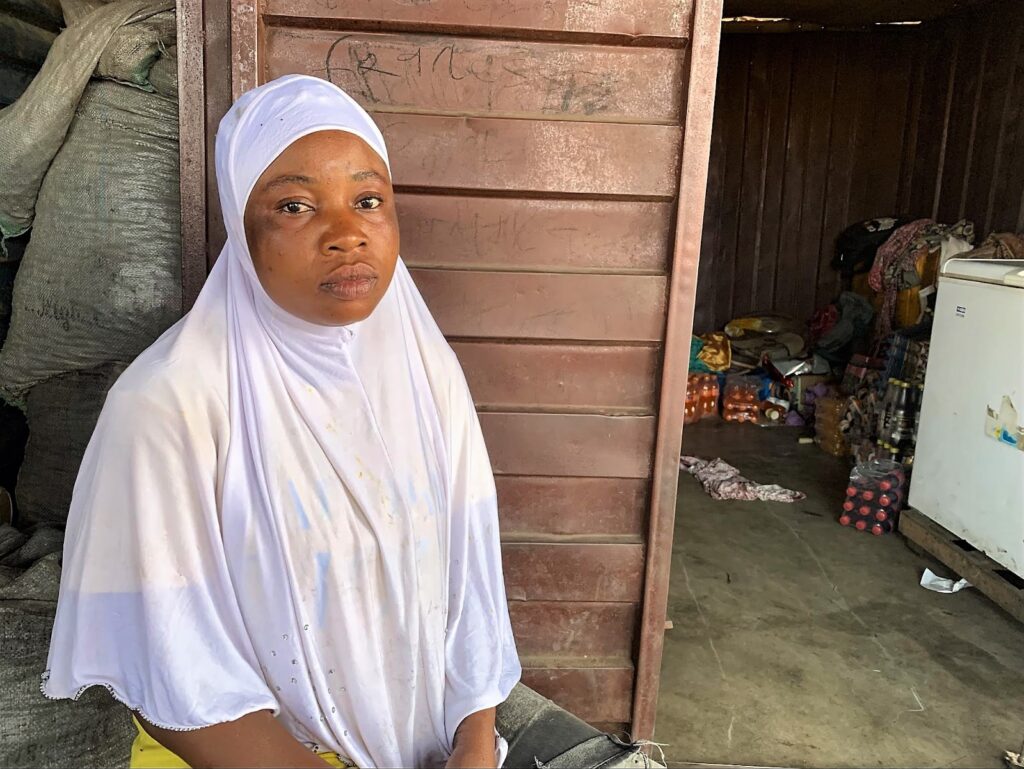 She spent a couple of days at a hospital near her house, unconscious. When she woke up, she said, another panic gripped her. "It's like starting my life all over."
One day, in her face-me-I-face-you apartment, a friend offered that she used her credit card with a microfinance bank to obtain a loan, something she had always frowned at. "I collected ₦250,000 ($593) and pay ₦15,000 every week. I've never been there or collected it before, but I can't sit idle, waiting for people to feed me. I've to do something," she said, pausing to catch her breath. She noted that she had intended to claw her way out of the storm with palliatives from the state authorities, but none came.
Lawal Muhammed, a socio-historian with a focus on boundary disputes, told HumAngle that innocent people would always be at the receiving end of these inter-communal clashes, while there are also some who benefit.
"This is not to dispute the fact that the crises are also largely historical. But there are always political undertones, especially in the last fight between the two communities. And without the authorities rising up to these issues, it would continue to eat us up," he said.
He is not wrong. Dauda Ajadi, 64, escaped death by a whisker. He had laid flat inside his room, away from the trouble hovering around, when his house was set on fire.
A beep from his phone and a panicked wife was what it took to jolt him awake. Before he could draw a startled breath, he said the fire had caught up with the furniture in the room. "That day, no one would have thought all hell would break loose. I got back from a meeting and decided to take a nap before going out. If not for my wife, who woke me up, I would not be here today. That moment I knew things would never remain the same for me again."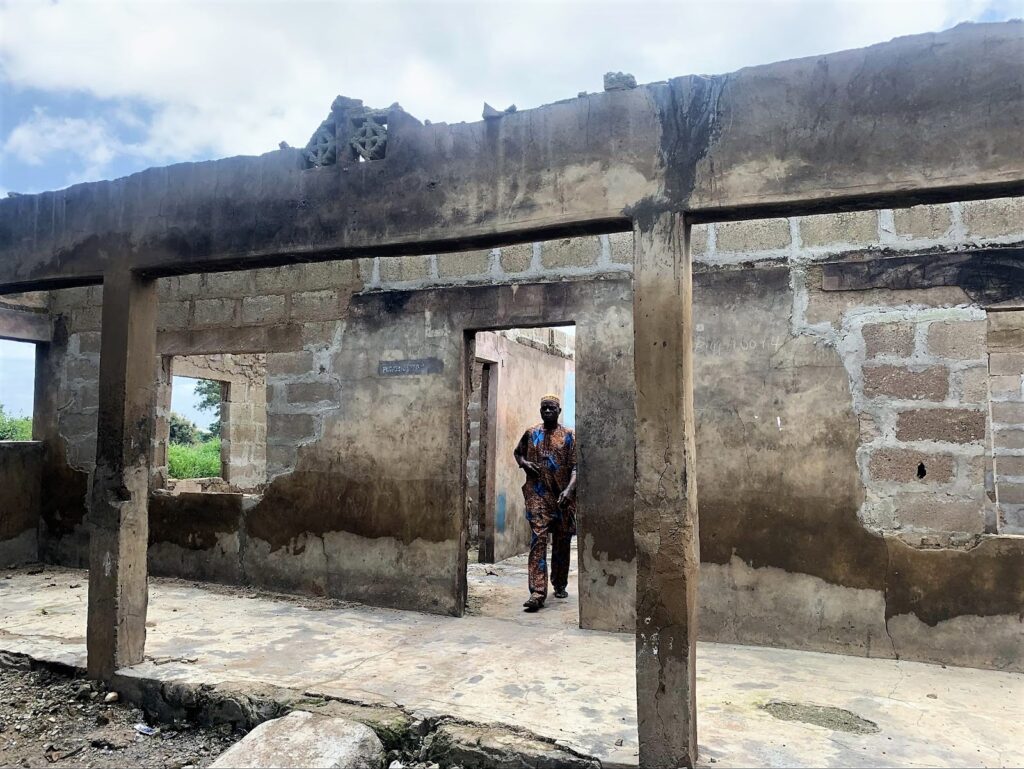 "We were able to slip through the window and couldn't even save a pin from the house. My son was working on wedding dresses at the time. Kola nuts that I stored in the house and my wife's savings, everything ended up in flames," he added as a fresh wave of grief engulfed him.
Ajadi walked tiredly down the passage of the house that now bears the scars of one of Nigeria's deadly crises. "I was able to rebuild the house to this level only because people have been kind to me since the incident happened. It has never been this violent between the two communities," he stressed.
The researcher, Muhammed, argues that when there's a life-threatening boundary issue like this, the state government, which owns land resources according to national laws, should acquire the disputed land for projects that benefit the communities involved. "Why then should the state look on while people are being killed and slaughtered?"
Adam asked similar questions. He also wants a second shot at life.
"I want to be there for my children. I'm the only one left to take care of them since their mother died a year before the incident. Those were my last words to the guys, too."
---
Support Our Journalism
There are millions of ordinary people affected by conflict in Africa whose stories are missing in the mainstream media. HumAngle is determined to tell those challenging and under-reported stories, hoping that the people impacted by these conflicts will find the safety and security they deserve.
To ensure that we continue to provide public service coverage, we have a small favour to ask you. We want you to be part of our journalistic endeavour by contributing a token to us.
Your donation will further promote a robust, free, and independent media.
Donate Here