Analyses
Disinformation
Extremism
The Dark World Of Jihadist Propaganda Channels On Telegram
Ansaru, the Al-Qaeda-affiliated terror group based in Nigeria, is able to share propaganda materials, radicalise members, and connect with similar organisations in other parts of the world through Telegram bot accounts and chat rooms.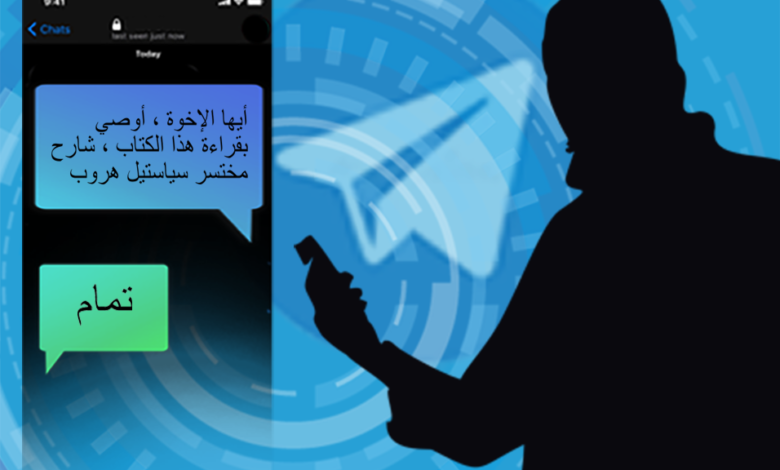 Following the crackdown on Ansaru jihadist accounts on Facebook and WhatsApp in Feb. 2023, the group has shifted its operations to Telegram, a messaging app that has been a favoured platform for extremists due to the relative discreteness it comes with.
In Jan. 2023, a group was formed and named Mahanga TV after some Ansaru members reported losing their Facebook accounts. The group was initially made public and promoted up till early February. However, it was later converted into a private channel that requires an invitation for membership. The group deliberately adopted a pseudonym that could potentially mislead analysts and counter-terrorists into associating it with a distinct online media platform that shares a similar name.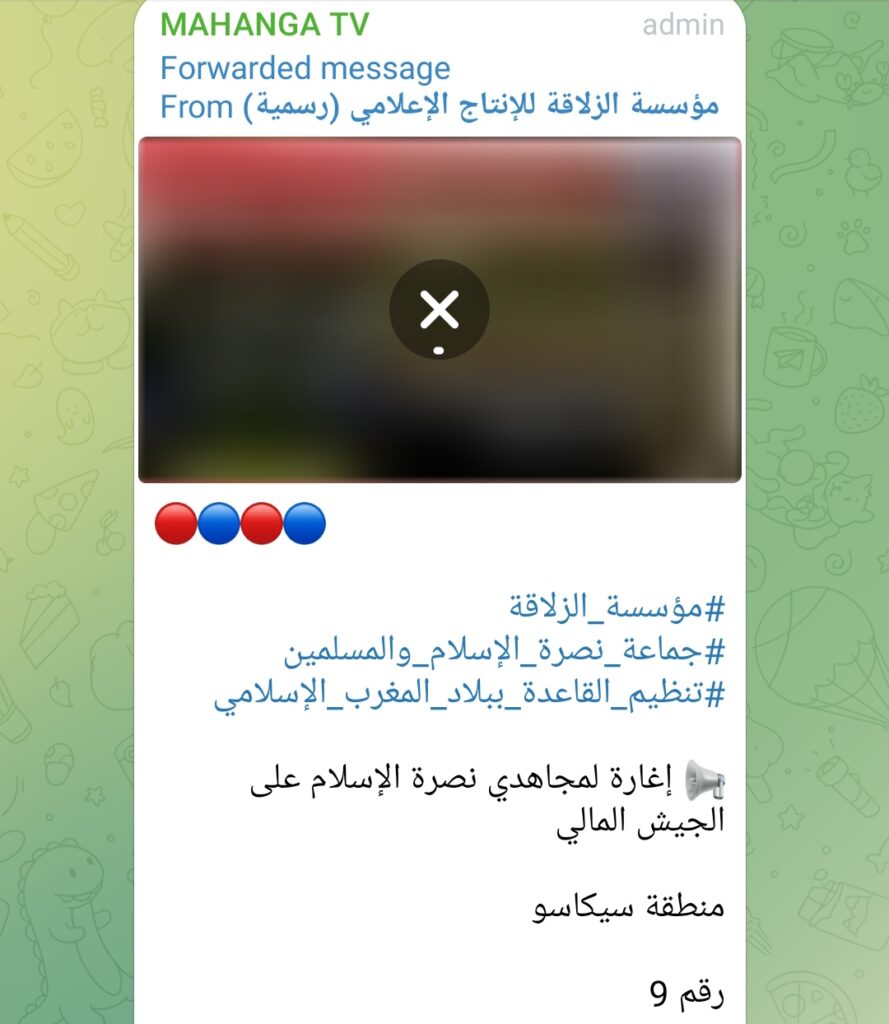 Ansaru's decision to transition to Telegram was a carefully considered move. The platform's appeal to extremists lies in its array of features, including encrypted messaging and streamlined private group creation. These surpass the capabilities of similar platforms like Rocket Chat and Elements – which are also favoured by jihadists. Telegram's most significant feature is the ability to create bots: automated chat partners that perform predetermined tasks around the clock.
Bots have become an important tool among extremists for their ability to efficiently spread propaganda, streamline communication, and maintain a constant online presence. Jihadists are utilising the innate capabilities of bots to their advantage, enabling them to operate 24/7 and disseminate a continuous flow of extremist material to their intended audience.
Telegram's bot detection system can remove bots that are reported, but many bots are able to evade detection by avoiding certain words and images that could be flagged by moderators. This can include altering specific words or using a mix of different languages to avoid detection. HumAngle recently found that jihadists used emojis specifically to dodge detection efforts.
Ansaru members are stepping up their efforts to use social media platforms for radicalisation and to plan a resurgence. The jihadists use private Telegram channels to discuss propaganda and other jihadi-related topics, primarily in Hausa and Arabic languages. And from there, they carry out activities on open platforms such as TikTok.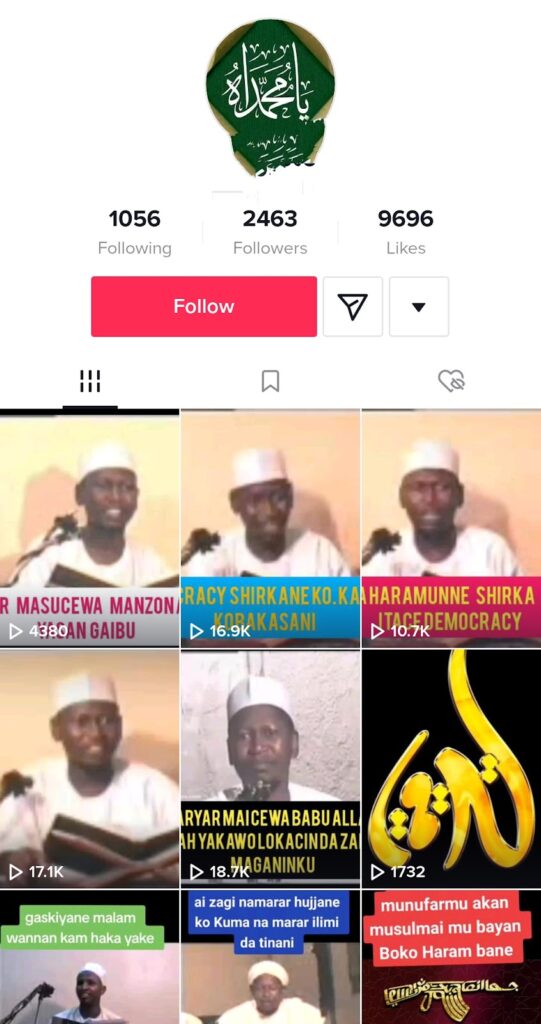 Despite social media companies' attempts to curb extremism, the terror groups appear undeterred. The aim is to inspire new members and extremists to take action rather than simply promote their cause on social media.
Ansaru's shift to Telegram indicates their ability to adjust to the evolving social media terrain. With Facebook and WhatsApp ramping up their efforts to eliminate extremist content, groups such as Ansaru have been compelled to consolidate on Telegram for communication.
The platform has provided an opportunity for individuals to share content that would typically be subject to removal by other platforms, including graphic videos, incendiary and hateful language, and depictions of child soldiers.
Through monitoring various bots and chat groups, HumAngle has gained valuable insight into the discussions, audio recordings, channel promotions, and propaganda videos being shared by the terrorists.
In just four months, the group's membership surged from 10 to over 30. Four administrators shared materials, moderated the conversations, and coordinated the group's activities.
Who is Ansaru?
Ansaru, a jihadist group affiliated with Al-Qaeda, broke away from Boko Haram in 2012. Also known as Jama'atu Ansarul Muslimina Fi Biladis Sudan (Vanguards for the Protection of Muslims in Black Africa), the group operates primarily in the Northwest and North-central regions of Nigeria.
It was found to have conducted abductions and assaults on Nigerian security forces and Western targets, especially between 2012 and 2013. But it has been responsible for relatively less violence, compared to other local extremist groups such as Jama'atu Ahlussunnah Liddaawati Wal Jihad (JAS) and the Islamic State West Africa Province (ISWAP).
The group's main target is foreigners, particularly those from Western countries. They have taken responsibility for a number of high-profile abductions, such as the kidnapping of a French citizen in 2012 and multiple foreign labourers from a construction site in 2013.
Ansaru was subdued through a series of counterterrorism operations against its urban cells between 2013 and 2014. But it became active again in 2019 and has since conducted attacks on the Nigerian military. The group has also merged with JAS defectors who migrated from the Northeast after the 2015-2016 crackdown.
The group has carried out attacks in various locations across Niger in North-central Nigeria and Kaduna, Katsina, and Zamfara in the Northwest. In Jan. 2022, Ansaru announced a connection with Jama'atu Nusratul Islam Wal Muslimin (JNIM), another Al-Qaeda-affiliated organisation based in Mali, for tactical operations and training.
In 2021, the governor of Niger state, Abubakar Bello, said the terrorists hoisted flags in Kaure, a village in the state's Shiroro area, displacing large numbers of people and forcefully taking women as wives and slaves. They have also managed to gain acceptance from some locals of Birnin Gwari in Kaduna state.
The terror group exploits grievances, clashes, and the security situation in Northwest and North-central Nigeria. Its members portray themselves as protectors of the communities while imposing their own interpretation of Islamic law, and this forbids democratic participation.
Digital library
The Ansaru Telegram group has become a digital library of extremist literature, providing access to e-books and pamphlets authored by Al-Qaeda and al-Shabaab ideologues. The detailed publications serve as a roadmap for radicalisation and act as ideological shock absorbers in a critical jihadi scenario.
Nigerian jihadists, specifically Ansaru, have been found to rely on literature and other radical materials obtained from Al-Qaeda and Islamic State leaders due to the absence of scholarly works from local ideologues. The books are occasionally translated into Hausa and shared through various lesson sessions on the Telegram group. E-books are often shared for personal reading or recommended to readers.
Ansaru aims to spread Al-Qaeda's extremist ideology and enhance recruitment efforts by sharing these materials, thereby creating a sense of belonging within the jihadist movement. The Telegram group had a total of 14 e-books. Eleven were written in Arabic, two were in English, and one in French.
One of the ebooks, Sharh Mukhtasar Siyasatil Hurub (Explanation of the Summary on Politics of War), is 215 pages long and has a compilation of lessons offered by Sheikh Qasim al-Rimi, the late Al-Qaeda leader in the Arabian Peninsula. It explains the strategy a jihadist group can follow, the spiritual preparations, and everything a jihadist needs to know about the politics of war.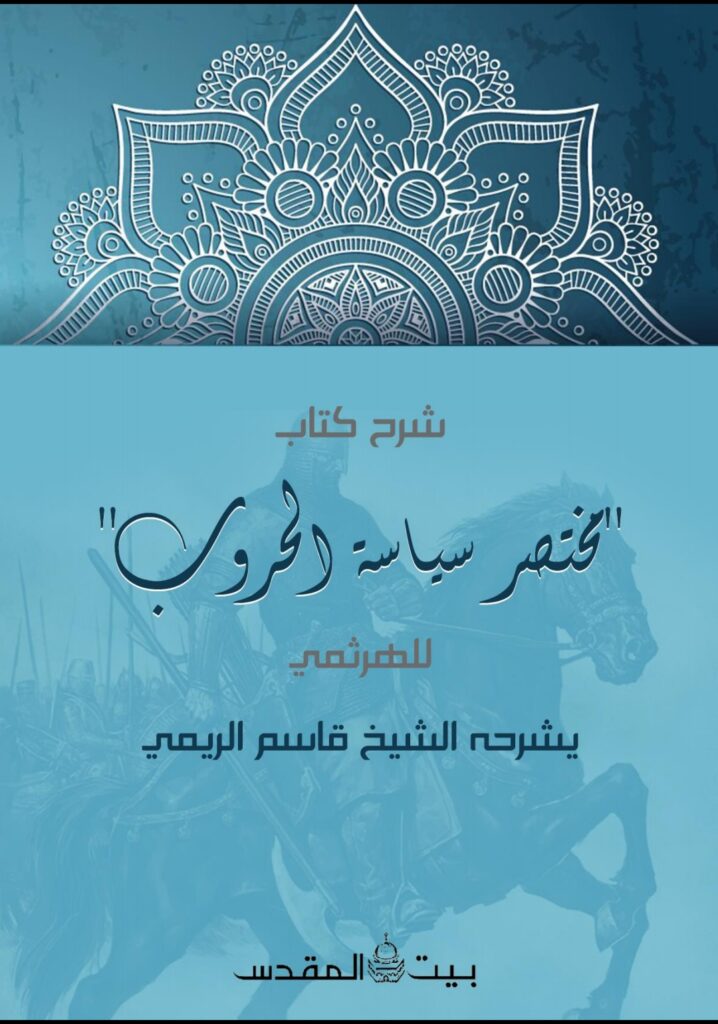 The book provides a comprehensive analysis of the rules and conduct of war, presenting a distorted interpretation of Islamic teachings to justify violence in the name of jihad. It explores various aspects of warfare, including tactics and military strategy. It also highlights the spiritual elements crucial for a jihadist fighter. It delves into the crucial role of faith in offering comfort, inspiration, and direction amidst periods of strife.
The book has gained notoriety for its role in radicalising people within jihadist networks and attracting recruits.
Another notable document in the Ansaru collection is a five-page pamphlet titled "Killing Leader and How To Deal with Events," which has been translated into both English and French. The pamphlet was authored by Abdullah Adam, a well-known Al-Qaeda ideologue. It offers step-by-step instructions to new recruits who may be struggling with the aftermath of losing their leaders.
The pamphlet has circulated among Al-Qaeda Jihadists in the wake of Ayman Alzawahiri's death at the hands of the United States.
"The state in which a Mujahid can be after the loss of his leader or someone important and obedient is to adorn himself with patience, tranquillity and dignity," the pamphlet said.
"And it's not appropriate for him to show anguish and anger, nor [should] anything improper emanate from him, especially if he is among those who order and forbid, or those who are pointed at."
Cross-promotion and bot networks
Ansaru members have been found to engage in a systematic cross-promotion of propaganda materials within private Telegram channels. This involves the sharing and endorsement of content from extremist groups such as Al-Qaeda and al-Shabaab to amplify the reach of their narratives.
The shared contents comprise messages sourced from Telegram bots and channels affiliated with Al-Qaeda. A variety of bots, primarily communicating in Arabic, have been identified. While some of these bots disseminate tactical messages, others spread propaganda.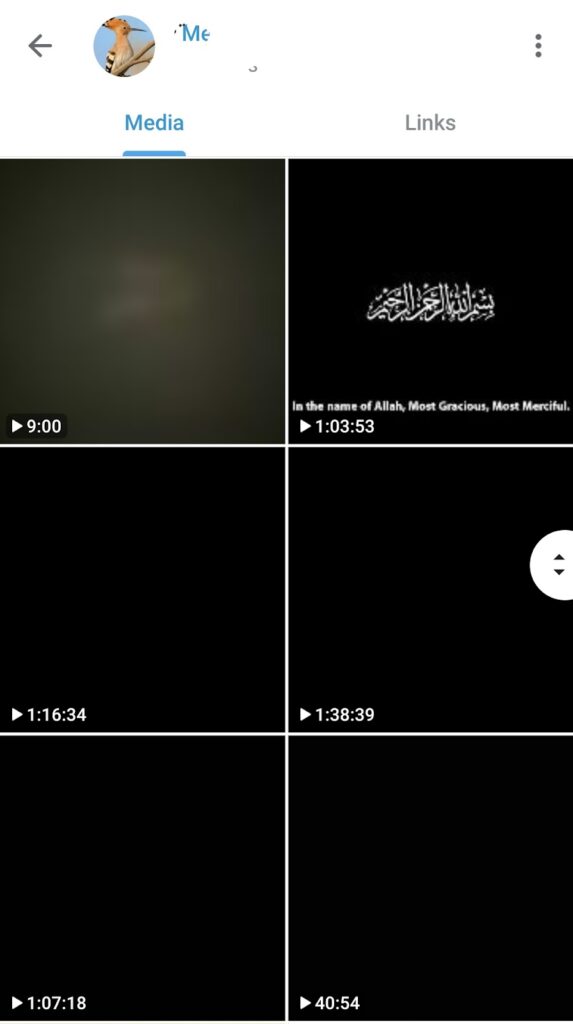 While their own activities have waned, the promotion of other Al-Qaeda affiliates has served as a driving force behind their continued engagement. The promotion of other Al-Qaeda affiliates serves as a catalyst for Ansaru jihadists by providing a shared cause and a renewed sense of belonging. As they witness the activities and achievements of these groups, Ansaru members find validation for their own extremist ideologies and goals.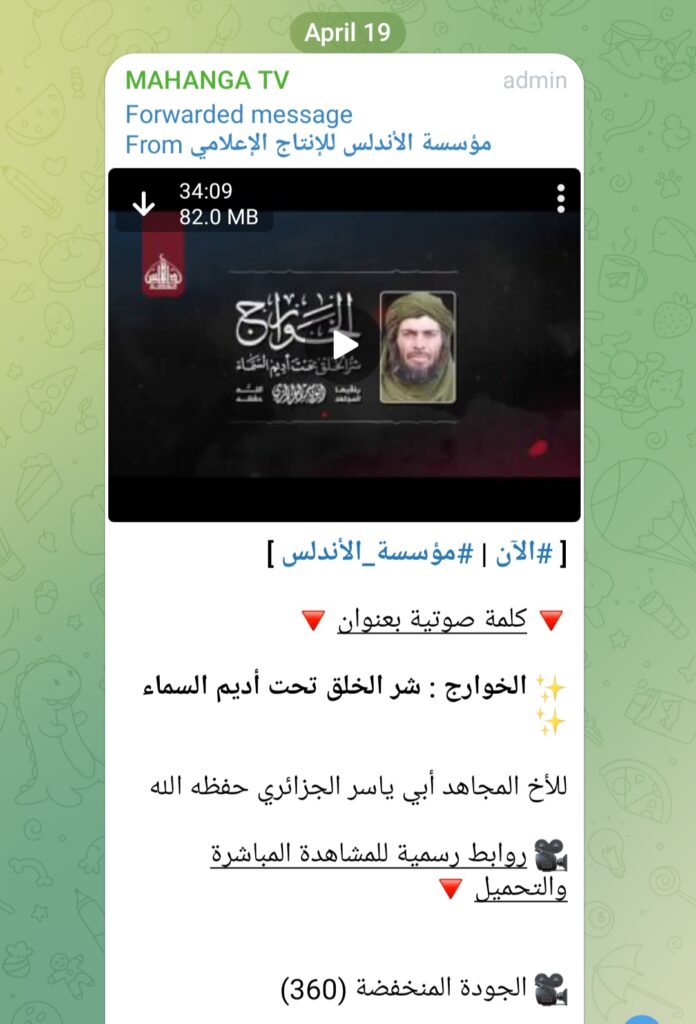 From the Telegram group, Ansaru members have created a TikTok account where they share propaganda messages in Hausa. They also share speeches by Boko Haram founder Muhammad Yusuf and other jihadist clerics in Nigeria.
Ansaru's TikTok posts, which number over 30, have attracted thousands of views. Through them, the group continued to distance itself from the JAS faction of Boko Haram.
"Our name is Ansaru," one Hausa post said. "We are distancing ourselves from any attack that was conducted on Muslims," the voice added, speaking on the Kaduna train attack that was initially attributed to them.
Balancing security and privacy
Telegram has long been under fire for purportedly enabling jihadists and other extremist organisations to share propaganda. Jihadists predominantly use private channels and employ words that evade detection by moderators through a blend of alphanumeric characters or bilingualism.
In response to the issue, Telegram has implemented measures to combat the spread of extremist content, including the introduction of reporting mechanisms for users to flag such material.
The platform has also collaborated with various organisations to identify and eliminate terrorist propaganda. But critics argue that the measures are inadequate. They believe Telegram should take a more proactive approach to monitor and remove such content, rather than simply reacting to public outcry. They argue that the app's lack of content moderation and its implementation of end-to-end encryption have provided jihadist groups with an ideal platform to propagate their ideologies with minimal hindrance.
Telegram's encryption is a double-edged sword, as it is intended to safeguard user communications from unauthorised access, but it also poses a significant challenge in detecting and addressing malicious content.
As a result, jihadist groups like Ansaru use the messaging app to recruit, radicalise, and distribute propaganda materials. Extremists are known to establish channels and groups, sometimes comprising a large number of members, to disseminate radical content, such as videos, messages, and other forms of media.
The platforms created range from propaganda to recruitment, tutorial, security, and fan channels. The Ansaru group serves as a hub for members to access and join other groups across various channels.
The platform has recently taken action against bots found promoting terrorist propaganda. The propaganda bots have a lifespan of about one month, during which time they are able to operate undetected.
Telegram's alleged role in aiding extremist activities has also raised concerns among governments and law enforcement agencies across several countries. Calls have been made for increased collaboration with Telegram in the monitoring and removal of extremist content.
The issue of Telegram's stance on freedom of speech has also been a subject of debate. Pavel Durov, the founder, has emphasised his unwavering commitment to the principle of free speech and has expressed his reluctance to intervene in user communications.
At a TechCrunch event in 2015, he expressed his belief that the right to privacy outweighs the fear of potential threats such as terrorism.
But critics say as much as these ideals are important, they should not be prioritised over the pressing need for public safety.
---
This article was produced with mentorship from the African Academy for Open Source Investigations (AAOSI) to tackle disinformation that undermines our democracies as part of an initiative by the International Centre for Journalists (ICFJ) and Code for Africa (CfA). Visit https://disinfo.africa/ for more information.
---
Support Our Journalism
There are millions of ordinary people affected by conflict in Africa whose stories are missing in the mainstream media. HumAngle is determined to tell those challenging and under-reported stories, hoping that the people impacted by these conflicts will find the safety and security they deserve.
To ensure that we continue to provide public service coverage, we have a small favour to ask you. We want you to be part of our journalistic endeavour by contributing a token to us.
Your donation will further promote a robust, free, and independent media.
Donate Here