Analyses
Extremism
Media Jihad: Social Media Use Shows Islamic State's Increasing Interest In Africa
Jihadists are deepening their use of social media, increasing the number of languages they communicate in, going as far as using emojis as code to mask online communication and evade clampdown by social media platforms, as they turn their campaign increasingly toward Africa, a report by extremism analysts has found.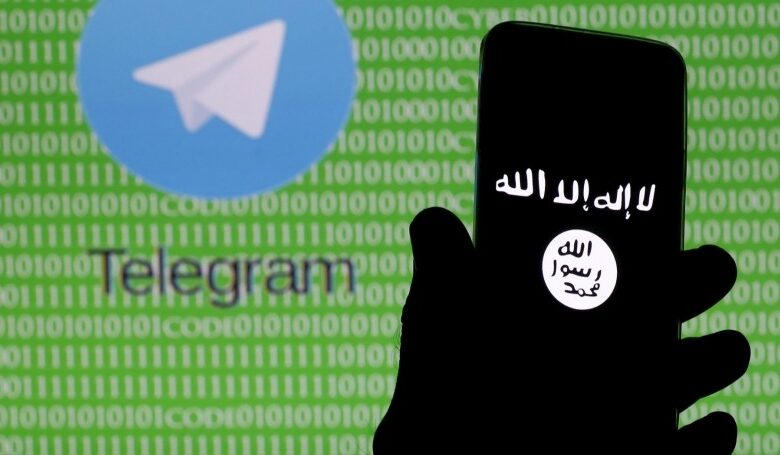 The Islamic State has increased the number of Hausa language social media accounts, signalling their focus on local insurgencies in Africa, a leading group of extremism analysts say. 
The Jihadist group has opened a "regional outlet" increasing its output of messages, graphics, and clips in the language most spoken in the Lake Chad area, a year-long investigation from the Institute of Strategic Dialogue has found.
For Jihadists, social media is critical for disseminating propaganda to their sympathizers, supporters, and the public.
In Jan. 2022, the Islamic State's Al-Naba newsletter (no. 320) emphasized the importance of social media for propaganda dissemination for its members, encouraging them to incite others to join its terror cause and asked them to "persist" and make recuitment a priority; "you don't know who will be guided by your words," the advisory stated.
Groups affiliated with both Al-Qaeda and the Islamic State have been using encrypted social media platforms and mediums embedded in these services such as private channels and bots on Telegram, chatbots on Rocket, and decentralized messaging apps like Riot to send videos, newsletters, pamphlets, and other jihadi literature to members and subscribers.
The terrorists also camouflage communication within mainstream social media platforms to send messages and avoid detection that could lead to a ban. To enhance detection of terrorism and extremists activities, social media companies employ diverse approaches, including technological tools, to track, detect, and remove contents.
The Institute of Strategic Dialogue report, identified accounts on Facebook, Twitter, Instagram, and TikTok linked to Jihadists with a collective audience of tens of thousands of followers. These accounts disguised themselves as either mainstream news media platforms or general users, but in fact, they were used to spread propaganda messages in a way that is difficult to detect by both social media algorithms and human monitors.
HumAngle has also found accounts linked to Al-Shabaab on Facebook and Telegram such as Aljabha and Alkataib, some of which have been banned by the platforms within months after their emergence. Others have developed some form of mask that makes them difficult to detect. Terrorists have also hijacked accounts associated with a public figure or influencers and use them to spread propaganda.
As Web3 platforms and blockchain-based technological applications continue to gain ground, a supporter of the Islamic State was recently reported to have used a NFT trading website with a message showing support for the violent extremist organisation.
The group continues to push forward propaganda, particularly by demonstrating its capacity and reach in Africa, where it encourages members to migrate and wage jihad.
"The development of a regional outlet in Hausa, for instance, was a key part of this dissemination strategy," the new ISD report found.
The report's findings add weight to earlier analysis that suggested an increased importance of Africa to Islamic State, after it suffered reversals in Iraq and Syria.
A 2022 report from EUROPOL found that Propaganda by the Islamic State continued to highlight the military achievements of local insurgencies that co-opted its brand, in an attempt to showcase its global reach. This is evident in the propagation of the ISWAP activities in Lake Chad through newsletters, audiovisual messages, and infographics.
On Twitter, Jihadi sympathizers create accounts under aliases and use images of art, places, or things as their profile pictures. To avoid detection, they join others in dubbing the Islamic State a terrorist organization or "Daesh"- its derogatory name in the Middle East- while harshly criticizing its opponents. They promote the activities of the Jihadists, however, by amplifying their propaganda messages or portraying the forces of the countries in which they operate as weak and unable to respond to the increasing state of insecurity in their countries.
Emojis As Codes
The ISD report discovered 43 emoji codes that terrorists use to send a message to their followers in a way that non-members or algorithms may find difficult to detect. This technique improves resilience and evasion of detection on social media,
These emoji sets have come to mean something completely different than their creators' intended. Emojis such as "🚀" for rocket, "🚧" for checkpoint, "🎯" for target, "🥷" for assassination, "🔥" for burning, "💩" for other Islamic sects like Shia, and many others that are used by Jihadists to tell stories in coded messages or to target a specific person or group of people.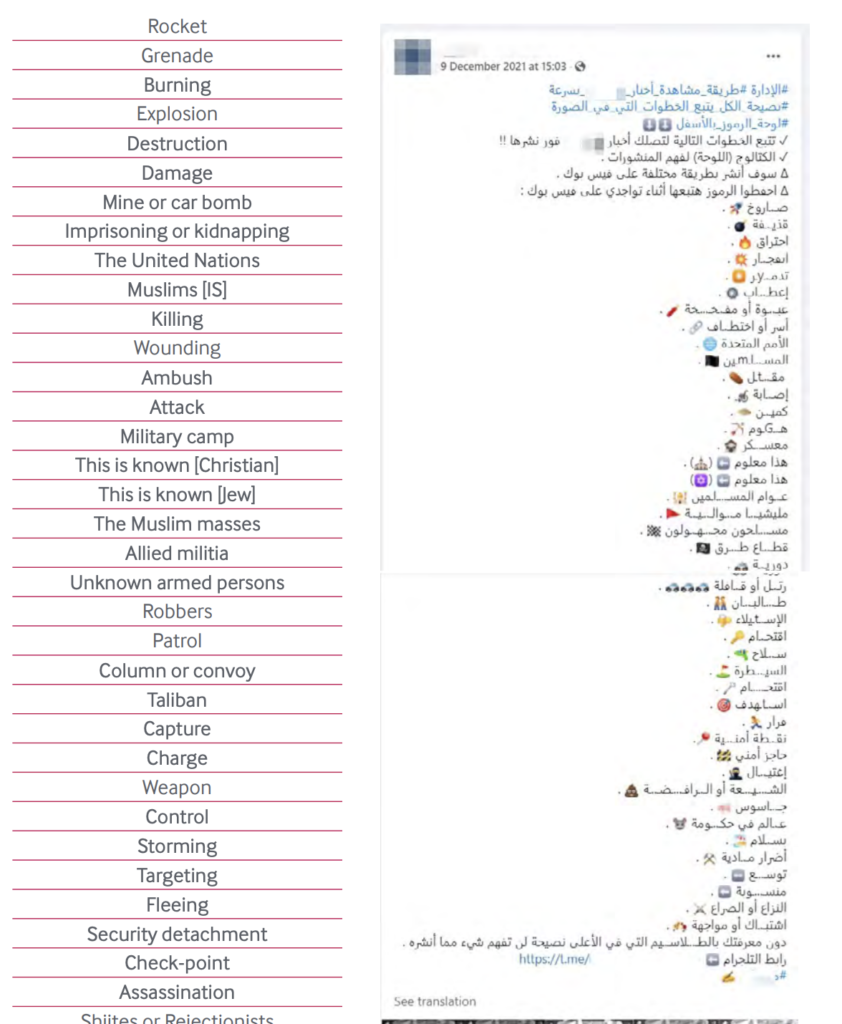 "For Facebook, that includes replacing terrorist language with emojis. For Twitter, that involves toning down the content in English compared with what's posted in Arabic. For Telegram, it means copying directly from official ISIS material. It's an evolving cat-and-mouse battle with tech companies and national security agencies," the report explained.
The report showed a screen grab of a pro-IS influencer on Telegram. Above a glossary of emojis and their translations, the IS supporter wrote in Arabic: "Without your understanding of the characters above – a reminder – you won't understand anything I publish."
With all of these evasion techniques, terrorists keep in mind that someone may report them, so while sending messages, they create new platforms and ask others to follow before they are suspended. This means that if the terrorists are discovered, they have another account to use for rebuilding networks and continuous propaganda dissemination. However, this technique has been shown to be less effective for individual supporters, as they lose followers quicker than they can make new accounts.
HumAngle has observed Al-Shabaab terrorists in Somalia conducting similar operations on Telegram and other platforms, in which they announce their new accounts before they are deleted.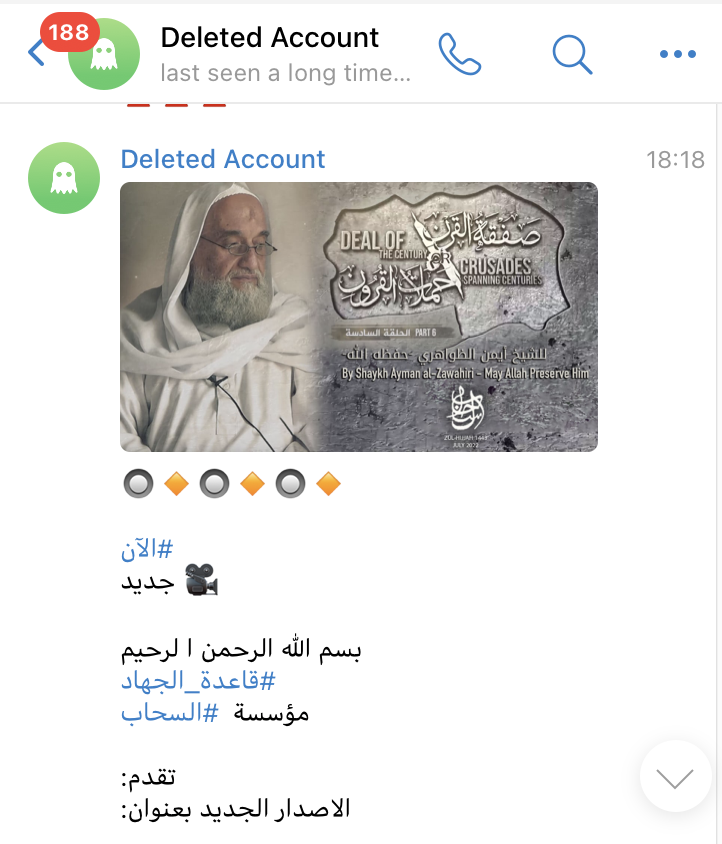 According to an expert familiar with Boko Haram and ISWAP Jihadists' internal operations, when the terrorists suspect intrusion by researchers, journalists, or spies in private channels that have been leaked to outsiders, they ask members to explain who invited them and where they are from. Members who are unable to explain their actions are removed from the group. The expert says, this is done regularly to keep outsiders out of the private channels.
Disinformation Jihad
Jihadists believe that deception is permissible during a war. Basing their arguments on a popular saying attributed to the Prophet Muhammad, "war is deception," they have used various strategies that could deceive the audience and give the world a false picture of their activities.
Abubakar Shekau, the dead leader of Boko Haram, stated in one of his speeches directed at HumAngle that he was aware of information warfare. "We are aware of the information war," he said while reacting to a report that detailed how his group was failing.
According to Head of Investigations at HumAngle, Kunle Kunle Adebajo, terrorists do not create false information in a vacuum, but manipulate facts in a way that non-experts may find difficult to understand their misinformation strategy.
This was evident in how Boko Haram manipulated old footage to show how they shot down a Nigerian fighter jet in the north-east. This tactic has been at the heart of Islamic State messages, in which they mix figures of casualties, particularly injuries, to appear to have killed a large number of opposing forces.
Recently in its fifth issue of the Voice Khorasan, the Islamic State in Khorasan, an IS affiliate in Afghanistan, summarised the importance of using social media for disinformation by urging followers to consider disinformation as a part of its "war policy" that should be taken as a duty.
"Spreading the rumors is, therefore, a duty upon the Muslim armies to cause fragmentation of the enemy because that disunity will demoralize them significantly," the English article stated.
---
Support Our Journalism
There are millions of ordinary people affected by conflict in Africa whose stories are missing in the mainstream media. HumAngle is determined to tell those challenging and under-reported stories, hoping that the people impacted by these conflicts will find the safety and security they deserve.
To ensure that we continue to provide public service coverage, we have a small favour to ask you. We want you to be part of our journalistic endeavour by contributing a token to us.
Your donation will further promote a robust, free, and independent media.
Donate Here