Analyses
Disinformation
The Curious Case Of The 'Unknown Gunmen' And IPOB's Internet Propaganda
What is the connection between the pro-Biafran separatist terror group and an infamously vague but violent militia? Here's what we learnt from studying hundreds of social media posts by IPOB-affiliated accounts.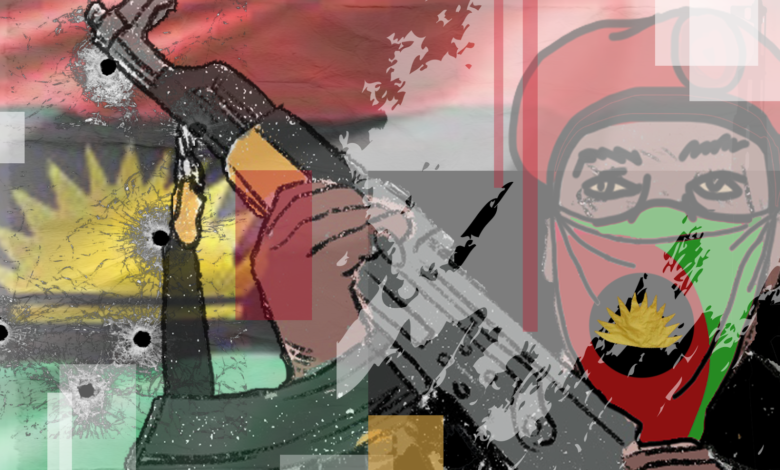 Key takeaways:
IPOB accounts on Facebook and other social media platforms began amplifying unknown gunmen attacks in early 2021, coinciding with a huge spike in the mentions of 'unknown gunmen' in local news articles.
Many of the posts regarding unknown gunmen, especially cases of amplification and disinformation, have signs of being part of a coordinated campaign.
The different factions of IPOB have divergent views of unknown gunmen activities, with one opposing and the other expressing tacit support.
IPOB has strategic reasons not to associate itself with the violence the UGM group has become notorious for.
Returning to Radio Biafra broadcasts from 2020 can help to understand the possible origins of the Eastern Security Network (ESN) and the Unknown Gunmen (UGM) — as well as the links between them.
Ten years ago, the southeastern part of Nigeria was the country's safest region. But that changed in 2021 as bubbling agitations for a breakaway state turned violent. At the centre of this crisis is an evasive group that's come to be known as the 'Unknown Gunmen' — UGM for short. They have been blamed for deadly attacks on police stations, military checkpoints, and civilians. While no one would take responsibility for these acts of violence, one group, the Indigenous People of Biafra (IPOB), raises far more suspicion than others. A careful look through years of social media propaganda shows why.
Let's start with some background information.
Nigeria went to war in 1967 after the Republic of Biafra declared independence under the leadership of Chukwuemeka Odumegwu Ojukwu, then military governor of the eastern region. The war ended three years later after hundreds of thousands of lives were lost, many of them to starvation, but calls for the secession of Biafra have not ceased. Kenny Nwannekaenyi Okwu-Kanu (popularly known as Nnamdi Kanu), a British-Nigerian national who gained prominence as director of London-based broadcaster Radio Biafra, joined forces with Alphonsus Uche Okafor-Mefor to establish IPOB. Their goal was to restore the sovereignty of Biafra with "renewed vigour". While it is not clear exactly when IPOB emerged, some of the earliest records date back to 2013. Mefor and Kanu first registered the Indigenous People of Biafra with the UK government in Oct. 2013 and then again in July 2014.
The group started by organising peaceful protests, broadcasting its campaign online, and rallying a group of supporters locally and internationally within the diaspora community. Kanu became notorious for his unrestrained, often treasonous and hateful, language. At the World Igbo Conference in Los Angeles in Sept. 2015, he said, "We need guns and we need bullets to defend our land or else our people will perish at home." About a month later, Nigerian intelligence officers arrested him in Lagos, leading to a wave of protests and grave police clampdown. Kanu jumped bail in 2017.
During the #EndSARS anti-police brutality demonstrations in Oct. 2020, Kanu released several statements on Radio Biafra where he urged his followers to kill security personnel and hunt politicians such as Abia state governor Okezie Ikpeazu, former Lagos governor Bola Tinubu, and Rivers governor Nyesom Wike. "Anybody wearing police or army uniform is an enemy of the people. Anywhere you see them, you take them down," he announced in one broadcast. After a period of calling on security agents to resign and join the "Peoples Revolutionary Army/Force", in Dec. 2020, IPOB launched the Eastern Security Network (ESN), touting it as a vigilante group set up to protect civilians in the region from foreign invaders. Instead, it marked the beginning of a dark episode in southeastern Nigeria.
Attacks on security personnel and structures increased. High-handed military offensives targeted at crushing the ESN inflamed passions, with IPOB declaring that it saw it as a declaration of war. "They shall be shamefully defeated. The war has begun! We shall defend Biafra and we shall triumph!" said spokesperson Emma Powerful. Kanu's re-arrest in June 2021 and his continued detention led to the IPOB breaking up into at least two factions: the Directorate of State (DOS) and the more radical Autopilot.
Enters Unknown Gunmen.
According to data collected by the Council on Foreign Relations (CFR) using local press reports, the southeast was by far Nigeria's safest region in 2012 — in terms of the number of violent incidents and deaths. It maintained this status every year since then until 2021, the year following the launch of IPOB's militant wing. Violent events more than doubled, and death tolls shot up even higher. Fatalities increased from 194 in 2020 to 951 and 627, respectively, in the years that followed. Using these indices, the southeast is now third on the list of Nigeria's most peaceful regions — displaced by the southwest and south-south.
The activities of the forest-camping Unknown Gunmen have led to killings, kidnappings, and mass displacements. "My uncle ran away from the village because these people asked him to give them money to buy guns and bullets. Our villages are empty because they are the law now," one man from Imo state narrated to the BBC. "The law that people know is the one that has been imposed by the unknown gunmen, who say they are for Biafra, but we know they are not."
Analysis of the CFR data shows that last year, there were more victims of abduction in the southeast than in the Boko Haram-ravaged states of Borno, Adamawa, and Yobe. Nearly as many civilians were killed too, and far more security personnel lost their lives to violence in the southeastern region than in the BAY states. Many of these murders were chilling. After beheading a newly-wed couple, both officers of the Nigerian Army, in May 2022, the gunmen called to mock their relatives. Last December, another soldier was abducted and tortured by people who identified themselves as unknown gunmen. "What we are after is Biafra. We have nothing to do with IPOB. Say bye-bye to your fellow soldiers," they said in a video statement. More recently, on April 21, gunmen killed five police officers in the Ngor Okpala area of Imo and then a couple who owned a shop where some of the officers sought refuge.
So, why has the region suddenly become more insecure? A cursory look at the facts strongly suggests that the answer has something to do with the ESN. But unlike other insurgent groups, IPOB would not directly take responsibility for attacks that carry its signature or promote its interests. Instead, while its propaganda may often come off as inciting, it distances itself from violent acts as much as possible — except in "self-defence" or in defence of civilians. But this may only be a strategy to maintain a brand that would not jeopardise efforts to secure diplomatic backing or the support of people in the affected areas.
Nevertheless, a closer study of the separatist group's social media communication provides important insights that buttress this theory.
For or against?
HumAngle collated posts on Facebook by six pages affiliated with the two IPOB factions, totalling over 200. The posts are those that mention "Unknown Gunmen" or "UGM" and show a trend consistent with all the groups. Even though half of the pages were created before July 2017 — one, Radio Biafra, has been around since April 2013 — there were only two posts mentioning unknown gunmen before Oct. 2020. And then suddenly, there was a spike, picking up between Feb. and May 2021 and then at intervals afterwards.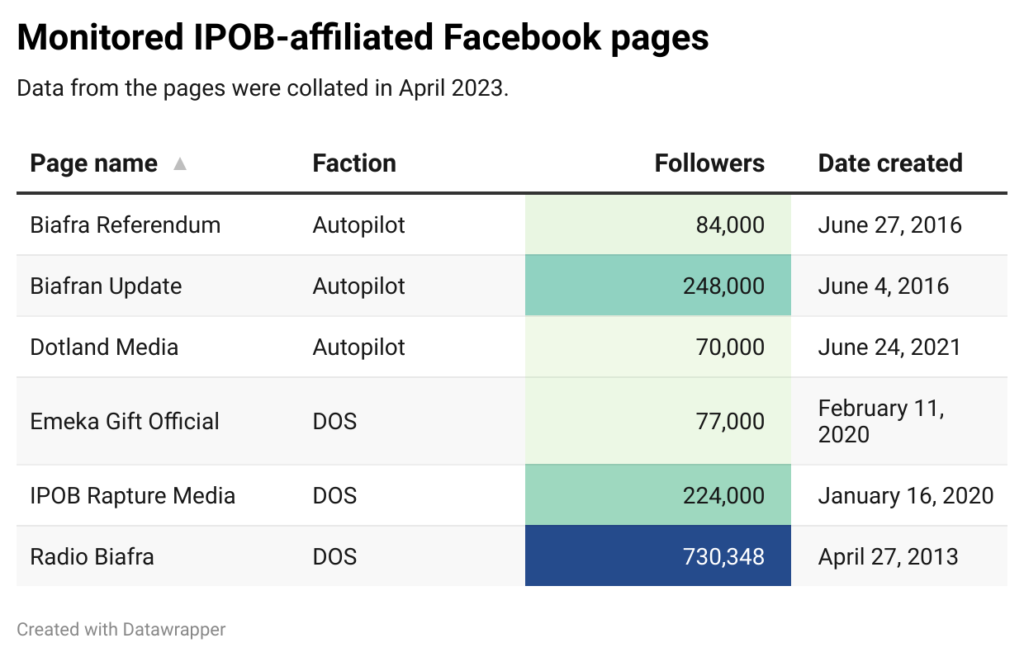 We categorised the posts using various labels. Some simply amplified attacks by 'Unknown Gunmen' without a clear undertone of support. Some clearly supported the activities of the gunmen. Some deployed sarcasm in narrating the UGM attacks. Some blamed the government for the UGM attacks — or Fulani people or, in one case, the Movement for the Actualisation of the Sovereign State of Biafra (MASSOB). Some condemned the UGM attacks. Some distanced IPOB from UGM attacks. And some seemed like neutral commentaries on the developments.
Whether a page's posts support or condemn attacks by Unknown Gunmen roughly depends on which IPOB faction the administrator is loyal to — and what timeline is considered.
Pages allied with the Directorate of State (DOS) faction amplified UGM attacks in the early period between Oct. 2020 and May 2021 and then again — but less strongly — between Sept. 2021 and Feb. 2022. The same pages expressed support for Unknown Gunmen between March and Aug. 2021. In the later period, we start seeing a different trend. Between Sept. 2021 and March 2022 and then again in Feb. 2023, these pages condemned UGM attacks. Around the same period, they also distanced IPOB from the attacks. DOS accounts moved from calling Unknown Gunmen "avengers" to referring to them as "terrorists".
For Autopilot-affiliated pages, on the other hand, the trend of amplification continued for much of 2022, with the highest number of posts sharing news of UGM attacks appearing in April of that year. There were significantly more sarcastic posts on these pages and significantly fewer posts blaming the government for instigating or coordinating the attacks. Also, there are no posts condemning the Unknown Gunmen and only two distanced IPOB from the criminal group.
---
It is important to note that Aug. 2021, when DOS accounts stopped expressing support for the Unknown Gunmen, was the same time the faction announced that it was suspending the Monday sit-at-home order, which it previously imposed to protest the detention of IPOB founder Nnamdi Kanu. Shortly afterwards, the same faction declared that anyone still enforcing the curfew was an enemy. Later, it would outrightly blame Autopilot for disturbing the peace in the region.
Let us also not forget that just the month before that, in July 2021, Simon Ekpa, leader of Autopilot, was sacked as a broadcaster on Radio Biafra. And then he went on to write on social media, "The Biafra struggle has entered the AUTOPILOT phase, a very dangerous phase that we have no control of what happens. To your tent oh Israel" — setting the ball rolling for the secession of Autopilot members.
An analysis of the emoji reactions to the various posts amplifying UGM attacks helps to gauge what general sentiments the pages' followers harbour regarding the trend. The thumbs-up/like (👍) naturally constituted most of the reactions, followed by haha (😆), love (❤️), sad (😢), and wow (😲), care (🥰), and angry (😡) coming last.
A lot of variables affect how people react: the victims of attacks (civilians or perceived enemies), for example, the brutality of the attack, or whether some of the gunmen were also casualties. The level of support for gruesome attacks also seemed to dip towards 2022.
Coordinated amplification
There are many cases of coordinated campaigns and searches on CrowdTangle reveal that a lot of the posts published on the six pages monitored appeared simultaneously on dozens of other IPOB-affiliated platforms on Facebook.
On the morning of Oct. 6, 2021, Emeka Gift Official made a post claiming that after shooting an unknown gunman, a police officer discovered that he was a member of the Department of State Services (DSS), Nigeria's domestic intelligence agency. "Nigeria media instead of reporting accurately they change it that 'Police mistakenly killed Nigeria DSS,'" he wrote. Within one hour, the same post was published verbatim in 48 other places by over 40 distinct accounts. It was also shared 325 times into 206 groups.
Here's another example that similarly tries to blame another group for the UGM crisis. On Nov. 6, 2021, a page called Spynigeria.NG claimed that the police in Imo state arrested two men, Danladu G and Bamaiyi G, who had been terrorising the people disguised as Unknown Gunmen. They "are from the North-Western part of the country", the post added. The claim was copy-pasted by many IPOB platforms and appeared publicly a total of 108 times. It was shared by 14 pages and 47 times across 45 distinct groups.
Meanwhile, the news was not covered by any credible news platform. Sahara Reporters, which reported it in May 2021, cited the blog Igbere TV as its source. But a search for the report on the blog site returned no results and its Facebook page only has one relevant post that says: "Police Nab Two Gunmen With Army Uniform, AK-47 in Owerri. Names: 1. Godwin Danladi 2. Bamaiyi Gada. Both are not from the Southeast. Are these the 'Unknown Gunmen'????" The claim was copy-pasted by 11 pages and shared 20 times into different groups.
There are other cases of copy-paste coordination, too, like this post about an attack on a police station in Anambra that was shared 66 times (copy-pasted by 12 pages and shared in 21 groups), or this post about UGM warning residents of Asaba to observe Monday curfews that was shared 44 times, or this one about gunmen killing an Igbo Muslim cleric shared 40 times (copy-pasted by nine pages and shared 23 times by 22 accounts).
What this shows is that IPOB went to great lengths to promote violent attacks blamed on Unknown Gunmen. In at least two instances, it even took the trouble of designing graphics on the subject.
When we contacted the six Facebook pages studied for this report to ask why they published many posts amplifying UGM attacks, only two responded. "Your [an] unknown journalist thanks," said Biafran Update, "and all our news are verified news." It didn't respond to a follow-up question.
The Admin 4 of Radio Biafra replied that Nnamdi Kanu's IPOB "has nothing to do with the so-called Unknown Gunmen. We neither represent nor speak for them as we do not know who they are." The administrator added that they do not amplify UGM's activities but rather "report[s] such and similar incidents under our media outlets". When we shared links to posts on the page from early 2021 that appeared to support Unknown Gunmen's activities, we received no response though Facebook indicated the messages were read.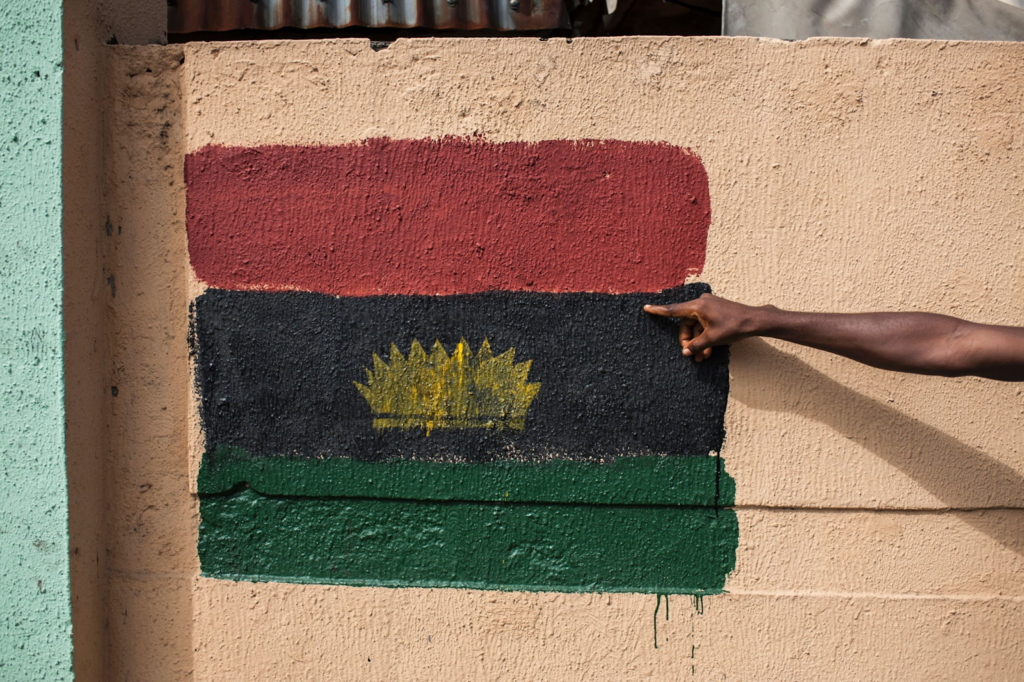 Influence on news reporting
It is believed that the criminal gangs identify themselves as Unknown Gunmen to mock the press, which uses the label for unidentified assailants. The Nigerian media had used the phrase for many years, even before IPOB was founded, in reference to attacks across the country.
A study of over 26,800 news articles scraped using MediaCloud showed that there were very few mentions of "unknown gunmen" by local media organisations between 2013 and 2015. The numbers increased slowly between 2016 and 2020 owing to rising insecurity, especially in the northwestern and north-central parts of the country.
The following year, something remarkable happened. The number of times "unknown gunmen" appears in local news and blog sites increased by nearly 1,900 per cent. The upward progression started in Feb. 2021, coinciding with when IPOB's Facebook pages started amplifying the UGM attacks.
The platforms with the highest number of news articles featuring the phrase are Latest Nigerian News, Nairaland, Naija News Today, Vanguard, Daily Post Entertainment, Daily Post, Tori Nigeria News, Ripples Nigeria, Punch Newspaper, and Independent Newspaper. Many of the more established media outlets are more careful to avoid using the word "unknown" in their headlines, especially when no one has accepted responsibility for an attack.
In any case, it is hard to say to what extent IPOB's campaign influenced the language adopted for these reports or whether it encouraged blanket descriptions and prevented journalists from interrogating the true nature of the violent incidents.
Other curious events
To better understand IPOB's stance on the Unknown Gunmen menace, it helps to take a look at tweets from Nnamdi Kanu. He only mentioned the name in nine of his tweets between March and June 2021, when he was re-arrested.
He did not dissociate the Unknown Gunmen from IPOB in any of the tweets. Instead, he praised the criminal group, calling its members "avengers of the innocent" and protectors. Sometimes, he simply added hashtag #UGM to a tweet that didn't directly refer to them.
One of Kanu's tweets provides a window into IPOB's possible approach of "plausible deniability" to violent attacks. In the wee hours of April 5, 2021, gunmen invaded the police headquarters and prison in Imo state, setting free hundreds of inmates. IPOB claimed it was not involved. The police, however, said its preliminary investigations revealed the group was responsible. HumAngle contacted police spokesperson Olumuyiwa Adejobi multiple times to ask how many other UGM attacks the police connected to IPOB but received no response.
Meanwhile, in the middle of the back-and-forth, Kanu took to his Twitter account to argue that people should not be in prison to begin with because Nigeria was rehabilitating Boko Haram insurgents and "terror herdsmen". "If you know you know! #UGM," he added.
Again, it is noteworthy that IPOB does not want to come across as a terror organisation but as a "non-violent self-determination movement". The group has shown a strong interest in courting the support of the international community. In 2022, after it established a liaison office in Catalonia, Emeka Gift, one of IPOB's top propagandists, wrote that they only achieved the feat because of their non-violent approach. "If IPOB is a violent movement, Catalonia will never extend [a] hand of fellowship to us," he argued.
Besides, in 2021, the separatist group paid an American lobby firm $750,000 to win over the support of the U.S. government and policymakers. This was after a similar one-year contract of over one million dollars expired.
Some of the other strange things we observed from the social media posts were: IPOB stepping in to defend Unknown Gunmen against allegations levelled against the latter, IPOB sharing press statements supposedly from Unknown Gunmen, registers such as "hunt" and "black beasts" (referring to police officers) appearing in both UGM press statements and previous Nnamdi Kanu broadcasts, instances where IPOB credits an attack to UGM though major newspapers only blamed "hoodlums", or this video statement from Unknown Gunmen where they called southeast Nigeria "Biafra land".
It was also strange that Unknown Gunmen enforced sit-at-home orders started by IPOB, called for the release of Nnamdi Kanu, stood against the conduct of elections, and attacked people and groups IPOB had identified as enemies.
At least 15 of the Facebook posts studied for this report had obvious elements of sarcasm that seemed intended to mock the security agents and other victims of Unknown Gunmen attacks.
In this post from May 2021, Radio Biafra said after the gunmen "mistakenly" set a police station ablaze, the officers "developed wings and flew away". This one shared in the same month by Biafran Update said they "mistakenly" blew up a pipeline supplying oil to the north from Imo state. In this post from Feb. 2022, Dotland Media hailed the UGM for sending two security agents "to judgement". The following month, the same page reported UGM as paying a "courtesy visit" to former Nigerian ambassador to the US, George Obiozor, and blessing his house with "holy and anointing fire".
Some of the posts dissociating IPOB from the Unknown Gunmen also appeared tongue-in-cheek.
Finally, it helps to pay attention to past Radio Biafra broadcasts.
For example, on Oct. 27, 2020, Kanu went live briefly to encourage Nigerian soldiers to join what he called the People's Revolutionary Army/Force — but, he added, he had not come up with a name yet and was open to suggestions. He emphasised that this force was not the same as the Biafran Army (which may have evolved to become the Eastern Security Network).
This revolutionary army will have Nigerians from all parts of the country, he said, not just Biafrans. "We are going to liberate everybody in this zoo called Nigeria … If they say we cannot protest on the streets, we are going to the bushes … We will be hanging you on street lights, all of you."
---
This article was produced with mentorship from the African Academy for Open Source Investigations (AAOSI) to tackle disinformation that undermines our democracies as part of an initiative by the International Centre for Journalists (ICFJ) and Code for Africa (CfA). Visit https://disinfo.africa/ for more information.
---
Support Our Journalism
There are millions of ordinary people affected by conflict in Africa whose stories are missing in the mainstream media. HumAngle is determined to tell those challenging and under-reported stories, hoping that the people impacted by these conflicts will find the safety and security they deserve.
To ensure that we continue to provide public service coverage, we have a small favour to ask you. We want you to be part of our journalistic endeavour by contributing a token to us.
Your donation will further promote a robust, free, and independent media.
Donate Here