Analyses
Disinformation
The IPOB Diaspora Network Pushing Disinformation In Nigeria
The movement, which seeks to break away from Nigeria and form the Republic of Biafra, has become notorious for spreading disinformation and hate speech on social media. Pulling the strings behind this campaign is a large network of 'media warriors' in the diaspora.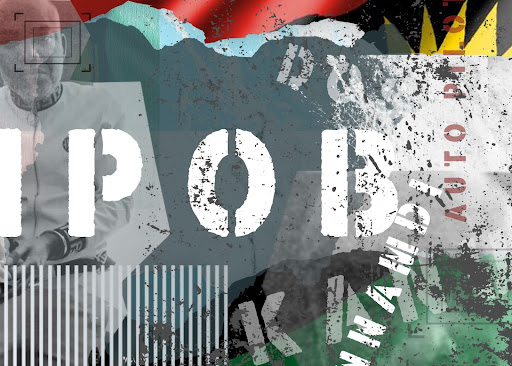 One name that comes up often in the war against disinformation in Nigeria is the Indigenous People of Biafra (IPOB), a separatist organisation whose controversial campaign has ripped through Nigeria's airwaves and internet spaces for over a decade. Despite multiple attempts to muffle its message, it has continued to have a powerful presence both on social media and in people's hearts. A major reason for this is its large propaganda machine with branches spread across the world.
Established in 2012 by Nnamdi Kanu, IPOB's goal is to break the Republic of Biafra away from Nigeria. In late 2020, it formed a militant wing known as Eastern Security Network (ESN) and has grown increasingly violent since then.
Republic of Biafra
The Republic of Biafra constitutes Nigeria's (predominantly Igbo) southeastern region and parts of the south-south. It originally seceded from the country in 1967, triggering a civil war that lasted over three years and killed 500,000 to 3,000,000 people.
Following Kanu's arrest and detention in June 2021, the group split into two factions: Directorate of State (DOS), headed by Chika Edoziem, and Autopilot, headed by Simon Ekpa – both claiming to have Kanu's support.
Both accuse the other of working with the government against Biafra's interests. Autopilot says DOS betrayed Nnamdi Kanu, while DOS claims Autopilot is a product of the government's plan to demonise their campaign. The factions have also been competing to win over followers on the internet and get IPOB sympathisers to fund their separate activities.
Autopilot has a reputation for being more brutal, announcing regular curfews in the Southeast and ruthlessly enforcing them. IPOB's members have generally attacked civilians, security personnel, and politicians. The separatist group was ranked the third deadliest terror organisation in Nigeria by the 2022 Global Terrorism Index report.
IPOB's activities are mainly funded through member commitment levies and contributions from sympathisers, especially those living outside Nigeria. The Nigerian Financial Intelligence Unit has identified 19 of these countries. The group has executives outside the country too. The founder, Kanu, is a citizen of the United Kingdom, where he broadcasted on Radio Biafra. Simon Ekpa is similarly a citizen of Finland – as are many of the group's top leaders.
Like its administrative structure and financing model, IPOB's propaganda has a foundation that transcends national boundaries.
Its disinformation network relies on scores of pages and groups on Facebook, several news blogs, and thousands of amplifiers across social media networks. Some of the notorious disinformation campaigns it has pushed include: the alleged death of Nigeria's President Muhammadu Buhari or that he was cloned, claims about the massacre and persecution of Igbos and Christians, and that the movement has advanced firepower.
Through searches on CrowdTangle, HumAngle has identified 44 IPOB-affiliated Facebook pages with administrators based in a wide range of countries, especially Germany, Ghana, and Italy. A page could sometimes have up to three administrators from one country. Radio Biafra's Facebook page, for example, has 14 people managing it, three each from Australia and Côte d'Ivoire, two from Kuwait, two from South Africa, and so on.
The pages, most of which were opened between 2019 and 2021, have a combined follower count of over 3.3 million.
Note that the data illustrated here does not reflect cases where a page has multiple administrators from the same country.
The actual number of pages falling within this category is likely higher. Since we started looking into this pattern in late January, some of the pages appear to have changed their privacy settings, making it difficult to access information about their managers and followers. Facebook allows administrators to request to hide their primary country location "because of special circumstances including risks to personal safety".
It is easy to tell from the type of content shared on each page what IPOB faction it belongs to. They have different leaders and oftentimes openly criticise each other.
There are multiple examples of IPOB groups on Facebook sharing disinformation in a syndicated manner. Many false claims spread by the movement within Nigeria often originate from or are amplified by accounts tied to the diaspora community. Let's take a look at some recent cases.
I: IBB sponsoring Boko Haram
In May 2022, a claim emerged that the writer of a book called Unveiling Islam/Boko Haram, Blessed Usman JP, made a series of allegations. The claim itself is presented as an excerpt from the book that is an interview with "Sheik Sani Haliru", a former Boko Haram member and Christian convert. Haliru claimed Ibrahim Babangida had over 600 jihadi militants under his payroll across Nigeria, including in government agencies. He had used them to attack Christians as far back as 1985 with the support of Muslims in the military and continued to do so. He claimed all Muslims supported Boko Haram. "General Mohammadu Buhari, Alhaji Abubaka[r] Atiku and other top politicians, and traditional rulers [were also behind the terror group]," he added.
The claims are consistent with a narrative pushed by IPOB over the years about plans to Islamise the country and the need for Nigerians in the south to resist this. The interview was posted verbatim at least nine times on nine distinct pages on June 1, 2022. The post was also shared 117 times in 98 distinct groups, most of which were IPOB-affiliated. About half of these posts were published on June 1 – some only minutes or seconds apart.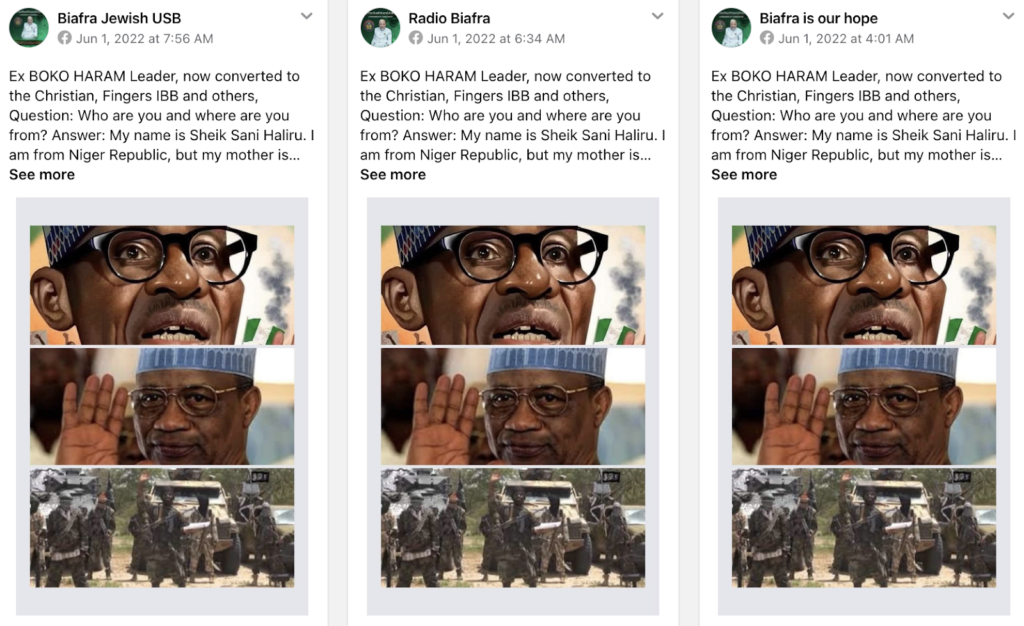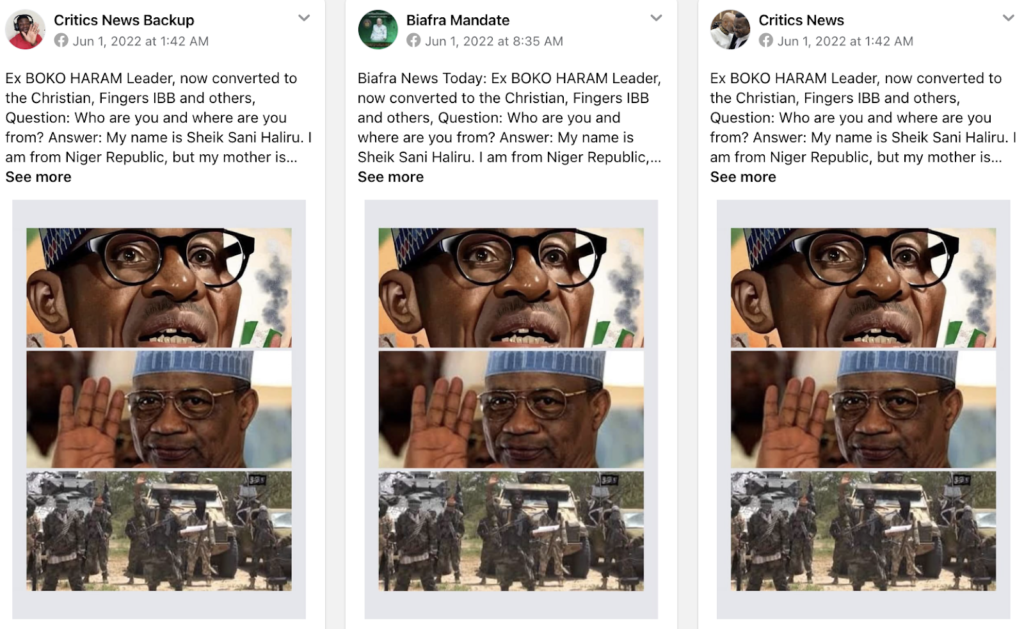 A search on CrowdTangle showed that many of the primary pages that shared the claim have administrators based outside Nigeria. These include Biafra is our hope, Biafra Jewish USB, Biafra Mandate, Critics News, Critics News Backup, and Radio Biafra.
Meanwhile, a Google search indicated that Unveiling Islam/Boko Haram is not an actual book, as no other reference has been made to it outside the viral interview excerpt. The same thing goes for the supposed author, Evangelist Blessed Usman JP.
Asari Dokubo, who Haliru claimed received extremist training in Libya, denied it. Babangida, a former military head of state, also described the allegations as false.
HumAngle traced the article to this Nairaland blog post of Feb. 2, 2012. It was published around the same time on Naija Jive, another local internet forum that is no longer active – the author, lucillia[90], appears to have accounts on both platforms. The following day, the same account published another dubious and divisive article with claims allegedly made by a certain grandson of the Emir of Kano who converted to Christianity.
II: Imported Fulani 'terrorists'
On Aug. 18, 2022, a group of various Facebook pages claimed that a Fulani soldier, Tidjan Bajan Dieme, was caught alongside other Fulani terrorists in Anambra, and they all confessed they were imported by the Nigerian government and Miyetti Allah from The Gambia to kidnap Biafrans.
The claim was first published by Biafra Vigilantee and then shared by other foreign-administered pages, such as AutoPilot Home and African Voice Television. It was eventually shared into at least 15 unique Facebook groups 19 times. Eighteen of those publications were made within 28 minutes – between 4:11 p.m. and 4:39 p.m.
The claim is not true.
A reverse image search of the picture attached to the claim – of a bound man in military fatigue – revealed that it is actually from an incident that took place in Burundi in Dec. 2014. The pictured man, Aaron Manirampa, was a rebel who was executed by security agents.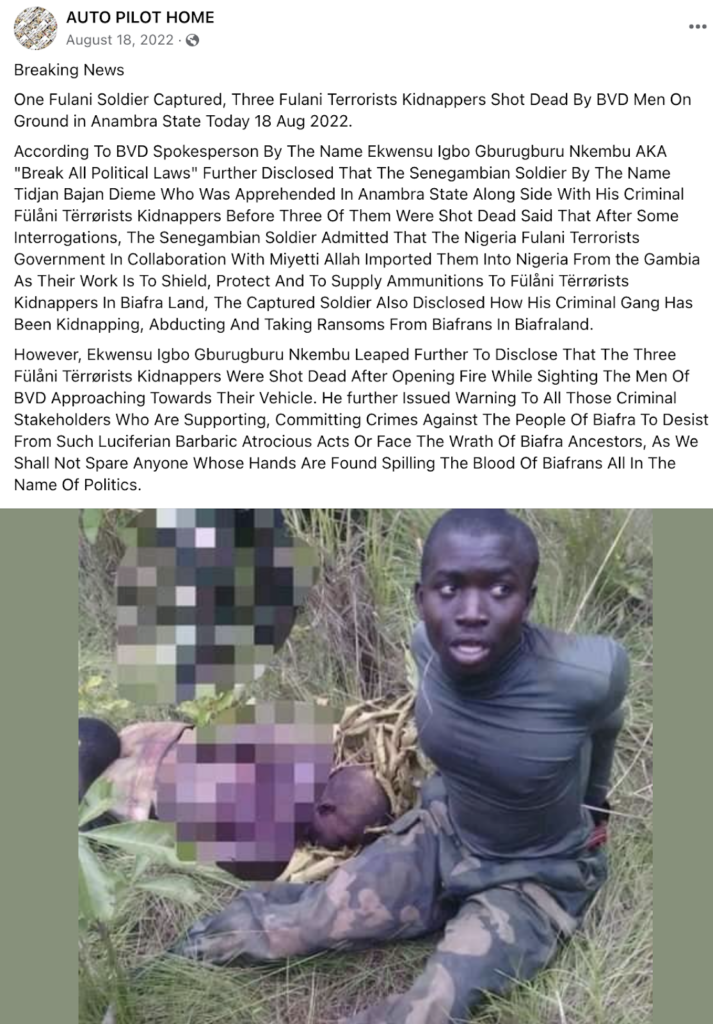 III: Fulani 'terrorist' killed
Similar to the last example, the Biafra Vigilantee page claimed on Oct. 25, 2022, that the Biafran Vigilante Drillers (BVD) had shot dead a Fulani terrorist in military camouflage along the Enugu-Ebonyi border while his associates escaped with their motorbikes. The post was reshared a month later by other pages with administrators based abroad, including Bitter Truth Biafra, Critics News, Critics News Backup, and Kiu TV. The posts were also shared in 10 Facebook groups.
The claim is false.
According to an AFP fact-check, "the photos show three Bahamian teenagers accused of robbery and rape in 2021, while the assorted weapons were seized in Kenya and Uganda".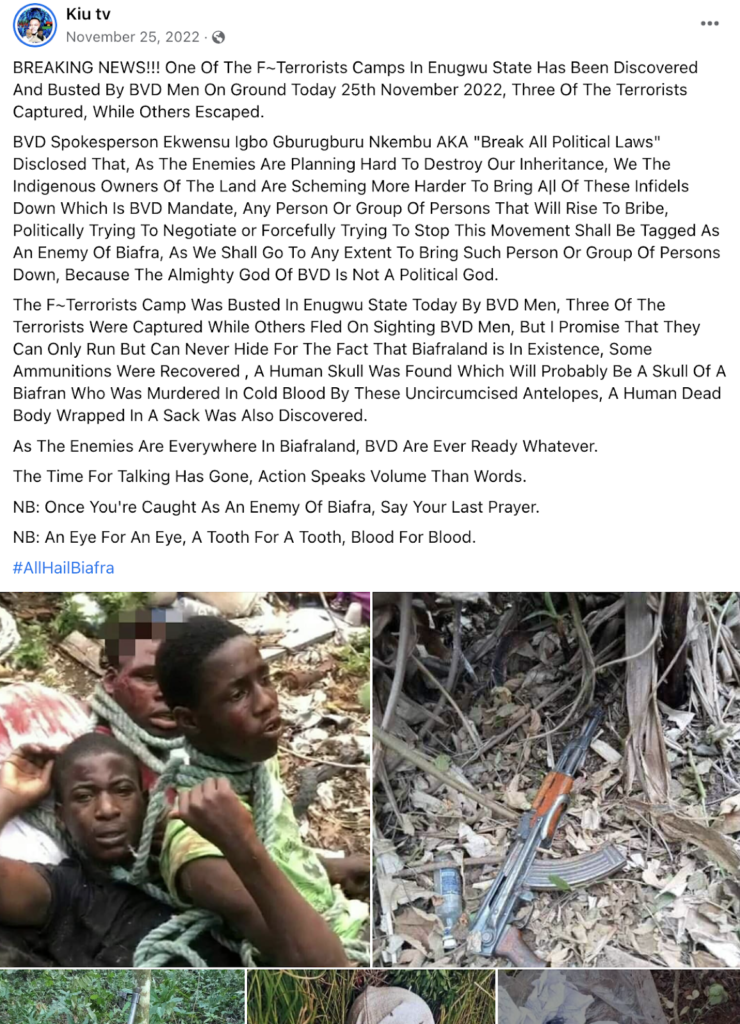 As on Facebook, so also Twitter
The same pattern of coordinated disinformation can be seen on Twitter, where IPOB members and supporters have an equally strong presence.
Coordinated Disinformation
According to former UNCHR investigator, Ray Serrato, this
refers
to "concerted efforts to target people with false or misleading information, often with some strategic objective (political, social, financial), while using the affordances provided by social media platforms".
In January, members of the Autopilot faction of the group claimed that Nigeria had invited 10,000 mercenaries from Burundi to fight against Biafrans. Foreign-run pages that shared this include Auto Pilot Home, Biafra Iconic Warriors, Bitter Truth Biafra, Dotland Media, Kiu TV, and No Going Back Resilience. The claim, which cannot be substantiated, was posted on Facebook by 10 distinct pro-Biafra pages. The post was also shared into 13 distinct Biafra-affiliated groups.
On Twitter, the same claim was copy-pasted 138 times by 21 distinct accounts, the first tweet coming from Simon Ekpa, leader of the faction.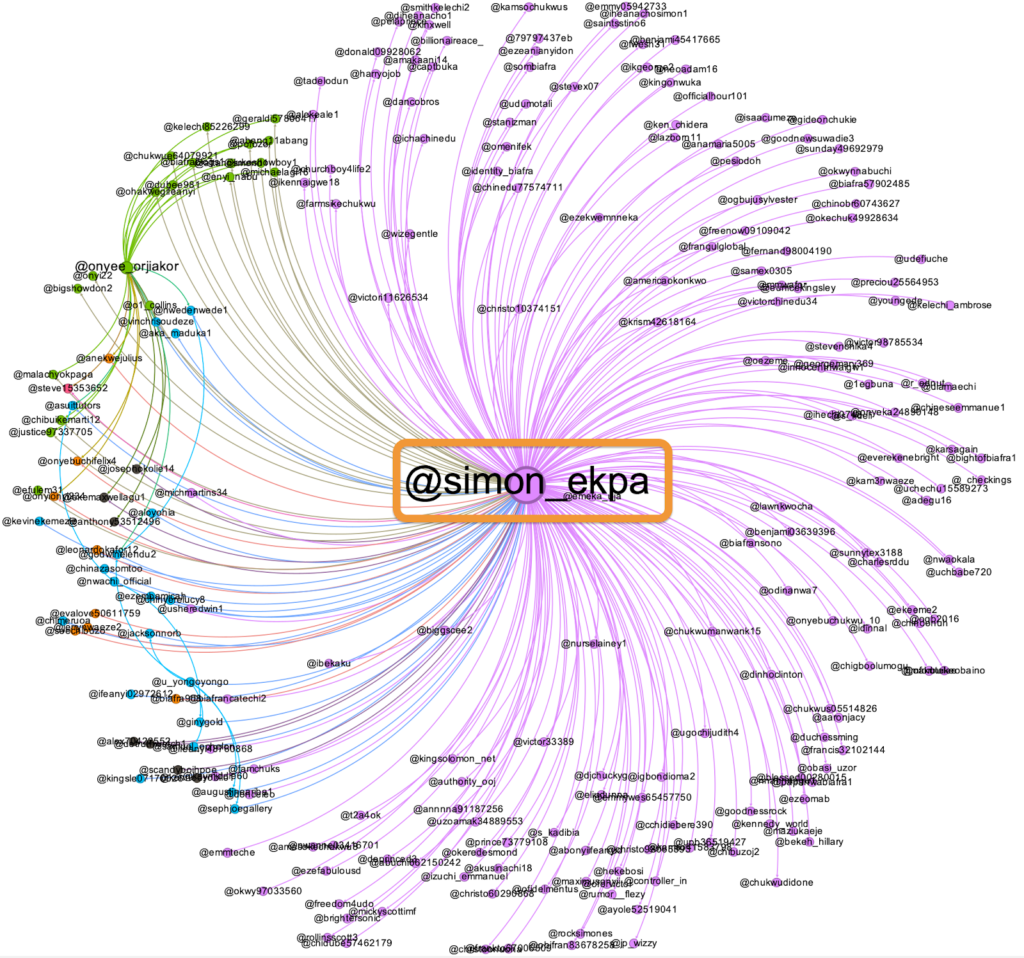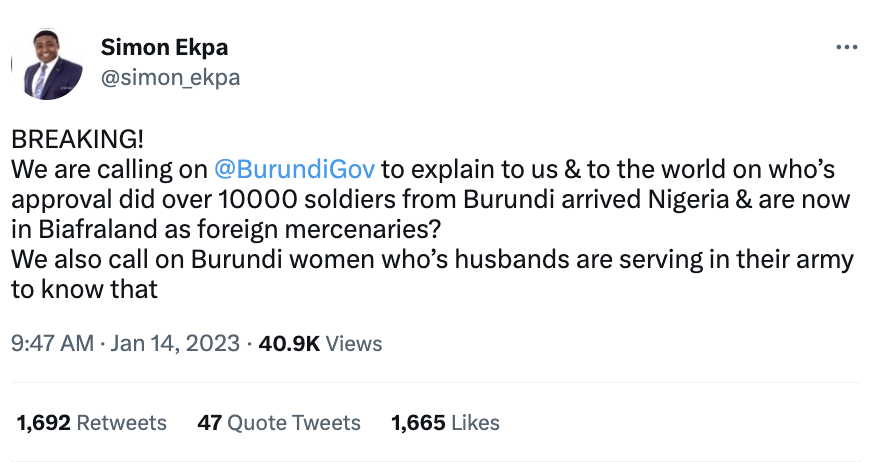 Again in June 2022, when Biafra Echo claimed that over 150 "Fulani janjaweeds" had landed in Benin, Edo state, the post was amplified by diaspora-linked pages such as Comrade Alfa Alfred, Ipob Rapture Media, Lovers of Freedom in Diaspora, The Biafran Times, and TheBiafraChild NwaChineke – ultimately getting shared 26 times by 16 distinct accounts.
Janjaweed
The Janjaweed, used derogatorily here, refers to a tribal militia in Western Sudan, especially the Darfur region. Encyclopedia Britannica
states
: "A typical Janjaweed raid would open with an attack by the Sudanese air force, with helicopter gunships or Antonov bombers targeting civilian settlements. Within hours, mounted Janjaweed would sweep into the area, killing and mutilating the men, raping the women, and killing or kidnapping the children. The raiders would then destroy the basic necessities of village life—burning fields and houses, poisoning wells, and seizing anything of value. Between 2003 and 2008, hundreds of thousands were killed and millions were displaced as the Janjaweed targeted civilian populations across Darfur."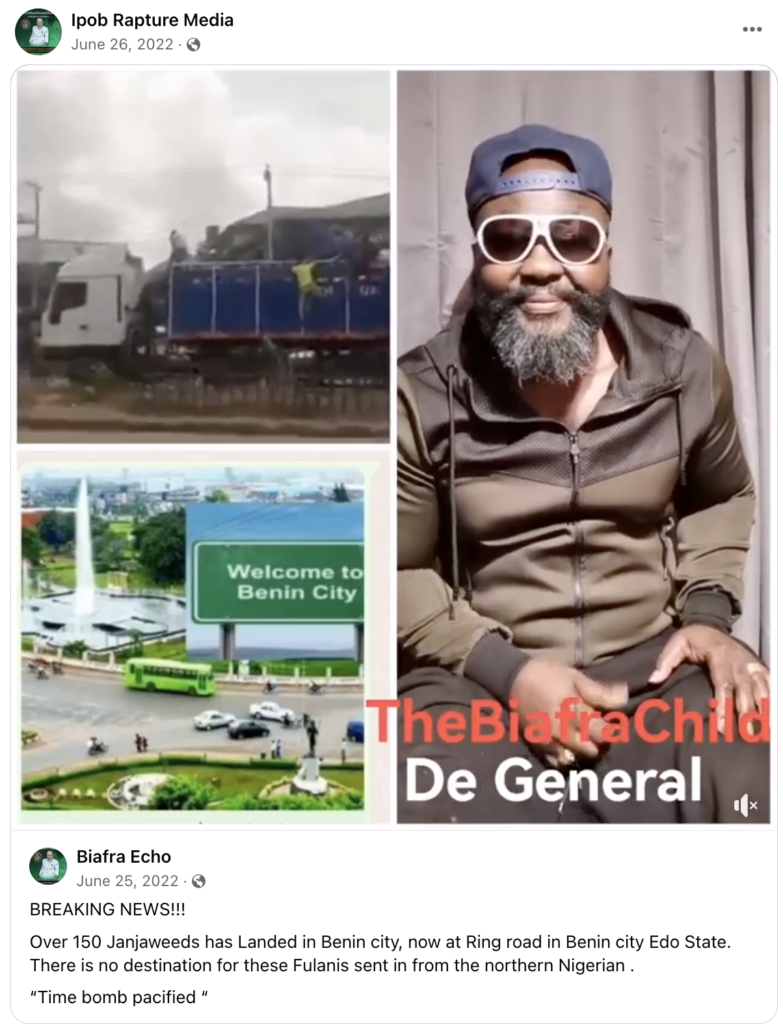 Besides sharing disinformation, IPOB accounts on social media have also become infamous for spreading hate speech and inciting violence. Their posts and broadcasts often feature divisive phrases such as extremist Yoruba Muslims, Igbo Christians, Fulani Jihadists, Jihadist Government of Nigeria, or Islamic State of Nigeria. Igbos who do not subscribe to its goals or methods are branded Nigerianists or Saboteurs.
Last year, BBC's Disinformation Team found that one of the ways the group's members have avoided censorship despite calls for violence is by switching to local languages that are not moderated as strongly by Facebook.
Nigeria's government has repeatedly sought help from other countries in its fight against IPOB's violent campaign. It believes that if international partners designate it as a terror organisation, just as it did locally in 2017, this would cut off its source of financing and weaken it. It particularly asked the UK government to seize the group's properties, shut down its communication channels, and deny entry to its sponsors, but the latter has not shown eagerness to assist.
There has, however, been some progress.
Last month, the Finnish police arrested Simon Ekpa over money-collection offences. "The police have also received many reports of the suspect's actions on social media and it is investigating whether there is reason to suspect him of other offences," it announced.
In April 2022, Adeyinka Grandson, a UK-based Nigerian and Yoruba supremacist who had similarly devoted time to "inciting racial hatred" online, was sentenced to four and a half years in jail.
It is clear that if Nigeria is to make any progress in tackling the threats from such groups, it will need the cooperation of not only relevant social media companies but also foreign governments hosting the persons involved.
---
This article was produced with mentorship from the African Academy for Open Source Investigations (AAOSI) to tackle disinformation that undermines our democracies, as part of an initiative by the International Centre for Journalists (ICFJ) and Code for Africa (CfA). Visit https://disinfo.africa/ for more information.
---
Support Our Journalism
There are millions of ordinary people affected by conflict in Africa whose stories are missing in the mainstream media. HumAngle is determined to tell those challenging and under-reported stories, hoping that the people impacted by these conflicts will find the safety and security they deserve.
To ensure that we continue to provide public service coverage, we have a small favour to ask you. We want you to be part of our journalistic endeavour by contributing a token to us.
Your donation will further promote a robust, free, and independent media.
Donate Here