Analyses
Disinformation
Terrorists Using Local Language To Spread Propaganda On Facebook
Ansaru, a Nigeria-based terror group, has found ways to bypass the monitoring systems on Facebook, giving them the unrestricted freedom to gather and disinform audiences in order to look attractive to potential recruits.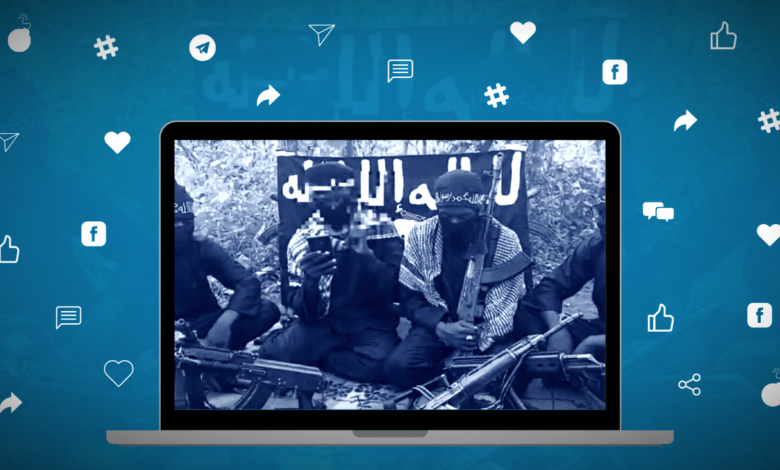 Members of an Al-Qaeda-linked terror group in Nigeria have been using social media to spread their jihadi propaganda, recruit members and gather sympathisers freely, going undetected by moderators.
Terrorist group Ansaru found ways to bypass the weak human and automated monitoring systems on the platforms, despite social media companies' efforts to remove terror-related content, HumAngle can exclusively reveal.
By using local languages, they have enjoyed the freedom to gather audiences and create a false image of themselves in order to push themselves on potential recruits through propaganda messages reaching millions of young people.
Ansaru fits into the Facebook definition of a terror organisation, and the platform's leaked internal documents published by The Intercept in 2021 show that Ansaru is on its watchlist of 1,050 terror organisations and violent non-state actors.
But by simply posting in Hausa Ansaru's content has evaded detection by moderators. It has been observed on the platform for months, being seen by and possibly influencing thousands, perhaps tens of thousands, of people.
During a months-long investigation, HumAngle tracked 22 accounts linked to Ansaru, which have been used to spread Al-Qaeda propaganda and messages in Hausa. This highlights the ineffectiveness of social media platforms in removing terrorist content.
What constitutes a terror group, according to Facebook?
"Terrorist organisations and individuals, defined as a non-state actor that: Engages in, advocates or lends substantial support to purposive and planned acts of violence, which causes or attempts to cause death, injury or serious harm to civilians, or any other person not taking direct part in the hostilities in a situation of armed conflict, and/or significant damage to property linked to death, serious injury or serious harm to civilians, with the intent to coerce, intimidate and/or influence a civilian population, government or international organisation, in order to achieve a political, religious or ideological aim."
The platform has also become a place where Ansaru Jihadists can announce the creation of their public and private Whatsapp and Telegram channels, where they share more violent content.
They also use the platforms to initiate members by engaging them in Q&A sessions, filtering out undesirables, before passing successful applicants on to a hardcore jihadi group.
And, where they suspect detection or fear that the accounts may be taken down, Ansaru members on social media announce backup accounts with similar or different names to continue spreading propaganda. This helps them in retaining their audience even after some of their profiles were deactivated.
Despite having numerous accounts on various social media platforms such as Facebook and messaging apps such as Whatsapp and Telegram, Ansaru members' social media usage has shown that they are less sophisticated in evading detection than Islamic State supporters, who communicate by sending encrypted messages on closed networks.
They rely on the social media platforms' poor detection mechanisms and remain active on them for a period of time. As soon as the established accounts are detected and removed, they are not prevented from creating multiple accounts.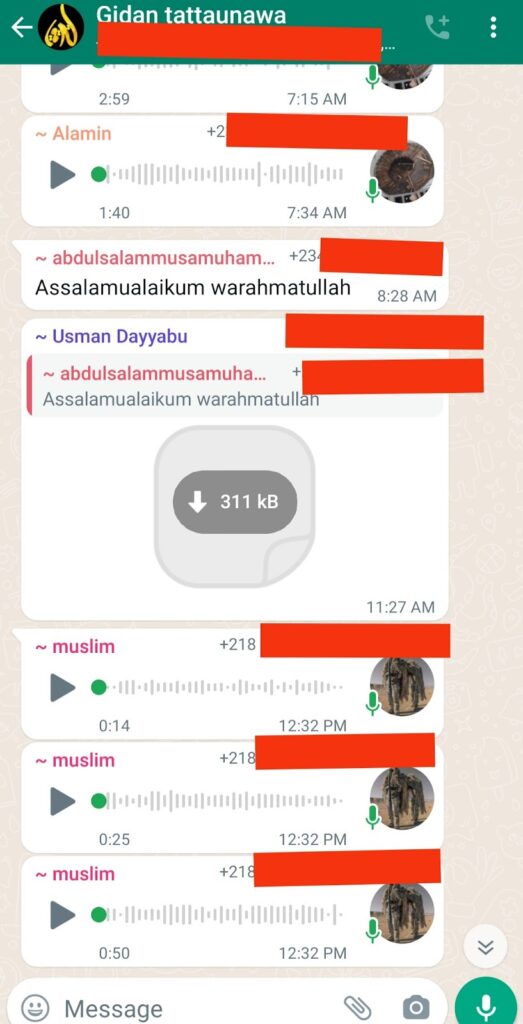 Primarily operating in the Northwest and North-central parts of the country, Ansaru members are known for their violent attacks on Nigerian forces and foreign elements, as well as their use of social media to promote their agenda.
Ansaru, which broke away from the Abubakar Shekau-led Boko Haram group in 2012, has been less violent compared to other jihadi factions in the country. It has, however, recently intensified efforts to spread propaganda and misinformation, exploiting the grievances of people in less secure areas.
Ansaru members have established a small level of influence over remote rural communities in the Northwest and North-central, where they engage in door-to-door propaganda campaigns and seek to enforce their interpretation of Shari'a law. Residents of this area claim that Ansaru members preach anti-democracy sermons and coerce families into granting marriages to their daughters under threat of force, from where the women are taken to forest camps to become Jihadi brides.
Linking jihad
There have also been some communications between Ansaru members and Jama'atu Nusratul Islam Wal Muslimin (JNIM), another Al-Qaeda affiliate mainly working in the Central Sahel, about how they can assist each other in linking jihad from Nigeria to Mali through training and operations as al-Qaeda's attempt at global consolidation.
On Facebook, they concentrate on spreading their message of hate, religious extremism, and other anti-democratic rhetoric. They do so by painting a fake picture of themselves and exploiting sentiments.
One of the major accounts monitored by HumAngle, for example, called for a merger between them and Fulani herders who, according to the account, "are being marginalised in their country" and have to restore their "lost glory" through jihad.
Ansaru's engagement with the civilian population is unique compared to other local jihadi extremist groups. It aims for social acceptance as part of a long-term plan to wage total control through jihad. This was evident in a propaganda message the group uploaded to Facebook after the kidnapping of passengers onboard the Abuja-Kaduna train.
The video, which remained on Facebook from June 2022 until early March 2023, showed armed Ansaru fighters distancing the group from the attack and claiming that they do not target civilians. The message also promoted their anti-democratic agenda and called for a "greater jihad" that doesn't target other Muslim civilians.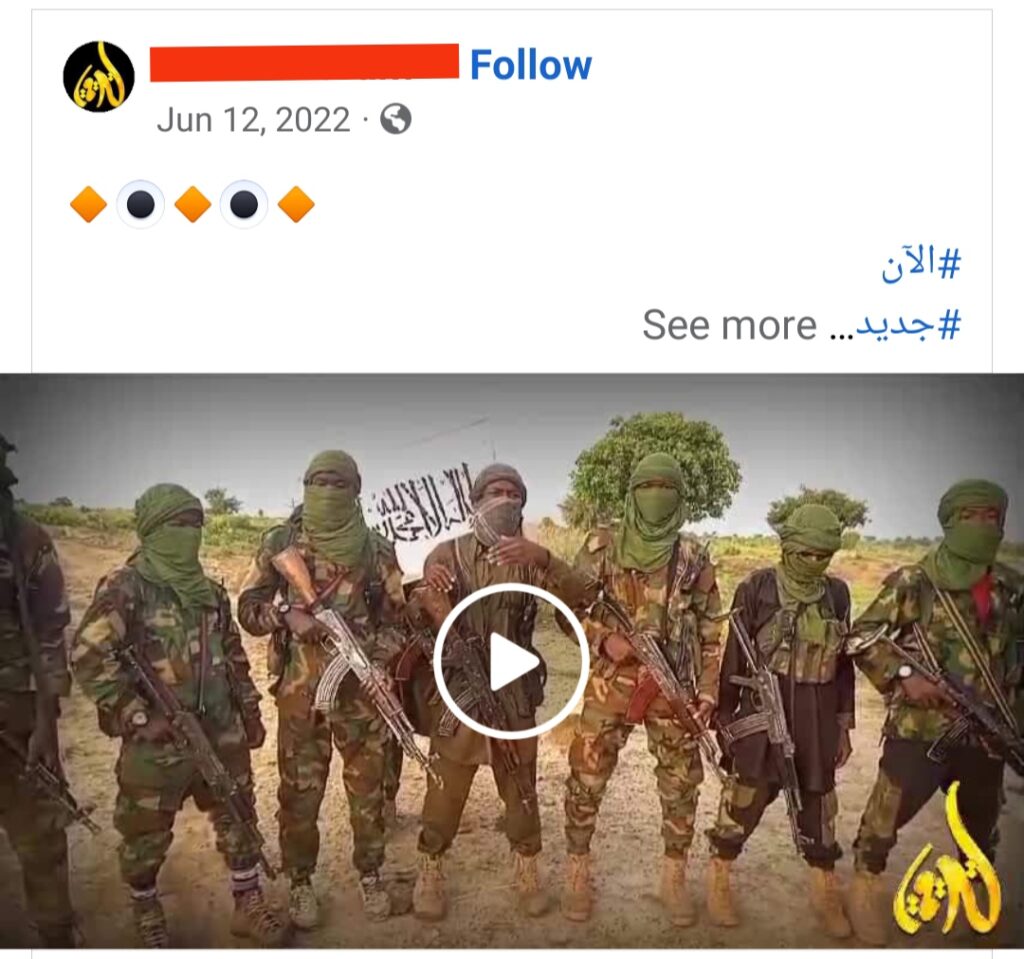 Despite their violent and extremist ideology, their ability to use social media to great effect has drawn them closer to the people.
To dodge detection, Ansaru members merge two languages, especially Arabic and Hausa. This is believed to confuse the monitoring system, giving them room to use words that are offensive and derogatory with impunity.
Operations
Two of the accounts HumAngle tracked were influential, each boasting more than 4,000 friends and followers and posting an average of four times daily.
The most prominent accounts in this class are Shirka Haram and Muwahid Muwaheed, who were found to be controlling other accounts and pages with similar names, disseminating similar terror propaganda. The accounts act as a semi-official propaganda wing of the Ansaru group.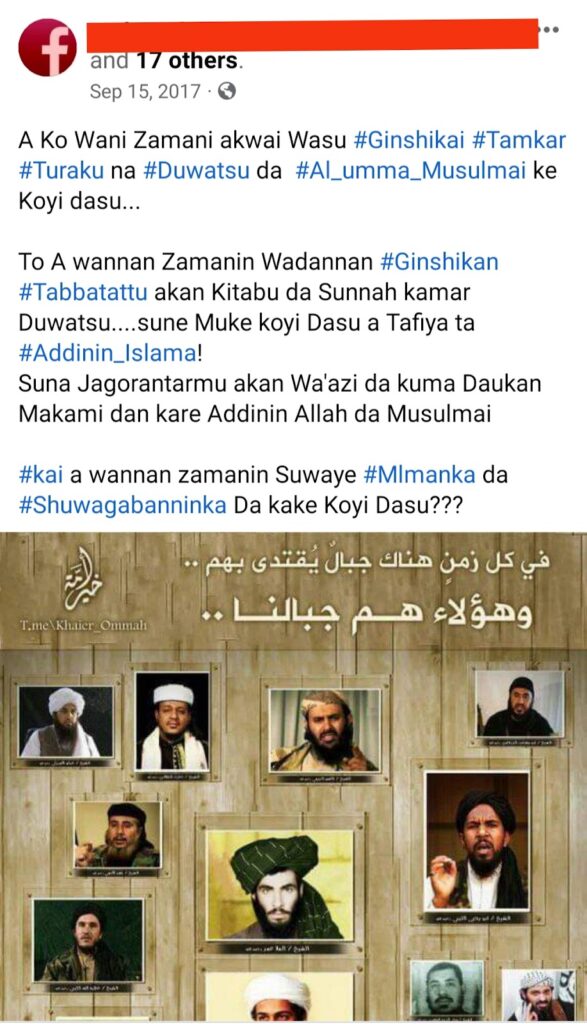 The content of their messages is, however, less carefully designed and doesn't show the technical sophistication of the Islamic State.
The content and the central message of the accounts monitored ranged from takfir and anti-democracy messages to eulogies of Al-Qaeda leaders. Videos of Mohammed Yusuf, the founder of Boko Haram, and other extremist clerics were also used to justify extremism.
The accounts often share each other's posts and announce the creation of new accounts or close chat groups in fear that others might be taken down where more violent actions are discussed.
These accounts often use pseudonyms and list Nigeria as their primary location. Still, they consider themselves part of a global jihad network. They call on others to join them in their mission and engage in debates with those who oppose them.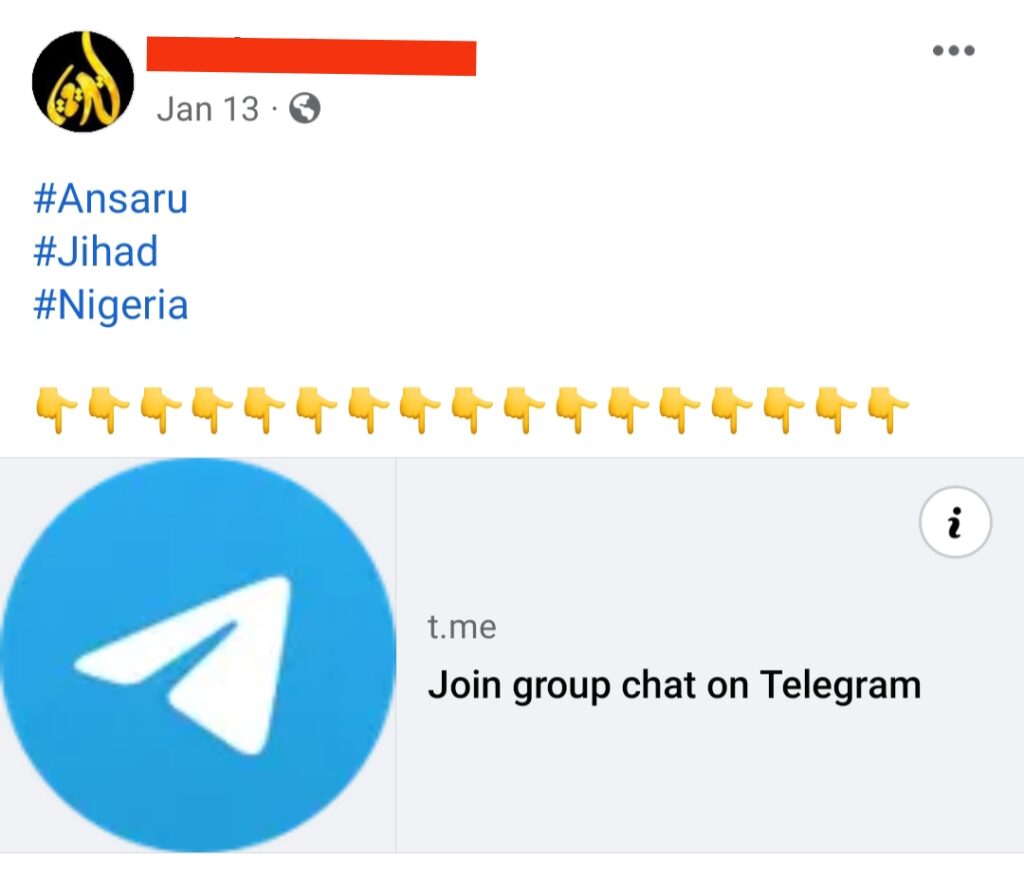 Most of those who go against them are quietist Salafists who participate in democratic processes in Nigeria, believing that they can drive reforms through an approach they call "A Shiga A Gyara" (Let's Change It Within).
Quietist-Salafism was coined to distinguish other Salafis from the Salafi-Jihadists who actively engage in violent forms of political activism, to institute Shari'a law.
Quietists' political action may be not as spectacular or eye-catching, but their discourse is loud and radical. They see participation in the democratic system as a "necessary evil" so that the system can be dismantled.
Elections targeted
When the 2023 Nigerian general election was on the horizon, some accounts changed their focus to attacking democracy and called on Muslims to boycott the process. They argued that the situation in Nigeria could only be solved through violent jihad, not democratic elections.
The accounts have also taken advantage of unrest in the country, such as when President Muhammadu Buhari was reportedly stoned in his home state of Katsina, to propagate their message and incite further chaos.
Within this chaos of messages and propaganda, some supporters of the Islamic State in Nigeria have also tried to indicate their presence by engaging in the same tactics as the Ansaru members.
HumAngle has found recent posts by Islamic State supporters who share propaganda in English. One way the I.S.-affiliated accounts attempt to bypass detection is by blocking the group's logo in the videos and pictures they upload.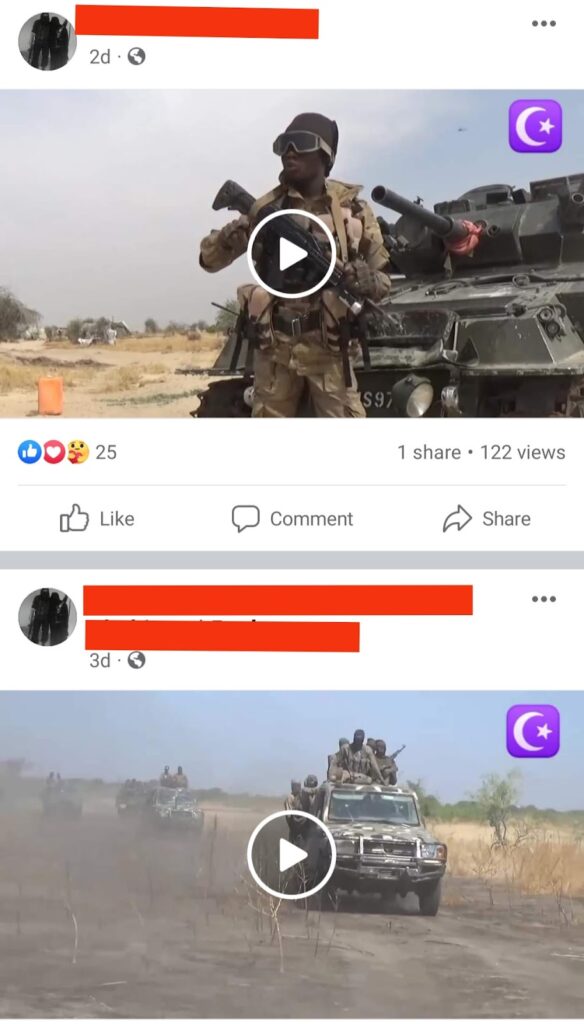 Language
All of the jihadi accounts connected to Ansaru that HumAngle monitored on Facebook use the Hausa language to spread their propaganda. They sometimes use Arabic, but none of the accounts was found using English as a medium of communication.
This may be a deliberate attempt to connect with the Hausa-speaking communities. It also serves to show that they aren't foreigners and have a deeper knowledge of Arabic as the lingua franca of Islam, which would likely give them a form of legitimacy to speak on Islam.
The use of Hausa on social media by Jihadists in Africa is steadily growing, with the Islamic State West Africa Province (ISWAP) venturing into it and maximising their reach to target local audiences after becoming aware of the language and its potential impact in recruiting new members.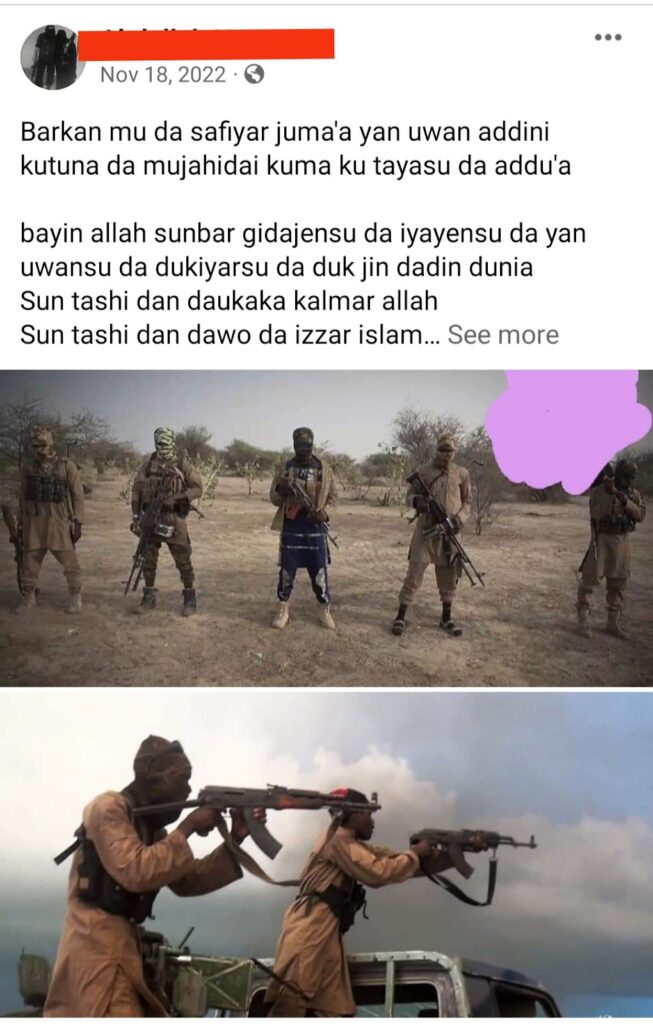 Unlike ISWAP, which recently introduced Hausa as one of its official languages, most of the accounts monitored by HumAngle were not official Ansaru sources. Most of them are either members, sympathisers, or supporters, sometimes called "fanboy" accounts by analysts.
Facebook is the most popular social media platform in Northern Nigeria and Ansaru Jihadists are part of thousands of Hausa speakers spreading propaganda in a language that goes undetected by the platform.
The terrorists are not only posting textual information, but they also post videos and photos designed to attract new recruits and spread their radical ideology.
Geographically, the use of Hausa on Facebook is primarily concentrated in the nations of Nigeria and Niger, where over 80 per cent of the users are located and where Boko Haram terrorists mostly operate.
Other countries with significant Hausa usage on Facebook include Cameroon and Chad, which also have jihadi extremist presence.
Most Hausa language users on Facebook are male and between the ages of 18 and 24, a demographic that's being targeted by Boko Haram to populate its ranks of fighters. The use of the language, therefore, gives the terrorists a direct line of communication with their intended audience.
The Institute for Strategic Dialogue (ISD) recently found that extremist propaganda from al-Shabaab and the Islamic State in East Africa was also unchecked due to "language moderation blindspots".
"Ultimately, al-Shabaab and Islamic State supporters are capitalising on ineffective moderation in East African languages to build out stronger and more resilient networks to polarise audiences and pollute the information landscape with extremist disinformation," the institute noted in a study published last year.
The message
The type of information spread by Ansaru members on Facebook is often religious in nature. They don't directly create disinformation but try to use videos and audio recordings out of context to justify their causes and misinform potential recruits.
They also use religious rhetoric to justify violence and encourage others to join them. They spread false information about the government and its policies, which they use to stir up discontent and hatred.
For example, one of the accounts claimed that conventional schools in Nigeria teach that the origin of man is Panku, a primitive giant said to have carved out the planet. Although this is in Chinese Mythology, Nigerian schools don't teach it as a doctrine but as a comparative study of myths and legends.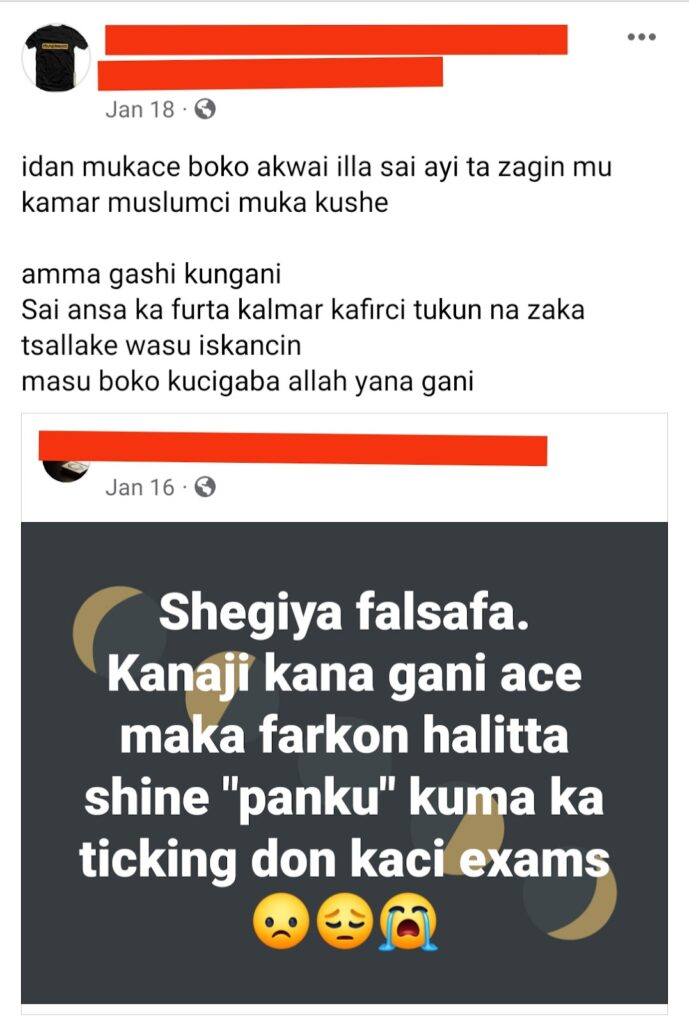 The messages spread by Ansaru Jihadists on Facebook are often inflammatory and incite violence. They call for attacks on government officials, churches, and other targets they consider to be enemies of their cause. They also use inflammatory language to demonise certain religious groups.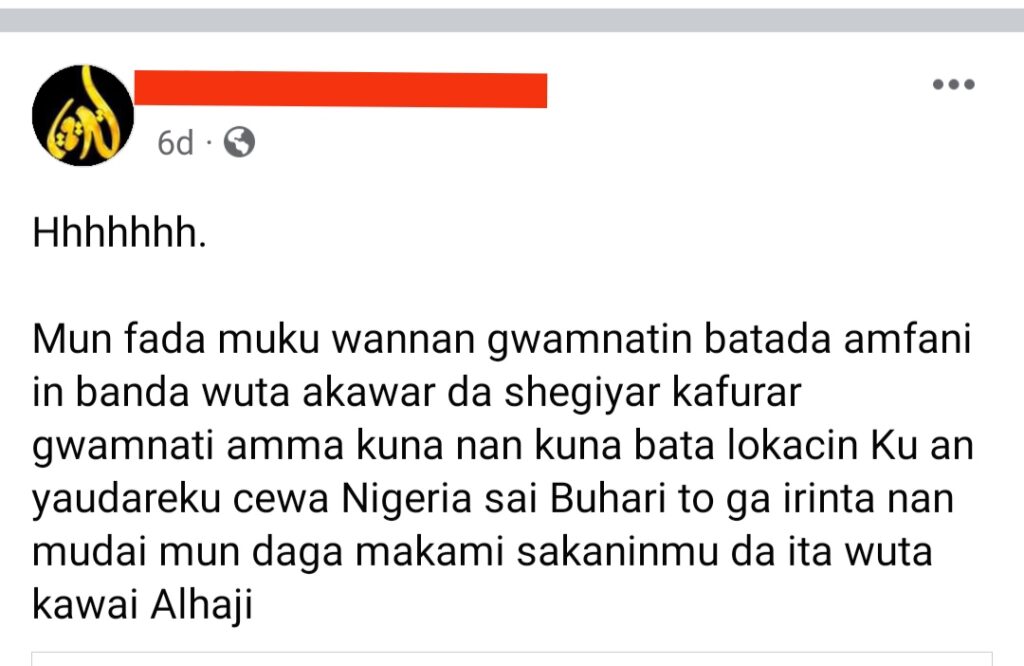 Ansaru's propaganda messages portray the group as strong, powerful, and ready to defend Muslims, while attempting to discredit the Nigerian government as illegitimate and untrustworthy by showing contempt towards the democratic form of government and its leaders.
Psychologists have found that Jihadi extremist propaganda has a powerful effect on individuals who are vulnerable to radicalisation. It can be particularly effective in creating a sense of belonging and purpose, as well as providing a sense of moral justification for extreme acts of violence.
The Ansaru messages also attempt to portray the group as trustworthy, sincere, and truthful. This is likely an effort to appeal to potential supporters and gain legitimacy.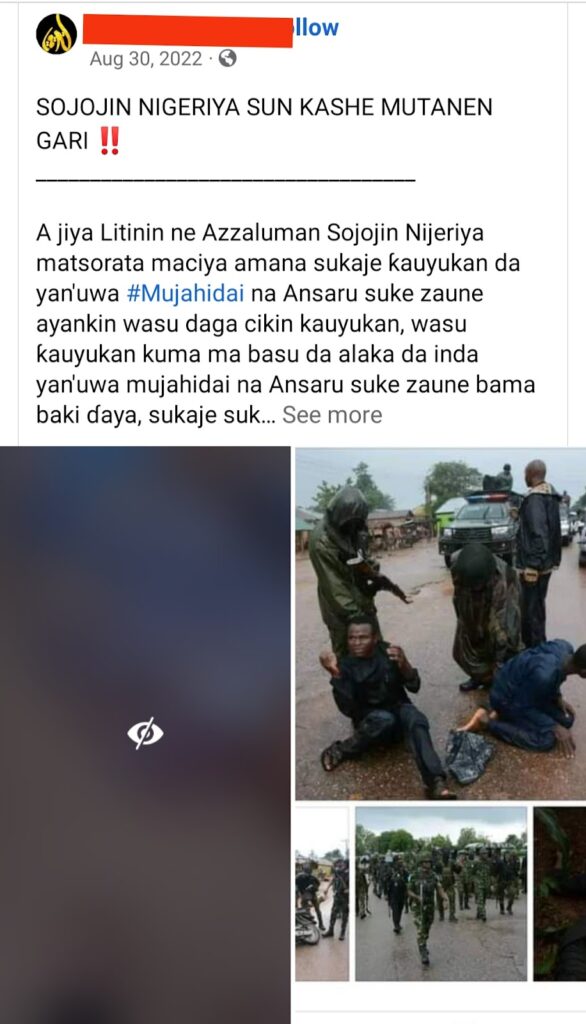 In engaging with other Muslims and in order to silence critics, they unearth old videos of clerics who changed their views to support their extreme views on jihad. They do so by cutting long videos and spreading half-truths so as to misinform the public.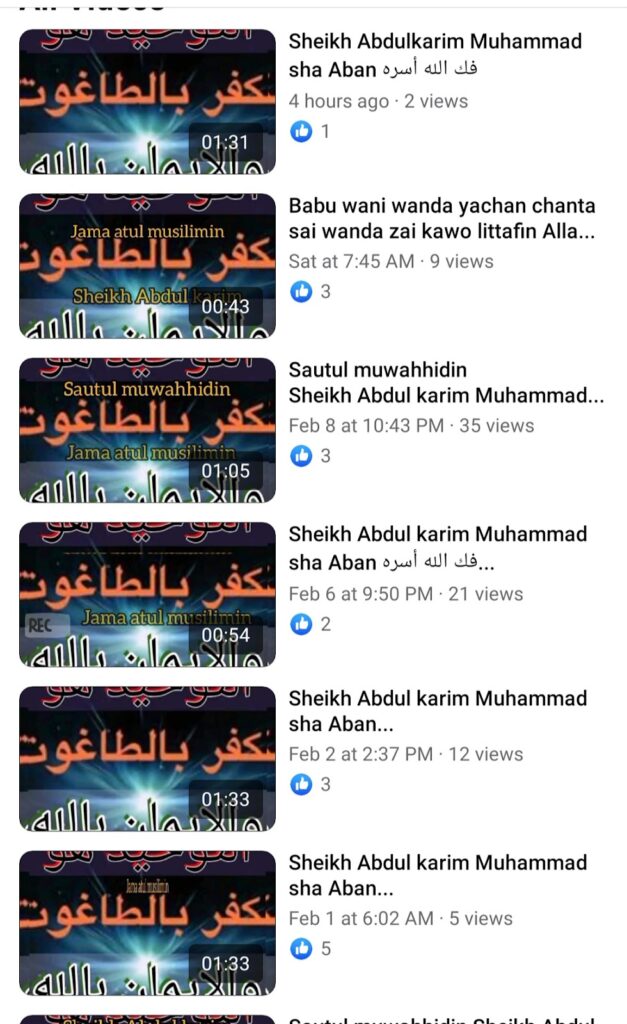 Doing enough?
Facebook has been criticised for not doing enough to prevent the spread of terrorist propaganda messages on its platform. Despite the company's claims that it is doing its best to remove such content, reports suggest that its efforts have been inadequate.
Several videos, pictures, and messages promoting violence and extremism have been found on Facebook in Hausa. These messages have been shared by individuals from various countries, including Nigeria, Niger, Chad, and Cameroon.
In response, the social media giant has said that it employed a combination of artificial intelligence and human monitors to identify and remove terror-related content.
"Our detection techniques include content matching, which allows us to identify copies of known bad material, and machine-learning classifiers that identify and examine a wide range of factors on a post and assess whether it's likely to violate our policies," the platform said in 2019.
But the terror groups have found ways to beat this automated system. The human monitors also seem unable to keep up with the sheer volume of terror-related content posted on the platform. According to the company, in the third quarter of 2020, the number of terror-related posts increased by over 50 per cent compared to the same period in 2019.
In the third quarter of 2022, the company said it had removed over 16 million posts of terror-related content.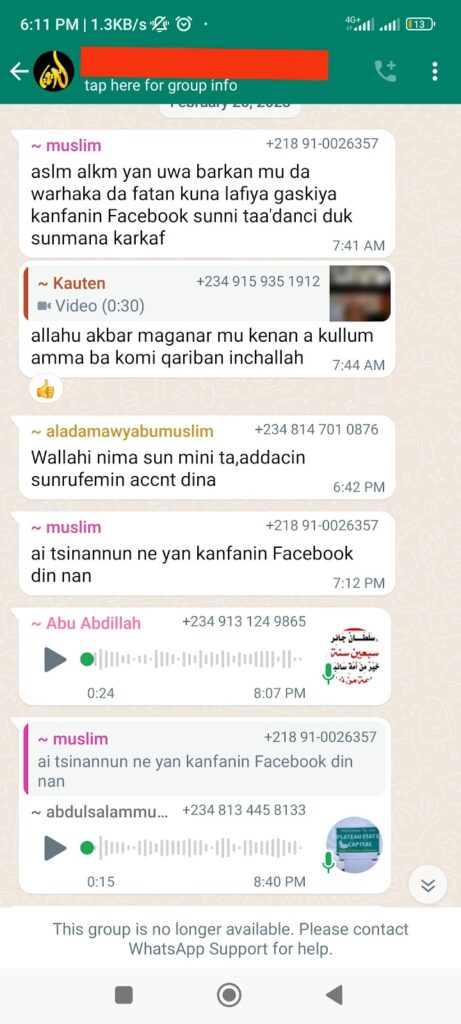 While working on this piece, HumAngle noticed that some of the accounts on Facebook had been removed in Feb. 2023. However, several other accounts have remained on the platform, although they are not as active as they used to be.
The Ansaru Q&A WhatsApp group has also been banned. However, realising that Facebook was after them, the members announced that they were moving to Telegram, where they would announce new accounts and other information.
HumAngle followed their Telegram channel and found them sharing terror content and forwarding messages from other Al-Qaeda affiliates while also discussing other issues related to their extremist religious views.
---
This article was produced with mentorship from the African Academy for Open Source Investigations (AAOSI) to tackle disinformation that undermines our democracies, as part of an initiative by the International Centre for Journalists (ICFJ) and Code for Africa (CfA). Visit https://disinfo.africa/ for more information.
---
Support Our Journalism
There are millions of ordinary people affected by conflict in Africa whose stories are missing in the mainstream media. HumAngle is determined to tell those challenging and under-reported stories, hoping that the people impacted by these conflicts will find the safety and security they deserve.
To ensure that we continue to provide public service coverage, we have a small favour to ask you. We want you to be part of our journalistic endeavour by contributing a token to us.
Your donation will further promote a robust, free, and independent media.
Donate Here