Armed Violence
Features
Terrorists Kill Medical Worker In Nigeria After Collecting Ransom Thrice 
With the cost of living crisis, citizens continue to struggle to pay ransom in Nigeria's northwestern region. But even so, the freedom of their loved ones is often not guaranteed. Saleh's brother was killed in captivity even after the terrorists collected ransom three times.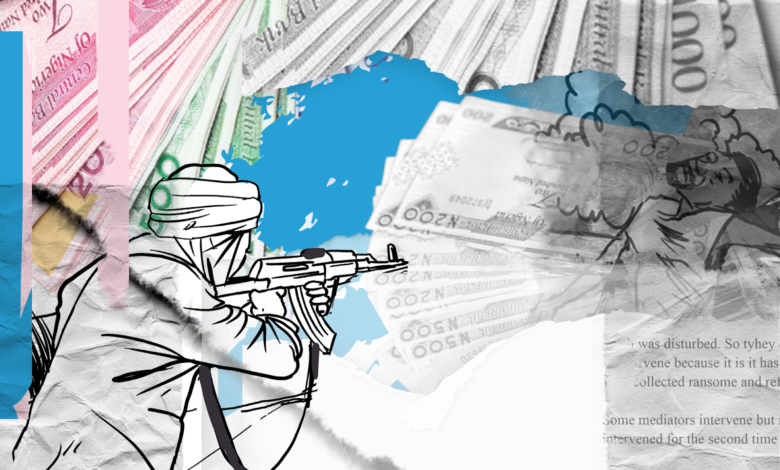 Malam Saleh* got a call at around 10 a.m. on Aug. 3, 2023, that would change his life in a manner he would never forget. His elder brother, Alhaji Tanimu,* had been kidnapped.
This bad news came from the victim's colleague at a primary health care centre in Dandume Local Government Area (LGA) of Katsina State, North West Nigeria.
Apparently, Tanimu had been picked up in Juruwa by terrorists operating in the Juruwa area, also in Dandume, at least 230 km from Katsina, the state capital.
Saleh related this news to family and friends. Everybody was shocked, he told HumAngle.
A few hours later, that same day, another call came in. This time, it was Tanimu's caller ID that flashed on Saleh's screen. But it was not his brother on the phone. After hurling insults at Saleh, the terrorists passed the phone to Tanimu.
"I have fallen inside the trap of these people," he said. "Please do whatever you can to save my life."
One of the abductors then seized the phone and asked if Saleh was ready for negotiation. He responded in the affirmative – "We are ready to hear your demands and fulfil them in order to save his life." During the call, his brother had pleaded with him to sell off everything and reach out to family and friends to ensure that the abductors' demands were met.
Ransom by all means
The terrorists had mentioned an amount. "It was more than a million," Saleh told HumAngle. But after the negotiation, they ordered Saleh to wait.
It was a tortuous three days before they called again. But things only got worse because they increased the ransom.
Saleh and his family are currently just one among hundreds of terror victims. In recent years, insecurity has continually ravaged the northwestern part of Nigeria, with armed groups holding people for ransom. This is not all – killing, rape and maiming have become rampant in some parts of the region.
HumAngle has reported how the trend of abductions has continued even at the height of a period Nigerians describe as the cash crunch period. The crunch, which lasted for at least four months, came as a result of redesigning the country's Naira notes, which according to the country's apex bank was done to tackle insecurity, among other reasons. Despite the scarcity of the notes, the terrorists forced some families to produce cash as ransom.
SBM Intelligence estimated that 3,620 persons were kidnapped in 582 incidents between July 2022 and June 2023, with reported ransom demands of at least $5 billion and actual ransom payments of $302 million across the country. However, due to underreporting, this number might be higher.
Saleh said he took time to explain to the terrorists that his brother was not a rich man but a civil servant who worked in a community clinic. "They insisted I should add more money on the last amount we discussed," he said.
Afterwards, the family sent what they were able to raise through a volunteer. The terrorists gave a different phone number that the man could reach them on.
"After he gave them the money, he waited for them to bring my brother. But they did not. They prayed Maghrib and Isha prayers there, waiting for them to bring him, but they didn't. They slept there and waited till the next morning," he narrated.
The terrorists didn't call until after ten days. But instead of fulfilling their end of the deal, they demanded more money. When Saleh reminded them of the fact, they waved it off and hurled insults at him.
"Immediately, they increased the amount they wanted to ₦15 million," Saleh told HumAngle. This was later reduced to ten million after a fresh negotiation. But the family did not have that amount of money.
Disturbed, Saleh discussed with other family members about talking to mediators to intervene. It had become a normal occurrence in the area to hear that the terrorists had collected ransom and refused to release a captive.
There was another difficult aspect to the entire situation. "I always go to our mother and his wives and children to console them and update them on the efforts we were making to save his life," Saleh added.
But because the terrorists did not keep their promise, Saleh soon found himself in a bind. There was the fear of being called a liar by people who assisted in raising the ransom. This was because Tanimu was still not released after the first and second ransoms were delivered.
After paying the first ransom, Saleh had told family members to perform ablution and supplicate to God, all the while hoping that it was the end of the trying circumstance.
Unfortunately, it was not.
Some mediators intervened as planned, but it didn't yield a positive outcome. Another team of mediators intervened after the second ransom, but it was unfruitful too.
The mediators
Since the beginning of the menace across the northwest, some civilians are often forced to serve as mediators. Others, however, serve as informants to terrorists in the region.
In this case, mediating between Saleh's family and the terrorists proved unproductive.
"We were already in shock because they had disappointed us in the first place. Even if we had the money, giving them again will be difficult for us," Saleh continued.
At the height of this, they got another mediator who was willing to assist. But, shockingly, when he spoke to the terrorists, they denied knowledge of all previous discussions.
Then came the insults – the abductors boasted that no one could force them to do what they were not willing to do.
Slipping away
Saleh, being the one communicating with the terrorists on behalf of the family, sensed that his brother was slipping away.
"From his voice, I could understand that he was not in a good condition. He said he was sick. He does not eat food because they were not given food," Saleh told HumAngle.
The captives were not in good condition, he explained. Those who regained their freedom returned with horrifying tales about the plight of those still in captivity.
"My heart ached. I was not concerned about the huge amount of money but of the wellbeing of my brother who was in their hands," Saleh continued.
The third attempt
Before paying the third ransom, Saleh and the rest of the family waited for the terrorists to release Tanimu in vain. The terrorists kept giving excuses even after they agreed to pay another ransom.
During this period, everyone looked up to Saleh due to his role as the contact person since the incident.
"From alms to gifts to loans, we sourced money from wherever we could. But it proved abortive," he recalled.
There were times when Saleh would hide from people in his community to avoid questions.
"When would Tanimu be released?"
This was one question Saleh dreaded because whatever he told them earlier did not turn out to be true.
"What was happening was different from what I was telling them. Whatever the abductors would feed me were lies," he sobbed.
Dashed hopes
Then, one day, a new development gave them hope – the terrorists had given a pickup date for Tanimu. So, the family crowdfunded and raised the amount.
Before going to meet the terrorists at the agreed time and venue, Saleh picked up clean clothes for his brother. He had the intention of taking him immediately to a hospital for a medical check-up.
But when Tanimu was handed over to them, it was his lifeless body and his family could hardly recognise him. Still, they took him to a hospital, where after a medical examination, he was confirmed dead. The medical personnel revealed to the family that they were given a lifeless body.
Sadly, one of Tanimu's wives gave birth seven days before he was killed. He died on the day his newborn was named.
Today, Saleh still struggles to recover from the traumatic experience that led up to his brother's death. Apart from the financial toll it took on him, it affected him psychologically.
"I would perform ablution and forget to pray. I always find myself in deep thought," he said as he wept.
"Right now, even phone calls from people make me scared. Sometimes, I keep recalling the last discussion we had."
While Saleh mourned the loss of his brother, he learned about other victims and what their families were going through.
Some who were kidnapped days before his brother were still being held. The families told Saleh how the abductors collected motorcycles and petrol as ransom — and, like in Tanimu's case, still refused to release their loved ones.
---
*Asterisked names are changed to protect identities.
---
Support Our Journalism
There are millions of ordinary people affected by conflict in Africa whose stories are missing in the mainstream media. HumAngle is determined to tell those challenging and under-reported stories, hoping that the people impacted by these conflicts will find the safety and security they deserve.
To ensure that we continue to provide public service coverage, we have a small favour to ask you. We want you to be part of our journalistic endeavour by contributing a token to us.
Your donation will further promote a robust, free, and independent media.
Donate Here