Armed Violence
Investigations
Gold, Livestock And Bikes: How Abductees Paid Ransoms During Nigeria's Cash Crunch
When the authorities withdrew cash from circulation by redesigning the Naira, families of abducted people desperately searched for cash to pay ransoms. In some cases terrorists adapted, demanding ransoms in other ways.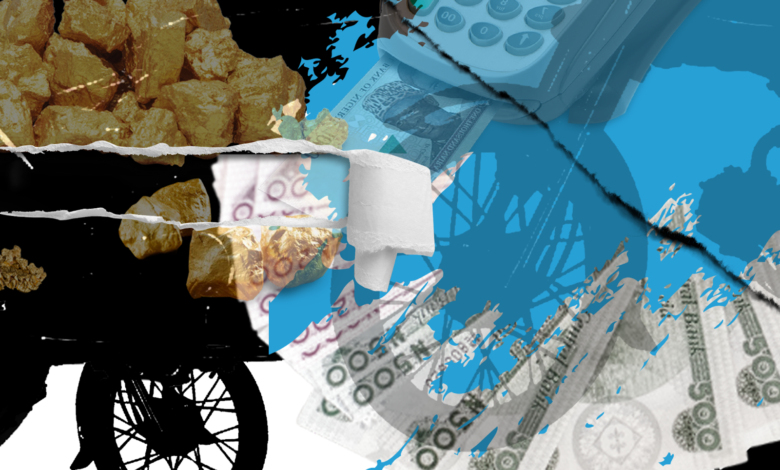 First, he froze in terror, then he blacked out.
Aliyu Sani, 45, woke up in a filthy camp in the Bingi forest in Zamfara, a state at the heart of terror attacks in Nigeria's North West.
He was among scores of people abducted when menacing terrorists ransacked his village in Maru, firing a hail of bullets on Feb 5.
The criminal gang telephoned his family seven days later to demand ₦2 million (about $2,600). Aliyu's property was sold to raise the money. His younger brother called back, asking the terrorists to send their bank account details.
"Your father!" the captors cursed. "Did we ever tell you we had an account?"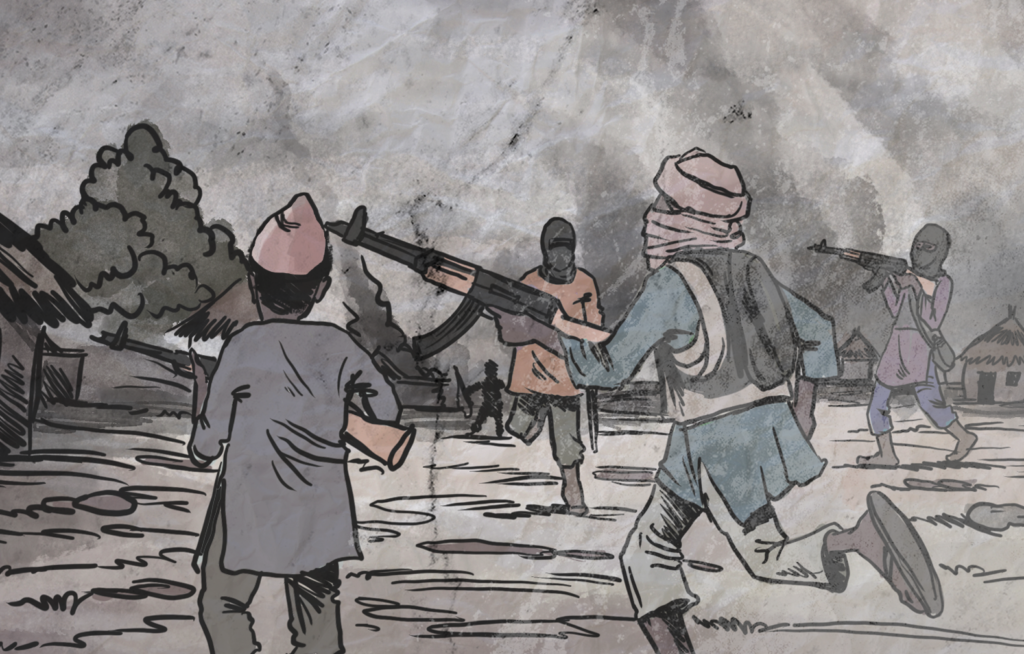 A bank transaction was the best way for the vicitms to get the ransom across, as cash was scarce in Nigeria. The federal government had withdrawn much of it from circulation to tame terrorist financing.
But the captors had targeted Aliyu, whom they knew to be a gold merchant, to get around this policy.
No cash? Pay with your gold, the terrorists barked.
"They told us they had buyers for our gold but warned us to be sure it was worth ₦2 million," said Rabiu Maru, a local security agent who also served as the mediator.
One of Aliyu's allies was appointed to deliver gold karats worth that amount. Stunned by the promptness in the ransom delivery, the terrorists refused to release the captive, demanding a further ₦2 million, in cash this time.
But somehow, news reached the terrorists that Nigerian soldiers were coming to raid their hideouts, Aliyu recalled. After spending 41 days in detention, he narrowly escaped when the terrorists fled the forest, leaving all their captives behind.
Blood and tears
In Jan. 2023, Godwin Emefiele, the suspended Governor of the Central Bank of Nigeria (CBN), announced a twin-track policy of "naira swap", changing the old money for newly designed notes, and new limits on bank cash withdrawals.
The primary reason stated for this stringent monetary policy was that it would curtail terrorism financing, money laundering, and illicit cash flows. The Nigerian Financial Intelligence Unit (NFIU), which coordinates anti-money laundering and counter-terrorist financing frameworks, claimed the policy would end ransom payments to kidnap syndicates.
In their early years, the terrorists operating in the northwestern region of the country received most of their gains from looting and cattle rustling. The groups now finance most of their activities from ransom payments, blood taxes collected in ungoverned spaces, and proceeds from seized farms and livestock.
Terrorist actors rely on a cash economy to bankroll their nefarious operations, the NFIU stated in a 2022 report. "The larger percentage of transactions linked to terrorist financing is initially carried out in cash, which is sourced from both legitimate and illegitimate activities," the govt agency said. "However, cash collected is usually placed into the financial system directly through bank deposits and indirectly through POS transactions."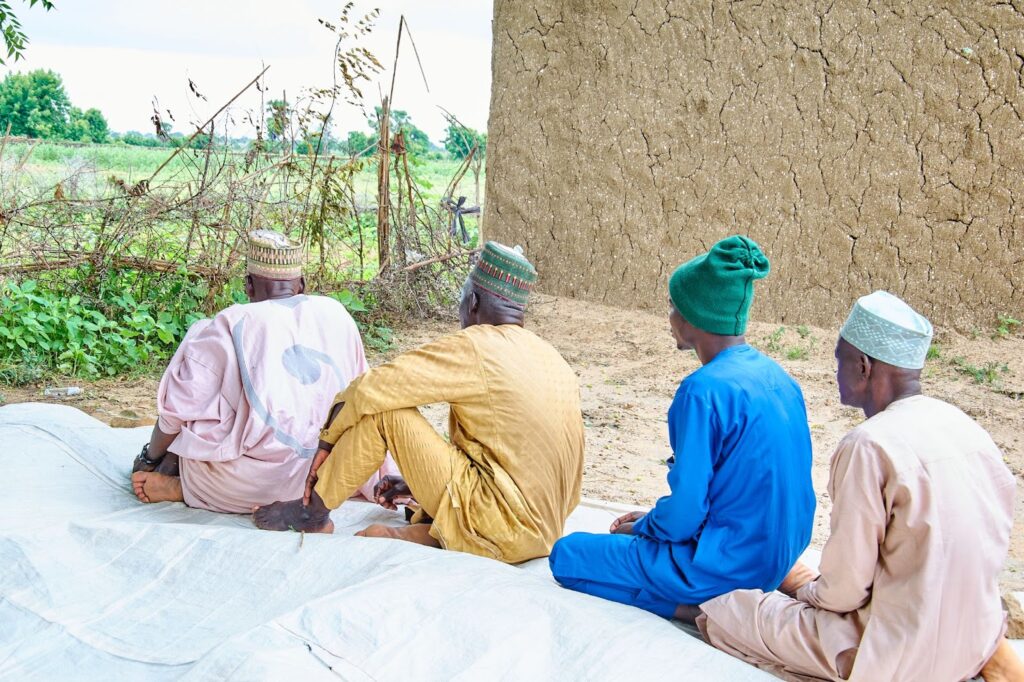 Relying on the intelligence gathered by the NFIU, the CBN decided to make cash very hard to come by, believing that would tame illicit cash flow by terrorists and other corrupt individuals. Although there were other narratives: some pushed the idea that Emefiele wanted to invoke unprecedented hardship on Nigerians to limit the chances of victory for the ruling political party during the presidential polls. Emefiele countered that his intentions were genuine.
Sadly, when the CBN demonetised the old notes in February, it was as if the whole of Nigeria burst into tears.
There was chaos as long, laborious queues of desperate people sprang up outside every open bank. Social media platforms were flooded with stories of people dying to withdraw money from banks. An elderly man was seen weeping like a baby in a banking hall for not being able to withdraw money to buy his food and drugs. There were actual deaths, an on-air-personality slumped and died while trekking to get cash in Ibadan, Oyo state; a pregnant woman was said to have bled to death after her husband failed to get some money to take her to the hospital.
The apex bank mopped up nearly 70 per cent of the old notes in circulation and needed to provide more replacement with the new currency. So for several months, especially between January and March, there was widespread panic caused by the scarcity. Before the deadline given by the bank, many traders and business establishments had already stopped accepting the old notes. When the Supreme Court ruled that the old notes remained legal tender in March, there wasn't enough money in circulation to meet people's needs.
Amid the cash crunch crises, tales of terror attacks suddenly disappeared from the news or were overwhelmed by controversial election stories. As the financial intelligence unit of the CBN, the narrative provided by NFIU is that the cashless policy worked like magic, biting the terrorists hard and taming their operations.
"There was tremendous progress in lack of kidnapping cases during the cashless policy," Sani Tukur, NFIU's head of media analysis, told HumAngle. "In reality, these guys rely on cash; they would only kidnap you if they realise you have cash at home or in the bank. But they know that if they kidnap anyone, there is no way to pay the ransom; they run out of business."
But HumAngle discovered through on-the-ground reporting and interviews with former hostages, terrorist negotiators, security agents, and other experts that this claim contradicts the experiences in many communities as armed groups found multiple ways of operating amid the oppressive situation.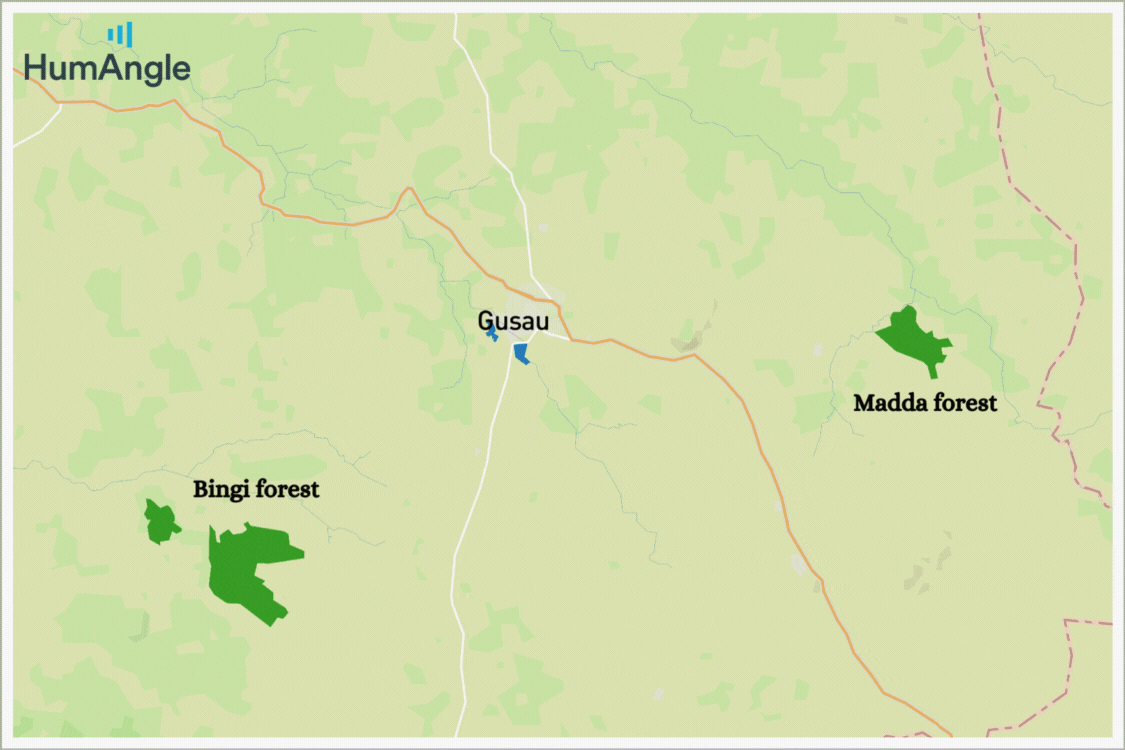 Outsmarting the system
One night in January, around 11 pm, Meimunah Muhammad and her husband Hassan, were chatting about the trend of deadly terror attacks in Zamfara. Unknown to them, ten armed men had already surrounded their building.
When they banged the gate, Meimunah and her husband's younger sisters hid under the bed, but they were found. Her husband managed to escape the abduction, hiding in a small well in the house. The criminal gang had attempted thrice to invade their home before finally finding their way in to abduct three of them.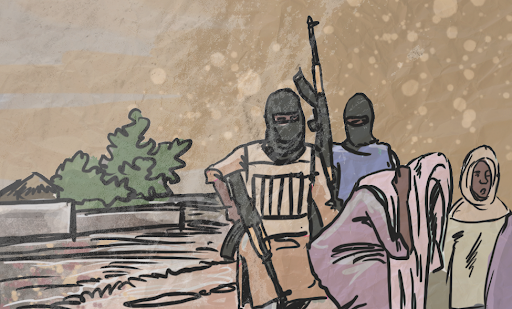 Meimunah recalled that they trekked for five hours at midnight, stopping in a community where villagers appeared to be in allegiance with the terrorists.
"We thought the people would at least raise the alarm," she told HumAngle. "But they looked at us and moved on to their mosque for morning prayers." Then, at 5 am, five other men emerged from the forest with motorbikes to convey them to the terror camp, where they would spend the next 41 days.
Meimumah and her sisters-in-law were held in Madda forest, one of the hideouts featuring waterfalls and thick trees, run by Dogo Gide, the leader of a terrorist group in Zamfara. Three days into the abduction, the terrorists telephoned Meimunah's husband to demand ransom.
"There is no money," Meimunah recalled her husband saying over the phone. "No cash because of the situation on the ground."
The captors were feeling the heat of the cash crunch and wanted their captives to provide the ransom at all costs or die gruesomely, she said. Meimunah said she begged to be killed rather than suffer the torture of captivity, but the terrorists refused. She was three months pregnant, yet the terrorists would not spare her from the hell and maltreatment in the camp.
Back home, Hassan was distressed; he feared his wife and sisters would be killed if he did not get cash to pay the terrorists. They had asked for ₦150 million ($194, 616), eventually the family negotiated down to ₦3 million ($3,892.31).
"I tried everything possible to secure their release until I realised I would just have to pay the ransom," Hassan said, recalling how he had informed the police, army, and the Department of State Services (DSS) but got no help.
Importing cash to pay ransoms
To get the money together, victims had to spread their efforts widely, among friends and family.
Family members in neighbouring states like Sokoto, Niger, and Kaduna sent thousands of naira in envelopes via public vehicles to contribute to the ransom payment.
Hassan's mother even went to the market to beg petty traders and market women for cash.
"Every family member went to the bank to withdraw at least ₦10,000 [$12.83]", he said. "They would then waybill the money in envelopes to us here in Zamfara."
After weeks of gathering cash from friends and family, Hassan said the sum of ₦3 million was paid to the terrorists to buy his family's freedom. The captors had asked him to send the ransom in US dollars or CFA francs, but he declined, saying he didn't have such currencies. The terrorists then agreed to take naira only in the newly introduced notes.
In many ways, Meimunah's story epitomises the failure of the cashless policy aimed at ending terrorist financing, ransom payments, and illicit cash flows. In truth, the terrorists first felt the heat of the cashless economy like many Nigerians, according to former hostages, security officials, terrorist negotiators, and people familiar with the inner workings of armed groups in the northwest region.
But by mid-February, they had adapted by forcing their victims to pay millions in the new notes. Eleven former hostages told HumAngle how they imported cash from neighbouring states — after combing their homes, markets, and pockets for the new notes.
In many other instances, the victims said they paid their ransoms with gold, motorcycles, or phone items worth millions of naira when they could not get cash.
Analysis of data compiled by the Nigeria Security Tracker (NST) shows that the number of kidnapping incidents rose from 36 to 41 between December 2022 and January 2023 and then dropped sharply to 16 in February before increasing again. It is unclear how much of this was due to the CBN's policy, the media coverage of the general elections between February and March, and other factors.
In any case, many abduction incidents went unreported during the period. While NST documented 16 incidents nationwide in February, HumAngle learnt of at least 12 in just Zamfara and Sokoto that same month.
Motorcycles as ransom
Sometime in January, terrorists surrounded the Bingi village of Zamfara. Two armed men invaded the home of Salisu Kareem, 43, and tried to kidnap him. His two wives protested and dared the terrorists to kill them instead. Salisu pleaded with his wives to surrender "because I didn't want to lose any of them".
As the terrorists disappeared with him, one of his wives died of shock; residents shovelled the earth and buried her. Three days later, the terrorists called to demand ₦4 million. But even if there was cash, the victim's family could not raise such an amount.
"He told us to sell his house and lands so that we could raise the money," Aliyu Garba, a terrorist mediator, who worked to secure his freedom, said. "The house was sold for ₦2 million because the buyer knew the owner was in captivity, but the terrorists insisted on ₦4 million."
Unfortunately, the house buyer could only raise ₦1.6 million in cash. Even after Salisu's lands were sold, efforts to get the balance failed. The terrorists then ordered that the money raised be delivered alongside three motorcycles — each costing ₦500,000 ($648.72) in the local market. Salisu returned after 28 days, only to realise he did not only lose his house and lands but also one of his wives.
He became depressed and left the village to start his life all over again elsewhere.
In terror-ravaged states such as Borno in northeastern Nigeria, where Boko Haram was birthed, kidnapping hostages is an easy spoil. Between 2011 and 2020 alone, Nigerians paid at least $18.34 million to kidnappers, according to a report by SBM Intelligence, a geopolitical research consultancy firm.
The terrorists often threaten to kill their victims but keep them alive and trade them for bags of cash. The step-by-step strategy includes a long silence after the abduction to invoke panic and then asking hostages to call their relatives for huge ransoms – usually running into millions.
On many occasions, authorities have cautioned citizens from paying ransoms to curb terrorism financing, but victims' relatives believe they have no choice. Although they often denied it, state and federal governments have also had to pay ransoms to terrorists, especially in cases where schoolchildren were abducted and used as negotiating pawns.
'Prisoner swap'
It was around 9 pm, one night in early February. Bilyamin Sani heard sounds of panic from the house next door in the Madda village of Zamfara. He jumped up to see what had happened, only to run into the hands of armed men. Armed with a few hunting rifles and AK-47s, the kidnappers swept up a dozen people and took off with them into the forest.
They marched them through the forests of Madda for several hours and pulled them up on motorbikes, eventually arriving at the hideout at 6.30 am The camp would be their home for the next 115 days. Weeks passed before the terrorists asked to speak to someone who would negotiate their freedom. The kidnappers belonged to a group loyal to the terrorists Ali Kachalla and Dogo Gide.
Although they planned the ambush that caught Bilyamin and his friends, they appeared to have kidnapped others by chance, like a hapless 10-year-old who would later be asked to pay ₦50,000 for his freedom "because he was a small boy". He was released after his parents complied.
Initially, the kidnappers did not seem to have a plan; they could have demanded ransom in millions, but the victims had hit a soft spot. At least seven of the hostages abducted alongside Bilyamin had something in common: they were "children of the government", according to their captors. Bilyamin and his friends were youth mobilisers for the re-election of the former Zamfara Governor, Bello Matawalle.
Some of Dogo Gide's boys had been handed over to the police after some youths in Danjigba nabbed them. The terrorists would take advantage of the affiliation of their new hostages with the then-ruling All Progressive Congress (APC) government in the state to negotiate the release of these associates.
Outside the open-air prison, Bilyamin's friend, Sideeq, was contacted by the terrorists and appointed a mediator. "The bandits first demanded ₦500 million," Sideeq told HumAngle. "We were still begging to beat their request down when they came up with another plan, asking us to talk to our people in government to release their boys."
Sideeq travelled to Gusau to involve the police and local politicians. He was directed to one Bello Tagwoje, a supposed ex-terrorist granted amnesty by the previous administration in Zamfara.
"Tagwoje said if the government released the terrorists captured in Danjigba, he would ask the bandits' leader that captured our friend to release them," Sideeq recalled. "Eventually, the government released the terrorists, and it was Bello Tagwoje that went to the office of the former Commissioner of Police himself to secure the release of those boys."
But the terrorists would not release the hostages even after authorities complied with their demands. Bilyamin told him over the phone that they were tortured and treated like animals. "We suffered; we were flogged on our bare bodies," Bilyamin confirmed to HumAngle a few months after gaining freedom. "The terrorists would ask us to remove our clothes when they wanted to flog us; dangerous insects like scorpions bit us, and their animals had more honour than us."
Their captors later showed the willingness to free them, provided they paid ₦500 million ($648,718) Sideeq and others negotiated down to ₦7 million ($9,082) for the seven captives. The terrorists agreed but had a problem: "There was no cash in town, and when we asked the terrorists to consider bank transfers, they cursed us, saying they don't even have an account."
Sideeq described hustling for cash during the scarcity as the most challenging hurdle he had to cross in his 39 years. "We were always travelling from Madda to Gusua in search of cash," he said. "I remember staying at an Access Bank branch from 8 am till 6 pm but still returning home with no cash.
"We communicated with one of the fathers of the victims. He talked to a POS agent in Gusau. We got ₦150,000 [$194.60] from him at the time. Then, we contacted many POS agents, paying ₦10,000 extra to each of them for ₦200,000 [259.49] cash. That's how we got the money."
Bilyamin and his friends were released after seven weeks in captivity. Six months later, he told HumAngle that he had not recovered from the trauma. His parents had to sell some of their properties cheaply to bail them out. It's the same story for his friends.
"It's a terrible experience," he said.
Paying with livestock, foreign currencies
In communities ravaged by local terrorism, hostages who could not pay in cash were asked to pay in other ways. Sani Saidu of Illela in Sokoto is one such person. He was abducted by terrorists one evening in February and was asked to pay ₦500,000, being a poor, local farmer.
Sani said he had no one to call for funds and had no money in his account. But he had something: Four rams worth ₦600,000 ($778.46). He contacted his brother to bring the rams to the forest, and they freed him. "I am so pained because this was all I had at the time," he said.
Also, in Sabo Birnin, three residents, who asked not to be described by name and exact location, were abducted and detained by terrorists operating in the axis. When their families were contacted, the abductors asked for ₦3 million ransom — a million for each.
Haruna Musa, who negotiated with them, said after six weeks, they pleaded with the terrorists to accept the equivalent in the currency spent in neighbouring Niger Republic and agreed – after which the captives were freed.
On some occasions, the abductors took their victims to raid communities neighbouring the terror camp, former captors told HumAngle. "They took us to steal from neighbouring villages; we stole goats and rams for them to eat," said Matazu Abdullahi, a resident of Madda who was abducted alongside six others one night in February.
Matazu said his parents had involved the police, hoping they could help secure the freedom of the captives but failed. Eventually, they had to pay the hefty sum of ₦5 million. "The police failed us," Matazu said. "Only my parent's money rescued me."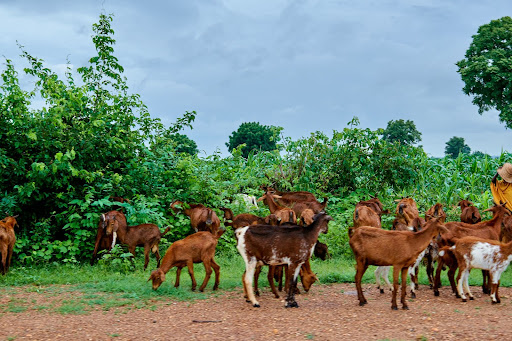 The Nigerian authorities have tried different approaches to tackle terrorism in the northwest region, including air bombardments, peace dialogues, banning motorcycles, shutting down telecommunications services, markets and petrol stations, and organising prayer sessions. None of these seems to have had any long-lasting impact.
The enforcement of a cashless economy was the latest measure to curtail terrorism. Experts and active citizens believe the policy failed because it was ill-planned and had inflicted avoidable hardship. The CBN spokesperson, Isa Abulmumin, did not respond to calls and texts requesting his comments on HumAngle's findings in this report.
Taming terrorist financing
In Zamfara and Sokoto states, various leaders of armed groups were amused when they heard the cashless policy was targeted at them, at least four terrorist negotiators told HumAngle. The terrorists could not have fallen quickly for the stifling measures, sources – consisting of one local chief, two ex-terrorists, and one militia leader — said.
Although the cashless policy caused them headaches, the terrorists quickly adapted to the cash shortage. Therefore, when the authorities enforced the policy, the terrorists reverted quickly to demanding ransoms in material goods in light of the cash shortage, said James Barnett, a Lagos-based conflict and terrorism researcher.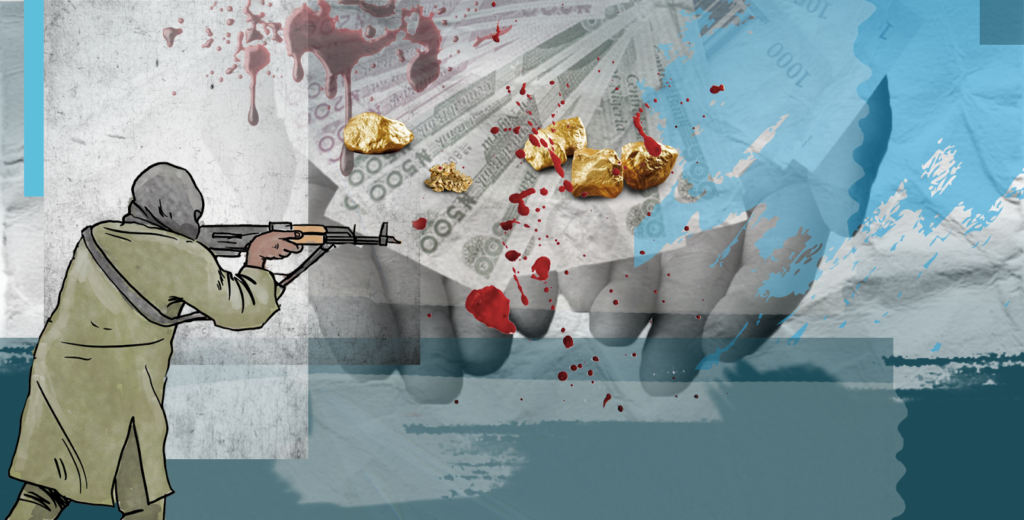 "The naira redesign was not a success on its terms as a counter-terrorism measure, especially when you consider that it caused significant hardship for ordinary Nigerians and may have therefore pushed more destitute Nigerians to collaborate with bandits as informants or logistics providers," Barnett said.
He argued that a more thoughtful way to tackle the finances of bandits would be to investigate the formal banking sector for possible collusion and invest in technology to track rustled cattle that are traded in markets around the country.
Two leaders of local vigilante forces maintained that abduction victims were mainly at the receiving end of the cashless policy. They explain that the terrorists usually have cash in stock, and when they run out of money, they force their hostages to pay at all costs. The only thing that happened was that victims spent more torturous moments in captivity because their relatives could not get cash on time.
"How many times has the government taken measures to end terrorism here, and it didn't work?" asked Rebiu Maru, leader of local vigilantes in Zamfara. "The best way to deal with terrorists is for the government to prove they're above them by using heavy military power."
Although the informal network of money transfer is one of the ways the criminals finance their operations, restricting access to cash to curb terrorist financing is not sustainable, said Emeka Njoku, a conflict and terrorism scholar.
"As you can see what happened, everybody was affected, and it didn't stop terrorists from having access to cash. Authorities are not addressing the root cause of terrorism; they are only scratching the surface."
---
Support Our Journalism
There are millions of ordinary people affected by conflict in Africa whose stories are missing in the mainstream media. HumAngle is determined to tell those challenging and under-reported stories, hoping that the people impacted by these conflicts will find the safety and security they deserve.
To ensure that we continue to provide public service coverage, we have a small favour to ask you. We want you to be part of our journalistic endeavour by contributing a token to us.
Your donation will further promote a robust, free, and independent media.
Donate Here