Features
Human Rights
News
Jailed Without Trial: A Lagos Man's Search For Freedom
Many Nigerians, guilty or not, are held in the country's correctional facilities, without trial or sentence, for decades. This loophole in the judicial system leads to victims' unwarranted long suffering, and it only gets worse, when, like Rasheed Adetunji, your case file cannot be found.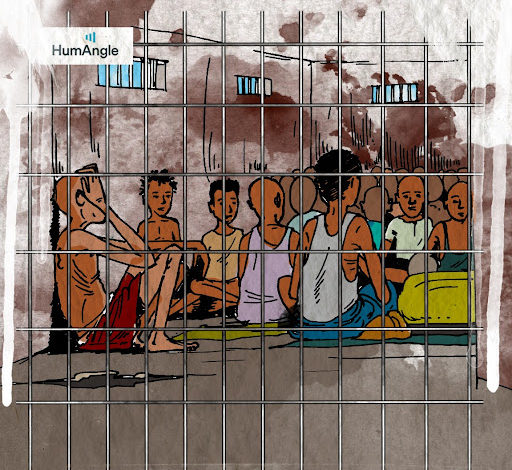 Rasheed Adetunji, 27, with no 'criminal record' is picked up by the Police while on his second job as a Disc-Jockey (DJ) at a bar near his home in Lagos, Southwest Nigeria. Denied access to anyone, including his pregnant wife, he spends the next six years in the dreaded Kirikiri Prison without trial.
His experience is only one of the many accounts of desperation in various police cells and detention centres across Nigeria. According to Nigeria Correctional Service figures in 2021, 49,388 of Nigeria's 69,850 prisoners (71 percent) are awaiting trial.
The pre-trial detention system in Nigeria is propelling scores of unconvicted people into prisons, sometimes because they cannot afford bail, and other times because the courts sitting on their cases lack jurisdiction on the matter and thus, wait a long time for advice from the public prosecution department.
For Adetunji, both happened in his case. When he was arrested, he could not afford to hire a lawyer, nor did he receive any help from Lagos State's public defence department.
Adetunji, now 33, never thought he would spend a good part of his youth at Kirikiri Maximum Security Prison, a place hemmed by barbed wire and a tall fence on the west of Lagos with proximity to the famous Apapa seaport. Spending his sixth year now still feels like the first day, he tells HumAngle.
Built 66 years ago to house 956 inmates initially, Kirikiri Prison, on a recent visit, held over 1,800 inmates. Adetunji stays in Cell C6, at the Maximum Security Unit of the prison.
Previously shuffling between commercial cab driving and DJ-ing at Ẹlẹkọ road, Ajah near Ẹpẹ, a village 40 km north of Lagos, he was accused of being in a gang that kidnapped a 62-year-old businesswoman, Kudirat Adebayo.
For him, it is an agonising ordeal to be held up 20 hours each day in a cell with 96 other men packed on the concrete floor, sometimes unable to move. However, he spends some of his daytime learning a vocation. Since his stay, he has received five certificates in web development, motion pictures, and fashion design among others. At 5 p.m., he and others are herded into cells. Fourteen hours later, at 7 a.m., they are let out again.
The cells usually have iron-barred windows to discourage escape. Prisoners sleep on the floor and are so tightly packed that they are hardly able to turn in their sleep.
Adetunji complains of how the sleeping arrangement has affected him. Most times, he cannot sleep on his back: "if one inmate awakens, it means mass turnovers. Those who sleep on their backs will have others sleeping on their sides. Life is very hard here," he says during a visit by his lawyer, Oluyemi Orija, monitored by HumAngle in June 2021.
The police had seized Adetunji's car and it has not been returned since his arrest. Also, his landlord had evicted his wife, Omolade, who was heavily pregnant then. She left him because she could no longer cater for herself without support. She could withstand the shame and neglect from friends but not the financial burden, he says.
Upon visiting Adetunji's former house to inquire about his wife's whereabouts, HumAngle learnt the landlord had died a few years after his arrest. The occupants, on the other hand, had no idea who Rasheed Adetunji was.
"I've lost so much of my life here while on this case," he says. "I have not seen my family since 2016."
"My dad and sister came to see me once; they stopped coming because it's far from our house in Ibadan. My dad is blind and can't even afford transport to see me, talk more of hiring a lawyer for me. I don't want to sit here for another year without knowing the direction of the case."
His father, Adekunle, says he is more than distraught about his son's current condition. When Adetunji left his father's home in Ibadan after secondary school in search of greener pastures in Lagos, Adekunle was worried about his son's choice.
Adetunji had lost his mother as a child and had learnt early in life to fend for himself because his father is blind, Adekunle says, breaking down in tears over a phone call with HumAngle. He says he had remained upbeat about what his son could achieve and never imagined he would end up in jail like this, despite his son's chaotic childhood and sometimes belligerent behaviour.
"He had a rough childhood because he was always bullied over our condition. He became aggressive but he would hurt no one. I feel helpless not knowing how much help he needs now. I don't even know whom to run to for help," says Adekunle and adds that his son is sitting there in limbo, facing a potential life sentence because Nigeria's justice system does not favour the downtrodden.
When it all went wrong
Adekunle's turmoil started on April 14, 2015 when he was arrested by plainclothes police personnel. They arrested him without disclosing their identities nor giving any reason.
The personnel, from the now-scrapped Special Anti-Robbery Squad (SARS) unit, then dragged him to their Ikeja office in Lagos State, where he was detained for two months.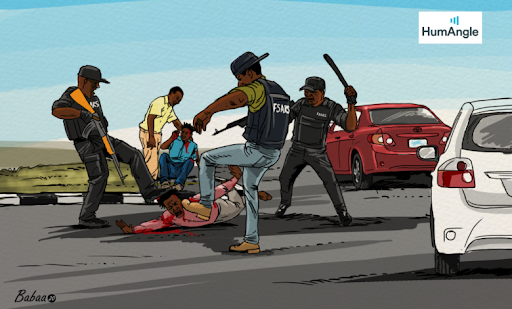 For the first few days he spent in the cell, Adetunji says he was broken because he was routinely subjected to torture and interrogations. At a point, he was coerced to write a statement indicting himself for the alleged crime without consulting a legal practitioner. Although he denied the allegation, the police did not inform him of his right to legal representation by the Legal Aid Council of Nigeria, a public defense department, as provided in the Administration of Criminal Justice Act (2015).
By May 2015, Adetunji appeared haggard and was limping on camera, in a media parade that was recently scrapped by the state government for its dehumanising outlook. Online footage showed he had been tortured. He says he was tortured to read the statement the police had made for him like an actor would a script.
A month later, he was taken to the Ikeja Magistrate Court, over a kidnapping allegation under a "holding charge." According to the Justice Initiative, a holding charge is a process by which a suspect is brought before a magistrate court that lacks jurisdiction over the offence for which the suspect has been detained.
Consequently, the magistrate who could not release him because of the severity of the alleged crime, instead ordered that he be remanded in prison without any determination of whether there were sufficient grounds for detention.
He was then held at the Kirikiri Prison since 2015 without further court hearing. He was also not charged with a crime before any court of competent jurisdiction.
Almost all accused go to trial without lawyers, says Pamela Okoroigwe, a senior programme manager at Legal Defence and Assistance Project (LEDAP), an organisation offering pro bono services.
When Adetunji was first taken to Ikeja court 2, he was without any legal representation.
So sometime in 2019, he came across Ms. Orija who runs a Lagos-based civil organisation, Headfort Foundation, offering pro-bono services to indigent convicts accused of petty crimes. The foundation has uncovered alarming evidence of widespread human rights violations in detention facilities across the state.
When she first got a whiff of Adetunji's story, she knew he had fallen through the cracks of Nigeria's broken justice system.
"Rasheed, like most inmates, is ignorant of his rights. They are not aware that the state has a responsibility to provide legal aid for the protection of their rights regardless of whether they really committed any crime," explains Orija who says she took up Adetunji's case because she felt obligated to protect the rights of indigent groups like him.
Then the COVID-19 pandemic struck and judicial processes were suspended. The pandemic pushed the problem of pre-trial detention to a crisis point, leading to more people behind bars who are not convicted of a crime during lockdown. When courtrooms were closed in the heat of the pandemic, delayed hearings compounded a backlog of cases, further slowing down the justice system.
To combat COVID-19 outbreaks in Correctional centres, Muhammadu Buhari, Nigeria's President, ordered 2,600 inmates to be pardoned. Some courts in Lagos State also put up emergency measures designed to release many defendants on zero or reduced bail.
But Adetunji was not so lucky.
"Most times you feel like crying. Every time you see people go to court, then you pray a lot for when your time will come, and every prayer is backed up with hope," he laments, adding that he has grown tired of hoping to be called to court one day.
The right to a speedy trial is provided for in the Nigerian Constitution but, like every other part of the law, it has been subjected to a great deal of conflicting interpretations — so much that some human rights activists say even delaying a trial for decades doesn't automatically mean a violation of constitutional rights.
Even when a new law, the Administration of Criminal Justice Act, was introduced in 2015 to provide for the enforcement of speedy trials, justice actors still flounder on many grounds.
Police can take two years merely to send prosecutors their reports on a criminal case, HumAngle's findings through interviews with lawyers and human rights activists shows.
In many instances, prosecutors could take up to months to decide whether the case should be taken to a lower court, the start of a legal process that lasts years, says Mariam Nurudeen-Arole, a lawyer who runs a public interest litigation initiative—the Pro Bono Centre.
"This is despite prosecutors knowing the positions of the Administration of Criminal Justice Acts (2015) that hint on when the right of the defendant has been violated: the length of the delay, the reasons, the time and manner in which a defendant has asserted the right and the degree to which the defendant's case might be harmed," she explains.
Though he has not been found guilty, Adetunji has already served half of the maximum sentence for kidnapping. Experts say spending longer awaiting trial than the maximum sentence for the crime violates many international laws including the African Charter on Human and Peoples' Rights.
His case underscores how the country's justice system can flounder at many levels, especially for indigents like him. The challenge exposes the gaps in the system that is supposed to ensure that both the victims and the accused receive timely justice. Lagos State Ministry of Justice did not return HumAngle's request for comment.
In a capital offense like kidnapping, in which the defendant faces life imprisonment, it is not unusual to spend two or three years in jail awaiting trial if the defendant is not granted bail. But six years is extreme. Adetunji's wait is among the most protracted that HumAngle could find.
Adetunji's case has suffered from missing court files and restrictions on his ability to review his own legal documents in jail, according to interviews with him and his lawyer.
Even prison officials say they know who he is. But for all they care, he does not exist on paper. No particular court document registers his existence in the prison records. Sometime in Nov. 2015, months after he was taken in, prison officials told him his case file was probably lost since he hadn't been called to any court.
When Orija began the process to have the wheels of justice set in motion in 2019, she was surprised she could not find his case file under any court. It took her two years before she made any headway, "all thanks to the pandemic and the court strike that preceded it." In Feb. 2021, she finally wrote to the Directorate of Public Prosecutions (DPP), requesting details about his detention.
In response, the prosecution department wrote: "Kindly note that this Defendant's case is presently before Honourable Justice Adesanya. He is the third defendant, the case name being State of Lagos Vs Ifeanyi Chukwuleta LD/38226/2017)"
"They are charged with the offences of conspiracy to commit a felony, kidnapping. The matter is set for arraignment."
According to Orija, Adetunji's name appears under "other defendants" in the case file, preempting the reason his name never got called by any court. Adetunji himself claims Ifeanyi Chukwuleta whose name appears first and other defendants, were released a few weeks after they were taken into the Correctional centre.
Again, the justice ministry could not reply to HumAngle's inquiry on how issues of missing case files and pre-trial detention are treated. Mrs Alo, the spokesperson for the Lagos Ministry of Justice, said she needed more time to get a response from the prosecution department. Weeks later, no response came.
The ACJA provides for a database of inmates in a prison under the Corrections Information Management System (CIMS). With it, digital records may not disappear so easily.
The system also raises an early warning alerting the Attorney General if an inmate stays on remand beyond 90 days. It allows officials to identify and hold to account officials and departments that cause unreasonable delays.
But experts say, chief judges, who have statutory responsibilities to visit the prisons and address challenges of jail congestion, are not held accountable.
"Magistrates should end the practice of remanding people in prison, particularly in cases they have no jurisdiction," says Abdul Mahmud, a human rights activist who heads the Public Interest Lawyers League, a group looking to promote the rights of vulnerable and minority groups. "Our prisons are exploding with people on remand, awaiting trial."
Grimmer experience in Nigeria's most dreaded prison
The startling inhumanity Adetunji first experienced is the overcrowding that Nigeria's broken prison systems breeds, compounded by disease, a lack of food, soap, beds, and clothes.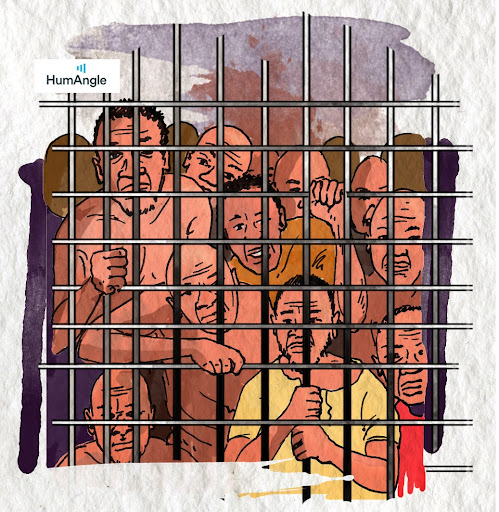 "It is so unhygienic here," Adetunji says. "Basically, if you need water, you have to get it from the toilet. The showers are broken. Most times, the water doesn't run." A Kirikiri Prison official disputes none of this.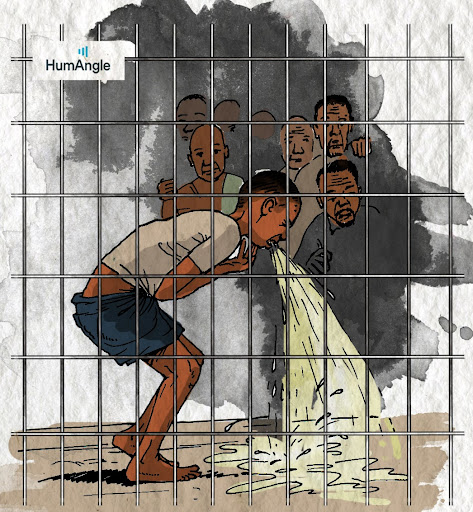 "They were designed for 60 people in one cell," he describes in horrifying details. "But now it's 96. Just imagine staying with 96 people in one room."
There are no blankets, no soap, save what charities provide. The daily meal is eba and egusi with locust beans. The only drink is water. This is despite an increased budgetary allocation to the Nigerian Correctional Service in the last ten years. A 2019 report by DATAPHYTE found that the Nigerian government appropriated 613.5 billion naira (N613,462,338,602) to the prison service in the period.
"It's just unbearable here," says Adetunji. "We make ourselves live, just to survive."
The conditions exert a cruel toll with the prison losing an average of 30 prisoners a year, with most cases rarely making the news.
But Adetunji has to learn survival in the most ingenious fashion. On each cell's wall is a list of rules, laws that are both prosaic and telling: Do not make noise when the lights are off. Do not smoke during prayers.
Prisoners must be clothed, lest a bare body excites sex-starved men, a prison official confides in HumAngle. One rule states that sodomy is a sin. Adetunji says his cell maintains a hierarchical order. While justice outside the prison appears slow to come, inside it is swift, lest unrest ensues.
With so much misery among law-abiding citizens, Nigeria has little incentive to improve inmates' lives, HumAngle investigation shows. But not everyone in Nigerian prisons is a convict.
"I met people there for petty reasons—things no one should be in jail for," Adetunji says
…………………………………………………..
This story was produced under the Civic Media lab Criminal Justice Fellowship.
---
Support Our Journalism
There are millions of ordinary people affected by conflict in Africa whose stories are missing in the mainstream media. HumAngle is determined to tell those challenging and under-reported stories, hoping that the people impacted by these conflicts will find the safety and security they deserve.
To ensure that we continue to provide public service coverage, we have a small favour to ask you. We want you to be part of our journalistic endeavour by contributing a token to us.
Your donation will further promote a robust, free, and independent media.
Donate Here