Armed Violence
Features
Surviving Captivity Amidst The Violence In Southern Kaduna
One woman's story about surviving captivity, loss, and displacement as a result of the violence in Southern Kaduna.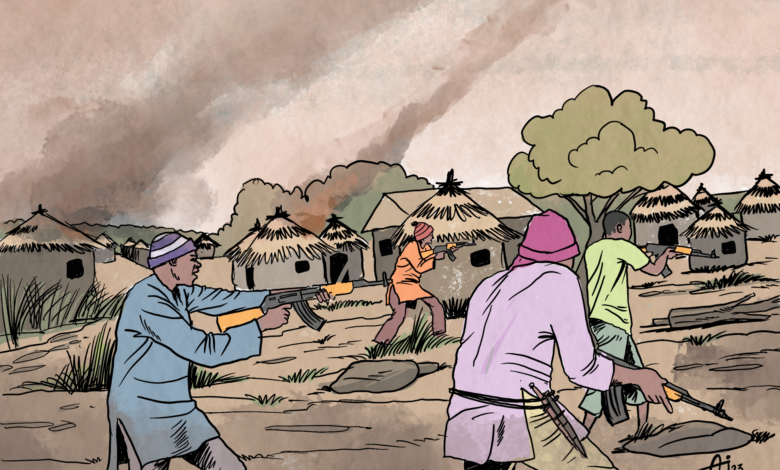 Kiseria Gabriel's life at Dogon Noma, Northwest Nigeria, consisted of taking care of her toddler and making steamed bean pudding locally known as 'moi-moi' for sale to support her husband, Gabriel Akilu, whenever there was no work to do at the farm.
On June 5, 2022, at around 3 p.m., Kiseria had finished selling the last of her moi-moi after church service when she heard someone shouting a warning about the terrorists that were approaching Dogon Noma.
The village in the southern part of Nigeria's northwestern state of Kaduna had suffered previous attacks where many neighbours had lost their lives.
In April 2019, a large-scale attack forced Kiseria and her family to seek refuge at Marrarraban Kajuru, but like many people, they soon returned home thinking it was all over.
"Immediately I heard the warning, I grabbed my three-year-old son, Success and strapped him to my back. I kept running till I came across a farm where I attempted to hide." But Kiseria was late in realising that some of the attackers were stationed around that area.
The first thing they demanded was her phone. "That day, I had loosened my hair with the intention of plaiting it the next day; I had tucked my phone into my hair net before I ran. I tried to lie that I didn't have my phone with me, but they saw right through it. I had no choice but to hand it over."
Kiseria started to beg for her life, and one of the men, in annoyance, kicked her around her eye. Blinded by the pain and blood, she didn't fight back when they dragged her to one of their bikes. "We were taken to the pastor's house, which they were using as their base. We were a total of 17 women and four men."
The gunmen started by collecting all valuables, including phones and money, from the captives before informing them that they were being kidnapped.
"One of the men asked me if my son was still breastfeeding. I told him that I had weaned him already, and on hearing that, they demanded that all the children that are not breastfeeding should be returned with a woman they handpicked from the crowd," Kiseria narrated.
"We were happy that some of the children were not coming with us, but we were also terrified because we didn't know what might happen to them."
The abductors rode their bikes while their captives followed on foot. When they started lagging behind, the terrorists threatened to make a call to make sure all the returned children were shot if they didn't pick up their pace.
The region is one of the most volatile areas of the state, with recurring violence and displacement. Last year, the president of the Southern Kaduna People's Union (SOKAPU), Jonathan Asake, claimed that about 148 communities had been destroyed and over 200,000 people displaced within the last six years.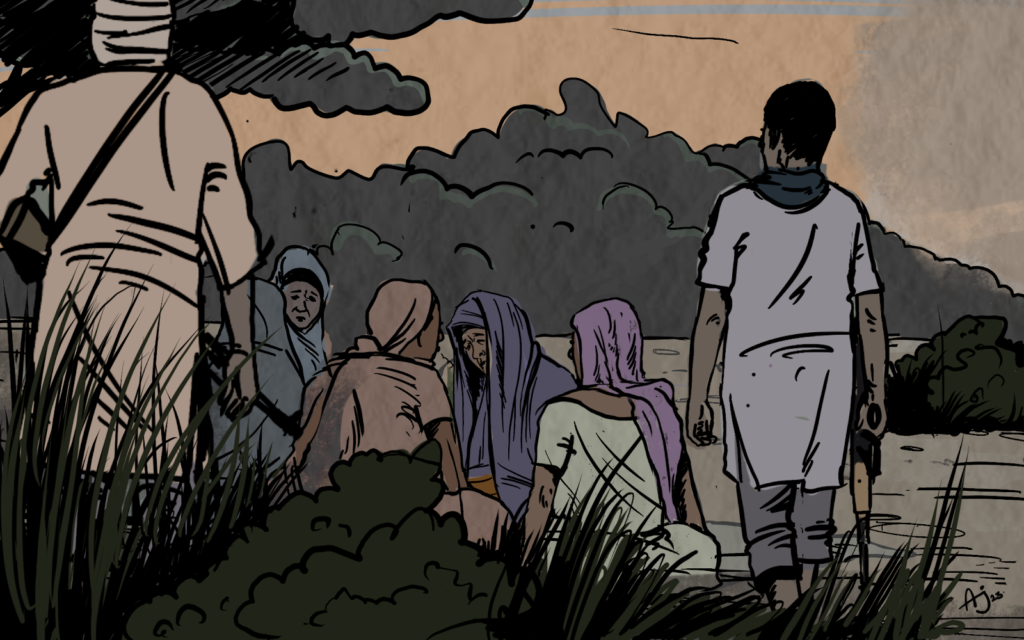 Life In Captivity
She recalls they walked from around 4 p.m. to 8 p.m. The terrorists did not allow them to rest and threatened to shoot anyone that cried. When they arrived at the camp, they were ordered to sit outside on the ground.
"They told us that they kidnapped us to show the men in our village what they were capable of because they try to fight back every time they try to attack the village."
When they got upset with any of the captives for things such as not answering loud enough, they ordered them to lie on the ground and started to hit them mercilessly.
"We get food once a day, and they don't even feed us every day. The only thing they give us access to is water."
After a week, talks with the village began; they chose a delegate among the women to join in the ransom negotiation with the village head.
She says, "they kept telling us that if our village does not provide the 14 million ransom they demanded, they will shoot all of us." The village was only able to provide 10 million after two months.
The group refused to release all the captives even after the money was delivered to them; they still insisted on getting three more motorcycles, referred to as 'Boko haram bikes', before they released them.
The conditions in captivity became tougher. They started to punish them by withholding food for longer days. "They killed one of the men for defying them. They first shot him in the leg and locked him in one of the huts overnight."
The next morning, they asked the remaining three men to surround him before they reshot him, and he died almost immediately.
"But they didn't let it go. They dragged us, the women, to surround him; they didn't let us cry and forced us to keep our eyes on the body. They made us sit for hours before finally getting rid of it." Kiseria, still haunted by the traumatic experiences, found it difficult to tell her loved ones some of the things she experienced after returning home.
"We were not allowed to talk or pray out loud. I don't know what I would have done without my faith. Believing that God had a plan for us was the only thing that kept me sane. I didn't want to let go of the only hope I had, and I tried hard not to think or say things that would make God angry with me."
The captives were finally released over three months later when the bikes were delivered. "They didn't even let us go immediately," Kiseria lamented.
Kidnapping for ransom is used as a tool for terrorising communities in the region. In March 2022, an estimated 46 people in Agunu Dustse, Kachia Local Government, were abducted. And four months later, about 15 people were kidnapped in Iburu village, Kufana district in Kajuru local government.
Kaduna reportedly recorded about 830 kidnappings by armed men between July and Sept. 2021.
Returning To A Different World
It took Kiseria a while to learn about the loss that happened when she was away.
"My family was worried about me and refused to tell me about the dead family members," she recounts. "When I asked where someone was, they gave one excuse or the other. I couldn't eat properly and kept demanding answers." It took a lot before her husband started to name all the people they had lost.
"We lost about 33 people. All I could do was pray."
Her predicament was not over yet. A few months after another attack, Kiseria was out with a friend when they heard gunshots from afar. Knowing the fate that could befall them, they ran to the neighbouring village.
She reached out to her family after escaping. "Fortunately for me, my father got me another phone when I came back from captivity. I called my mother because I was worried about my parents." But all she could do was cry on the phone.
"I thought my father was dead, and I was willing to follow him because when I was in captivity, my father refused to eat and kept fasting for me to come back home. I was grateful to discover that he wasn't dead but was kidnapped along with three others."
The village again struggled to pay the ransom of 5 million that the abductors requested for their release. Her father spent almost two months in captivity, but only three of them made it back home.
Not long after that, another attack caused the villagers to leave their homes behind, and that is how Kiseria found herself back in Marraraban Kajuru.
Life as a refugee
"My family and I found a place to stay in Marraraban Kajuru, but we struggle with getting a source of income."
Sometimes, her husband manages to find work on other people's farms, but like many other displaced women, Kiseria is finding it hard to get a job.
"The life here is not like the life we are used to back in our village. We found it easier to survive there because at least we had something to do, and the people there were willing to help."
Kisera's parents are currently at Kufana trying to make ends meet. At this point, they have all given up hope of ever returning to their now-abandoned village.
"We still don't know what tomorrow will bring, but I have faith that God will take care of us." 
---
Support Our Journalism
There are millions of ordinary people affected by conflict in Africa whose stories are missing in the mainstream media. HumAngle is determined to tell those challenging and under-reported stories, hoping that the people impacted by these conflicts will find the safety and security they deserve.
To ensure that we continue to provide public service coverage, we have a small favour to ask you. We want you to be part of our journalistic endeavour by contributing a token to us.
Your donation will further promote a robust, free, and independent media.
Donate Here