Armed Violence
Features
'I Lost My Right Arm And Three Children'
When an armed group on motorcycles attacked Rohila Godwin's village in Dogon Noma, Kajuru LGA of Kaduna, Northwest Nigeria, she lost more than just her home.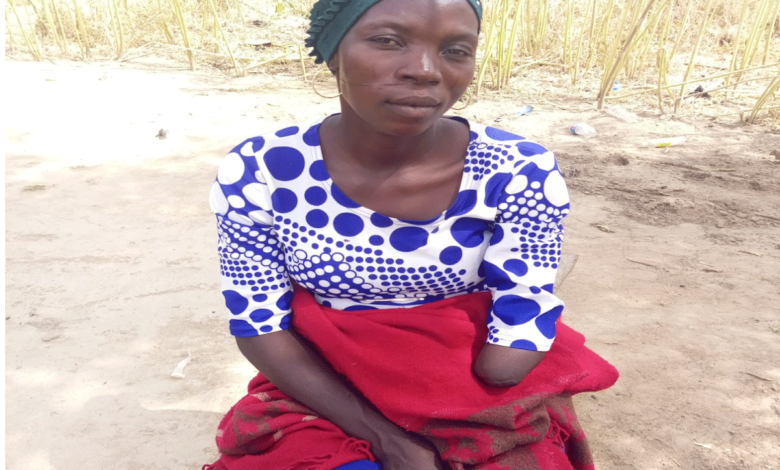 Rohila Godwin has a long scar that runs from her left cheek to her nose. Another scar runs across her neck. Several others line her arms.
One of her arms is missing, from the elbow down.
The scars tell a story.
Before her village was attacked, Rohila was a mother of two who farmed to keep her family afloat at Dogon Noma in Kajuru Local Government Area (LGA) of Kaduna State, Northwest Nigeria.
Now she and her husband Godwin live in a little settlement in Mararaban Kajuru, Southern Kaduna, with a missing arm, no house to call her own and no children.
"We start planting around May every year. I usually go to work in the morning," she remembers.
"But now, with a missing arm, I can no longer work in other people's farms like some of the other displaced people. Living is hard, even with no children to feed."
Kajuru LGA in Southern Kaduna is home to the famous Kajuru castle, considered a great tourist attraction. The castle itself – an European-style luxury villa built in the 1980's was attacked in April 2019, leading to the death of two people. Because one of the people killed was a foreigner, the attack was reported in the international media.
But there have been other attacks, ones that did not attract headlines in the news.
This is the story the lines on Rohila's head tell.
The first attack
Dogon Noma was peaceful, once.
Then it reverberated from stories of attacks in other villages.
They did not realise it would only be a matter of time before the armed gangs arrived at their locality.
When the gang first attacked Noma village in 2019, they came in their dozens on motorcycles.
Rohila said they were terrorists; she recognised their faces and noted their accents.
As they attacked, Godwin grabbed their injured two-year-old daughter, Salama, and ran. But when the intruders pursued him, in a state of panic, he dropped her.
Rohila didn't see her husband again until after the attacks. Fortunately for little Salama, she survived.
On March 11 of the same year, the village was attacked again.
"I was on my way to work when I heard someone screaming that the terrorists were attacking our village," Rohila narrated. "I was pregnant at that time, and my expected date of delivery was supposed to be in that month. I ran back to get my two children. I backed two-year-old Salama and held my six-year-old son, Dialogue. But I got stopped by two men."
Struck down
Almost immediately, one of them grabbed Dialogue and the other came towards her. Before she could make sense of what was happening, she watched him strike down Dialogue with a cutlass.
"He died immediately, but the man still proceeded to mutilate his body."
Before Rohila could come to terms with what had just happened, her child lay dead in a pool of his own blood. One of the men struck her again and again. In seconds, her body was streaked by multiple cuts. Then the worst happened – her right arm received a hit that severed it. Then they grabbed her daughter and disappeared.
Rohila has not seen little Salama since then.
"People say she might still be alive but I have already given up hope. I don't think I will ever see her again," she told HumAngle as her voice broke. But Rohila still gathered the outrage to continue her story.
She had lost consciousness after her arm was cut off and awoke 10 hours later at St. Gerard Catholic Hospital in Kaduna City. Apparently, she was discovered by some good Samaritans who heard about the attack and came to help. The same people paid all her medical bills.
The child Rohila was carrying was given an induced birth soon after. "I was in so much pain from the attack that I didn't really feel the pain of labour," she said.
Not long after, she gave birth to a baby boy. Then her happiness at having another child vanished when the baby passed away two days later.
Moved on
"The doctors believed that the stress from the attack contributed to his short life. Everything happened too fast and my body was in too much pain to fully grasp what was happening at that time."
After treatment, Rohila later reunited with her husband and they found their way to Rimau with other displaced persons. There, they were given shelter in a government primary school before they were finally moved on. Their presence was distracting to students, they were told.
"There was no help or provision for us in the camp from the government, but sometimes we get help from NGOs," she explained.
"Some people tried to go back to the village, but they attacked again in June this year, where they kidnapped some men and women and demanded to be paid five million and gave three motorcycles. Some people heard about it and helped by donating as many as they could."
But, on seeing the motorcycles, some soldiers confiscated them after learning where they were being taken to.
In 2021, Kaduna State Governor Nasiru El-Rufai insisted on not paying ransom to terrorists, even if his family member gets abducted. But for many people, such as the villagers of Dogon Noma, meeting those demands is their only hope of ever seeing their loved ones again.
Rohila continued: "They were able to get the bikes back from the soldiers after a few months, but the herders said they will not accept them because they had been with the soldiers for too long and they must get them new ones. A big and a small one. They got two of the bikes called 'Boko Haram' before they released the people they kidnapped." 
However, the intruders still returned to kill more people, including Rohila's husband's nephew.
Currently, Dogon Noma is deserted, Rohila says it has been burned to the ground.
"We have no home and we are struggling to pay the little rent where we are currently. I am deeply sad about how my life has become, especially when I remember how I lost my arm and my children. My husband and I were the only ones who got to escape. Godwin escaped but he couldn't save his children, second wife, and mother from the tip of the gang's cutlasses."
Because of her disability, Rohila is now unable to do major housework or apply herself in the farm as she used to. Her husband also struggles to get work in other people's farms. 
"Sometimes, I am lucky enough to get provisions which I sell within my house," she said.
"'My life is no longer the same. I don't have my energy back, and I am always sick. It's hard to get food, talk more of drugs for my ailments. Sometimes I just sit down and keep weeping, but my sister would say there is no point in crying because it will only add to my problems. But that is the only thing I can do now.
"We need help. We hope to one day go back, even though our homes were burned down. But if people can help rebuild them, we can try to make a life for ourselves."
---
Support Our Journalism
There are millions of ordinary people affected by conflict in Africa whose stories are missing in the mainstream media. HumAngle is determined to tell those challenging and under-reported stories, hoping that the people impacted by these conflicts will find the safety and security they deserve.
To ensure that we continue to provide public service coverage, we have a small favour to ask you. We want you to be part of our journalistic endeavour by contributing a token to us.
Your donation will further promote a robust, free, and independent media.
Donate Here