Featured
Features
Humanitarian Crises
News
'Sometimes I Wish For Death': A Displaced Mother Grieves Loss Of Last Child
Amsa Bukar has seven children, six boys and one girl. But none compares to Lawan, the last-born, who has now been missing for close to seven years.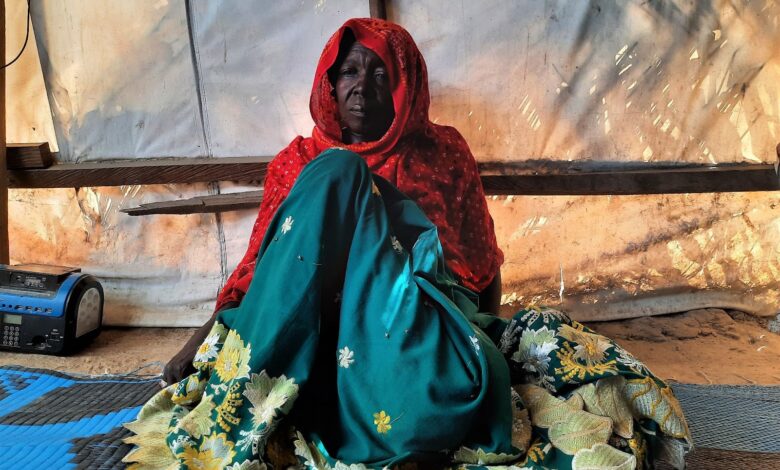 His real name is Lawan Muhammad but everyone calls him L7. This is because, in 2005, when he was still very young, Motorola released a phone series with that model name, famous for its slim build, black shiny casing, and high storage capacity. Also, because he is the seventh child.
When the Muhammads became displaced as a result of the lingering Boko Haram insurgency in northeastern Nigeria, they sought refuge in neighbouring Cameroon. Then, in 2015, Muhammadu Buhari made history by defeating the incumbent Goodluck Jonathan at the polls to emerge as Nigeria's new president, riding on a campaign that prioritised security and the war on terrorism. Then, the government arranged to return Nigerian refugees to the country. L7 had told Amsa Bukar, the family's matriarch, that he preferred to stay back in Cameroon and continue working, but she insisted that he followed the rest of them. Musa, his brother, had fallen ill briefly and died in the place. Remaining there, she had thought, could bring more bad luck.
Now, she is not so sure because, a few months after their resettlement, L7 would go missing. It would be because he had heeded her advice and it would break old Amsa's spirit.
The family had lived in Kumshe, a town in Bama, Borno State, that's about 10 km from the Cameroonian border, and had to leave because terrorists killed people almost on a daily basis, slitting the throats of some and shooting others. It was too much to endure and the family considered that they may not survive the carnage for much longer.
Amsa herself, despite her old age, had lived in Kumshe her whole life and had never stepped out for more than a week. But that was about to change.
One night, they began their journey to Kousseri, a market town in the Far North region of Cameroon, close to the border with Chad. It has recently experienced a population surge because of the influx of refugees fleeing violence from surrounding countries. From Kousseri, the family proceeded to N'Djamena, Chad's capital city which is only 22 km away if you are driving.
"There, we survived on begging around the central mosque and other places where they gave us food, clothing, and fish," remembers Amsa, describing the locals as hospitable. "Then when Buhari came to power, the government sent vehicles to bring us back to Nigeria."
Escorted by the Cameroonian military, they spent three days on the road, scuttling through Maroua, Yagoua, and Charamari, a border community close to Banki in Nigeria. Amsa says over a dozen people died of thirst, hunger, and congestion during that trip, especially because there were no stopovers. The truck even got ambushed by Boko Haram terrorists in Charamari, with some of the refugees getting lost in the chaos that followed the gunfight between the state and non-state actors. Some of those people have not been found to date.
"We travelled for three days without eating," she says. "When we came down, in our vehicle, there were 13 corpses of small children and women."
The experience is similar to that of Aisha Umar. She and her family had settled in Kousseri too and were returned to Nigeria in DAF trucks following Buhari's victory at the polls. Twenty-one women and children had died due to heat and congestion during that journey, she told HumAngle.
When Amsa's family got to Jamtari in Nigeria's northeastern state of Adamawa, the Cameroonian troops handed them over to the local forces who then moved them to a displacement camp in Fufore.
"It was during our four months stay in the camp that my husband got lost," Amsa says, referring to L7, who was only 18 years old at the time. "He went out one day and we didn't see him come back up to now."
Cases of people going missing in Nigeria are not isolated. It is an epidemic, especially in the Northeast where the war against Boko Haram has been fiercest. The International Committee of the Red Cross (ICRC) says at least 24,000 people have gone missing in the country, especially in the war-torn region. It confirms that the information available to it "is only the tip of the iceberg and the full scale of the humanitarian fallout in Nigeria remains largely unknown."
Independent data collected by HumAngle also shows that over 1,200 people are noted as missing from only four out of the 27 Local Government Areas (LGAs) in Borno.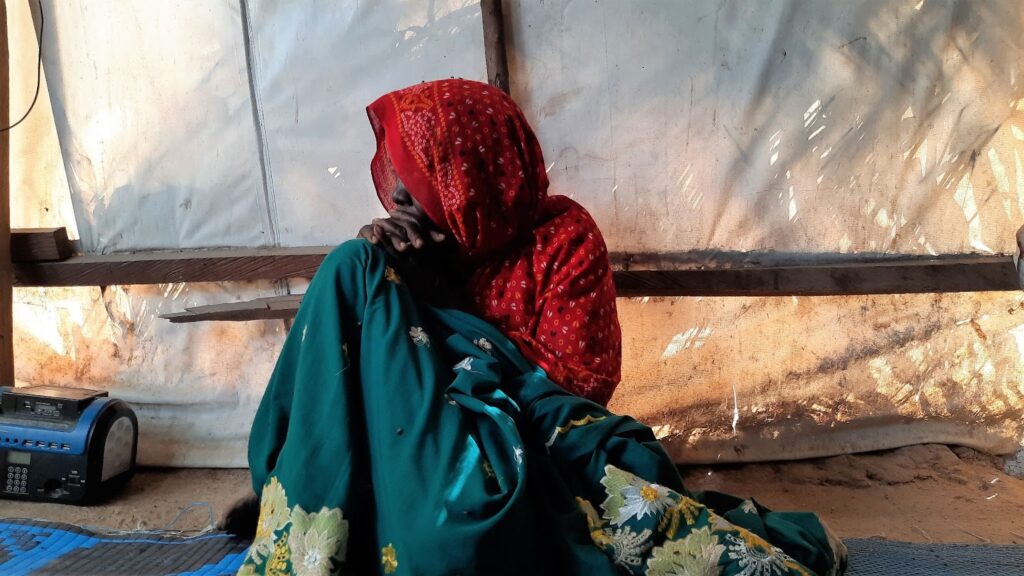 "We didn't search at first. We thought maybe he would come back. We didn't know."
But when it dawned on her that something had gone terribly wrong, there was no place Amsa didn't look for answers.
After they moved to Maiduguri, the Borno State capital, she went to the rehabilitation centre at Bulumkutu, armed with a picture of her son. She's since been there up to 19 times. The centre serves as a transit camp for alleged former Boko Haram combatants who have been deradicalised and are set to be reintegrated into society. In reality though, a lot of innocent civilians — victims of profiling and arbitrary arrests — are forced into the programme as well.
She has asked former detainees if they've seen him but the replies have been disappointing. Last September, she heard someone say over the radio that people with complaints could come and air them. She answered the call and shared her experience, but no one reached out to her with useful information about L7's whereabouts.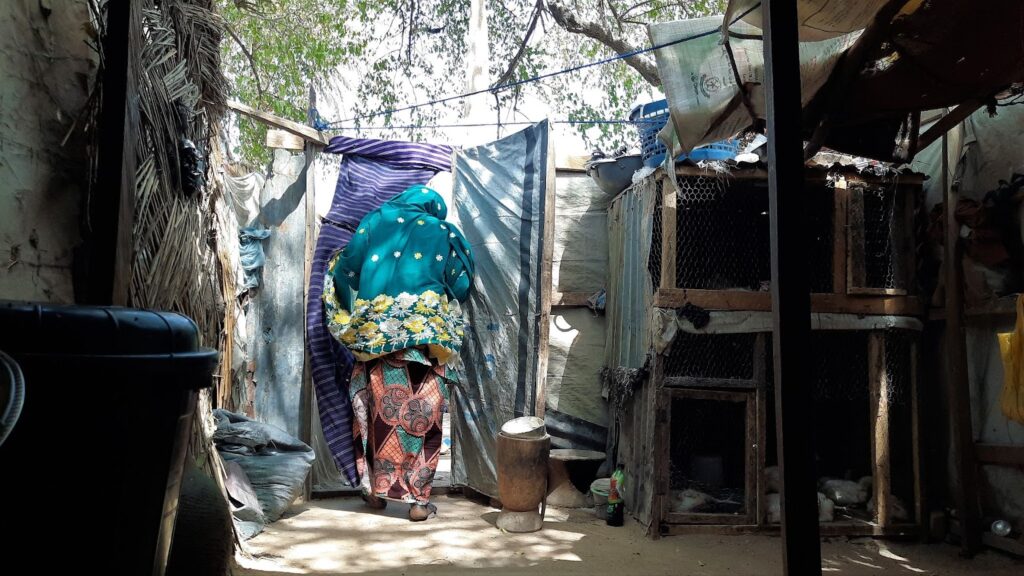 L7 has no tribal marks. He is dark-skinned and of average height like his mother — and like the Motorola phone he is nicknamed after. "You are taller than him," says Amsa, pointing at this journalist.
He liked riding motorcycles and only stopped because of a government ban following their habitual use by terrorists to conduct attacks.
He has been hardworking since he was a child and excitedly ran errands for others. Back in Kumshe, he was apprenticed to a businessman-neighbour and often travelled with him to Cameroon. He continued working for him after their relocation to Kousseri. At the Fufore camp, he earned money for the family by reselling items bought from other displaced people such as wrappers and beverages. He would buy and then run to the town to trade them.
As she talks about him, Amsa's eyes start to water. She rests her face on her right hand, which itself is rested on her right knee, and folds into herself. Two streams of tears flow from her nostrils and, seconds later, her cheeks as well.
"I don't know maybe he is alive or dead. If he is dead, may his soul rest in peace. [If I know this for sure] maybe, I will get peace of mind," she says, raising both hands in prayer, eyes still brimming with tears.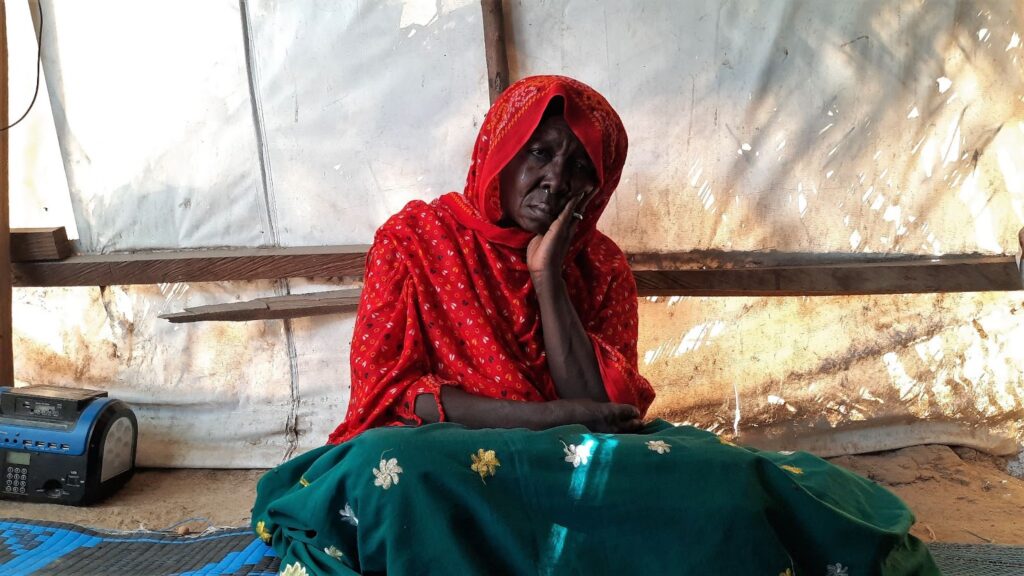 One of the reasons she feels his absence so strongly is that L7 was her caregiver and, despite being the last-born, he took better care of her than any of his siblings. He often gave her food and items of clothing.
"I really feel bad," she says. For the first time, her crying becomes audible enough to interrupt her speech. Her voice quavers. She pauses. Looks away. Carefully rubs the tears off her face with the hem of her bright red scarf. "—I even wish to die," she adds, still looking away, her voice trembling with grief.
"Without him, life is not easy for me," Amsa continues, again raising her palms to the heavens. "Always, I am begging Almighty Allah to let him come. If I see L7, my wishes have been fulfilled."
Her voice is now softer and hoarse, almost a whisper, and it stays like that till the end of the interview. The tears do not stop rolling for a long time.
She says because L7 is not around, she has had to fend for herself and two of her children by selling groundnut, beans, firewood, and maize flour at the camp. She reaches into her pouch for a small pack of fried groundnuts and smiles briefly. Because she is too old to go into the forests herself, she buys the firewood from other IDPs and resells it. She used to get monthly food allowances from international humanitarian organisations but this has ceased since June 2021. From everything she does, she makes between ₦1,500 and ₦2,000 daily and buys foodstuff and other essential items with this.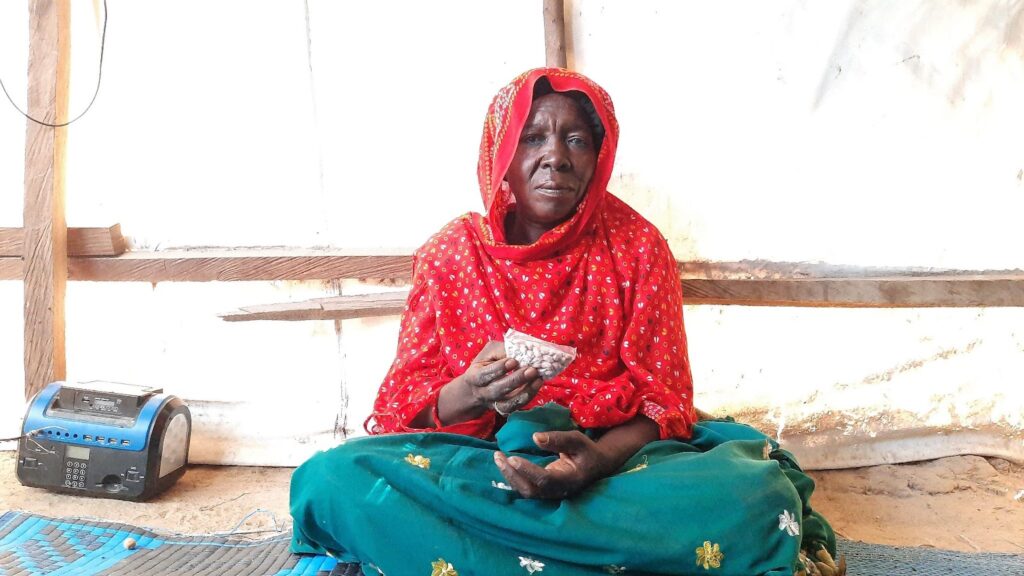 It bothers Amsa that she does not know if L7 is alive or not. Her constant worry, she says, sometimes causes her to become ill. Also, whenever his older brothers do hurtful things to her, it causes her more pain knowing L7 would never act in such a way.
"I want the government to find our son for us," she pleads. "We are ready to search; if you know where he is, we will go together with you."
---
This report was produced in partnership with the Open Society Initiative for West Africa (OSIWA) under the Missing Persons Register's Population and Amplification Project.
---
Support Our Journalism
There are millions of ordinary people affected by conflict in Africa whose stories are missing in the mainstream media. HumAngle is determined to tell those challenging and under-reported stories, hoping that the people impacted by these conflicts will find the safety and security they deserve.
To ensure that we continue to provide public service coverage, we have a small favour to ask you. We want you to be part of our journalistic endeavour by contributing a token to us.
Your donation will further promote a robust, free, and independent media.
Donate Here