Displacement & Migration
Features
Scarce Resources, NGO Activities Are Putting Locals, IDPs At Loggerheads
The hosts in Pulka, located in Gwoza LGA of Borno State, Northeast Nigeria, feel neglected by charity organisations and complain that the displaced, who receive the latter's attention, are the reason for their suffering.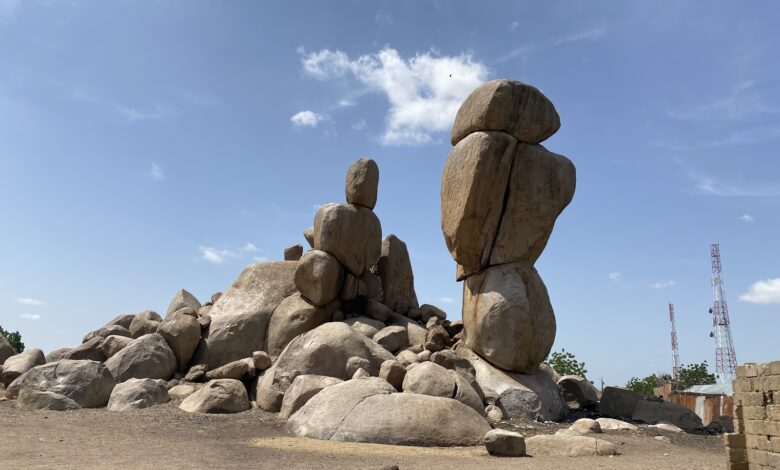 There is utter astonishment in Elizabeth Jerome's tone as she talks about what could best be described as the 'cold war' between internally displaced persons like her and their hosts in Pulka, once a bustling trading community that connected Nigeria to neighbouring Cameroon.
"I couldn't believe what started happening, especially last year when hatred was at its peak between IDPs and host communities," she told HumAngle.
Sometime in 2014, Elizabeth and her family members fled Bokko Timta in Gwoza Local Government Area (LGA) of Borno State, Northeast Nigeria. And, like many others, they had good reason – Boko Haram had attacked their community.
So they endured a tortuous journey from Cameroon to Mubi, a town in Adamawa State, and then down to Taraba, both in the country's northeastern region.
They eventually found their way back to Borno in 2019 and settled at IDP Camp IV in Pulka. Together with her family, they had passed through hell and returned to their home state alive.
"I believe it was fate, but indeed an unforgettable one," she said in retrospect.
At Pulka, Elizabeth was one of several new arrivals who were ushered toward IDP Camp IV. Here, life was dependent on humanitarian assistance and support. Their shelter was white tents issued by Nongovernmental Organisations (NGOs).
In 2022, Elizabeth got married and now nurses a newborn. But all is not well.
"They [some members of the host community] said we have betrayed them and connived with the officials…that is why they were cut off from getting relief materials from the NGOs."
A year ago, Elizabeth says, some camp members decided to go back to their homes in the host community for fear of illegal occupiers. They reconstructed their houses and stayed with their families while still enjoying monthly food subscriptions from NGOs.
"However, last year, NGOs stopped their food subscription card and all of them can't access food or non-food items again. This is because they are not part of the IDP IV the NGOs are providing assistance to," she explained.
This sowed the seed of "hatred and grudges" between the IDPs and the host community.
"People I know look down on me with hatred. And they show it clearly."
This rivalry was worse in 2022, Elizabeth added. It was sometimes expressed with a deliberate shoulder shove in public. But, "we are grateful now that the situation is calm but it exists silently. We all need security to go back to our community, and this is our dream," she said.
Lost glory
Pulka used to be a large commercial trade community that connects Nigeria to Cameroon. Their activities are largely characterised by cash crop production and trade. Pulka is a bridge between Bama and Gwoza, two major local government areas in Borno.
But since the advent of Boko Haram, insurgents have forced it to the heart of the region's humanitarian crises.
The Gwoza massacre is one of the most infamous amongst the violent terrorist attacks. About 400 people were killed as a result of the incident.
Pulka currently hosts one of the largest IDP populations in Borno. As both locals and the displaced focus on the meagre resources available, including public amenities, tensions continue to rise.
According to a 2019 WFP report, Pulka has an estimated population of 94,000 people, most of whom are displaced persons. This has doubled an already pressing need for humanitarian assistance and support in the community.
One of the main causes of this is the recent influx of IDPs who were uprooted from camps located in Maiduguri, the capital city of Borno, and scarce or inadequate humanitarian interventions.
Human Rights Watch, in a report, described the situation as pushing thousands of displaced persons "into deeper suffering and destitution."
Pulka is an example of communities bearing the consequences of the vacation of IDPs from camps.
HumAngle's previous reports confirm that a large number of the displaced were either sheltering in local government headquarters or nearby communities like Pulka. This is because they were unable to return to communities they were uprooted from about a decade ago, because they are still volatile.
The impact
Musa Lawan Buba, a resident of Pulka, explained the beginning of the grudge between them and the IDPs.
"We are humans, and we have feelings. It all started with the Boko Haram conflict, which we are all victims of in our community. However, the treatment we receive as a host community for IDPs is not just, because we are equally affected directly," Lawan began.
"Our social amenities like water, hospitals, and farm resources are overstretched because of the large number of displaced people we are hosting. Above all, when humanitarian interventions from NGOs and government come, we are left behind.
Also, the social amenities in our community are not replenished and they are overused. This is what I mean."
According to Lawan, this bred a silent mistrust and anger between the two groups, both victims of a decade of catastrophic conflict. He lamented: "Government and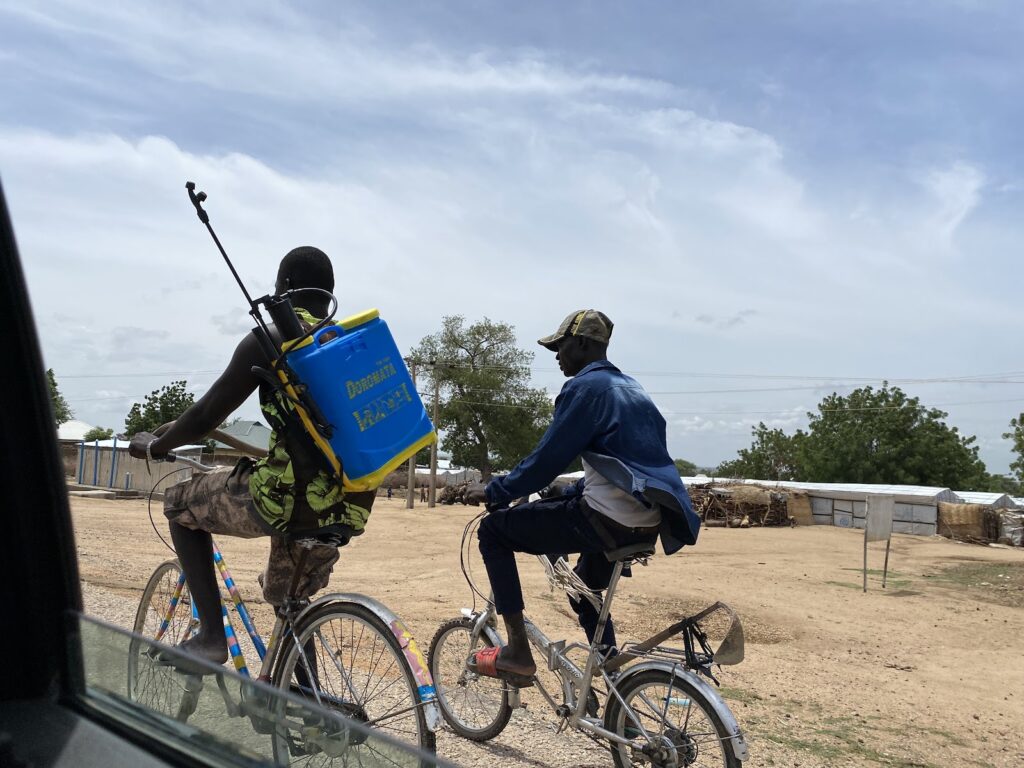 NGOs treat us unfairly. We believe we deserve more equitable distributions of resources, food, and non-food items."
Abubakar Muhammad Samari, 26, gave up permanent residence in Pulka since the insurgency's heavy impact on his locality. He now lives in Maiduguri and only visits a few times a month.
"Initially, there was a massive inflow of NGOs carrying out different interventions and bringing relief materials to the community. But as time went on, the interventions began to decline which eventually affected the physical and mental state of the community," he said.
"Recently, when it comes to interventions, the host community is mostly neglected by the humanitarian agencies who help the IDPs, thinking that they need the materials more than the host community. But the host community, after being denied access to their farmlands, feel they need to be assisted with both food and non-food items for life sustainability.
"So currently, people are struggling for means of survival, not to talk of shelter and other social amenities. I can conclusively say that the community gets less attention compared to the IDPs."
On the one hand is the conflict over natural resources, on the other, conflict over farm lands due to inaccessibility to remote ones for fear of attacks by insurgents. In May 2022, HumAngle reported how the Islamic State West Africa Province (ISWAP) killed 45 farmers in Rann, a remote border village in Borno State.
This situation makes far-flung lands inaccessible to the Pulka community, thereby causing a shortage of plots for crops between the displaced and its host community members.
Hadiza Mala, a mother of five children and a resident of Pulka living in the Zara Yaga area, said life gets more difficult for her and her family daily.
"Before now, we used to receive relief materials that ranged from food and non-food items every month from different NGOs, but everything stopped one year ago," she said.
"We don't know why they stopped giving us relief materials. The number of NGOs has reduced drastically in the last year. They only take care of IDPs in the camps."
Hadiza observed that their area is witnessing an increasing number of returnees and new arrivals and their population doubles daily. What's more, there is a prevailing problem of water scarcity due to this influx.
"We have schools and children are attending, but water scarcity is still high due to the high number of new arrivals in our area," she added.
The displaced
The IDPs are at the mercy of original Pulka locals, Mohammed Aisami, an IDP living at Transit IDP camp pointed out.
"This is big talk and it's true. We are experiencing trouble with the host community and this is because it is their land we are living on and we don't have ownership until what the community decides for us, whether good or bad," he said. Aisami recalled a time when charity organisations gave relief items to the displaced and denied the host community members.
"The host community regularly complain that how can we come to their land and yet benefit more than them," he added.
"Over the past year, we have had enough interventions from NGOs here in our camps," he continued. "The fact is, the farmlands don't belong to us and from time to time, conflict erupts between us and the host communities over land use and occupancy. It is just pathetic that we have found ourselves in such a situation."
A humanitarian worker who preferred to be referred to simply as Musa, had an answer to this development. Having worked for four years in Pulka with responsibilities that include engagement with the displaced and their host community, he explained that "due to restrictions and the scaling down of humanitarian interventions, assistance rendered is not sufficient to sustain the IDPs, being the main targets of humanitarian aid… and the host community is being left out."
---
Support Our Journalism
There are millions of ordinary people affected by conflict in Africa whose stories are missing in the mainstream media. HumAngle is determined to tell those challenging and under-reported stories, hoping that the people impacted by these conflicts will find the safety and security they deserve.
To ensure that we continue to provide public service coverage, we have a small favour to ask you. We want you to be part of our journalistic endeavour by contributing a token to us.
Your donation will further promote a robust, free, and independent media.
Donate Here