Armed Violence
Featured
Features
News
Ransom Scarcity In Rural Areas Makes Terrorists Face Cities In Northwest Nigeria
People in rural areas are increasingly unable to afford ransoms and terrorists have begun to target cities.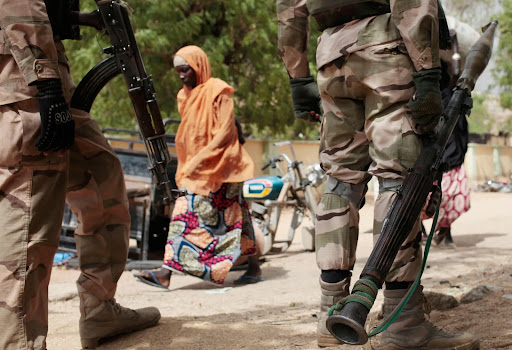 They heard the sounds from far off, they just did not realise they were gunshots. As they drove out of Kaduna metropolis, in Northwest Nigeria, and reached somewhere between Rija and Sabon Birni, they heard another shot. This time, the driver slowed down and parked. It was a little past 8:00 p.m. (WAT) that night in July. 
He alighted from the car and inspected each tyre to confirm the possibility that the sound might have come from there. But each tyre seemed fine. He hopped back into the car and continued chatting with passengers he had picked up from Jigawa State. Perhaps, if he had looked into the surrounding areas, he might have sensed what was about to happen and made a wiser decision. 
But it was not to be.
A few minutes later, the car lost control, and zig zagged on the highway. The passengers screamed, some praying, others yelling incoherent words. It was not until the car finally bumped into a mini-ditch and stopped, that they realized the driver had been shot dead behind the wheel. 
Teni*, like the rest of the passengers, knew at that moment that they were being attacked. The woman seated next to her tumbled out of the car and ran with lightning speed into the bush. So did the man in the passenger seat. They were both able to escape. 
"I might have been able to as well, but I had three children with me, including this toddler," she says, looking down at her son. "How was I to run with children? Or without them? It couldn't be done," she says. 
So Teni stayed put in the car with her children and awaited her fate. They cried and prayed the whole time. There seemed to be a rapid exchange of fire between two different sets of people. Later she would learn that it was the criminals in a face-off with members of the Nigerian army who had been trying to foil their operation. Residents from around Sabon Birni community say that two soldiers were killed in the exchange. 
Finally, she was dragged out of the car by abductors, alongside another woman who had been sitting with her. 
"The shootings were still going on, so they warned us to crawl, else we would get hit by a bullet. When they dragged me out of the car by my veil, they left my two children inside and only let me take my toddler. When I asked them how I was supposed to leave my children behind, they cursed my father."
They trekked for hours into the forest around Rija Local Government Area. At around 1 a.m., the gang agreed that it was time to pause their journey for the day and sleep. 
"We trekked for two whole days after that before we finally got to the place where we were camped," Teni says.
"Can you imagine trekking for days? We did. At some point, I had to strap my child to my back because I got tired of holding him. And then I got tired of that, too, and had to hold him again."
Their journey often brought them back to the same spot many times, and it took a while for her to figure that it was all a plot to confuse them, so they would not be able to find their way in the event of an escape. 
HumAngle gathered that though the abduction occurred outside Kaduna city, the camp's location was somewhere within the deep forests of the state, and is a three-hour motorcycle ride away from Sabon Birni, which has been plagued by incessant attacks in recent times. Investigations also suggest that the same criminal gang who took Teni, was responsible for the kidnap of about 20 Gbagyi people in June. The people's family, destitute themselves, had paid ransom with motorbikes suitable for operations.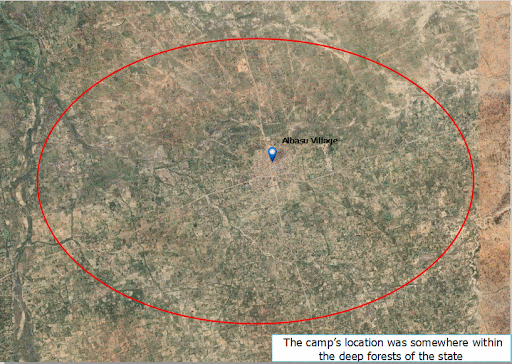 Ransom scarcity 
Danliti*, Teni's husband is a local vegetable farmer who survives solely off his small farm. He ate from it and traded some. There are days when he and his small family have gone to bed hungry. He could not raise any ransom, no matter how low, much less the N20 million the terrorists were demanding from him over the phone. 
"When they called my phone and said they had abducted my family, I called on Allah's name. They told me not to call on Allah, and to instead source for twenty million naira," he says.
He announced his plight at the community mosques around town after the Fajr prayers, and begged the congregation to help pray for his family's safe release. Slowly, they were able to gather a paltry four hundred thousand naira over the span of four days. 
"I told them that if only they visited our neighborhood, they would know that not a single house there could raise one million naira in a lifetime, but they labeled me a liar," Teni says. 
"It was a horrible experience, and the way they treat women…" here she sighs heavily, looks away. 
When she recollected herself, she says, "the only good thing was that they let us observe our prayers whenever it was time — we heard that these gangs do not let their hostages pray. We never saw them pray, but when we asked if we could, they said of course, that they were Muslims themselves."
Whenever they saw Teni and the other abductee observing ablutions, they reminded them to ask God to grant them back their freedom. The gang, finally realising that they had abducted from a poor community, took the N400,000 and released Teni and her baby. 
They had spent a total of one week in the hands of the kidnappers: two days trekking, and five days in the den. It was gathered that plans were underway for the kidnap of even more people on the day of their release.
In Shiroro LGA of Niger State, abductors, knowing that residents can no longer afford ransoms, ask for odd things in exchange for the release of their loved ones. These included bags of marijuana, cigarettes, matches, powerful motorbikes, or petrol. These were demanded of Lemu* before his parents were released in Gurmana. 
The implication of ransom scarcity is that terrorists now move to major affluent areas. 
On Aug. 8, 2021, the Niger State Commissioner for Information, Muhammed Sanni Idris, was kidnapped in his hometown of Tafa LGA. They demanded a ransom of N500 million. The abduction happened weeks after the state government announced its decision to not pay ransom for the release of abducted persons, including over 100 children from Tegina, who have been in captivity for three months now. It is, however, unclear whether or not the government has devised better and safer ways to procure the release of the children, as there has been no news at all about them, only repeated announcements that no ransom would be paid.
The Commissioner was released merely three days into captivity, even as the government, and his family insisted that no ransom was paid. 
Kidnappers have begun to target major highways which are more likely to be plied by 'wealthy' people. "It's why the road to Sokoto, particularly Bimasa, has become kidnapping hotspots, because it is being plied by possible targets – wealthy people who can generally afford to pay ransoms. Same as the road between Tsafe to Zamfara, and Niger to Zamfara," explains Yusuf Anka, a conflict reporter. 
---
Support Our Journalism
There are millions of ordinary people affected by conflict in Africa whose stories are missing in the mainstream media. HumAngle is determined to tell those challenging and under-reported stories, hoping that the people impacted by these conflicts will find the safety and security they deserve.
To ensure that we continue to provide public service coverage, we have a small favour to ask you. We want you to be part of our journalistic endeavour by contributing a token to us.
Your donation will further promote a robust, free, and independent media.
Donate Here