Analyses
Gender & SGBV
Nigeria's Violence Against Persons Prohibition Act Has Been Widely Accepted, But What Now?
Despite being widely adopted by the majority of the states in Nigeria, the VAPP Act has not seen an increase in people being charged. A lack of resources is to blame, authorities say.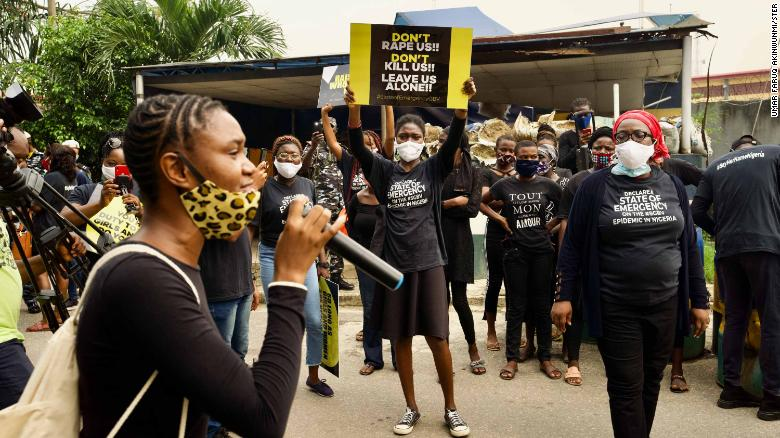 Since 2015 when the Violence Against Persons Prohibition (VAPP) Act was signed into law, Nigerian women, Non-Governmental Organisations (NGOs), civil society groups, and gender rights advocates have pushed for its domestication. Seven years later, it appears as though their voices have been heard.
Except that there is one thing.
Application and sustenance have remained low. Cases of abuse have continued to grow, whereas news of convictions is seldom heard. This is despite the domestication of the Act by many states and the advocacy that has continued to trail the law.
Why the VAPP law is important
The VAPP law has attracted a lot of attention from concerned stakeholders over time, owing to its strength and explicitness. One of such strengths is that it is the only law in Nigeria that criminalises Female Genital Mutilation (FGM), a violation that has gone unchecked for ages due to its cultural backing.
It is also the first in Nigeria to not only recognise that men too can be victims of rape, but also that rape can be perpetrated with parts of the body (and objects) that are not the penis.It also broadens the definition of violence and abuse beyond sexual violence to domestic abuse and even psychological abuse.
It is because of these that Rhoda Tyoden, President of the International Federation of Women Lawyers (FIDA), Nigeria, during an interview with Daily Trust in 2020, said that the VAPP Act "covers almost everything that somebody will want to start removing."
Yet, states in Nigeria have continuously reported disturbing figures of domestic violence and sexual assault, and nothing of equally high conviction rates.
What could the problem be?
Of the 36 States of the federation, 28 have passed and domesticated the Act, leaving only eight states, two of which have passed it and are awaiting ascension and six which are yet to pass it in their state legislatures.
Chinwe Onyeukwu, the executive director of Women Africa, a gender equality-based NGO, tells HumAngle in an interview that a significant amount of progress has been recorded in the area of domestication, whereas implementation has remained stagnant due to several reasons, chief of which is what she termed lack of structure.
"One of them (structures) is what we know as the Sexual Assault Referral Center (SARC), which is where we conduct forensic examinations, treatment, and medical care for victims of sexual abuse, sexual assault, and even domestic violence to some extent; these SARCs are not in place in most of the states."
According to Onyeukwu, there are only about 32 SARCs sparsely spread across Nigeria (and present in just about 19 states), most of which are managed by Civil Society Organisations (CSOs).
"It means that in some states, you have about three or four SARCS. In states like Kaduna, you have four SARCS. In some states like Yola, you have about three or so, so these things make it look like we have a lot of SARCS, but it is not widespread. Only about 17 states have all these SARCS, and it is important that all the states have it, and even when you have it, it is not enough."
"At least in each local government in each state, there should be a sexual assault referral centre. This should be a part of ensuring the implementation of the VAPP law," she said.
Abuse victims often return to their abusers due to a lack of structures.
Apart from the scarcity of referral centres, Onyeukwu tells HumAngle that the number of shelters available to victims of abuse is also on the low side and that this has also slowed the implementation of the VAPP Act. The Act is essentially supposed to make life easier for victims of abuse. "Even if they are going to stay at the theatre, it is very temporary. Sometimes when their cases have not been decided upon, they will still need to return to their homes, so it is a difficult situation that needs to be rectified as soon as possible. It is part of the things that have stalled the implementation in places where this law has been passed," Onywukwu explains.
Asides from religious and sociocultural issues which she describes as constants that are now being worked on through sensitisation and training, Onyeukwu pointed out that the rate of convictions is excruciatingly low compared to the number of cases that abound. This, she said, is because there aren't enough resources for the Police "to follow up with gathering evidence, prosecution of cases to a logical conclusion, pushing it to the court."
A remedy that goes beyond the law
During a chat with HumAngle, the executive director of Women Africa dwelled particularly on the importance of resources to the implementation of the VAPP Act, describing it as a necessary push that the law needs to be jolted into full action.
She stressed that it is problematic that a bulk of the provisions being made in terms of resources are being provided by NGOs, CSOs, and development partners.
"They (government) are the ones who are supposed to provide the resources to ensure that there are shelters across the states, the local government and primary healthcare; just like the challenges that we have in the healthcare facilities where you do not have adequate health workers or adequate provisions for health consumables, it is also the same thing when it has to do with providing medical care and treatment for victims of sexual abuse," she explained.
The solution to the glaring implementation problem, according to Onyeukwu, is "gender-responsive budgeting."
"The part of the VAPP Act that provides that women should be compensated is also being affected by the lack of funding," she said.
"There is supposed to be a victim's support fund. I think it is ongoing. There is supposed to be a system that will provide support for victims of SGBV and it will also help them to reintegrate themselves back into society and get themselves back on their feet, so it is also part of the issue; The economic dependence of victims makes it difficult to leave abusive situations," she continued.
Onyeukwu is not wrong. Several studies have equally pointed out that economic dependence ties abuse victims down to the source of abuse. An abuse victim who spoke with HumAngle recently confirmed that she endured years of physical, emotional, and psychological abuse due to her inability to fend for herself and her children.
The Women Africa founder spoke briefly about an SGBV one-stop centre in Kurudu, Abuja, where abuse victims can learn vocational skills that would afford them economic independence (as well as psychosocial and medical support) but noted that it is of utmost importance for such centres to be abundantly available across Nigeria so that abuse victims from all spectres can access them.
"If we have enough of these things across the country, women would feel empowered even if they leave their homes, they'll know that they can go to such a place, they can learn a thing or two. They can have that income and money that is making them stay in abusive relationships and they can be able to move on with their lives," she said.
Chinwe Onyeukwu is not the only gender rights advocate that has pointed out the weak implementation status of the VAPP Act. Earlier this year, during a policy briefing in Abuja, Edidiong Idang of the Westminster Foundation for Democracy (WFD) made similar observations, noting that "advocacy for an inclusive gender-sensitive budgeting should be the focus, now that many states have passed, assented to, gazetted and are executing the VAPP law," also adding that "there is a need for the establishment of a special 'Human Rights Court' that would focus only on SGBV and other related abuses," as the conviction rate of perpetrators has remained low.
The VAPP Act, for all its remarkable qualities, cannot accomplish all that it was created for without the necessary structures to aid it in doing so. 
---
Support Our Journalism
There are millions of ordinary people affected by conflict in Africa whose stories are missing in the mainstream media. HumAngle is determined to tell those challenging and under-reported stories, hoping that the people impacted by these conflicts will find the safety and security they deserve.
To ensure that we continue to provide public service coverage, we have a small favour to ask you. We want you to be part of our journalistic endeavour by contributing a token to us.
Your donation will further promote a robust, free, and independent media.
Donate Here