Features
Gender & SGBV
News
What Happens When An Abuse Victim Leaves?
Many things prompt women to walk away from abusive marriages, but a huge part of that decision has to do with support from family, their financial status, and concerns about child custody.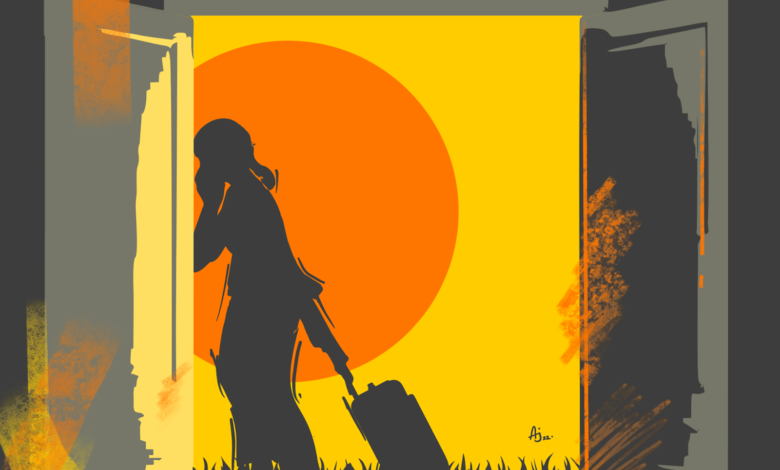 Once, Roseline went to a writers' association meeting with one side of her face swollen. Her close friend asked what the matter was, and Roseline, innocently and truly unaware of the significance of her words, told her that her husband had hit her because she disobeyed him by leaving the house for a church service after he denied her permission to do so.
"Disobeyed him?" her friend asked, stunned. "Disobeyed him?" she asked again, this time, pausing as though to fully take in the ridiculousness of what she had heard.
"She kept repeating the word disobeyed, and I asked myself why she was repeating it. 'I disobeyed the man, and that was why he beat me,'" Roseline recalls.
There is usually a breaking point with these things. Except there wasn't any for Roseline. It did not matter that her friend told her that she was an adult who could go out whenever she wished, or that she sounded ridiculous saying she disobeyed a man who was supposed to be her husband.
It took Roseline a few years and some more to realise that what she had said that day was unnatural, that it was not in the place of her ex-husband to hit her the way that he had. Because, eventually, she realised that someone was going to die if she did not leave that marriage, and there was no telling who it would be.
Living with numbing abuse
"Actually, I don't know whether it was sweet and beautiful," Roseline said, in a matter-of-fact tone when I asked if her marriage with her husband had been sweet at some point. I assumed it had been because she said she started dating him when she was 17 years old and that he had wedded her at 19.
She got pregnant and knew immediately that she had to marry him since he had asked her to. She did not need to be persuaded by her parents to make that decision. The fear of being a mocked single mother at that age was enough to push her into a tiresome union.
He hit her for everything. Anything had the potential of being an offence.
In the early days, he would sometimes apologise when he hit her, but eventually, he battered her without mercy, demanding apologies himself.
"I could be beaten just for wasting time on something, wanting to go to a different church, anything at all," Roseline recalls.
"This one is funny now: It could be for eating," she said, pausing mid-sentence as though to prepare me for the bizarre nature of what she was about to say. "It could be for eating gizzard in the house," she concluded, her high-pitched laughter enduring for some seconds as she ended by declaring how truly grateful she was that she could laugh about this incident years after.
One time, he hit her so much that she had to visit the hospital because her chest hurt. The doctor, thinking it was a case of asthma, prescribed asthma drugs for her, and even though she knew that the difficulty she now had with breathing was not a result of her being asthmatic, she did not say anything. Safe to have a wrong diagnosis than reveal to the doctor what she was going through at home.
Because Roseline was a writer, her ex-husband bullied her by refusing to let her attend literary events. On occasion when he allowed her, he would police her movements on and off the stage. If a male writer or literary enthusiast happened to walk up to Roseline to appreciate her work, she would have to answer the person pleasantly whilst mentally bracing herself for what was to come. It was an internal battle.
When he did not hit or bully her, he emotionally abused her, drumming it into her head that she was not worthy of love.
Emotional injuries, though "a precursor to physical" injuries are tricky because even though they cannot be seen, they cause as much pain as the ones that can be seen by the human eye, sometimes even more. A study describes emotional wounds as "real and deep".
Safe Horizon, a nonprofit organisation which provides services to abuse victims, describes emotional abuse as involving "non-physical behaviour that belittles another person and can include insults, put-downs, verbal threats, or other tactics that make the victim feel threatened, inferior, ashamed or degraded". The actions of Roseline's spouse at the time fit this bill like a glove. It tied her down to the painful union longer than she should have stayed.
"I was told that no one would even look at me if I dared to walk away from the situation," Roseline remembered.
Figures suggest that, like Roseline, many women suffer mean fates. According to the 2018 Nigeria Demographic and Health Survey, nearly 30 per cent of women over 14 years were subjected to violence by their current or former intimate partners within the past year.
Leaving is not easy
The first time she entertained the idea of divorce, she reached out to a lawyer to seek legal advice and the reply crippled her for years.
"She asked me if I had up to a million naira in my account," Roseline said, with a small laugh.
The question about her financial status was not necessarily about getting a divorce, it was about other things as well. Such as where Roseline and her children would live, how she would care for them, pay their tuition, and other things.
"Even if you get a place and you move with your children, they might want to run back to their father. You never can tell, these things are strange," the lawyer had said.
The lawyer had brought up other terrifying possibilities as well. "She told me how her sister had gotten a divorce and her children were nasty to her because they were staying with their father. She said that funny things can happen really, because you never know a human being until they are pushed to the wall and then they just react in a way that you can never expect," Roseline recalled.
After her discussion with the lawyer, she did not make any move toward divorce for a long time, but she always thought about it.
She wondered too where she would take her two children. Her schooling was an issue because there was practically no way that she could cope with all that life as an undergraduate single mother of two would throw at her.
These thoughts are not peculiar to Roseline. Dana Harrington Conner, a Professor of Law at the University of South Carolina, says many women do stay put in abusive marriages after considering the financial costs of walking away.
"Economic instability is a link that binds a woman to her abuser. Regardless of the interveners in her case—law enforcement, family," Conner wrote.
And so Roseline, because of these issues, continued to suffer the constant domestic battery which her husband was convinced she deserved and she, on the one hand, endured it with a third child on the way.
The child did not live past two months after it was born.
The loss of a child was not enough to stop the abuse. "I kept asking myself what is going on here? How will I do this? Because there was nothing I was going to do that would be good enough. I was also about to graduate and it seemed like the more progress I made in school, the more of a threat I was to him. I did not understand why, I could not even fathom it, but one day I sat down and I felt like this is how I will wake up one day and I will be bitter and angry and feel like it was too late for me to do anything with my life, it's too late for me to be happy," she said and asked if I understood.
Leaving
Roseline thought to herself that somebody would die in her marriage if she remained, but her parents did not understand this. They did not understand that he hit her even while she peeled potatoes in the kitchen and that one day she could react defensively and hurt him with the knife.
God forbid it, they had said. "You cannot be a husband killer," they told her.
"Well … it may be bad, but don't worry, when your children are grown, you can start to find your dreams and do anything you want. The children need you now," one of them said.
The comment about her children being appreciative of her suffering bothered her so much: What if her children grew up thinking that it was normal to be beaten up the way their mother always was?
Her parents' persistence made her realise that they would not take her in were she to walk away from her abusive marriage, so she pleaded with them to support her in attempting a temporary separation, and they did.
They asked her to stay with her elder brother at his home while she worked on reconciling with her husband.
"But the counselling was not working because he was telling lies against me to people who were supposed to be our friends. I didn't even want to talk to anybody about anything because nobody understood what I was going through," Roseline narrated.
And finally, because she saw that he would never change, she left for good.
What happens after a victim leaves?
It seemed as though Roseline's problems were not going to end because with the dissolution of her marriage came another bout of suffering. To punish her, her husband took her children away from her and made sure that she never saw them. Whenever she jumped through hoops to see them, she found that they were unpleasant to her because her vengeful husband had made them so.
The only time Roseline's children were civil towards her was when she visited them at their school, where they were boarding students. This small ounce of happiness too was not to last for long because her estranged husband also took that away from her.
"I woke up one day and saw from their pictures on Facebook that they had gone to the USA. He arranged for his niece who is there to take them," Roseline said, and a heavy silence followed.
For the second time in her life, she wanted to die.
"Of what use is my living life if I can't even see my children? In fact, what use is it working? What am I saving money for if I'm not going to be able to send money to say, let me support school fees or buy books or something," she had continuously asked herself at the time.
She had only gotten through that time alive because she had managed to make friends who became her support system, assuring her that all would be well.
There was one encouraging story: "When my mother and father broke up, my father took us away from her. The woman would come and visit us and we would call her a witch because of the things we were told. Don't worry; your children will come back to you," a friend had said.
Roseline kept intensifying her efforts to establish contact with her children as she was abruptly cut off from any form of access.
After some time, her daughter sought her out on Facebook and Twitter, only for Roseline to discover, one month later, that the child's accounts on both social media platforms had been deleted.
Often, warring spouses use their offspring as weapons to punish the other party. There is a name for this cruel behaviour: Parental Alienation Syndrome (PAS).
Psychologist Richard Gardner, who coined the term in 1985, says that this phenomenon usually occurs during separations and that "its primary manifestation is the child's campaign of denigration against the parent, a campaign that has no justification."
"The disorder results from the combination of indoctrination by the alienating parent and the child's own contributions to the vilification of the alienated parent," he noted. All of the things mentioned by Gardner were behaviours exhibited by Roseline's former partner, causing her children to resent her until they were of age and knew better.
Leaving is not always about the law
At the time that Roseline suffered abuse, the now famous Violence Against Persons Prohibition (VAPP) Act was not yet in existence.
Even then, the Protection Against Domestic Violence Law (PADVL) of Lagos, where she was residing, recognised physical, emotional, psychological, and economic abuse as forms of domestic violence. All of these were things that Roseline went through.
Swollen faces and inflicted physical injuries would have been starting points for Roseline to have gotten justice from her ex-husband. The lawyer whom she contacted knew this as well, but she knew too that all of that is not enough sometimes. She knew that money was important, and Roseline had none then. She knew also that it was important to have the support of family and friends to be able to pull through, and Roseline lacked this as well.
Above all else were the probabilities of Roseline walking away with nothing with which to support her children, which would, in turn, put her at risk of being resented by the little ones.
Some abuse victims never go past these fears. They endure marriages for the sake of their children and get killed by their abusive partners as a result. An example of this is the case of the late Osinachi Nwachukwu, a Nigerian gospel singer allegedly killed by her husband who had abused her for years.
Roseline's thoughts of her children would guide her years later. She officially filed for divorce from her estranged husband, who did not bother to file for one when he remarried. He also did not care enough to appear in court when Roseline eventually filed for their divorce herself.
Because they had already been separated for about five years, the divorce was granted easily and because Roseline was not out for revenge, she never asked that he be put on trial. All she wanted was access to her children and, by then, they were already adults and had established a relationship with her of their own volition.
"I recognised that he would always be a father to my children. I wasn't out for vengeance, I just wanted a clean break and I wanted to feel like there is nothing hanging over my head that would prevent me from remarrying if I ever want to."
---
Support Our Journalism
There are millions of ordinary people affected by conflict in Africa whose stories are missing in the mainstream media. HumAngle is determined to tell those challenging and under-reported stories, hoping that the people impacted by these conflicts will find the safety and security they deserve.
To ensure that we continue to provide public service coverage, we have a small favour to ask you. We want you to be part of our journalistic endeavour by contributing a token to us.
Your donation will further promote a robust, free, and independent media.
Donate Here