Development
Displacement & Migration
Investigations
Nigerian Resettled Community Still Crossing To Cameroon For Basic Amenities One Year After
People were moved to the community after displacement camps were closed last year in Borno, but they met a lack of essential services such as schools and hospitals.
Falmata Mala was six months pregnant when the news she had been waiting so long for arrived. The place she and her family had been forced to abandon would brim with activity again. The government said people could go home.
When the news reached her, she was miles and miles of road and an international border away from her hometown.
But on her return, what she found wasn't home. Instead, it is a place where the inhabitants are often afraid for their lives and have to cross into another country to find the amenities they need to survive.
Eight years before, she and everyone she knew had fled Kirawa, a town in Borno, sitting right on the border between northeastern Nigeria and Cameroon. The area, around the base of the Mandara mountains in the Gwoza area, has been a Boko Haram stronghold for years. After fleeing, Falmata's people found shelter in Cameroon, at a place called Moskota.
Disagreement
Was it really possible that, at last, she could go home? Not everyone seemed so enthusiastic.
Last year, the state government shut down at least eight mega IDP camps across Maiduguri and took some of the people to their original communities, such as Kirawa.
Although the decision triggered mixed responses from the public and drew criticism from international organisations and human rights groups, the Borno State government went ahead with it in Oct. 2021. By Dec. 2022, it had shut down eight camps.
"When I insisted that I return to Kirawa, my husband rejected the idea. He told me there is nothing there and nothing to do there, so why would I want to go back?" Falmata said.
Falmata's husband remained adamant. They ended up in a disagreement that led them to go their separate ways.
Falmata insisted on going home because life in Moskota as a refugee had been very difficult for her and the family. All she wanted was to return to where she had a good house she used to enjoy. She and her ten children packed their belongings and started the journey home with other people who shared her enthusiasm. They covered about 50 kilometres on foot. Leaving before dawn, they arrived deep in the night.
"We left him there," she says of her husband. "He said he would move to Koza a week later, a town in a part of Cameroon, where he will be doing some small menial jobs to get money."
Koza, where Falmata's husband went, is 11 km in the other direction, much further away from Kirawa.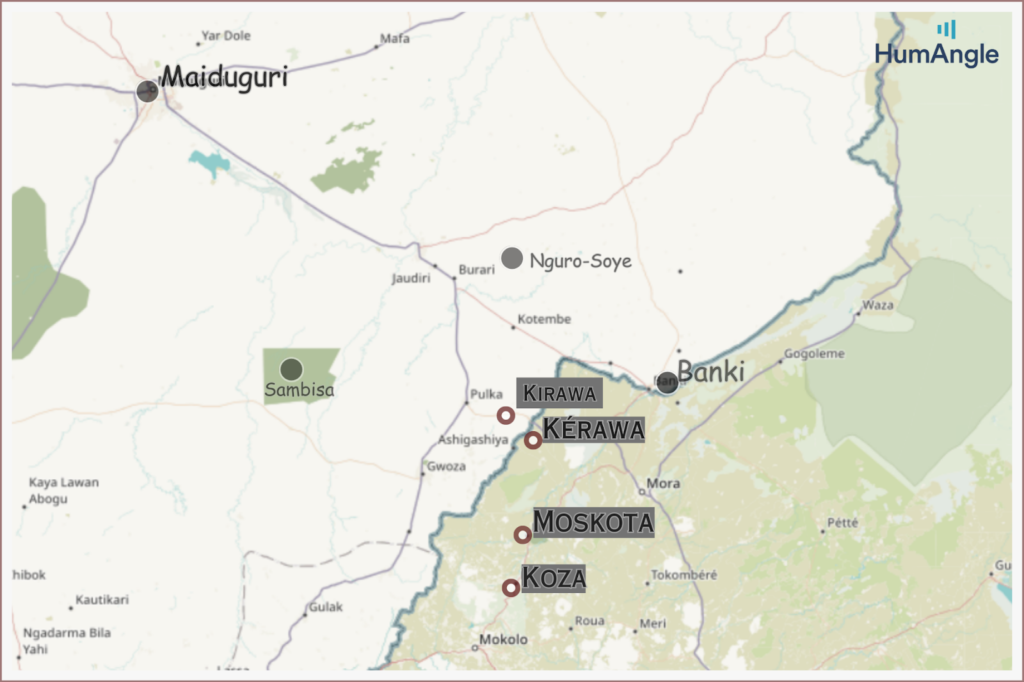 Over the years of her displacement, the hardship and lack of social amenities like good healthcare service and access to adequate food took their toll. Falmata suffered two miscarriages during this time.
"I am a very active woman; I give birth regularly. As we moved from one point to another, I had two miscarriages and lost one of my sons, five-year-old Ibrahim," she said.
The journey home was hard. Falmata fell sick and her legs became swollen the very night they reached the border.
"I visited the hospital in Kérawa, Cameroon, but they did not attend to me because I didn't have their identity card," Falmata said. She gave up visiting the hospital and went on to the Nigerian side of the border with her children, to their house that they fled several years ago.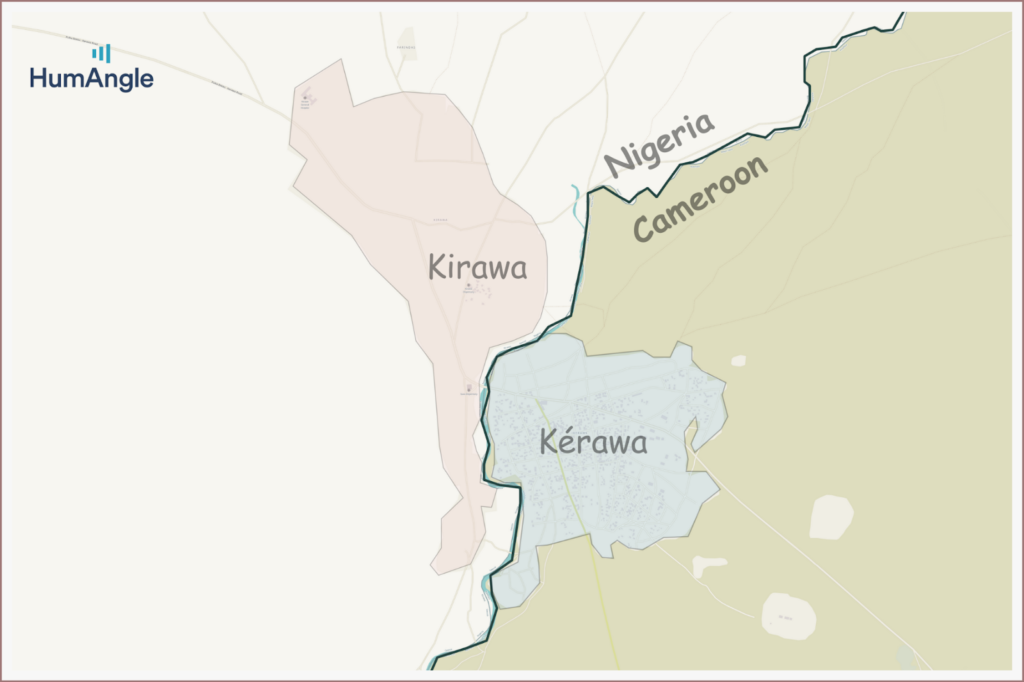 When they got there, they found everything had changed. The home she yearned for had fallen apart. All the buildings erected with mud in the neighbourhood had been destroyed, the roofs collapsed, and the walls weathered almost down to nothing. Everywhere was full of desolation and rubble.
Few people had heeded the call to return, but only snakes and dangerous scorpions inhabited their houses.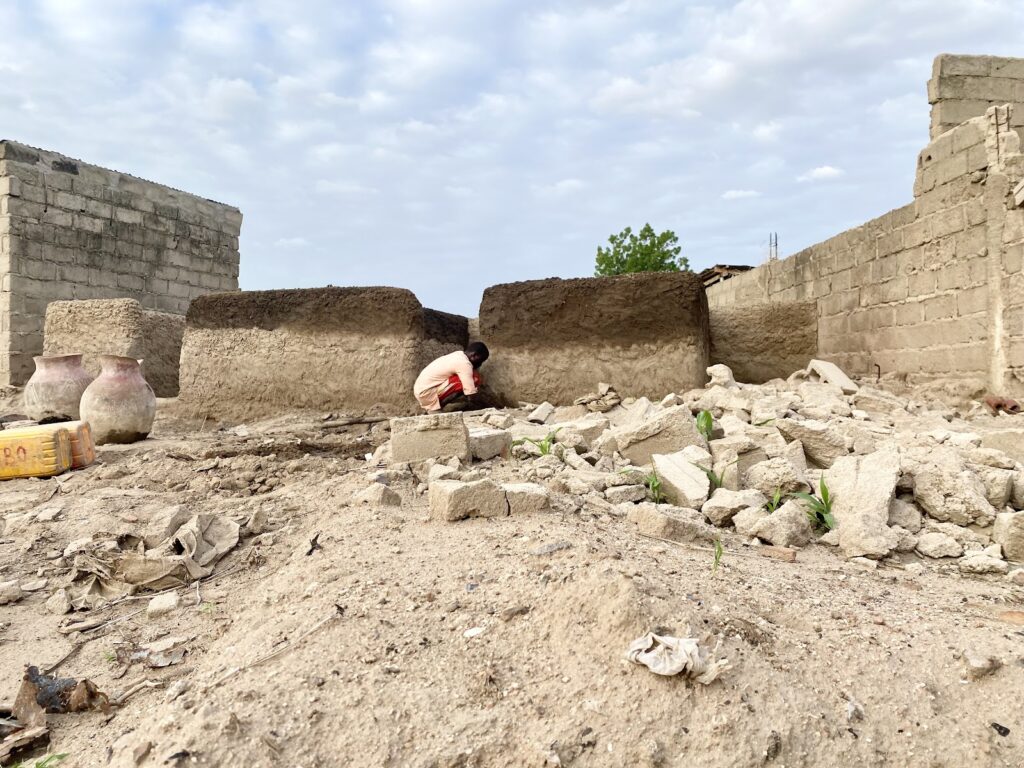 A few months after Kirawa was resettled in 2022, HumAngle visited the community to assess the issues of water scarcity as a result of issues of accountability in the implementation of the water project in Kirawa and how it affects the resettlement plan of the Borno State government. In our second visit in August this year, we found that the water problem still persists.
In July 2022, about 15,000 internally displaced people were reported to have relocated to Kirawa, which they fled years ago. Before their return, they resided either at displacement camps across Borno or lived in neighbouring countries like Niger, Cameroon, and Chad as refugees.
"Because of the inadequate and nonfunctional basic amenities, we have been gradually recording a decline in the population we recorded when we were first resettled in 2022," Bukar Kirawa, the community head of Kirawa, told HumAngle.
"You can see that the town is currently facing severe water scarcity, lack of a standard school system, insecurity here and there, lack of functional health centres, and above all, hunger is disturbing people because they cannot access large spans of land to cultivate."
HumAngle reached out to the Borno state government with the findings of this investigation but received no response. Professor Usman Tar, the commissioner of information and security, was also contacted. He told our reporter, "I'll get back to you, but let me contact my colleagues in the relevant ministry first."
We never heard back.
Health facility locked
Falmata had been home for three months without getting any kind of hospital care.
There was supposed to be a new clinic in Kirawa. She visited it several times, but it was always locked. When she found them, the management told her it was closed because there were no drugs to give sick patients.
"My health became worse day by day as I approached the Expected Day of Delivery. We have no access to prenatal care because the clinic is not functioning," Falmata said.
Falmata moved into her neighbour Batul's house. Batul became her nurse throughout her labour, but her help was hardly enough.
"The pregnancy pains became unbearable and I started fainting regularly. The first time I fainted, my children called Batul and she took me to her house for the period of my labour pain," Falmata said.
"I cry in silence. The only thing I eat is the small amount of konzo [flakes made out of the remnant of cooked grains] Batul prepared by just soaking it in water. Hunger disturbed both my family and hers."
The women survived thanks to the Saturday market. They picked grains from the remnants left behind on the ground and begged for assistance from their neighbours who had food.
On the morning of Wednesday, Aug. 23, five days after she moved in with Batul, Falmata fainted for the fifth time. There was no hospital to take her to. Batul held her, dabbing her brow with wet fingers until she regained consciousness. She could barely speak.
"I told Batul I will die, my baby is struggling, I need a hospital."
The nearest Nigerian town with a clinic is Pulka, 16 km to the west on the road to Maiduguri. But to get there was not easy. Boko Haram ply the road and can attack at any time. Military and Civilian Joint Task Force (CJTF) personnel patrol the road twice a day, the only time it is at all safe to travel. Crossing the border back to the clinic on the Cameroonian side was the only choice they had.
"We managed to go to the Kérawa Central Hospital in Cameroon. They did not attend to me. We begged them while I was bearing the excruciating pain," Falmata recalled.
According to her, the hospital admitted her on the condition that she would have to stay there until someone paid her medical expenses. They wanted her and the baby as a form of collateral.
"They told me my medical fee is six Jakka." A Jakka is the local term from a 1,000 CFA note. The word comes from an old unit of wealth measurement, dating as far back as the 19th century and used when calculating tax. Each Jakka is equivalent to about ₦1,300 (or $1.7). Her total bill was ₦7,800, about $10.
Falmata gave birth to a boy the following day and spent six more days at the hospital until her husband returned from Koza and settled the bill.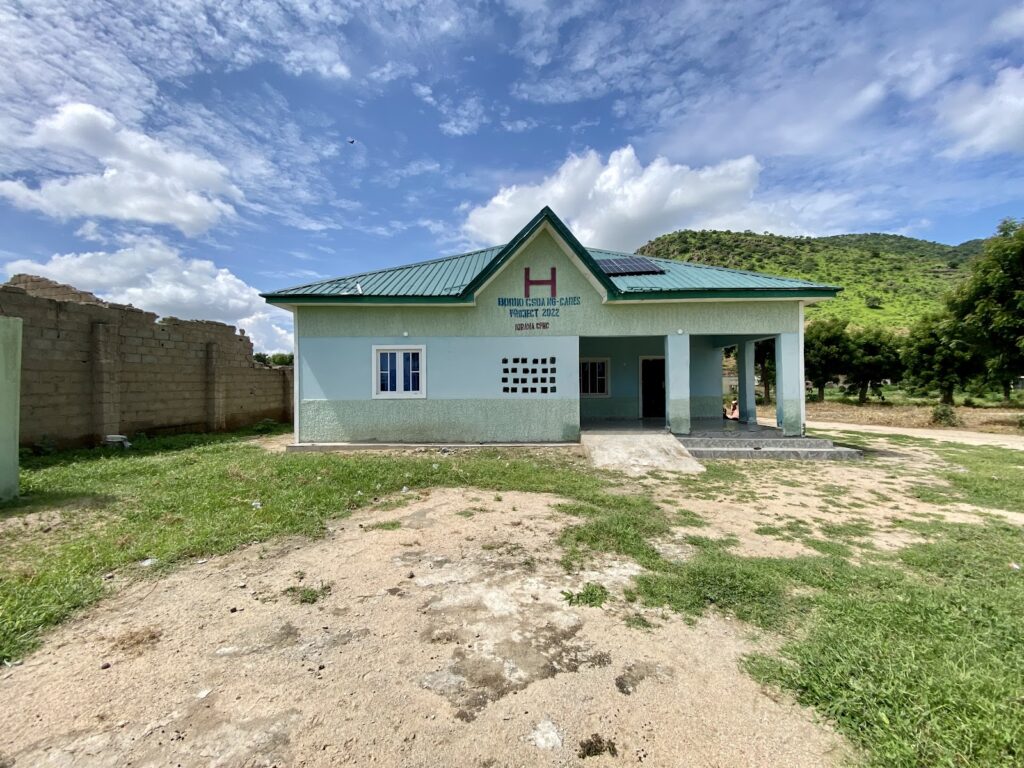 When HumAngle visited the clinic in Kirawa in August, it was locked and the environment had no signs of activity.
Information on a board nearby says the clinic was renovated a year ago when the Borno State government began relocating the displaced back to their community.
The renovation was part of the ₦17.7 million project, which also covered the channelling of the town's water supply. The project was implemented by Borno NG-Cares, a state agency, with support from the World Bank.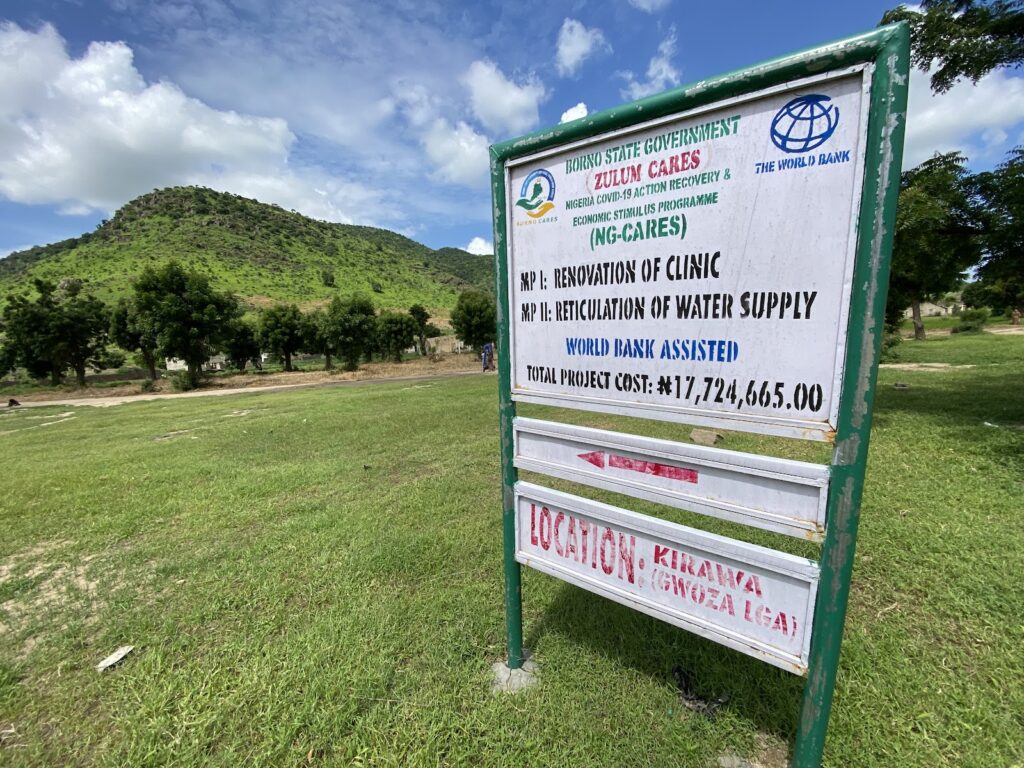 Despite the government project, everyone in Kirawa looks after their own health via alternative means, as the newly renovated clinic lacks drugs and manpower.
They depend on small-scale, roadside drug vendors for mild illness and travel on the dangerous 16-kilometre road to Pulka or cross the border to Cameroon to seek paid medical services.
One afternoon, a few months into the resettlement, Liman Mohammed Maha was returning from a walkabout at the centre of the town when suddenly, a rhinoceros viper snake bit his foot. "I turned to check what it was, I saw the snake in a defensive pose. The place it bit started itching, and I quickly took a stick and stones to attack the snake."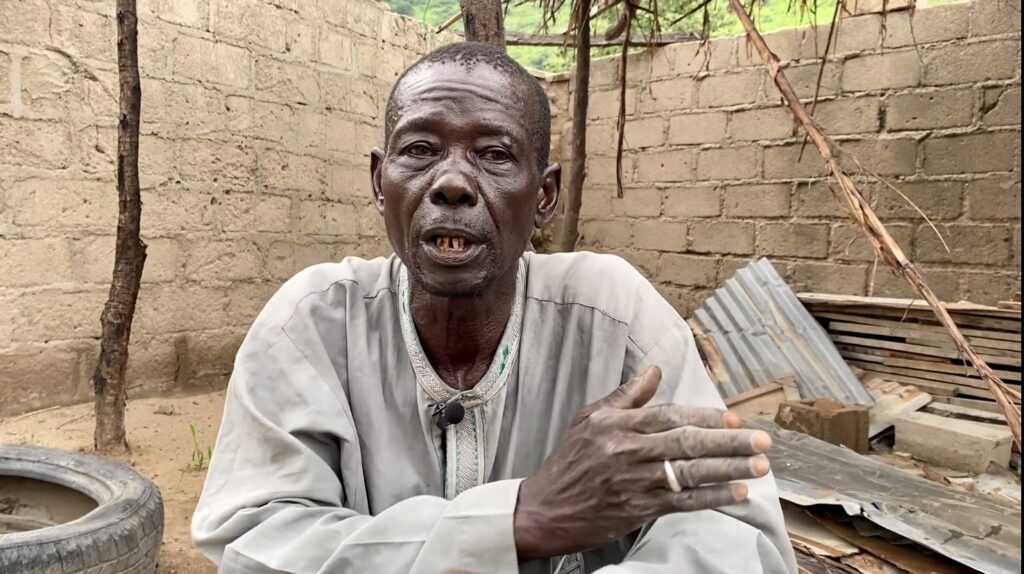 Liman began to feel dizzy while throwing stones and hitting the snake. Suddenly, he fell to the ground. "I started shouting and calling for help. I could not move. I held my ankle to stop blood flow from my foot to my upper body," he said.
According to him, the traditional wisdom to block blood flow from his foot was what saved him from the venom.
When people reached Liman, he had already lost consciousness. They quickly tied the place of the bite to stop the blood from circulating around his body. Liman said he lay flat on the ground and people could barely hear him breathing.
People in the town who practise anti-snake remedies forced some petrol into his mouth. He coughed and spluttered as they poured it down his throat. "If not because they gave me that petrol, it would have been the end."
He was rushed to Pulka, where they hoped to get to a free clinic managed by a non-governmental organisation, but they arrived late, and nobody was there to attend them. Liman was still unconscious when the team that took him to Pulka decided he should be taken to Mora, 50 kilometres away, across the border in Cameroon.
At the hospital in Mora, they discovered they needed to pay to access medical care there, but the cost was too much and they didn't have enough.
"They requested the sum of 133,701 CFA Franc [equivalent to about ₦170,000 or $220] for an anti-venom injection. Neither I nor my relatives have that amount of money to pay," Liman said.
Fortunately, as snake bite specialists say, Rhinoceros Viper venom is classed as dangerous but not often deadly. The risk to life comes from the high probability of infection in festering wounds.
Liman returned to Kirawa without treatment and continued to use traditional medicine and all sorts of painkillers he could get from nearby vendors. "I could not sleep well for over 40 days. Pains, day and night. The point at which the snake bit me began to rot, and it itches constantly," he told HumAngle.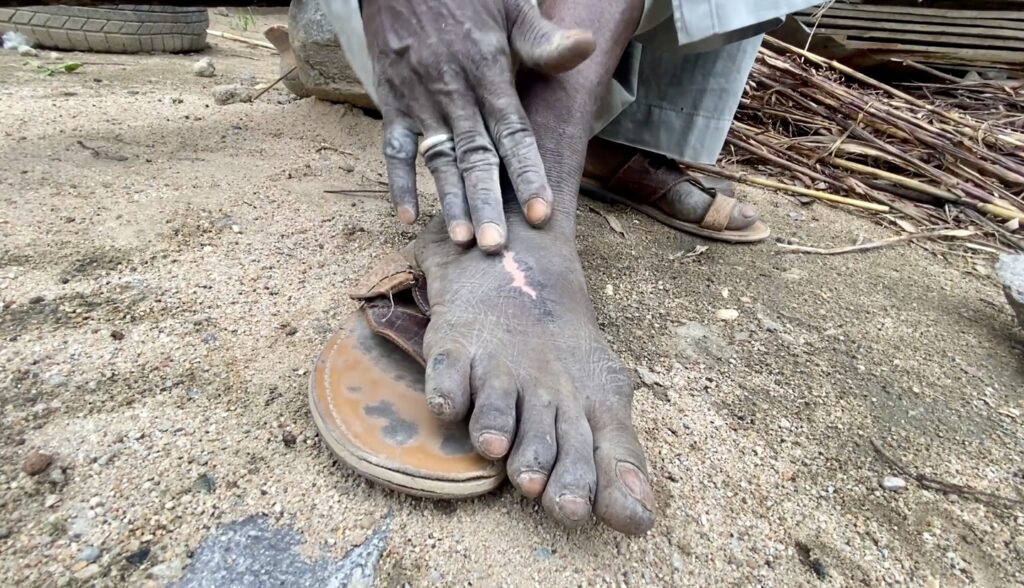 Although the bite would not kill him, Liman was at risk from the necrotising effect of the venom. He desperately needed basic medical care to prevent it from becoming infected. "Our clinic in Kirawa is not operational, nothing is there. We call on the government to come and do something because we just returned from displacement," he said.
Drugs exhausted
During a visit to the town, HumAngle met Baba Yarima, head of the Kirawa Health Clinic, by chance as he sat under a tree. He confirmed that there was a lack of equipment, drugs, and manpower to operate the facility fully.
Baba recalled that Kirawa used to have a functional dispensary and general hospital until insurgents uprooted the community and destroyed those facilities almost a decade ago. After the community was resettled, the dispensary was upgraded to the present clinic, having two wards with eight beds in each ward.
"We were supplied with drugs, but we exhausted it over time and we haven't gotten replenished. It is something we access on a routine basis and the ones we had were already exhausted," he said.
He added that the clinic cannot serve everyone who had been resettled one year ago because that is too much demand on limited resources. "We are pleading with the government to intervene."
Speaking about some of the challenges with managing the clinic, he mentioned the complete power outage and inadequate manpower, both in terms of number and expertise.
He recalled how, several times, he's had to use a torch to conduct surgeries on victims of attacks by members of Boko Haram.
He also said the clinic lacks the staff to handle cases of pregnancy. As a result, women could only go to Cameroon or travel as far as Maiduguri, the capital city of Borno, which is about 128 km away, for medical assistance.
"We don't have technical staff like midwives and nurses that can assist me here. We only have non-technical staff like health assistants," Baba explained.
Baba is the only technical staffer out of the six workers at the Kirawa Health Clinic and this has made work nearly impossible for him, especially in this period when incessant cases of Boko Haram attacks on farmers and motorists are recorded. The other employees are health assistants, cleaners, and security guards.
Because of this problem, residents of Kirawa cross over to Cameroon to access healthcare services at greater costs. Locals say they have to put up with discrimination during such trips.
"About six months ago, Boko Haram attacked commuters travelling on Pulka-Kirawa road. The incident recorded a lot of injuries and death. When they brought the victims, they were terribly in pain and severely injured, blood gushing everywhere, and the clinic's floor was filled with human blood. There was nothing I could do; there were too many victims in need of secondary medical attention," Baba narrated.
According to him, there was no way to refer them to places like Pulka because the road was not accessible due to insecurity. That was the road on which the attack had taken place in the first place. "We pleaded hard with the Cameroonian hospital to attend to these patients, and that was how we saved their lives."
Aside from the vulnerability of the Pulka-Kirawa road to Boko Haram attacks, there is also the lack of clinic vehicles that can easily transport patients who are given referrals. "We need our own ambulance," Baba said.
Meanwhile, health is not the only area where crossing over to Cameroon is the only option.
Education
When HumAngle visited Kirawa, pupils in the last year of primary school had written the final year examination that would qualify them for junior secondary school. But Kirawa doesn't have a secondary school to accommodate the graduating pupils.
Since its destruction in 2014, the secondary school infrastructure has not been resurrected even after the community was resettled and school activities resumed.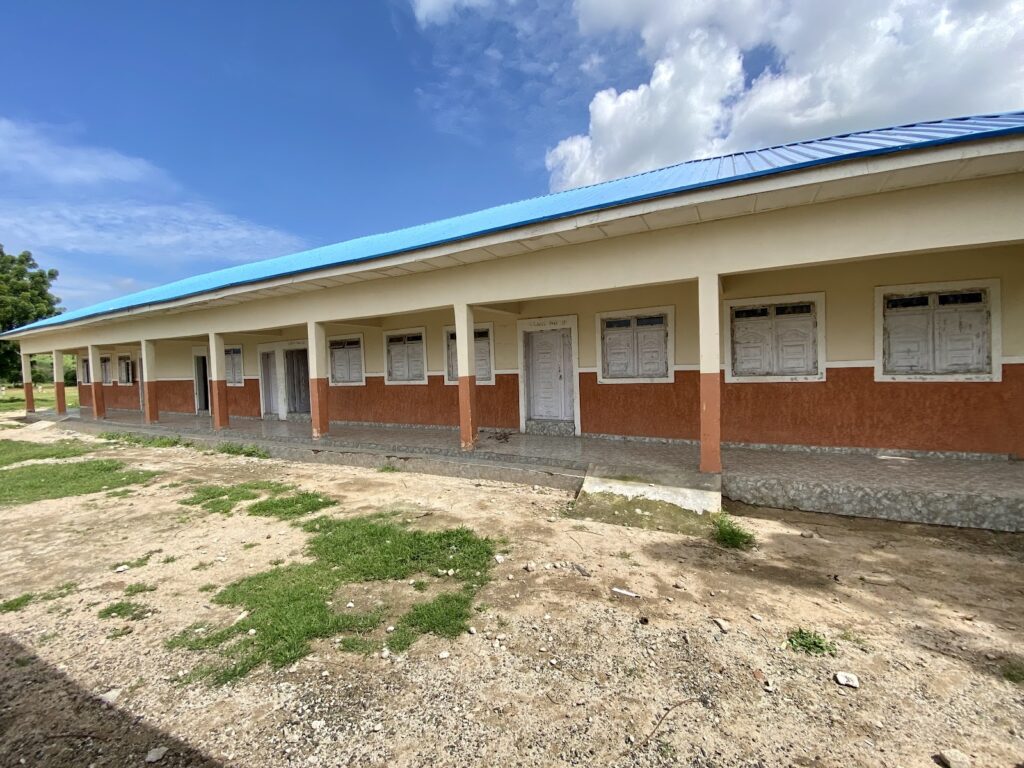 The primary school has been renovated, but there are no teaching and learning materials, textbooks, or chairs.
Chakule Ibrahim, the headmaster of the renovated Central Primary School Kirawa, said the primary school was renovated last year before their resettlement. "When we returned to Kirawa, it took us one week to enrol children into various classes and we were able to enrol 1,500 pupils in the school."
The retention level of the pupils in primary school is dropping gradually as the challenges continue to unfold. Parents feel their children are not getting the education they need, and the lack of an inspiring learning environment worsens the situation.
"The school is facing a lot of challenges that are gradually affecting the education system of the community, which is supposed to be recovering from the long-term effect of displacement," Chakule said.
"We have inadequate teachers, which is a result of the low turnout of teachers posted to teach here in Kirawa. They don't want to come for many reasons. They complain about the lack of security and the accommodation to live with their families. You can see most of the buildings have been destroyed by insurgents and many of them are owned by the teachers."
He added that there are no teaching and writing materials, and instructors have to take the classes offhand. The school lacks everything except the renovated building, he lamented. "We don't even have a booklet to record either the pupils or the school activities. There are no desks for pupils to sit on, they sit on the floor. The staff room is empty; we only have a mat that we sit on."
The school sometimes only gets three teachers in attendance.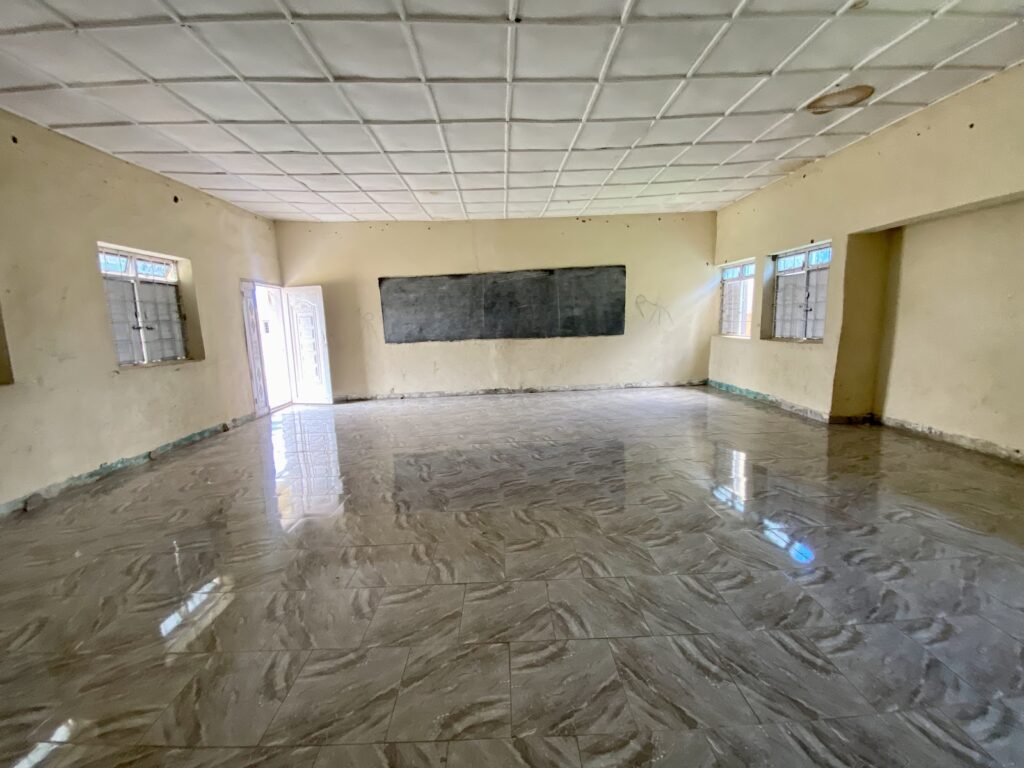 Ummate Abubakar, 48, who did not get the opportunity to enrol his children to school over the past eight years of their stay in Kolofata, was excited when the primary school in Kirawa resumed activities a few months after they were resettled in 2022. However, he expressed dissatisfaction over the way his five children, out of a total of eight, are experiencing learning in the town.
"There is no money to buy learning materials for my children. My five children are going to school without shoes, books, pencils, and uniforms. Can you believe this? It is so unfortunate that we are facing this together with our children and there is nothing we can do," Ummate said.
Many parents say they have not seen signs of improvement in the education provided in Kirawa and so continue to send their children to schools in Mora and Kolofata in neighbouring Cameroon. Others send their children to school in Maiduguri and other parts of Nigeria.
Zake Mallum is one of the many parents whose children are schooling in Cameroon because the school on the Nigerian side is not satisfactory. He fled to Mora in 2014 alongside his two wives and 20 children.
Before they were displaced, some of his children attended primary and secondary school in Kirawa. When they fled, he enrolled them in a Cameroonian school.
His children had difficulty learning at first because of the change in language from English to French, but they later adapted.
"When Kirawa was resettled, I returned with my children, but I was not satisfied with the situation, so I returned my children to the school they attended in Cameroon," he said.
Abba Babayari, who had five children from his two wives in the past eight years since they fled to Mora, said, "We really want to go back, but because there is no provision of basic amenities in Kirawa, we stayed in Mora."
"I enrolled them in one of the private schools in Mora. They are now speaking the French language and having a standard school. You don't expect me to take them back to where the school is not good," he said.
Sleeping in another country
Over several visits to the community, HumAngle discovered that even the residents' safety is not guaranteed and that many people have to cross the border at night just to sleep in peace.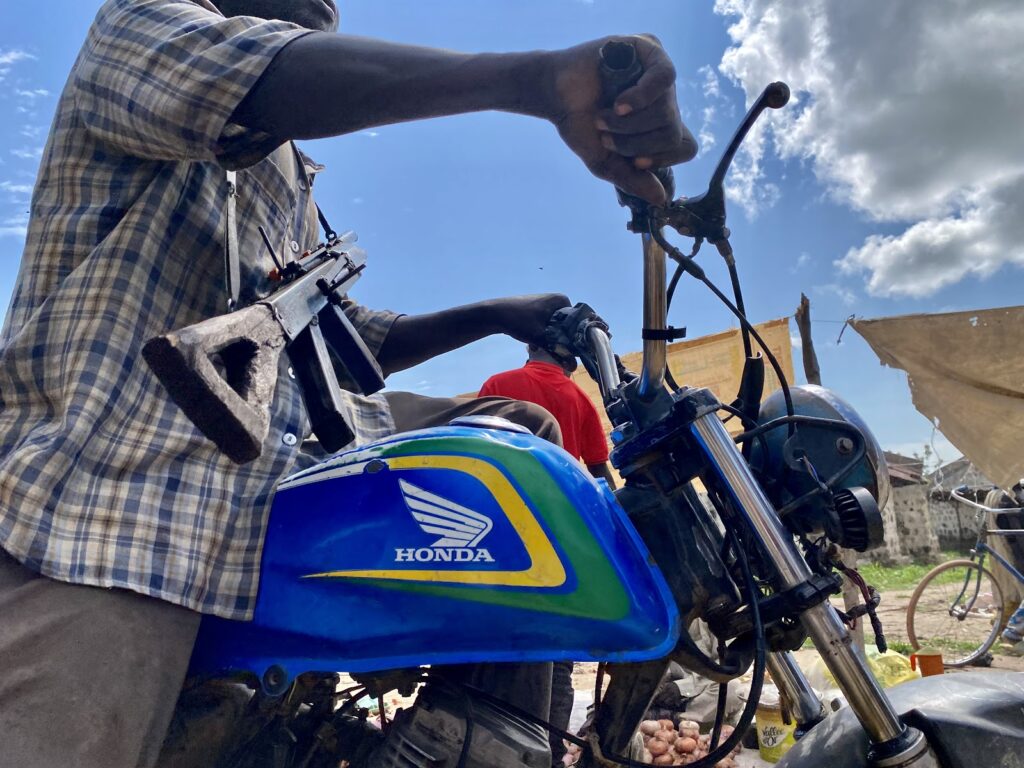 Binta Sherrifu, 38, has been traumatised since Boko Haram brutally attacked their neighbour at night. Ever since, she and her family have had to come to a strange arrangement for the sake of their safety.
Each night, they cross over to Cameroon to spend the night at her friend's house. In the morning, they return to Nigeria.
They have been doing this for the past year since they were resettled.
Boko Haram attacked Hassan, Binta's neighbour, with heartless audacity. First, they stole his food. Then they kidnapped his only daughter. Hassan's desperate attempt to free his child from the clutches of their abductors led to a nightmarish confrontation.
He was subjected to a savage assault; the attackers' cutlass carved deep lacerations across his defenceless body. They slashed at his face, cutting his eyes. Now totally blind, the attack has robbed him forever of his sense of security. He was not only physically broken by the attack but emotionally scarred by the tragic events that unfolded.
"The incident was so scary that I had to send away my only daughter to stay with a relative in Gwoza," Binta told HumAngle.
She said the terror group carried out similar abductions of young girls several times within the period since they were resettled. And it all happened in their area, which is by the base of the Mandara mountain.
"About three months ago, they kidnapped two young girls from their parents while working on the farm," Binta said.
Locals say the father of the two girls, Adamu Shuwa, later died due to the trauma.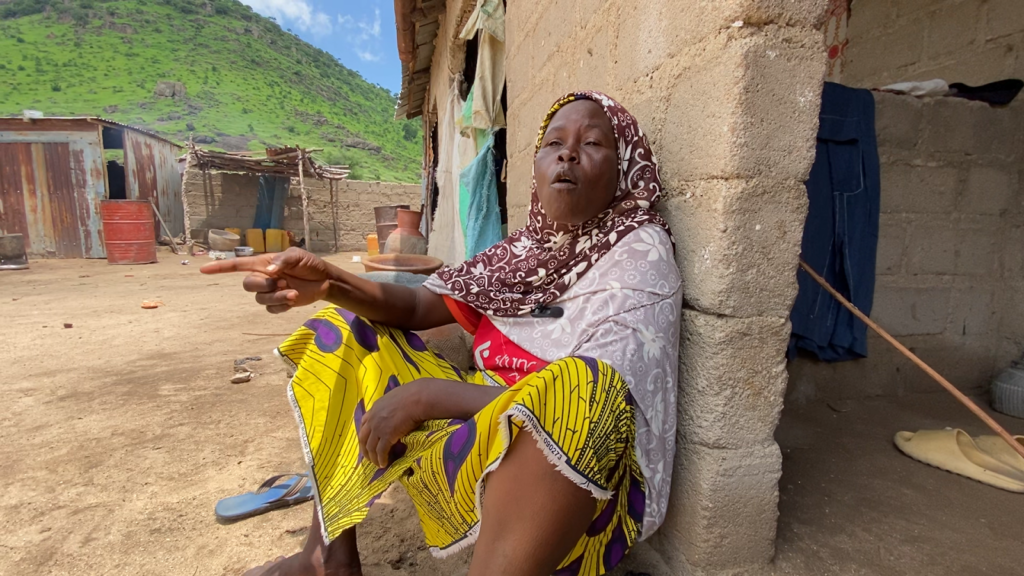 Farmers in Kirawa say they cannot access beyond two kilometres from the town. They are also under incessant attacks by Boko Haram.
"One day, I was going to the farm to plant some two mudu of maize, Boko Haram carrying guns intercepted me and confiscated the maize. I returned home scared," Binta said.
The terrorists often sneak into the two neighbouring towns, Kirawa in Nigeria and Kerawa in Cameroon, at night to steal foodstuff. They will not hurt you in most cases when they raid your house, say residents, they will only demand food. The cases especially increase in the rainy season when the clouds form and everywhere is quiet.
"We have a security base, the CJTF, hunters, and vigilantes groups, but we are still experiencing attacks and killings of our people at their homes and some in their farms," Bukar Kirawa, the community head, said.
According to Bukar, at least three residents were killed on the farm three days before HumAngle visited on Aug. 10.
Similarly, Mohammed Kamsulum recalled some friends and relatives who Boko Haram has killed over the years. Ummate used to be his companion before he was killed. They were always together, he said.
"I started to search for him when it was time to meet where we used to hang out, but I never saw him until one day later we learnt that he was attacked on his way to the farm," Mohammed said, sadly.
Some of his relatives, including Abbakar, Ibrahim, and Yerima, were also killed.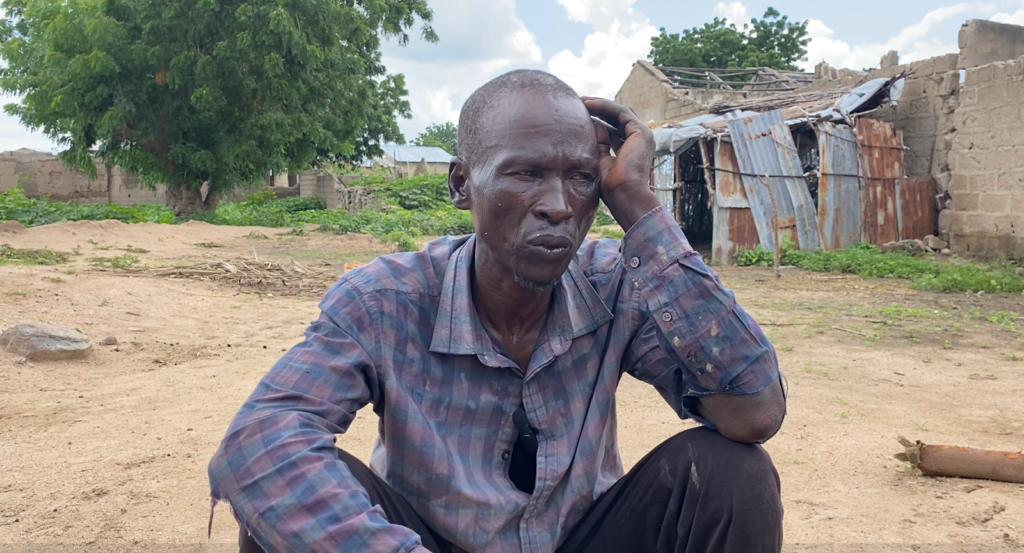 When the terrorists visit them at night on cloudy days, they collect stuff like women's wrappers, shoes, foodstuff, and other valuable things like phones and power banks. They also rustle animals from herders. If they encounter fierce herders, they engage in battles that lead to deaths and injuries.
"Since they stormed my house, I have never spent a night in the house. I went to Cameroon to sleep at my relatives' house. They came by 11 p.m. and asked me to give them every food I had, or they would kill me. I gave them all the maize and millet my son from Pulka bought for me, including my torch," Garba Mamman said.
Vigilantes
Until HumAngle reported the 13 months withheld allowances of the CJTF and Hunter/Vigilante groups, the civilian security had not been paid for several months, which led to some quitting the service and relocating to a place they could work and get paid.
The security groups are also short of arms and vehicles to facilitate effective patrol of the area.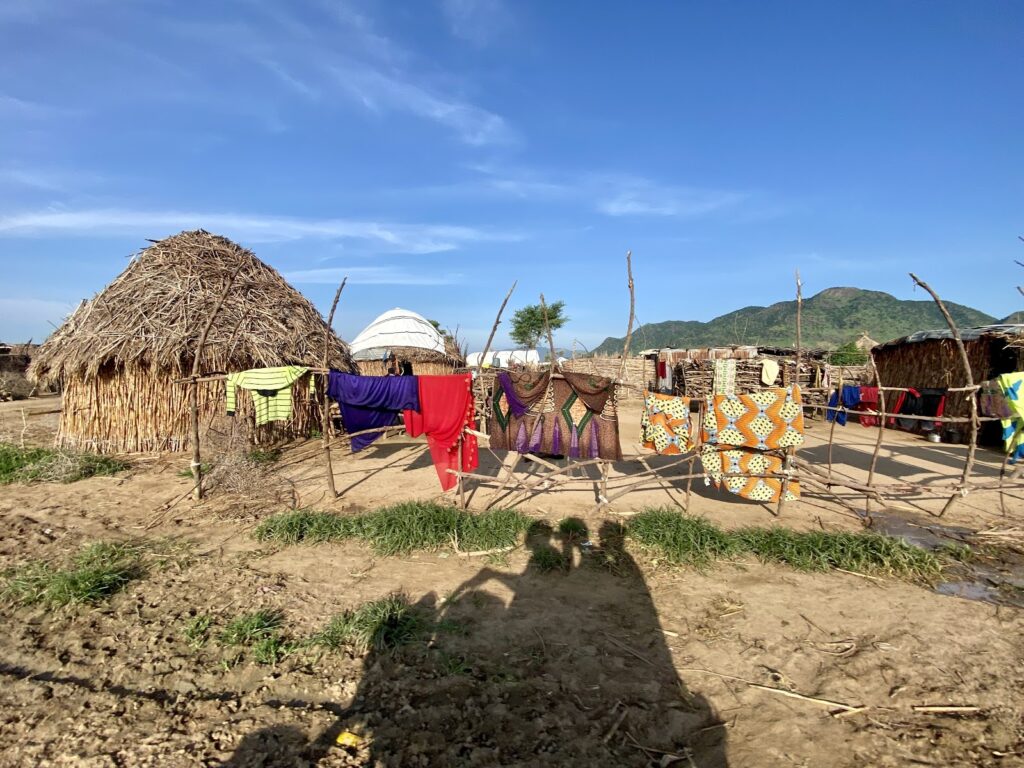 "We don't have enough supply of munitions and we encounter Boko Haram attacks on a daily basis," a security agent told HumAngle.
The same security problems occur at Kérawa in Cameroon, though less frequently. Auwal Ani, a resident of Kérawa, said, "We experience the intrusion of Boko Haram to come and steal food and go, especially those houses that have shorter fences or completely don't have fences."
"We are very vigilant about it. At night, I could hear them roving about the neighbourhood, looking for opportunities to steal or confiscate people's properties," he added.
During HumAngle's visit to Cameroon, Boko Haram attacked a herder community at the fringes of Kirawa town. They attempted to rustle cattle, but the herders resisted and engaged them in a battle, which led to the death of three herders and three members of the terrorist group.
The herders fled their community in Nigeria and settled at this location on the outskirts of Kérawa. The attack was an attempt to steal their cattle, but the herders had already developed a tactical plan for hiding their herds.
"When the terrorists came, they didn't see the animals where they used to stay after they returned from grazing. This pissed the terrorists off and they started shooting at the huts," a local source told HumAngle.
---
This report was completed with the support of the Centre for Journalism Innovation and Development and the Open Society Foundations.
---
Support Our Journalism
There are millions of ordinary people affected by conflict in Africa whose stories are missing in the mainstream media. HumAngle is determined to tell those challenging and under-reported stories, hoping that the people impacted by these conflicts will find the safety and security they deserve.
To ensure that we continue to provide public service coverage, we have a small favour to ask you. We want you to be part of our journalistic endeavour by contributing a token to us.
Your donation will further promote a robust, free, and independent media.
Donate Here