Armed Violence
Displacement & Migration
Featured
Features
Kirawa: A Borno Community Expected Rain, But Bullets Fell Instead
In 2014, Boko Haram attacked Kirawa, a town in Gwoza, Nigeria. HumAngle spoke to some of the victims of this episode that scattered locals to other parts of the state and neighbouring Cameroon. 
Kirawa residents were expecting rain on a cloudy Sunday afternoon, when, guns blazing, Boko Haram stormed their town. It was Aug. 2014 and the once quiet town located in Gwoza local government area of Borno, Northeast Nigeria quickly turned into a war zone. Motorcycles, tricycles, and vehicles zoomed in with the terrorists chanting "Allahu Akbar" as they let loose bullets.
Witnesses say the attack was quick and tactical. The intruders stormed the area from different directions. As expected, people panicked, running helter-skelter for cover. Both the stationed soldiers and locals fled to neighbouring Cameroon, while others made for Pulka, a settlement 16 kilometres away.
But, before this incident, the tell-tale signs of an impending attack were already on the horizon.
A few days before the Kirawa tragedy, Boko Haram had laid siege to Ngoshe town, which is about 21 kilometres away. Ngoshe residents, along with their animals, had come to Kirawa seeking safety. So, before the Sunday attack, Kirawa was already brimming with displaced people.
Now, the terrorists made sure everyone knew they were in Kirawa, a border community between Nigeria and Cameroon. They spoke forcefully, intimidating those who couldn't escape the town. This marked the beginning of a challenging year for the community, from those who escaped the tragedy to those who could not.
Trapped
Falmata Mala was one of many people trapped that fateful Sunday. She was carrying her one-month-old baby at the time. Her family's attempt to escape with some of their neighbours proved impossible. The border was manned by members of the same terrorist group who had invaded her town.
"My husband, our children, and I began to find a way out while everywhere was filled with sporadic gunshots and people screaming, running helter-skelter," she told HumAngle. "There was no way out because we felt Boko Haram were everywhere."
Falmata's family decided that they must leave the town or be ready to face the consequences if the terrorists found them hiding in one of their rooms. Finally, her husband, Dawud, summoned courage and sneaked out to confirm a route they could use to escape. The plan was to access the border between Cameroon and Nigeria.
But Dawud did not make it back home that day. When they eventually reunited sometime later, Falmata would learn that he was caught by a terrorist but was able to escape into Pulka. From there, he would locate his family who successfully made it to Moskota.
Meanwhile, as Falmata realised that her husband was gone for too long, she and the children became anxious. They needed to act fast. So she strapped her newborn baby to her back and instructed the children to walk quietly. "I gathered my children and told them to follow me closely. We tiptoed until we left the house. Some of our neighbours were warning me not to go out but I bid them farewell," she narrated.
By then, the terrorists were conducting a house-to-house search for those in hiding. Falmata could hear their shouts and orders as she and her children got away. "They spoke in Hausa and Kanuri. They were shouting at people and, bomb blast, gunshots, I could hear them from a distance," she said. As they moved through the neighbourhood, people she knew peeped at them.
"We got close to the border and had to stop beside a kiosk because the vicinity was filled with roving vehicles and bikes of the people [Boko Haram]," Falmata said. Each speeding motorcycle was mounted by three people, carrying guns and shouting. The family laid low for about an hour to ascertain the safest route. It was dusk and the Mandara mountain cast its shadow.
"We stayed quiet and my baby kept on whining persistently. I covered the baby's mouth with a rag that I carried with me," she continued. But, unfortunately, when they eventually headed towards the border, they were sighted by a Boko Haram sentry puffing on a cigarette. He was manning the border along the river bank that divided Cameroon and Nigeria.
"He was shouting that we should stop, he will not kill us, but we ignored him and kept running towards Cameroon. And with the children, I crossed the dried lake that divided Nigeria and Cameroon."
All Falmata wanted was to cross the border to Cameroon. Panting, they ran for their lives. But the sentry did not give up. He gave chase and beckoned a colleague to join the pursuit. In no time, over thirty other members of the terror group emerged and Falmata's family were surrounded.
"I was begging them to release my children but they said they were not going to kill us, let us go back to Kirawa in Nigeria. They escorted us back to Nigeria and gathered us under a tree."
There were more than a hundred people in the location. They were all hungry, tired, exhausted, helpless and desperate to escape. At about 10 p.m., one man wearing a scarf talked to one of the guards. After a brief conversation, the scarf-wearing man left and the guard turned around to face the captives.
"We already told you that we will not kill you but you are afraid. I am directed to release you to go back to your houses and live with your families. And, If you try to escape, we will punish you when we catch you," she remembers the guard saying.
"We went straight to our house. We could not cook food or do anything in the night, we were all frightened to death. My thought was that they would radicalise us towards the Boko Haram ideology," Falmata said. For this reason, she decided she was not going to give up.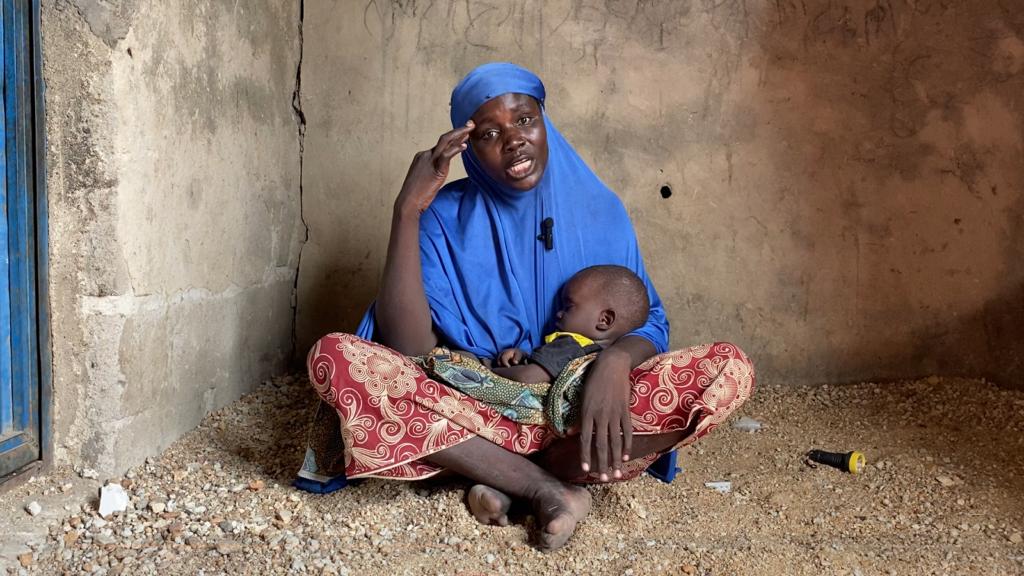 That night, Falmata decided they must leave the town before morning. "I waited when everything was quiet and directed my children to follow me and we headed to a part of Cameroon through the other side, far from the main border gate. We trekked in the middle of the night. The children complained of hunger but we kept on moving until we found ourselves in Cameroon by 6 a.m."
They kept on moving. "I just gave birth, I hadn't gotten enough rest and medication, so the trekking affected my health. Everywhere on my body got swollen and no food to eat. My breast couldn't produce milk for the baby," Falmata said.
They spent a day walking, eating grass to keep up their strength, until they reached a village called Mogozo in Cameroon. They settled there for the night. The following day, the village was agog with the news of the Kirawa attack and the whole village packed up and fled. Falmata's family joined them and moved to Kuyape village.
On the move
Again, they could not settle in Kuyape. It seemed like the news of terror was everywhere. And so they moved to Maskota village and there, the family reunited with Dawud, Falmata's husband. This was where they lived with other displaced people for eight years.
But, along the way, something heartbreaking had struck the fleeing family that would stay with them forever. Falmata's five-year-old son died at Kuyape after a protracted illness most likely caused by hunger.
Since 2014, the family's existence as refugees has altered their lives into one long bad memory. The children have since lost track of school and making a living has remained tough. The only source of income Falmata had was cutting trees within the Cameroonian forest despite the strict law against deforestation. But, she explained, it was the only thing she could do to get money to feed her family.
"Hunger was a major problem. We don't have access to food or resources to exploit. We were denied access to several privileges because we are refugees. We get arrested when we go to the forest to fetch wood. No mercy when you are caught with firewood. They will take you to jail straight without trial," Falmata narrated.
"Over the past eight years, life has been hard for us as displaced persons living in host communities in another country. We managed it that way until we heard Kirawa was resettled."
Falmata has lost two pregnancies during their eight years as refugees in Cameroon, all as a result of the hardship characterised by lack of adequate food and access to good medical service.
"I told my husband that we should come back to Nigeria when we heard that our governor, Babagana Umara Zulum, will be in Kirawa to reopen the town. My husband warned me that the life we may end up in may be worse than the one we are facing here in Cameroon," she told HumAngle. Still, Falmata and the children left her husband in Cameroon and made their way back to Kirawa.
Falmata's husband bid farewell to his wife and family, because he remained sceptical and did not follow his family back to Kirawa. A few weeks later, he too moved to Koza, another town in Cameroon, while his family relocated back to Kirawa."
Kirawa and its memories
When Boko Haram stormed Kirawa back in 2014, they came in their hundreds. They burnt military and civilian vehicles and destroyed houses. Although there was no record of deaths, some were injured and others were hit hard by the hardship they faced during their long trek to safety.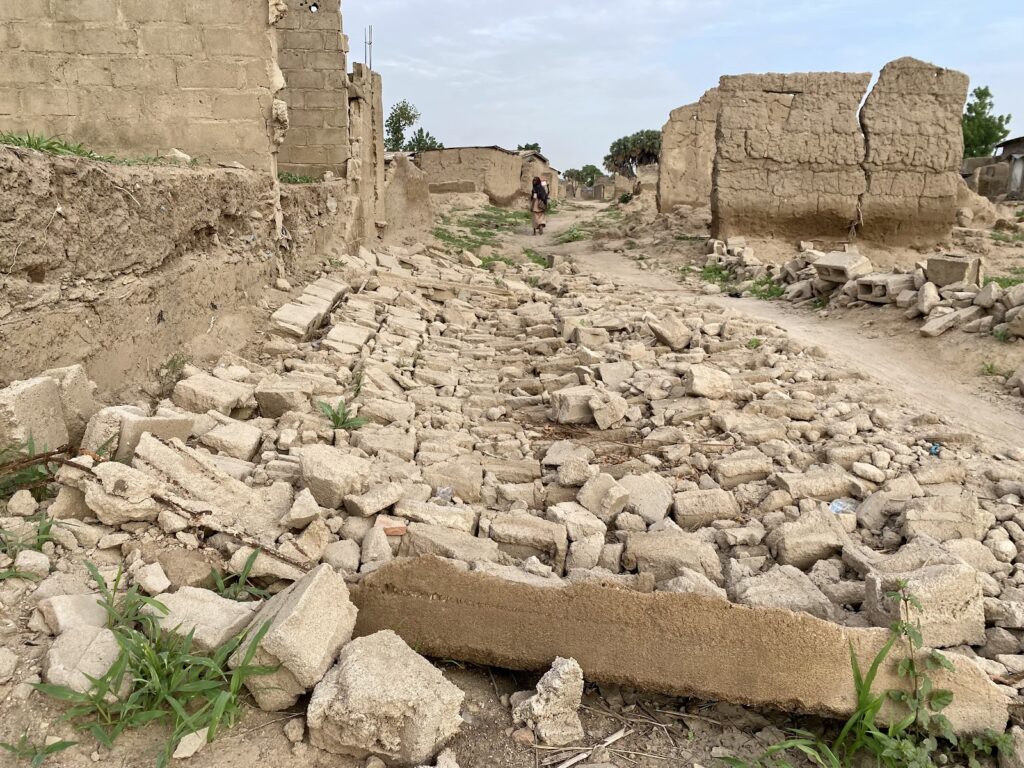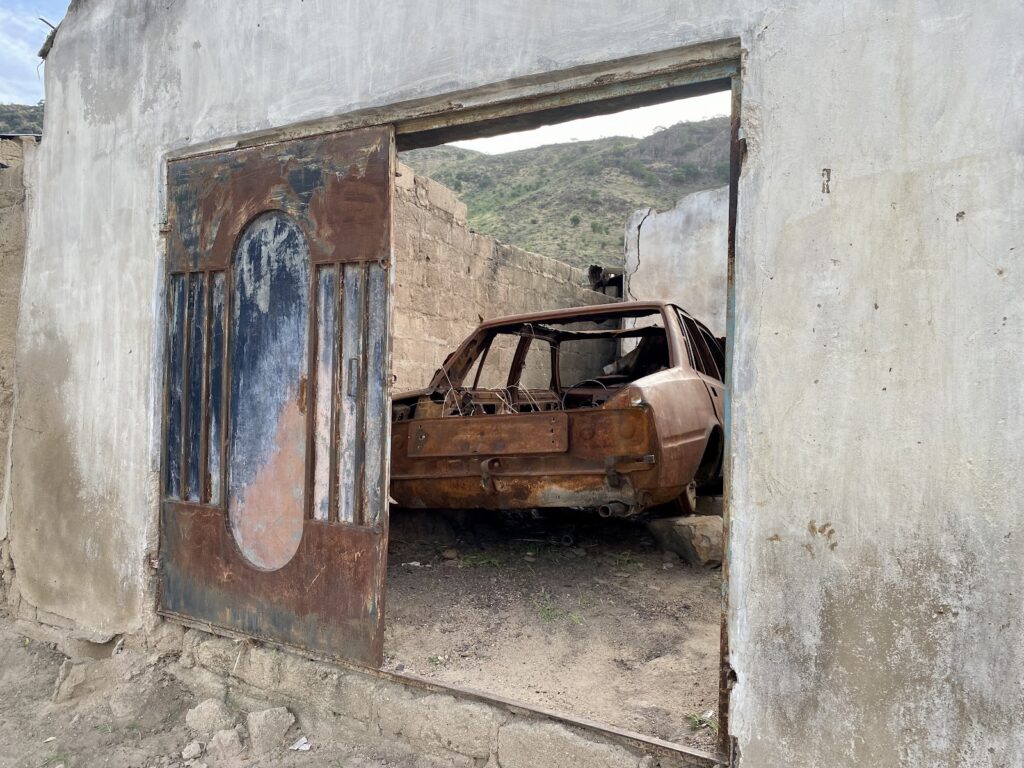 "For my sisters, Maryam and Hajjah, they got injured, had swollen legs trying to escape from the house when Boko Haram entered the town that Sunday," Musa Agyara, a Kirawa resident, recalled.
That day when Boko Haram invaded Kirawa, they headed straight to the Nigeria military base and packed out all the ammunition and other valuable military equipment they could get. "They directed the young Kirawa boys that they had captured during the attack to help them pack everything at the soldiers' base," more local sources told HumAngle.
Kirawa, with a predominantly farming population, used to boom with commercial activities. Every Saturday was a market day that brought together traders and buyers from both Nigeria and other neighbouring countries like Niger, Chad and Cameroon. But it is now a shadow of its former self.
---
Falmata's story is concluded in a different story to be published later.
This report was completed with the support of the Centre for Journalism Innovation and Development and the Open Society Foundations.
---
Support Our Journalism
There are millions of ordinary people affected by conflict in Africa whose stories are missing in the mainstream media. HumAngle is determined to tell those challenging and under-reported stories, hoping that the people impacted by these conflicts will find the safety and security they deserve.
To ensure that we continue to provide public service coverage, we have a small favour to ask you. We want you to be part of our journalistic endeavour by contributing a token to us.
Your donation will further promote a robust, free, and independent media.
Donate Here