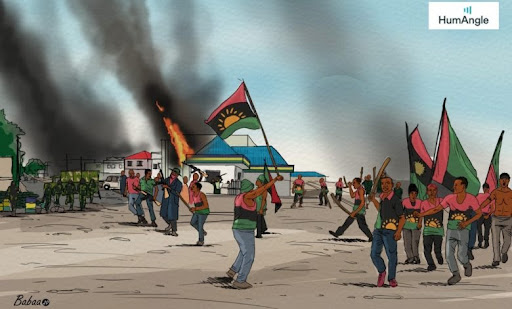 Since its leader was arrested in June 2021 by the Nigerian government, the separatist group, Indigenous People Of Biafra (IPOB) seem to have lost control over its affairs in the Southeast, and this may be contributing to the destruction going on in the region.
On July 30,  IPOB, through its spokesman Emma Powerful, ordered that every Nigerian residing in the southeast remain in their homes every Monday pending the release of its leader, who currently faces charges bordering on treasonable felony.
"We declare every Monday sit-at-home throughout Biafra land until our leader Mazi Nnamdi Kanu regains freedom…," their statement read in part.
The order was met with near-total compliance. According to Dave Umahi, the governor of Ebonyi State, the order was achieved because of the fear the group inspires in the people through its history of brutal enforcement. This fear would remain with residents of the southeast long after the order was suspended on Aug. 9. 
Apart from the brutal enforcement method employed by IPOB, the mindless killings that took place in the region contributed to the Monday-phobia which the people had acquired over the weeks of violence that they experienced, a violence which was perpetrated by a faceless gang collectively referred to as  "unknown gunmen" by the people and the media. 
The gruesome murder of Professor Chike Akunyili, a prominent member of the southeast, was pinned to this group. 
After the murder of Akunyili in Sept. 2020, IPOB released a statement denying its involvement in his death and threatened to hunt down his killers in the same vein.
"We are making it clear to all and sundry that if nothing is done to stop these senseless killings in our land by the enemies of Biafra, we will have no other option than to order ESN to leave the bushes and forests to towns and villages to flush out the exported killer terrorists…," the statement read in part.
But the threat to the faceless killers did nothing to allay the fears that the people had developed. This fear would follow them into the year 2022.
"Criminals have taken over this thing. Some people will go to one place and gather, call themselves IPOB members and start doing all manner of things in the name of enforcing sit-at-home order," Deberechi Ajieh, a resident of Enugu State told HumAngle.
"It is because there is confusion going on in the southeast because of the gap created by Nnamdi Kanu's absence," he continued.
A testament to Ajieh's assertion of the confusion is the order and counter-order incident that occurred between Emma Powerful, the group's spokesman and Kanunta Kanu, younger brother to the group's leader.
Powerful had first released a statement saying that the order to sit-at-home was still valid, while Kanu released a contrary statement saying that the order had been suspended, owing to the National Examinations Council (NECO) exams for final year secondary students,  which had been taking place at the time.
Ifeanyi Ejiofor, counsel to Nnamdi Kanu, released another statement confirming that Kanu was well aware of the suspension of the sit-at-home. He equally mentioned that there was confusion in IPOB and that it was caused by a "marauder" who was not loyal to Kanu. 
Later, IPOB released another statement, backing and confirming Kanu's knowledge of the suspension and Ejiofor's claim of a marauder. 
"We also wish to clarify that in IPOB, we have nothing or nobody known as autopilot. Anybody going by such a title is not IPOB and is flouting our rules. Anybody claiming to be such should immediately disengage before he is embarrassed," the group said in the statement.
While IPOB had its back and forth and leadership tussle, armed gangs suspected to be members of the group disrupted NECO examinations in the region. About three schools were invaded, examination materials were burnt, teachers beaten up, and a principal of one of the schools was killed. 
This loss of control manifested again when Nnamdi  Kanu's first trial in January came up. As usual, IPOB announced that there would be no sit at home on Monday (eve of the trial) but it would hold on Tuesday instead.
Despite the clarification from IPOB, rumors circulated that the lockdown would take place the entire week of Kanu's trial, leading to an attack in Enugu State. 
Within themselves, residents circulated Whatsapp broadcasts to caution and look out for themselves because they, too (perhaps a few of them), had noticed a crack in the leadership of IPOB and had equally noticed that the confusion was costing them their lives, sense of safety, properties and livelihood.
"Even if IPOB later announces the cancellation of the sit-at-home on any of these days, don't heed them because repeated events have shown that IPOB has lost control of what they started. Remember what happened in Enugu and Ekwulobia," a WhatsApp broadcast partly read.
Cracks: long road ahead?  
While this confusion is only now noticeable to a small number of the southeast populace, HumAngle has reasons to believe that the crack has long been there and was known to dedicated IPOB members but had widened as a result of Kanu's absence.
On the eve of Kanu's trial on Jan. 18, IPOB Rapture Media, a YouTube channel, posted a video captioned, "Mazi Nnamdi Kanu settled the problem in IPOB-LISTEN!"
The IPOB member played an audio file of Kanu explaining the scuffles going on within the group. 
The audio (of one of Kanu's broadcasts) was recorded before Kanu's arrest as he could be heard saying  "…We are here in Manchester, and the whole world is listening."
In the first minutes of the broadcast, Kanu said "what we are trying to do, our dear people is to bring to your attention what caused this hoo-haa [troubles]."
According to Kanu, there was a blackmail directed at him, by "the so-called women of Biafra" who wanted him to remove his HOD (Head Of Directorate), Chika Edoziem, and replace him with Samuel Ekpa.
Kanu also disclosed that he had dissolved his old executive council after "30th of May celebrations because they planned a coup."
The IPOB member behind the channel seemed to be defending Chika Edoziem (now embattled) for sacking Rabbi Charles (equally embattled), another highly placed member of the separatist group whom Kanu supposedly holds in high esteem.
In a separate YouTube video captioned "BREAKING! THE MAIN LEADERSHIP OF IPOB ARE NOW IN CHARGE, NO MORE DOS ORDER MNK," two IPOB members criticized Edoziem's public termination of Rabbi by playing an audio recording of Nnamdi Kanu's instructions from detention.
"I have appointed three emissaries to speak to people who want to talk to us in terms of providing assistance for driving away the enemy from our land. The one in the UK is called Rabbi, he is my emissary," Kanu said.
The IPOB leader mentioned two other members of the said emissary whom his members are to explicitly heed, because "those are the three people authorized in the whole world to do anything."
As it currently stands, Rabbi Charles (DOE) who supposedly has Kanu's support has been publicly sacked by Chika Edoziem (DOS).
While this is yet unclear, the recent developments between these groups may have been the cause of the order and counter order confusion about the sit-at-home order.
While the power scuffle between Kanu's officials rages on, their members are likely to be divided among preferred parties, breeding more confusion, leading to orders and counter orders, ultimately making room for other criminal elements in the southeast region to unleash horror on the region.
It is yet unclear what lies ahead for the southeast as Kanu's trial has been adjourned until Feb. 2022.
---
Support Our Journalism
There are millions of ordinary people affected by conflict in Africa whose stories are missing in the mainstream media. HumAngle is determined to tell those challenging and under-reported stories, hoping that the people impacted by these conflicts will find the safety and security they deserve.
To ensure that we continue to provide public service coverage, we have a small favour to ask you. We want you to be part of our journalistic endeavour by contributing a token to us.
Your donation will further promote a robust, free, and independent media.
Donate Here