Development
Features
News
IPOB's Disruptions Of SSCE Examinations In Southeast Put Students' Academic Future In Jeopardy
Activities of the proscribed IPOB group in Southeast Nigeria are affecting students writing SSCE exams.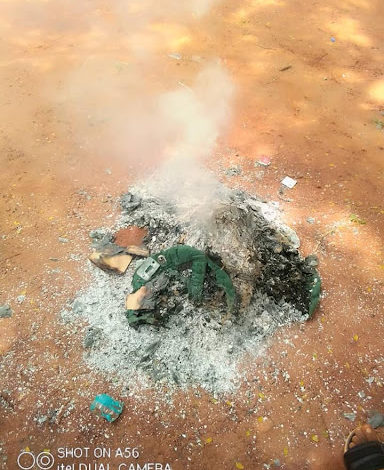 Oodo Uchenna, a student of Community Secondary School, Umuama, Enugu Ezike, in Igboeze North Local Government Area (LGA) of Enugu State, Southeast Nigeria is still traumatised by the experience of what happened on Monday, Aug. 9.
Uchenna was about finishing his Senior Secondary School Certificate Examination (SSCE) organised by National Examination Council (NECO) —Mathematics theory paper— when some masked hoodlums alleged to be members of the proscribed Indigenous People of Biafra (IPOB), riding on motorcycles stormed his school with terrifying speed to enforce the group's 'sit-at-home' order in the school.
On sighting the hoodlums, the terrified student and 67 other students of the school scampered for safety, only to return to charred scripts and question papers. "It was around a few minutes past 11 a.m. that we were writing our exam," Uchenna recalls.
"We were done with our objectives, most of my classmates were already done with their theory. I was about to finish my theory, then we saw some group of boys coming with full speed on bikes (motorcycles)."
"The speed of their bikes was terrifying. What I actually saw before I ran for safety were six people. They were putting on masks. We couldn't see their faces.  They burnt our scripts, stole some of our phones and money." 
Still terrified, Uchenna told HumAngle that the attackers also burnt the supervisor's bag. Only about four or five candidates who escaped with their scripts were able to submit. "The supervisor collected those ones to use as evidence," he said.
The hoodlums, who were not satisfied with the burning of the scripts and question papers, also beat up the school principal, the examination supervisor, and some of the school teachers, inflicting injuries on them.
"We're all living in fear. Like tomorrow (Monday, Sept. 20, 2021) we have the WAEC Mathematics examination. It's another  day to sit-at-home, and we don't know what to do. We just pray that those people will not come back again. This is too much for us,"   Uchenna, who wants to study law in university, told HumAngle.
He blamed the government for not making provision for security, which would have prevented the disruption, and expressed his disappointment in the Nigerian state.
"Assuming there was enough security to stop those people on their way, this thing wouldn't have happened. We're in our country, and we're now running as if we're fugitives in our own country."
He regretted that his preparations for the examinations, particularly, the Mathematics were in vain because of the attack.
Although the Nigerian Government, through the Federal Ministry of Education had on Monday, Sept. 20,  assured candidates who missed their examinations due to the sit-at-home that they would be given another opportunity to write the examinations, the possibility remains slim.
At the Community Secondary School in Aguibeje, Enugu-Ezike, in the same LGA, the suspected IPOB members also chased candidates sitting for the examination away.
Unlike Uchenna, Eke Kelechi, a student of Girls' Secondary School, Ngwo, Enugu State was lucky to write her NECO Mathematics examination but her friend and classmate was not.  She said that her friend missed the paper because she comes from Enugu where the sit-at-home order was in full force.
"Those of  us in Ngwo were able to write the exam because our school is closer to us. She feels very bad for missing the exam. Her hope rests on WAEC, and she hopes she does well," Kelechi told HumAngle.
HumAngle understands that thousands of NECO candidates from the region could not take their Mathematics examination because of the sit-at-home order of IPOB.
In Imo State, students of Comprehensive Secondary School, Nkume in Njaba LGA, were chased away from participating in the ongoing 2021 West African Senior Secondary Certificate Examination (WASSCE) on  Monday, Sept. 13.
Armed gang suspected to be members of IPOB invaded the school and started shooting sporadically to scare people away, thereby disrupting the English Language paper the students were supposed to have that day. They also set motorcycles belonging to some of the teachers and students of the school ablaze. 
Emeka Merenu, a priest with the Church of Nigeria, Anglican Communion, was killed in his vicarage by unknown attackers in Iheteukwa, Orsu LGA in the same Imo state, for allegedly inviting soldiers to secure the mission school, where he happened to be the principal.
IPOB started enforcing 'sit-at-home' orders on Aug. 9, across the five states in the region following the rearrest of Nnamdi Kanu, the secessionist group's leader agitating for independence.
The region has been grounded to a halt from 6 a.m. to 6 p.m. every Monday, a move the group believed would force the Nigerian government to release Kanu.
Although IPOB subsequently announced the suspension of the order, people were still afraid to go about their businesses on Mondays due to fears of being attacked.  
Academic journey of many students will be affected
Professor Chinedu Aguba, pioneer Head of Department of Educational Management and Chairman Academic Staff Union of Universities (ASUU), Enugu State University of Science and Technology (ESUT), said because of the disruptions, the academic journey of many of the students will be affected negatively. He argued that not many people have the patience to make second and third attempts in terminal  examinations.
"The academic journey of a good number of them (students) will be affected negatively. Not many people will say let's try second and third. Many people after their first attempt, once they don't get their WAEC, they will veer off," Aguba said.
"Those that are veering off could have been the best in the field of academics. It was a very bad experience because the exams, as I was told, were essentially the days of core subjects like English and Maths. Of course, you know without English and Maths, the academic future of any person is under question mark."
Noting the impact the disruptions of the examinations may have on the students' psyche, he stated that it could erode the spirit of patriotism in them and foster barbaric culture whereby anarchism will reign supreme.  
He said, "so, the students were in a state of confusion, and their psyche had been badly battered about the responsibility of the government. The students are likely, especially those who missed the exams,  going to develop a thick-skin about anything concerning government and governance in Nigeria. To them, the government doesn't exist. To them, Nigeria is drifting into a Banana Republic, where nothing works."
"Because there's no assurance, there's no confidence again. It will destroy in their psyche the spirit of patriotism." According to Aguba, the disruptions will dampen the educational exploit of the southeasterners. "We know that already we're doing well but we could've done better," he said. "This singular action of sit-at-home coinciding with core subjects is something that's so bad in terms of the education system in the Southeast."
It is very painful, because it is obvious that the students will not have results for NECO Mathematics, said Blessing Ugwu, a parent who resides in Enugu. "NECO, for instance, is a national examination. It's very painful. In fact, it's not a good omen, because the students will still have to write the exam, and it's not as if these students didn't want to write these examinations in the first place."
"On Aug. 9, when they had their NECO Mathematics paper, because of the sit-at-home, there was no means of transportation, and fear of attack didn't let many parents allow their wards to go to school. Unfortunately for the students, the exam was still held. It's painful and discouraging. It's discouraging the young ones – people who have ambition, who have targets," Ugwu told HumAngle.
She added that unlike in most Southwest states where the government registers students at no cost for WAEC and NECO examinations, "here (Southeast), parents pay for their children, and still the examinations will be disrupted and nobody is doing anything about it. Nobody is even concerned as if it's not their business."
Another parent, Ifeoma Okonkwo, said that parents may have to re-register their children for the same examinations next year, which she said is a waste of resources and  one year that the students could have used to learn skills. "That means incurring expenses that they shouldn't have if there wasn't a sit-at-home, and the exams were not disrupted," Okonkwo said.
Rev. Father Chukwu Nyerem Makata, a public affairs commentator and Ph.D student in University of Florida, United States, said the events that led to the disruptions were traumatic, adding that the depth of the trauma was immeasurable. 
"Every day those school kids dress up to go to school, they will remember how they were violently expelled from their exam hall. They will remember the burning motorcycles. They will never forget that their lives would have ended that day." 
Makata told HumAngle: "their worst nightmare will come when the results are released, and they find out they have lost one year through no fault of theirs. It will also affect the rest of their papers because the trauma will be with them throughout the exam period. It has a lasting effect that will take time to heal. It will also affect other students who may have been told the story or witnessed the events that stopped their fellow students from taking exams." 
Makata thinks the disruption is likely to affect the region's dominance, particularly in WAEC but expressed confidence that if it happens, the region will retake its position in no distant time. 
Southeast caucus of the National Assembly condemns disruptions of examinations
Rising from an extraordinary session on Wednesday, Sept. 15,  the Southeast caucus of the National Assembly in a communique condemned the disruption of Senior Secondary School Certificate Examination (SSCE) in some parts of the region.
"We resolved to condemn in strongest terms the disruption of the ongoing Senior Secondary School Certificate Examination in some parts of the Southeast, particularly the incident at Comprehensive Secondary School, Nkume, Njaba Local Government Area of Imo State, where the English examination organised by the West Africa Examination Council, WAEC, on Monday was ruthlessly scuttled by armed men, who chased away the students, teachers, and examiners before setting ablaze motorcycles belonging to the teachers," the communique read partly.
"This is certainly not who we are as a people. We call on the security agencies to unravel the culprits behind these wicked acts and ensure that they are brought to book to serve as a deterrent to others."
Continuous enforcement of sit-at-home order
The continuous enforcement of the sit-at-home order, which IPOB claimed it had suspended, has led to loss of lives, destruction of properties worth millions of naira, brought untold hardships upon the region and affected the psyche of the people negatively.
Ogechukwukamma Abia, a public affairs commentator, had earlier chided IPOB for not starting a campaign against the sit-at-home, despite the mayhem some elements who under the guise of enforcing the order are causing in the region. He wondered if the group enjoys negative publicity.
"Yes, IPOB officially cancelled the sit-at-home it ordered every Monday. However, businesses and offices are still being shut every Monday throughout the SE region and some pockets of Igbo enclave like Asaba and environs," he said in a Facebook post. 
Reacting to several complaints on the activities of those said to be its members, IPOB in a statement on Tuesday, Sept. 14, warned those who are still enforcing the sit-at-home order on Mondays to desist from the act, describing them as saboteurs. The group reiterated that the weekly Monday sit-at-home has been suspended.
The group promised to replace the burnt motorbikes of some of the students and teachers of the Comprehensive Secondary School, Nkume.
Spurred by their crave for western education and entrepreneurial ingenuity, the people of Southeast region rose from ashes to glory in a space of two decades that followed the Nigerian civil war. Communities, age grades, town unions in the region made contributions to sponsor brilliant students in school, while some mothers made passionate sacrifices like selling their wrappers to pay their children school fees. 
These deliberate efforts towards advancing education in the region, has put the region in a dominant position, and this is evident in the available data of WASSCE results enumerating states' performance in the last eight years. 
The region has also been doing well in NECO. However, this premium dominance is about to evaporate as IPOB continues to hold sway in the region.
---
Support Our Journalism
There are millions of ordinary people affected by conflict in Africa whose stories are missing in the mainstream media. HumAngle is determined to tell those challenging and under-reported stories, hoping that the people impacted by these conflicts will find the safety and security they deserve.
To ensure that we continue to provide public service coverage, we have a small favour to ask you. We want you to be part of our journalistic endeavour by contributing a token to us.
Your donation will further promote a robust, free, and independent media.
Donate Here